USC Football: Winners and Losers from the Week 2 Game vs. Syracuse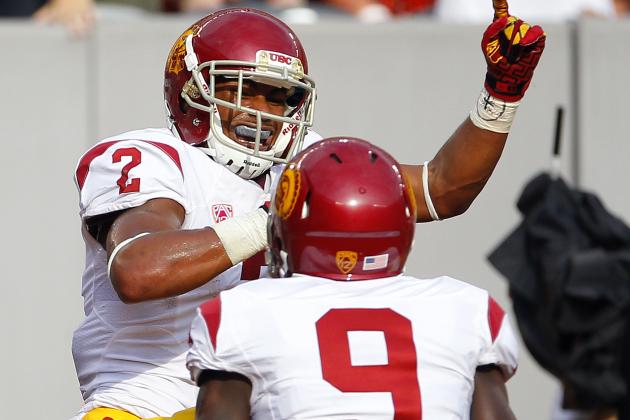 Rich Schultz/Getty Images

USC took the field at MetLife Stadium in East Rutherford, N.J., to face the Syracuse Orange and while the Trojan faithful got, a win, was not pretty—not by any means. The Trojans looked like an early-season team. Which they clearly are, however, with the amount of talent on this team, more is expected.
The penalties were pervasive (to a point where my Facebook status said "Enough with the penalties, USC!"). The defense looked, well, like we expected them to do in all of our preseason prognostications. The offense eventually found their stride but not without a few stuttering starts first.
A win is a win. It doesn't have to be pretty. It is ironic, however, that this down-in-the-trenches, grit-your-teeth and get-the-win game happened just a week after coach Lane Kiffin proclaimed so loudly that it wasn't enough to win, you had to win with style (via Pedro Moura of ESPN).
Where was the style?
There were moments of style. Tight end Xavier Grimble shaking off four defenders to get the touchdown. He simply would not be denied. I half-expected him to drag those four men into the end zone with him.
Wide receiver Robert Woods leaped improbably high to grab the ball for a TD while under tight double coverage. That man is insanely good in tight spaces, and his QB knows it and throws to him under nearly impossible defensive coverage.
Woods' reverse, cutback-across-the-field, leaping-over-defenders, 76-yard run was another pretty moment.
Not so pretty was the defense. While they did hold the Orange to just 29 points, many of those 29 points were scored in troubling manners.
Offense outrunning them, running right at and through cornerback Torin Harris (who I am pretty sure couldn't defend against a girl scout wielding a box of Thin Mints as her weapon)…it was troubling. It was more or less exactly what we thought the defensive line, especially, would be heading into the season.
As I said last week, Hawaii wasn't a true test. But you know what? Neither was Syracuse. I've got news for you all—in case you didn't hear, the Pac-12 is amazing. Wait, let me amend that, the Pac-10 is amazing, Utah and Colorado were embarrassing this weekend.
Let's look at a quick run down of the Pac-12's winners:
—UCLA beat Nebraska, 36-30
—Oregon State beat Wisconsin, 10-7
—Arizona beat Oklahoma State, 59-38
—Arizona State beat Illinois, 45-1
—USC beat Syracuse, 42-2
—Stanford beat Duke, 50-13
And, let's look at the Pac-12 loser who had the balls to schedule a formidable out-of-conference opponent:
—Washington LOST to LSU, 41-3
Then, there were the Pac-12 teams who didn't have the balls to schedule a real competitor (cough, Oregon, cough) and those that lost to teams they should have beaten:
—Oregon beat Fresno State, 42-25 (OU's out-of-conference schedule also included Arkansas State and FCS Tennessee Tech. Way to challenge yourselves and lift the profile of the Pac-12, Ducks.)
—Washington State beat Eastern Washington, 24-20
—Cal beat Southern Utah, 50-31
—Colorado LOST to Sacramento State, 30-28
—Utah LOST to Utah State, 27- 20
Pretty good stuff there for the first group of winners who beat actual opponents. So, can we re-assess Utah's (who displayed an offensive line so atrocious a Pop Warner team could beat them) and Colorado's (who, just, NO) inclusion in the so-called "Conference of Champions?"
However, this is a piece about USC vs. Syracuse, so let's look at the game's winners and losers…
Begin Slideshow

»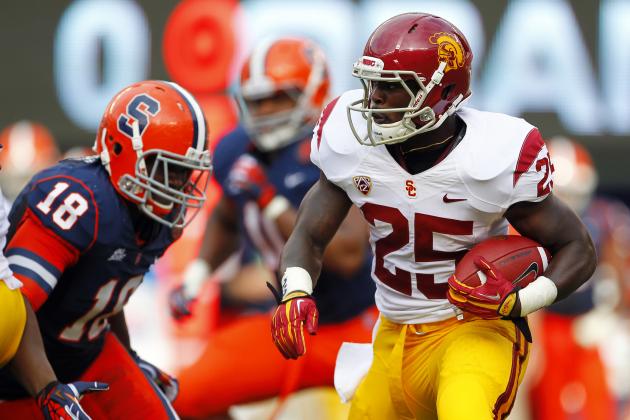 Rich Schultz/Getty Images

USC may have finally (Finally! Ha! It's the second week. Oh, we have high expectations!) found their ground attack behind RBs Curtis McNeal and Silas Redd.
Both had good games. Redd had 107 yards on 15 carries with an average of 7.1 yards per carry, and McNeal had 11 carries for 63 yards and an average of 5.7 yards per carry.
Together, the USC RBs averaged 7.8 yards per carry on 258 total rushing yards, a significant improvement from Week 1's 81 yards.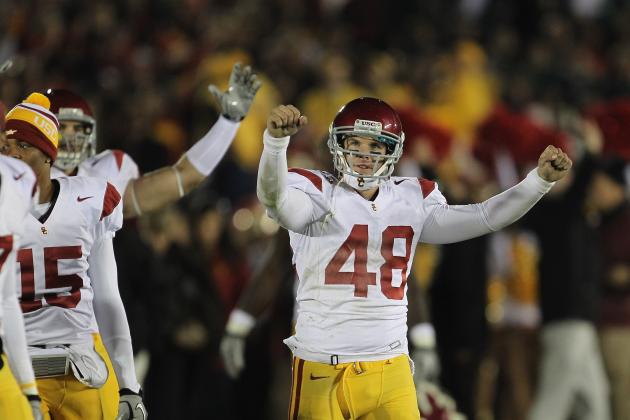 Jonathan Daniel/Getty Images

Kicker Andre Heidari did not make the trip to New York with the Trojans due to a knee injury he suffered against Hawaii.
Sigh.
Is it just me, or is this guy fragile? It feels like he is injured frequently. He has a monster leg, but what good is it if he misses several games a season with injuries?
As a result, walk-on true freshman Alex Wood kicked the PATs, and Kiffin went for it on fourth down due to the unavailability of Heidari. And, I'm not just talking 4th-and-2. Kiffin went for it on 4th-and-12. That is not "Big Balls Lane," that's "I have no idea what to do with my fragile kicker Kiffin."
Seriously. USC needs to figure out the kicking game ASAP.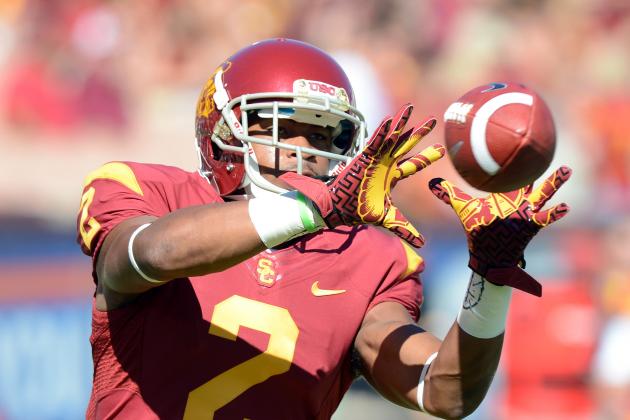 Harry How/Getty Images

It is no secret. USC has the best receiving tandem in the country in Robert Woods and Marqise Lee. (Marqiiiiiiiiise LEE!)
Last week against Hawaii, Lee put on a show. This week, Woods stepped up and blew us all away with his athleticism, quick cuts, darting, dashing and leaping.
Woods is a smart ball-handler. When one route collapses, he changes his route on the fly as he did when he quickly changed routes and took a reverse around the left end, cutting across the field to run for 76 yards down the sideline before the Orange pushed him out of bounds.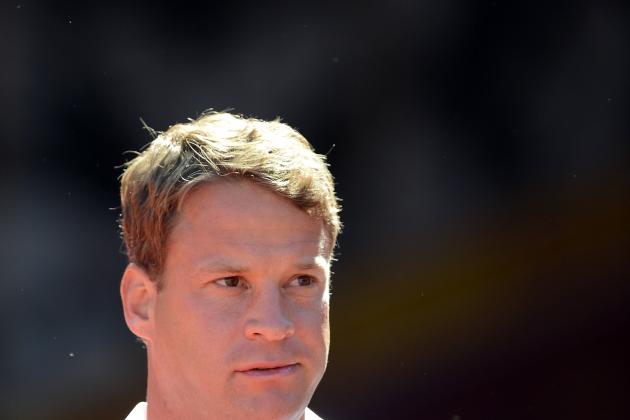 Harry How/Getty Images

Lane Kiffin is a monster recruiter. He is also largely lauded as an offensive genius, but one would not know if from the play calls and rhythm of Saturday's game at MetLife Stadium. At times, Kiffin looked like a deer caught in headlights, and I don't think it is was just the humidity getting to him.
Kiffin's calls against Syracuse were odd. Some of that can be attributed to the loss of Heidari and the USC kicking game but not all of it.
While Barkley had six touchdowns, none of them were on calls that truly showcased the arm Barkley has. The one long ball (I remember) being thrown ended up being intercepted. It was intended for Robert Woods.
But, the most telling fact about the play-calling in this game was the diversity. Or, should I say lack of diversity? Last week, the game was all about receivers, specifically Marqise Lee. This week, the running game was featured.
When are we going to see Kiffin let Barkley air it out and use the multitude of offensive weapons he has within the same game?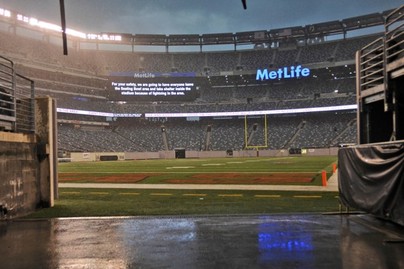 Something USC never has to deal with by benefit of being based in Southern California: weather delays.
The start of the second half was delayed by 69 minutes when MetLife Stadium was evacuated due to the threat of lightning in the area.
At the time, USC was leading 14-3.
The rain pounded down, and the goal posts swayed a bit, but no lightning was spotted nearby.
Better safe than sorry, right?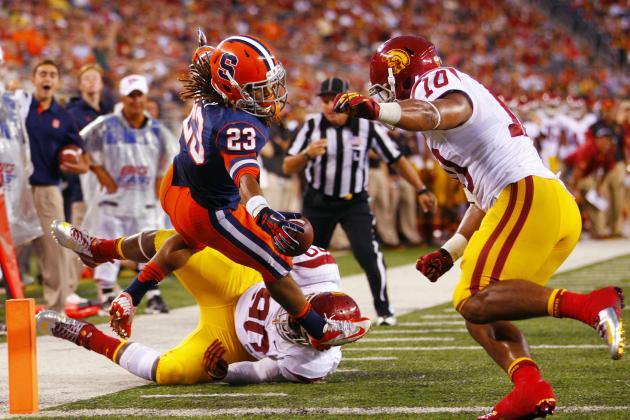 Rich Schultz/Getty Images

I've been saying it all weekend. A win is a win, even when it isn't pretty.
USC's 42-29 win over Syracuse was not pretty (some specific plays notwithstanding). USC certainly lost the battle for style points when it comes to the game's stats.
USC, in typical early-season form was being called for penalties left and right. The Trojans had 12 total penalties for 82 yards. By comparison, Syracuse only had five penalties for 40 yards.
USC had 17 first downs. Syracuse had 27.
USC had 445 yards of offense. Syracuse had 455 yards.
It's odd but notable.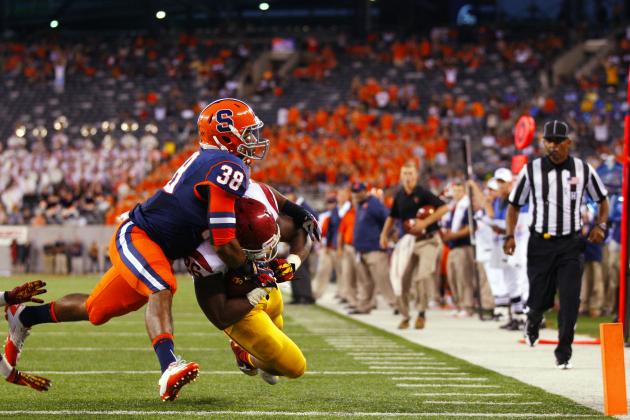 Rich Schultz/Getty Images

Sophomore Xavier Grimble is a redshirt sophomore who is 6'5" and 255 lbs. He's 20 years old. This young man is a beast. You would know if you saw him drag four Orange defenders down field before he broke free and landed in the end zone for a touchdown.
BIAS ALERT: Grimble is also an alumnus of my high school, Bishop Gorman, so I am pretty thrilled when he has a great game.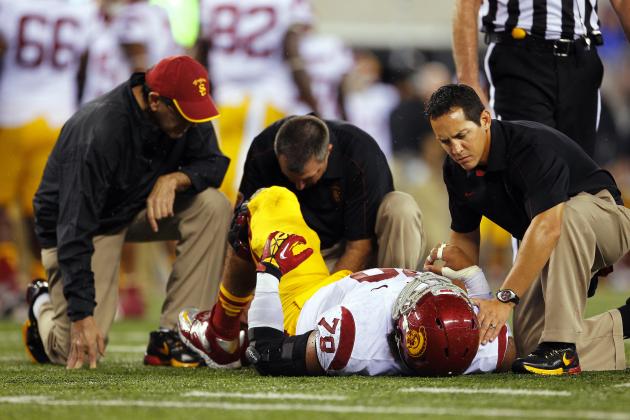 Rich Schultz/Getty Images

Senior center Khaled Holmes went down with a leg injury in the fourth quarter. This is scary for a number of reasons, not the least of which is USC's lack of depth due to scholarship restrictions.
Holmes is one of the best centers in college football, and his loss would be a big hit to the Trojans.
He was carted off the field on after his leg was trapped under another player.
For a little history, Holmes is significant for not just his talent but his experience. He and Matt Barkley were high school teammates at Santa Ana's Mater Dei High School.
Holmes knows how to keep Barkley centered and also how to keep the O-line running along smoothly. Redshirt freshman Cyrus Hobbi is a monster talent, but he does not have Holmes' experience or his long history with Barkley.
The Trojan Nation sends out prayers and good, healing thoughts to Khaled.