Florida State Football: Winners and Losers from the Week 2 Game vs. Savannah St.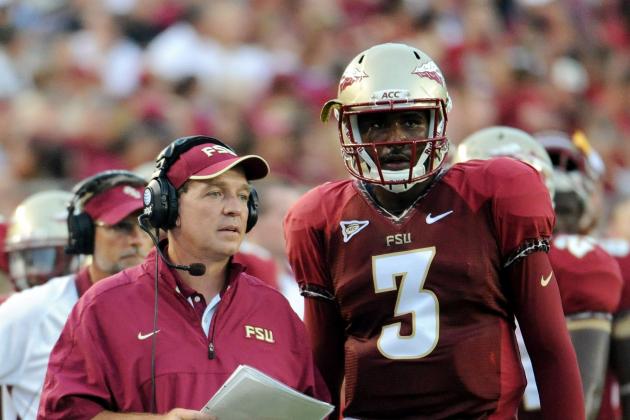 Melina Vastola-US PRESSWIRE
Jimbo Fisher and EJ Manuel prepare for Savannah State.
Sometimes lightning does strike twice.
Savannah State was pelted by the rain and Florida State's touchdowns. Mother Nature must have been on their side, as the two teams agreed to cancel the beating, 55-0, after a second lightning delay.
As all games go, there were great moments and ick situations. For the Tomahawk nation, though, Mother Nature answered their pleas for a blowout in which the Seminoles could do almost nothing wrong.
If you're a fan of winner winners, then this is your chicken dinner.
Begin Slideshow

»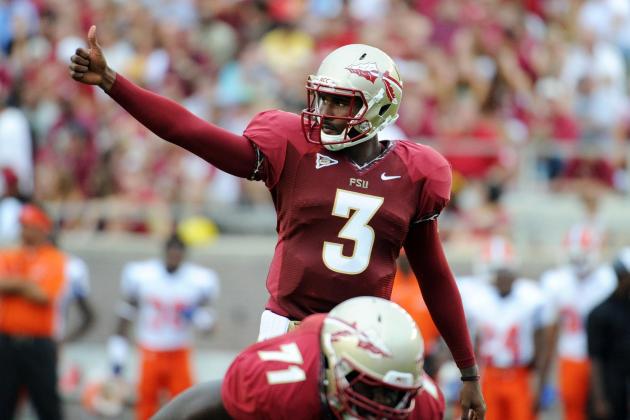 Melina Vastola-US PRESSWIRE
Manuel had an awesome day, albeit against weak competition.
EJ Manuel played for only 16 minutes, but the senior quarterback finally exceeded his pedestrian career stats. The leader of Florida State's offense went 11-of-13 on passes and threw for three touchdowns.
The best part? None of those life-sucking interceptions.
Antonio Bostick (God bless him) got to start against the nation's premier defense. The difference between the Seminoles and the Tigers was evident, as Bostick only completed 13 percent of his passes (2-of-15).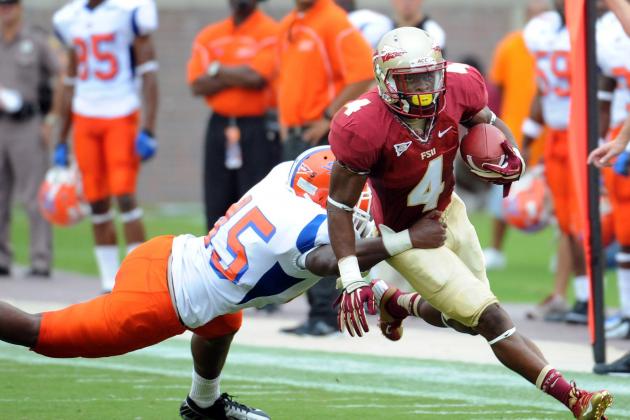 Melina Vastola-US PRESSWIRE
Thompson scored his first touchdown in a year on Saturday.
Chris Thompson scored a touchdown for the first time in a year on Saturday night. Thompson, who had a broken back that sidelined him for the 2011 season, was one of two running backs who didn't score against Murray State.
Lonnie Pryor and James Wilder, Jr. couldn't have been happier for their friend. Jimbo Fisher said (h/t Corey Dowlar of ESPN's Nole Nation), "That kind of made my day right there when I saw him score that touchdown. We got it to him and he is hitting the seams up in there. Boy, he is running hard, too. He is running with a lot of reckless abandon."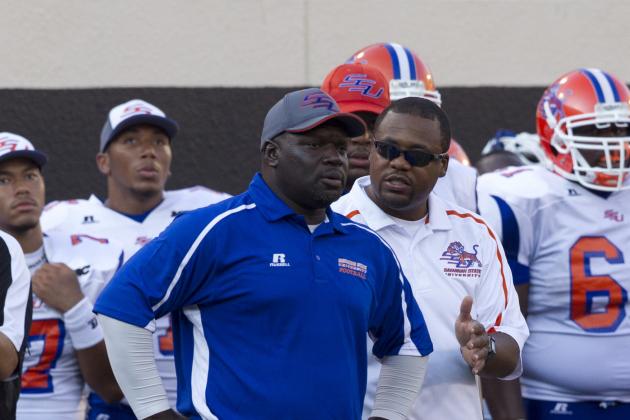 Richard Rowe-US PRESSWIRE
Steve Davenport cannot be blamed entirely for Savannah St.'s woes.
Steve Davenport, Savannah State's head coach, is now 1-13 with the Tigers.
He's lost quite a few games, but it isn't like the program was on an upward trend. Over the past decade, the Tigers had gone 17-88 in FCS play. Nevertheless, being outscored 139-0 is not the way any coach wants to start off his season.
Hopefully, some money from these games can be used to help not only academics, but present a more competitive football brand on the field.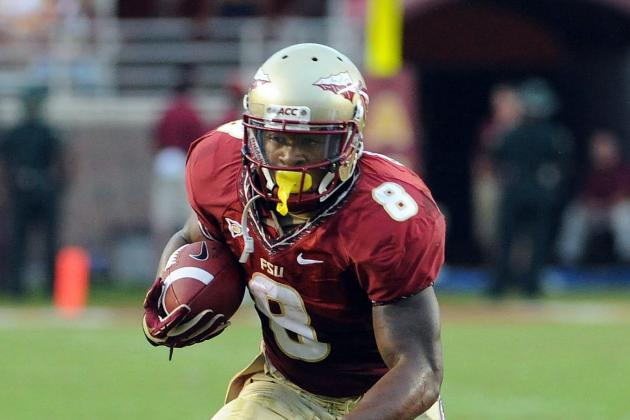 Melina Vastola-US PRESSWIRE
Devonta Freeman made the rain-soaked crowd proud.
Florida State's other diminutive running back found the end zone on Saturday. Devonta Freeman actually led the running back derby, totaling 69 yards on seven attempts. When you stand out when compared to four other stellar running backs, you know you've had an excellent day.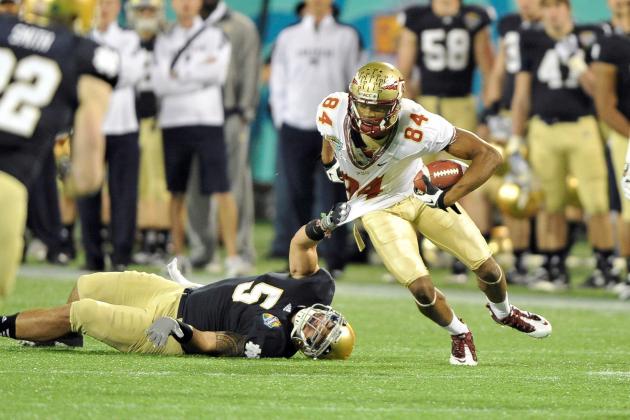 Brad Barr-US PRESSWIRE
Rodney Smith made plays early in Saturday's blowout.
Rodney Smith shined early, receiving the first two plays of the FSU-Savannah State game. On the second play, he took a pass from Manuel for 61 yards to the house.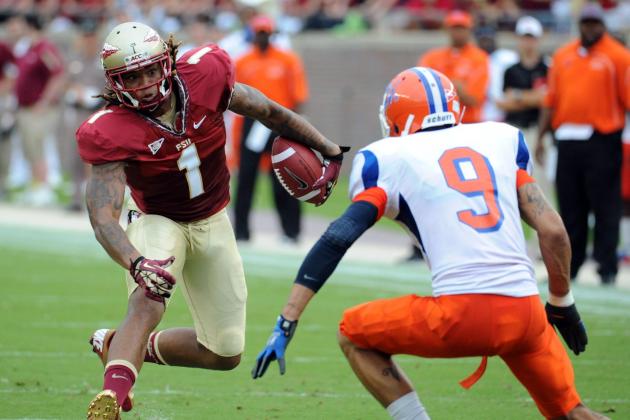 Melina Vastola-US PRESSWIRE
Kelvin Benjamin is Florida State's receiver of the future.
Kelvin Benjamin continued to impress me throughout the Savannah State game. Benjamin averaged over 15 yards per catch and led the team in touchdown receptions. He will continue to do amazing things—whether Manuel starts this year or Trickett in 2013.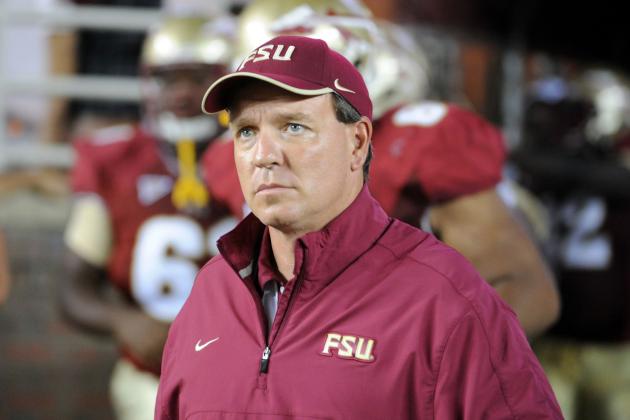 Melina Vastola-US PRESSWIRE
Don't think Jimbo Fisher won his bet.
It's rare when a game is cancelled due to rain. Those who predicted Florida State's 70-point smashing of Savannah State didn't get their money, but those who bet Savannah State would keep it below 70 didn't lose. Vegas says 55 minutes of a game have to be played before bets are final.
Lucky for the Savannah State fans.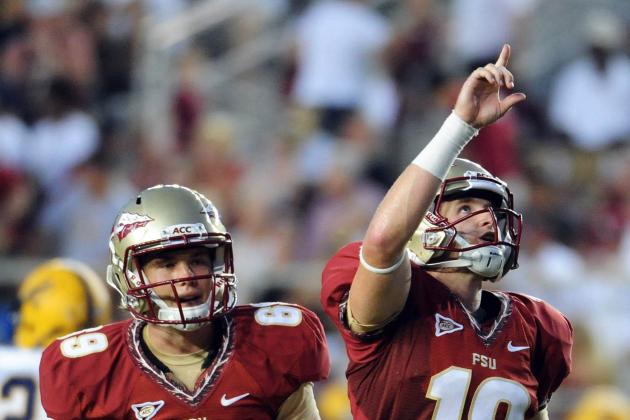 Melina Vastola-US PRESSWIRE
All for one: Austin Fleetwood.
Dustin Hopkins' nation-leading streak of 145 consecutive successful PATs ended on Saturday.
Something far more important ended Monday.
Hopkins, a team captain, and EJ Manuel had joined "Team Fleetwood." Austin Fleetwood, a 17-year-old from Crawfordville, Florida, found out he had lung and tissue cancer back in the spring. Team Fleetwood was Tammy Fleetwood's (Austin's mother) attempt to raise money for her sick son.
Both Hopkins and Manuel, along with FSU director of football operations Eric Korem, had brought FSU memorabilia to Fleetwood after the Murray State game.
Upon finding out of Austin's passing on Monday morning, EJ, teary-eyed, said to the Orlando Sentinel: "Being able to see him … I've never experienced something like that. Luckily my parents and my sister were still here. I couldn't help but cry when I got the text."
The two had tried to get Fleetwood to attend the Savannah State game, but his ill health prevented such travel. EJ will wear a wristband in Austin's honor this fall, inscribed with the words "Faith, Hope, and Strength." Dustin Hopkins will continue to make a difference in the kicking game, but the kicker deserved credit for going above and beyond the call of duty.
I regularly say that Dustin Hopkins is not a clutch kicker. But he is a clutch person.