WWE Night of Champions 2012: Why You Should Care About the Divas Match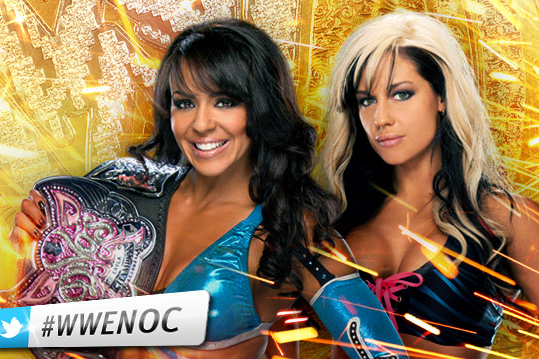 Photo Credit: WWE.com
Typically, Divas matches at pay-per-views are joked about as "bathroom breaks," but at Night of Champions 2012, the Divas Championship match between Layla and Kaitlyn will be worth your attention.
At least, for a few minutes.
You can already bank on the fact it won't be the best match of the night. It should also be the shortest. But there's more intrigue surrounding this match than any Divas match so far this year.
From the least important reason to the most—here are seven reasons (yes, seven!) you should consider watching this match.
Begin Slideshow

»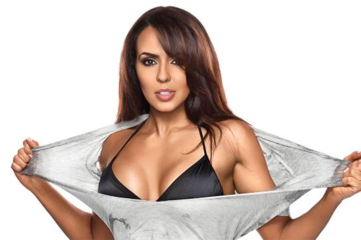 Photo Credit: WWE.com
OK, so this isn't the greatest reason in the world to watch the Divas Championship match at Night of Champions. But I did warn you (least important reason first).
Simple fact: Layla is gorgeous.
Kaitlyn is decently cute, too. More importantly, if Eve has any kind of involvement—as she should—she's yet another beautiful face to look at.
Of all the Divas in WWE, Layla and Eve likely top many lists of women you'd want to take home to meet your mother.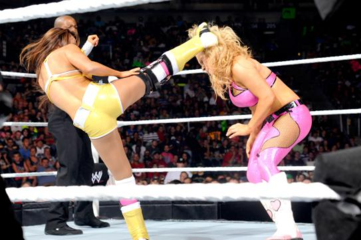 Layla delivers a kick to Natalya's head (Photo Credit: WWE.com)
The Divas division receives a lot of criticism for lacking talent.
Compared to their male counterparts, or even females from other promotions, it's hard to argue against that criticism.
But if you look at the women employed by WWE, Layla and Kaitlyn have decent talent.
Sure, neither are Beth Phoenix. But both are better than Aksana, Alicia Fox and—at least in the ring—AJ.
If Layla had more time, she could display her skills more effectively, but that's another issue entirely.
If the over/under on Divas matches is five minutes, always take the under.
The bathroom break joke likely originated due to the short length of Divas matches. One could run to the restroom at the beginning and come back having missed literally nothing else of higher importance.
For this reason, you should stay and watch.
It's not going to take up much of your precious time, and you might be surprised at the match (because, as I just pointed out, they're attractive and talented).
Layla and Kaitlyn have tagged multiple times in the past. Now they square off as opponents. (Photo Credit: WWE.com)
How many PPVs featured Beth Phoenix vs. Layla?
Too many.
Whether you like it or not, the Divas Championship has to be on the line at Night of Champions. Although Phoenix is a terrific talent, Layla vs. Kaitlyn offers a breath of fresh air.
Likewise, in the scripted universe of face vs. heel, it's unique to have two faces square off. Furthermore, the two ladies are (kayfabe) friends.
It's a shame this doesn't happen more often.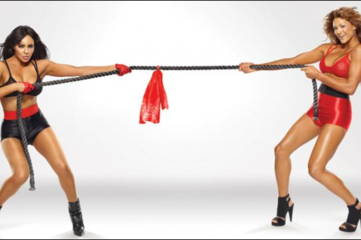 Isn't this better than the alternative? (Photo Credit: WWE.com)
Talk about a bathroom break, Alberto Del Rio vs. Sheamus Round 19 should be your five minutes to handle business.
You can leave at the beginning and still return with enough time to catch a Ricardo Rodriguez interference backfire, which will inevitably lead to the Irish Curse, followed by the Texas Cloverleaf for the win.
At this point with that feud, Layla vs. Kaitlyn (with the possibility of Eve) sounds amazing.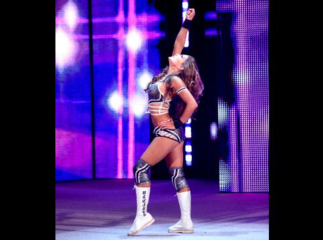 Photo Credit: WWE.com
First and foremost, any time the WWE Universe can be treated to Eve, it's a win.
She's gorgeous, she's athletic, she has in-ring skills, she's fantastic on the mic and she plays her persona so well (meaning, she's a great actress).
If and when Eve interferes in this match, the consequences will be huge.
First, the WWE Universe will get to look forward to Eve vs. (hopefully) Layla. Evenly matched in looks and talent, that feud could spark a mini—though likely short-lived—rebound for the Divas division.
It'd be a feud worth caring about.
When angles and storylines are scripted, it makes things a little less exciting.
Like when Dolph Ziggler won the Money in the Bank. It basically had to be him or Cody Rhodes, and knowing this made it a bit less exciting.
But when a Diva wins a No. 1 contender match due to a botch, the implications become worth caring about.
Multiple questions arise.
Was it really a botch, or is WWE legitimately pushing Kaitlyn? If it was supposed to be Eve, how will they insert her back into the picture? Will they even push Eve, or will they take a chance on Kaitlyn? Will Eve interfere at Night of Champions? Can Kaitlyn take advantage of her opportunity?
To get the answer to one or all of these questions, the solution is simple.
Watch the match at Night of Champions.