New York Yankees: Breaking Down the Rest of the Bombers 2012 Schedule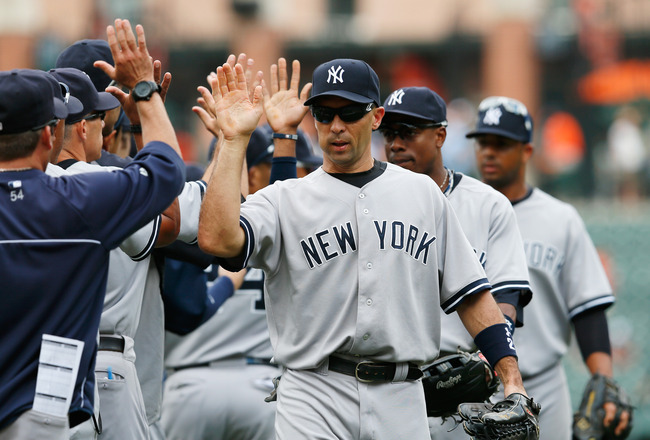 Rob Carr/Getty Images
The New York Yankees were able to leave with a good feeling following their weekend series with the Baltimore Orioles.
The Yankees earned a split with the Orioles after winning 13-3 on Sunday and took sole possession of first place in the American League East by one game.
After Sunday, the Yankees have played 140 games, leaving them with just 22 games to go in the 2012 season.
Entering their final 22 games, the Yankees are 79-61, while the Orioles are are 78-62 and the third place Tampa Bay Rays are 77-63.
It's going to be a very tough final 22 games for the Yankees to not only hold off one team, but two teams in order to win the A.L. East and secure their playoff spot in 2012.
Lets look at the rest of their schedule and figure out what to expect from the Yankees in the final three weeks of the season.
September 11-13: At Boston Red Sox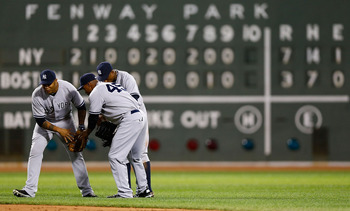 Jared Wickerham/Getty Images
September 11-13, 2012: New York Yankees at Boston Red Sox
Fenway Park
Season series: Yankees lead 8-4
Normally, a September series between the Yankees and Red Sox at Fenway Park would be filled with playoff implications.
However, that is not the case as Boston is 63-78 and in last place of the A.L. East. It's been an utter disaster for the Red Sox in 2012.
Adrian Gonzalez, Josh Beckett, Carl Crawford and Nick Punto were all traded to the Los Angeles Dodgers, Kelly Shoppach was traded to the New York Mets and Kevin Youkilis was traded to the Chicago White Sox.
Plus, David Ortiz has been out with an Achilles injury, one that has likely ended his season and will keep him out of the series.
The Yankees will likely be without Mark Teixeira again, as he suffered a calf injury sliding into first in Saturday night's game against the Orioles.
There's a good chance that the injury could force the Yankees first basemen out for the remainder of the season, but nothing is confirmed yet.
The Orioles will be taking on the Rays in their battle for second place, so it's important for the Yankees to head into their final trip to Fenway and beat down their rivals.
Boston will be looking to play the role of spoilers against the Yankees, and the Yankees will be looking to avoid that.
September 14-16: Vs Tampa Bay Rays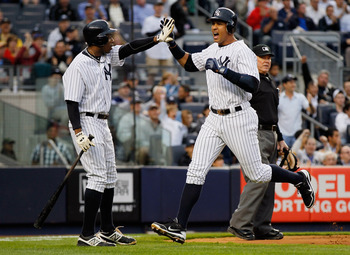 Mike Stobe/Getty Images
September 14-16: New York Yankees vs Tampa Bay Rays
Yankee Stadium
Season series: Rays lead 9-6
In 2012, the Rays have been a pain in the Yankees side and refuse to give them any slack.
After the Yankees battle the Red Sox, the feisty Tampa team will head into Yankee Stadium and look to knock off the Bombers in their own building.
What the Yankees have working for them in this series is that they have won every series played in New York, winning two out of three in the two series played.
The Yankees knocked off Tampa back in May and June and will look to do it one last time in September.
This series between the Yankees and Rays will be their final one of the 2012 season, so if either team is looking to gain ground on the other, it will make this weekend series an important one.
The Rays have built their success of 2012 based on their starting pitching with David Price, Matt Moore, James Shields, Alex Cobb and Jeremy Hellickson, along with solid pitching from their closer, Fernando Rodney, who has only blown two saves thus far.
Stopping the Rays in this series for the Yankees means beating their pitching.
September 18-20: Vs Toronto Blue Jays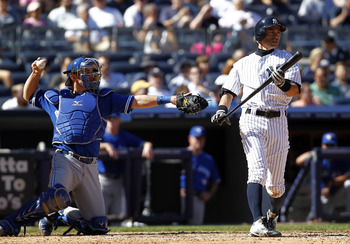 Jeff Zelevansky/Getty Images
September 18-20: New York Yankees vs Toronto Blue Jays
Yankee Stadium
Season series: Yankees lead 6-5
The Blue Jays are right now in fourth place of the A.L. East at 64-75 and will be fending off the Boston Red Sox to stay out of last place in the division.
However, Toronto is one of those teams that do not lie down when they play the Yankees, as they only trail the Yankees in the 2012 series by one game.
They have been without star slugger Jose Bautista, which has put the focus of the offense on Edwin Encarnacion, who has had a career year with Toronto.
What has been a downfall to Toronto has been the injuries to their pitching with Kyle Drabek, J.A. Happ, Dustin McGowan, and Jesse Litsch all on the DL.
That has left Ricky Romero to be the team's ace; and he's had a subpar 2012 with a record under .500 and an ERA over 5.00.
The Yankees will need to put Toronto away in this series and I'd even go as far as to say the Yankees may even need to sweep the Jays for them to gain distance from the Orioles and Rays.
September 21-23: Vs Oakland A's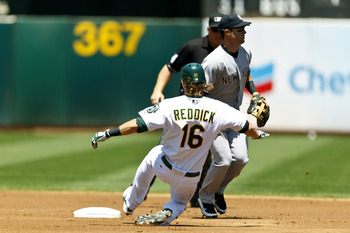 Jason O. Watson/Getty Images
September 21-23: New York Yankees vs Oakland A's
Yankee Stadium
Season series: A's lead 4-3
When these two last met in their four game series back in Oakland, little did we know how much it would spark the A's season.
Oakland swept that series and really gave them life and belief that they could be a contender in 2012. After the final game they had won against the Yankees, the A's were 51-44.
As of September 9, they are 79-60. That means since July 22, the A's are 28-16, which is why they are tied for the lead for the American League Wild Card spot and are also just 3.5 games behind the Texas Rangers in the A.L. West.
Their best player on offense has been former Boston prospect Josh Reddick, who came over to the A's in the Andrew Bailey trade.
In 2012, he has 28 home runs and 75 RBI, so by the time he gets to Yankee Stadium, he may have surpassed 30 home runs.
Former Yankee Bartolo Colon was having a nice season for Oakland, pitching to a 10-9 record with a 3.43 ERA, but was suspended for 50 games for failing a PED test, taking a crucial part out of their rotation.
This series could resemble the feeling of when the Yankees and A's used to play in the American League Division Series during the dynasty years because not only are the A's relevant, but they could very well be a playoff team come October.
September 24-26: At Minnesota Twins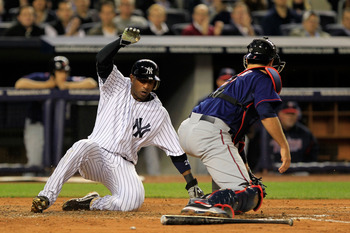 Chris Trotman/Getty Images
September 24-26: New York Yankees at Minnesota Twins
Target Field
Season series: Tied at 2-2
The last time the Yankees and Twins played was all the way back in the beginning of the season in April.
It's been a tale of two stories for both franchises in 2012.
The Yankees are thick in the hunt for a playoff spot and looking to win their division. The Twins on the other hand, are in last place in the A.L. Central and own the worst record in the American League at 58-82.
This is not the same team that the Yankees saw in consecutive ALDS series back in 2009 and 2010, even though Joe Mauer and Justin Morneau are still on the team.
At Target Field, I'm sure Ron Gardenhire will be having his guys fight like hell when the Yankees come into town, but by this point, will they really have their hearts into the series like the Yankees will?
The Twins might have a little fun trying to play spoilers, but will they be able to hang with a team like the Yankees, who have a history of making Minnesota fans miserable, especially in recent time.
This is another series that the Yankees should look to sweep, even if it is on the road.
September 27-30: At Toronto Blue Jays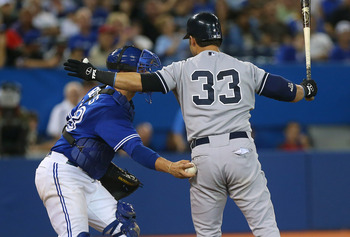 Tom Szczerbowski/Getty Images
September 27-30: New York Yankees at Toronto Blue Jays
Rogers Centre
Season series: Yankees lead 6-5
Just a week after they conclude their three-game set at Yankee Stadium, the Yankees and Blue Jays will play north of the border in a four-game set to conclude the month of September.
By the time this series comes around, the Blue Jays will likely have been mathematically eliminated from playoff contention and will be trying to stay out of last place in the division.
This could also be one of the last series that Toronto manager John Farrell coaches for his team, as the rumors of him being a potential suitor to take over Bobby Valentine's job as Red Sox manager have been swirling around lately.
Could that have an impact on the team and how it plays when the Yankees are in town? Possibly, especially with the media.
When the Yankees have played at Rogers Center, they are 2-3 against their division rivals.
Back on May 16-17, the Blue Jays swept a two-game series against the Yankees and then on August 10-12, the Yankees took two out of three.
None of that will matter when they play in the final week of September. All that will matter will be the final four games and what the Yankees do with them.
October 1-3: Vs Boston Red Sox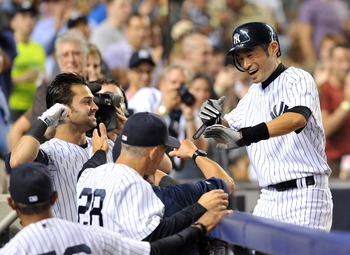 Jason Szenes/Getty Images
October 1-3: New York Yankees vs Boston Red Sox
Yankee Stadium
Season series: Yankees lead 8-4
I'm really interested to see how the Yankees and Red Sox will be by the time this series comes around on October 1.
By this time, the Red Sox will have been knocked out of playoff contention.
What will really be interesting to see is Bobby Valentine's job security regarding 2013. I have a good feeling that there will be a ton of talk about him being fired after the 2012 season.
That could be a huge distraction to Valentine and the players if in fact his job security is brought up while wondering who could be his replacement.
It'll also be interesting to see if by this point, if the Boston players had given up on Valentine all together and stopped trying on the field.
That could make things easy on the Yankees, who will be looking to take care of business and win three important games in their building.
Against a dysfunctional Red Sox team, the Yankees should at least take two of three, but in all reality, should sweep this last series to end the regular season.
What Gets the Yankees to October?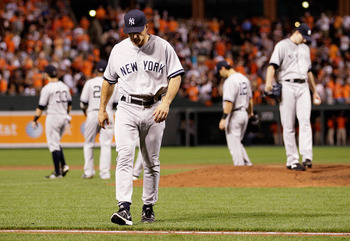 Rob Carr/Getty Images
The Yankees have seven series left in 2012.
Four of those will be at home while three of them are on the road.
The Yankees need to win all four of their series at Yankee Stadium. Of the 12 games they are playing, the Yankees should look to win eight of them.
That would mean the Yankees win at least two out of three in every series. That's looking at it positively for the Bombers.
In the series against the Red Sox, they really should take all three of those games, but whether or not that actually happens remains to be seen.
On the other side, the Yankees can not get swept in any of their final three road series. They have 10 games to play on the road.
Seven of them are against A.L. East teams and while four out of seven would be nice, is it realistic?
Three of them are against the Red Sox this week and which Boston team shows up to play the Yankees? A team looking to play spoilers or a team who has given up on their manager and season?
The Yankees should at least get to 90 wins, which means they would win 11 of the 22 final games, but if they are truly a playoff team, they should win more than that.
14 out of 22 would put them at 93 wins for the season, which is a realistic target for the Yankees to aim for. Going 14-8 in the final 22 games would be a solid end.
But would it be enough for the Bombers to win the A.L. East over the Orioles and Rays?
These last 22 games will definitely be interesting to watch and see how the Yankees finish out the year.
Stay tuned, Yankees Universe.
Keep Reading

New York Yankees: Like this team?