Bengals vs. Ravens: 5 Keys to the Game for Cincinnati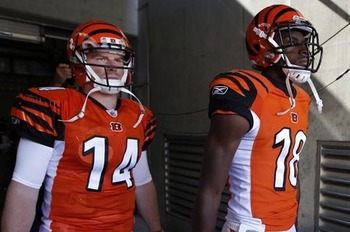 After months of anticipation, the Cincinnati Bengals are merely hours from opening the season against the Baltimore Ravens.
All eyes will be watching to see if the young team can build on a stunning 9-7 run in 2011.
Right off the bat, there aren't many believers in the Bengals. Not in tonight's game, at least. The Ravens are still thought of as a Super Bowl contender, and most experts are under the impression that Baltimore will win in a relatively close game.
I disagree.
However, I'm not here to crow about my prediction. Not right now, anyway. There are certain points that will be key in the game tonight, and if Cincinnati wants to win, this team will need to make sure it dominates in these areas.
Stopping Ray Rice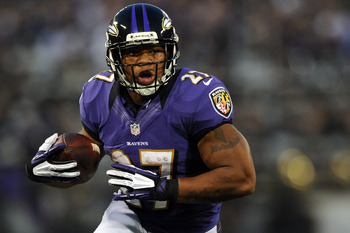 Patrick Smith/Getty Images
There are many critics out there who believe Joe Flacco is more of a cancer to the Baltimore Ravens than a catalyst.
On some level, I'm one of those people. I wouldn't call him a "cancer," but I definitely don't think he's one of the best guys on offense.
Ray Rice is.
Over the past couple of seasons, Rice has been one of the league's best rushers. He's got an incredible combination of strength and speed, and can kill opposing defenses.
With that being said, Cincinnati drafted some solid defenders in the offseason. Therefore, there are high expectations for this Bengals defense.
If Geno Atkins and company can stop Rice, they will have shut down a very large percentage of Baltimore's offense. It's hard to win if you're not scoring.
BenJarvus Green-Ellis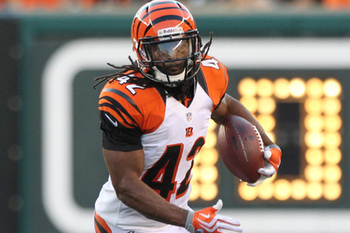 If there was one certainty about this team at the end of last season, it was that the Bengals needed an upgrade at the running back position.
Cedric Benson, despite the vast respect I have for what he did in Cincinnati, showed a lot of signs that he wasn't what he used to be.
The Bengals will now turn to veteran scoring machine BenJarvus Green-Ellis. He's not exactly the upgrade Cincinnati expected—most fans thought of spending a first-round pick—but certainly has the capability of taking the Bengals running game up a notch.
He's only had one 1,000-yard season in his four-year career, but he's had double-digit touchdowns in each of the last two seasons.
Adding this dimension to the Cincinnati offense is definitely going to help take some pressure off Andy Dalton. If Green-Ellis can take the Baltimore defense to school, it will be a huge help in getting a victory and a good sign for the rest of the season.
The Secondary Has to Be Average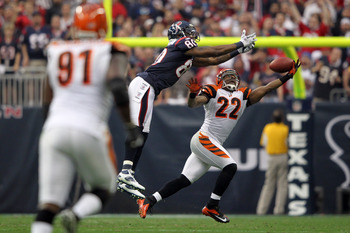 Jamie Squire/Getty Images
During the preseason, the Bengals secondary was embarrassing. Toward the end of the 2011 season, and in the playoffs against Houston, it was the same story.
First-round pick Dre Kirkpatrick is not going to play tonight against Baltimore, and you just don't know how Leon Hall will bounce back from an Achilles injury. That leaves a lot of pressure on veteran cornerback Nate Clements and safety Taylor Mays.
Both of them struggled to perform last season, which is cause for concern.
I said earlier that Joe Flacco isn't a top quality quarterback, and I stand by that. The problem is, if the secondary is bad, any quarterback can perform well.
If Hall and the rest of the secondary can at least keep bodies on Torrey Smith and Anquan Boldin, that will be huge.
Defensive Line Must Measure Up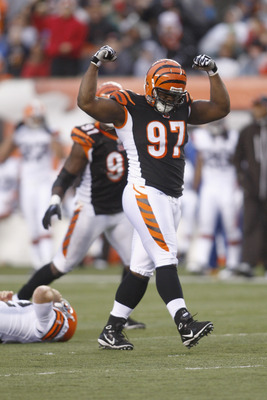 John Grieshop/Getty Images
Last season, the defensive line performed admirably, despite injuries to supposed leader Carlos Dunlap. It now seems it will be another long season of issues for Dunlap.
More to the point, guys like Geno Atkins picked up the slack beautifully and earned himself a trip to the Pro Bowl. In the draft, Cincinnati added a couple of solid linemen in Devon Still and Brandon Thompson.
Add in the powerful Domata Peko, Robert Geathers and Michael Johnson, and there's no reason that this line shouldn't be an absolute terror for opposing offenses. These guys can shut down Ray Rice and keep the pressure on Joe Flacco.
If this group can perform, Cincinnati can potentially hold the Ravens to a goose egg.
Keep the Connection Strong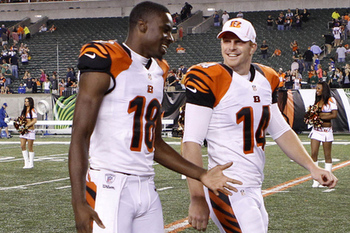 This one is obvious.
I commend the Bengals for getting some receivers in the draft and utilizing guys like Armon Binns and Brandon Tate to their full potential.
However, the A.J. Green and Andy Dalton connection that developed last season was the major catalyst for the young Bengals offense. When it wasn't working, the offense mostly didn't work.
The Baltimore defense is tough, so this solid connection has to work.
Dalton-to-Green is going to be the primetime connection this year, and it needs to start tonight.
Keep Reading

Cincinnati Bengals: Like this team?