Texas Football: Grading All 22 Starters from the New Mexico Game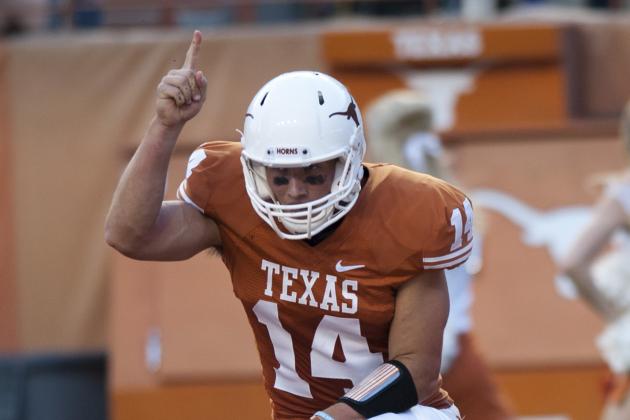 Cooper Neill/Getty Images

So far so good for the Texas Longhorns, as they pasted the New Mexico Lobos 45-0 Saturday night in Austin to earn their second victory. However, there are still many valid questions about this team as they build up to next week's matchup at Ole Miss.
The statistics tell a very different story about this game than what actually took place.
The defense was able to rack up its second shutout of the Manny Diaz era, but they again started slowly while trying to figure out the Lobos' triple-option attack. David Ash posted a career-high 221 yards through the air, but his receivers did the bulk of the work on his longest completions.
Not to complain about a 45-0 victory, but this Longhorn team was expected to win with a little more style against a team that has yet to score a point in the history of this matchup.
With a stat-stuffing quarterback in Ole Miss' Bo Wallace looming this weekend, we may finally get an idea of what this team is made of.
Here are the grades for this week's starters—read on to see who improved, who stood out and who needs to step it up for the 'Horns heading into Week 3.
Begin Slideshow

»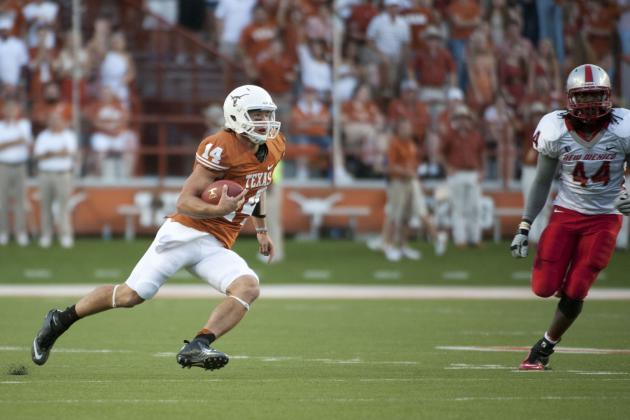 Brendan Maloney-US PRESSWIRE

A week after turning in the strongest performance of his young career, sophomore quarterback David Ash came out and put up 273 total yards of offense. But in spite of all that, the heavily-scrutinized signal-caller still left much to be desired Saturday.
On the surface, Ash's line from Saturday is very impressive. He completed 16 of his 22 passes for 221 yards (just over 10 YPA) and two touchdowns. He also gashed the entire New Mexico defense for a 49-yard touchdown run.
But stats are not everything.
All week we heard both Ash and the coaches say that they wanted to air it out after staying pretty conservative last week. Well, this week 12 of his passes were thrown at or behind the line of scrimmage, and only one of his completions traveled more than 20 yards through the air.
His touchdown throws did go for 22 and 45 yards, but the credit for those is mostly attributed to Marquise Goodwin's blocking and Daje Johnson's world-class speed.
Ash needs to improve in getting the ball downfield if he wants to remain "the guy," especially since back-up Case McCoy had no problems throwing downfield after he took over in the fourth quarter. Otherwise, this team is going to have problems keeping up with the high-powered offenses in the Big 12.
Maybe getting out and using that speed of his to pick up yards will help open things up for him.
Grade: C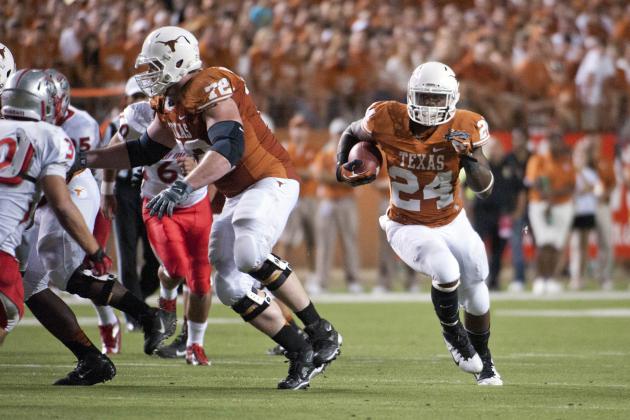 Brendan Maloney-US PRESSWIRE

For the second straight week, sophomore bruiser Joe Bergeron got the start at running back. Bergeron validated his selection as the starter while showing everyone that he is fast becoming a complete back.
Even though the offense was mostly focused on trying to get it done through the air, Bergeron had no problem leaving his stamp on the game. The big back picked up 49 yards on 11 carries, good for 4.5 YPC, and picked up yet another second-half touchdown.
But the most impressive part of Bergeron's performance was his two catches for 27 yards, including one that went for 22 yards in the first quarter. That statistic is not eye-popping by any means, but this is a back that had exactly zero catches in 2011.
With three catches in his first two games, he is slowly becoming a pass-catching threat.
Considering Ash's inability to stretch the field, Bergeron and fellow RB Malcolm Brown will become that much more valuable if they can catch balls out of the backfield. This is especially true for Bergeron, since nobody wants to square up with him in the open field.
He was not extraordinary, but he was asked to take a backseat and was still able to put in some solid work.
You would like to see more work from Brown, freshman Johnathan Gray and speedster Daje Johnson, but it is very apparent who the coaches believe in on an every-down basis.
Grade: A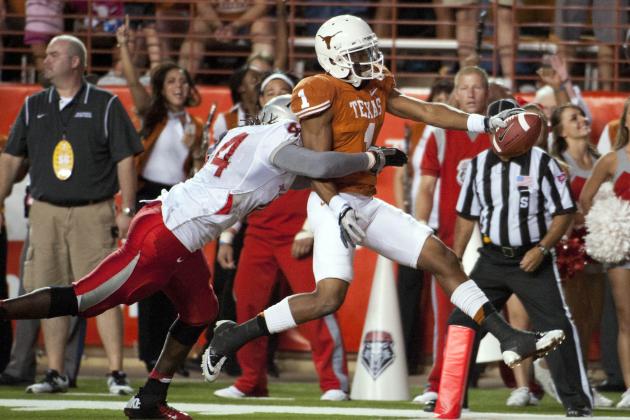 Brendan Maloney-US PRESSWIRE

Shipley, WR:
A victim of Ash's inability to get the ball downfield, sophomore wideout Jaxon Shipley still found a way to showcase his diverse talent, despite very meager numbers.
Shipley touched the ball a total of four times Saturday, getting 30 yards on two catches and running the ball once for 10 more. Not much to fawn over, but Shipley did probably have the highlight of the night on a 16-yard reception when he juked a would-be tackler out of his socks and shoes.
Shipley always plays well, but he did drop a pretty solid pass from Ash on the sideline that he had in his hands. Nothing to be alarmed about, especially since he was so solid otherwise, but that is a ball he has to come down with starting in Week 4.
Grade: B-
Davis, WR:
Also hampered by his quarterback's problems with connecting on the deep routes, junior wide receiver Mike Davis did the most with what he was given. He had a solid game despite the story that the statistics tell.
Among the wide receivers, Davis had the highest catch total with three, including a 22-yard catch-and-run where he danced his way from a short gain to an impressive touchdown.
Plays like this are a welcome sign for a player that really struggled to get going last year. There is already a noticeable difference in his effort this season.
Let's hope that Davis keeps this up, because he is one of the few home-run threats in the passing game this season. He becomes even more valuable if he can take attention off of the running backs and Shipley. It is great to see him coming back with a vengeance in 2012.
Grade: B+
Goodwin, WR:
Similar to his running mates on the outside, senior slot receiver Marquise Goodwin's performance against New Mexico goes beyond the statistics, as he proved his worth in an unlikely area.
On Saturday, Goodwin had a pedestrian two catches for 15 yards. His blocking, however, was anything but pedestrian. He was a man on a mission when blocking for teammates, and had a key block that paved the way for Davis' touchdown.
This is exactly what you want to see from a senior. He was not having a major impact in the passing game, so he took it upon himself to set an example with his blocking.
For the running game to be all it can be, blocking on the perimeter will be essential. Goodwin made himself even more indispensable with his performance in that department.
Grade: B+
Daniels, TE:
Put in the starting lineup solely for blocking purposes, the converted defensive lineman was very much in the background Saturday. But as a blocker, that is pretty much the goal.
You would like to see someone emerge as a pass-catcher from this rag-tag tight end group, but Daniels has emerged as the best blocker among the four candidates. Therefore, he has a place on this team. Solid work from him on the whole.
Grade: C
Brendan Maloney-US PRESSWIRE

Though not quite as strong as they were last weekend, when they paved the way for two 100-yard rushers and kept David Ash's jersey clean, the offensive line was still able to turn out a strong effort in the trenches.
The line was good, but not great. They did a good enough job in blocking downfield for the team's 146 rushing yards and on the short passes that gave David Ash 221 passing yards, but they could have been better in protecting the quarterback.
David Ash was sacked twice, which is cause for concern considering New Mexico had one of the worst defenses in the country last year. Let's hope this is an aberration, because there is no way David Ash can quarterback this team to victory if he is getting pin-balled in the backfield.
These guys have to keep him clean, and they left much to be desired in that department against the Lobos. Other than that, they did their job well.
Grade: C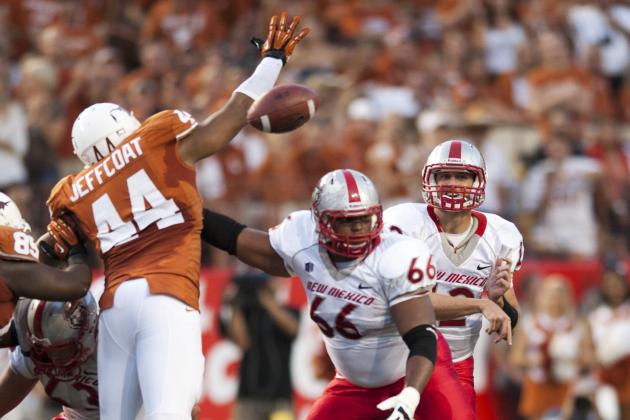 Cooper Neill/Getty Images

Jeffcoat:
For the second consecutive week, defensive end Jackson Jeffcoat looked to be every bit the can't-miss NFL prospect that he has been touted as all offseason.
Jeffcoat did everything Saturday. He had five tackles (2.5 for a loss), a forced fumble, a sack, a pass break-up and a quarterback hurry.
If you watched the game, it is very easy to understand how all of that was possible. So far this season, he and fellow book-end Alex Okafor have played sideline-to-sideline like they are linebackers. These two truly look unblockable thus far.
In summary, Jeffcoat was incredible. We should start hearing his name on television very often in the next year or so.
Grade: A+
Okafor:
Okafor may not have the statistics to back it up, but the senior defensive end was also wreaking havoc all over the field. His level of activity freed up the rest of his teammates all night.
Compared to Jeffcoat, Okafor had a small impact on the game with his one tackle and one quarterback hurry. Still, the guy was everywhere. The attention paid to him by New Mexico was a key factor in how much room Jeffcoat had to work with throughout the game.
This is probably how it is going to be for much of the season with these two. The other team will focus on stopping one and hope the other does not pick up the slack. And hope is about all they can do when taking that approach.
Grade: B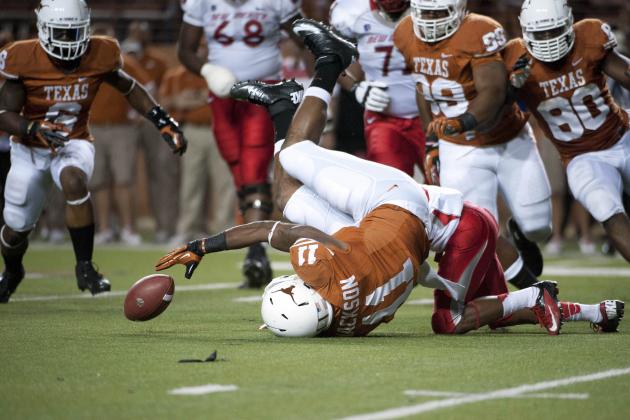 Brendan Maloney-US PRESSWIRE

Whaley:
Converted running back Chris Whaley was noticeably less of a factor on Saturday. He had a hard time finding his way into the opponent's backfield after living there last weekend.
Unfortunately, the supremely athletic Whaley was not able to follow his career performance against Wyoming with a similar performance against the Lobos.
He was able to keep the blockers occupied well enough to give Jeffcoat and linebacker Jordan Hicks some space to work with, but was otherwise invisible in the stat book.
There is no doubt that Bob Davie and the rest of the New Mexico coaching staff noticed Whaley's performance on film, so Whaley needs to figure out how to make plays when the opponent knows he is coming. It will probably take some time since he is new to this position. But as always, sooner is better.
Grade: C
Jackson:
Sophomore tackle Desmond Jackson made the most of the first start of his career for the Longhorns, showcasing exactly how deep this defensive roster actually is.
It was mildly surprising that Jackson was named the starter over JUCO transfer Brandon Moore, especially after Moore's solid performance last week against the Cowboys. But Jackson proved he was deserving by recording 1.5 tackles for a loss and a quarterback hurry.
This is a great sign for the defensive line. For two weeks in a row, two different players came in and caused a disturbance from the tackle position. With play like this, the defensive line is validating all of the hype it got in the offseason.
Grade: B+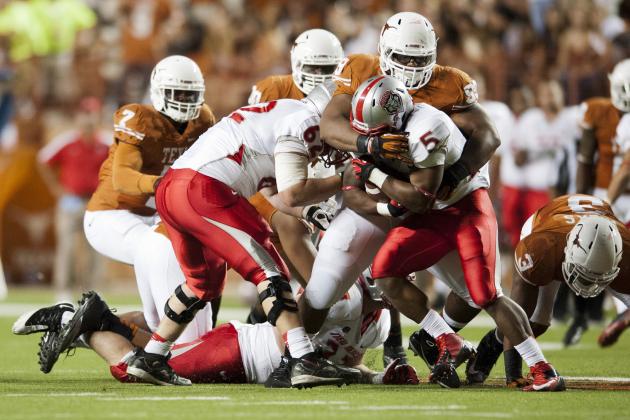 Cooper Neill/Getty Images

Hicks:
Jackson Jeffcoat may have been the MVP on Saturday, but junior linebacker Jordan Hicks was not far behind him after another stellar performance against the Lobos.
Hicks led the team with nine tackles, including 1.5 for a loss, and was all over the field.
Defending a triple-option attack like that of the Lobos is hardest for the opposing linebackers, but you could not tell it from the way Hicks played last night. He ran down screens, blew up plays in the backfield and simply played to the potential everyone knows he has.
Even more impressive than his numbers was the fact that Hicks did this with two very inexperienced teammates joining him in the linebacking corps—sophomores Steve Edmond and Demarco Cobbs.
He turned in an all-conference-type performance while covering for whatever shortcomings Edmond and Cobbs had in their games, which is very impressive.
Grade: A
Edmond:
One of the most noticeably improved players from Week 1 to Week 2, middle linebacker Steve Edmond grew up right before our eyes against New Mexico.
The sophomore linebacker asserted himself early and never looked back, recording seven tackles, including one for a loss. Most importantly, he looked in control. He kept his head on a swivel all night against the unconventional triple-option.
Edmond's accelerated development is a welcome sign, as the youth of this linebacking group is among the few question marks on the defense. His performance on Saturday should alleviate at least some of those concerns.
Grade: B
Cobbs:
Probably the only defensive starter that underperformed against New Mexico, sophomore linebacker Demarco Cobbs has not looked comfortable on the field for the second week in a row.
Cobbs did have five tackles, but he was often burned by the triple-option and was very obviously targeted as a weakness on Saturday night. Cobbs repeatedly missed his assignments on the option runs and in the first half ran completely the wrong way past a ball-carrier on the perimeter.
In short, Cobbs must improve. The defense cannot afford to give up big plays anymore, and Dalton Santos has played too well to let Cobbs keep messing up like this. Hopefully he was just having issues with the triple-option, but he has not had an encouraging start to 2012.
Grade: D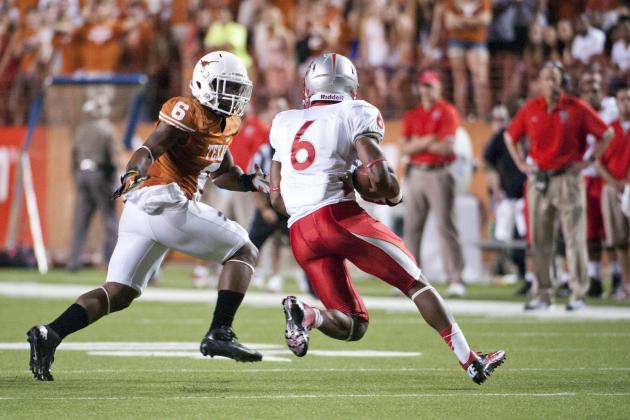 Brendan Maloney-US PRESSWIRE

Byndom:
After turning in a sub-par performance against Wyoming in which he was exposed multiple times, cornerback Carrington Byndom responded with a much more characteristic effort.
After giving up 285 yards through the air last week to Brett Smith and Wyoming, the Longhorns held the Lobos to a measly 35 passing yards—and Byndom was a big part of that.
He had only one tackle, but when he is at his best he makes himself and whoever he is covering invisible, which is what he did Saturday.
This was an encouraging performance after the egg he laid last week, though you would like to see him tested a little more than he was last night. The real test comes this week against Bo Wallce and a high-powered Ole Miss offense.
Grade: C+
Diggs:
Also a member of the secondary that was blasted for last week's performance, Quandre Diggs responded in a big way on Saturday. The performance showed why he and Byndom are still a force to be reckoned with.
Diggs had five tackles on the night and changed the entire tone of the game with his interception inside the Texas 30-yard line that quashed one of the Lobos' few opportunities to score. Diggs then followed that up with a 35-yard punt return that set up Mike Davis' touchdown reception.
This is what Texas wants from Diggs. Be a ball hawk and make plays in the same sort of way that Tyrann Mathieu did for LSU last season. He may not be as talented as the Honey Badger, but he can afford to take chances in that secondary. Not to mention the fact that he is positively electric in the open field.
Grade: A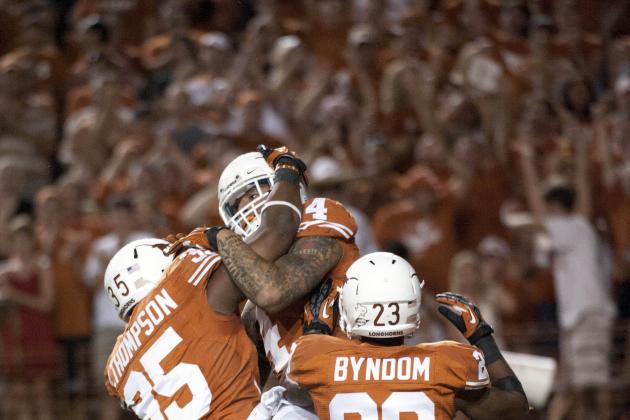 Brendan Maloney-US PRESSWIRE

Vaccaro:
As usual, the Longhorns got a solid performance from their All-Big 12 safety Kenny Vaccaro.
Vaccaro missed another sure tackle for a loss, but still recorded seven takedowns and a fumble recovery to round out a pretty solid night.
Vaccaro's contributions are always bolstered by the fact that he is the vocal leader of this defense, and his teammates played very well on the whole.
You can probably chalk up Vaccaro's missed tackles to the fact that he has not truly tackled anyone all offseason, though neither have a lot of his teammates. He cannot afford to miss tackles anymore. Here's hoping that he fixes that during the week.
Grade: B
Phillips
Other than corner Carrington Byndom, junior safety Adrian Phillips was the most culpable for the big plays Texas gave up last week in the passing game. He came back strong in this one.
Phillips finished the night with eight tackles from the safety position and was consistently good throughout the game. Most importantly, he did not miss tackles, which was a major contributing factor in his shortcomings last week.
Phillips looked like he had his head back on straight. With the type of passing attacks that are looming in the coming weeks for this Longhorn team, Phillips will need to keep making plays. He should be fine from here on out.
Grade: B