Best and Worst Case Scenarios for WWE Night of Champions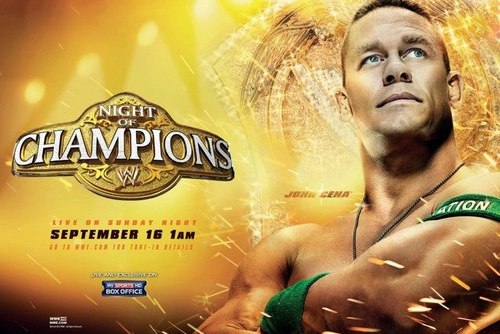 photo courtesy of brainstocker.com
WWE Night of Champions is set to happen on September 16 in Boston.
What could happen on the night where every title will be defended?
What's the worst thing that could happen if John Cena wins?
Is there going to be any reason for most of the champions to even have a match?
These questions, and much more, will be answered in the triumphant return of the "Best and Worst Case Scenario" series.
Begin Slideshow

»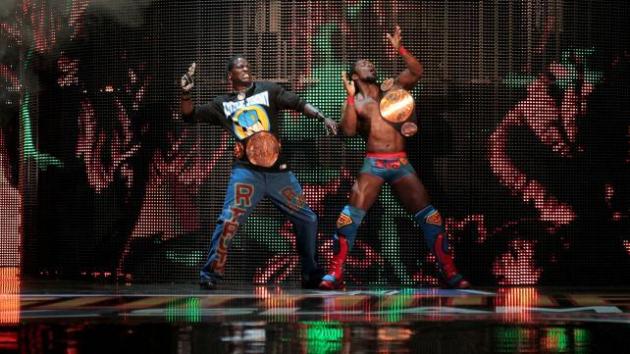 photo courtesy of wwe.com
Best Case Scenario
We hear Kofi Kingston's and R-Truth's ridiculous music as they begin their entrance. However, just as their pyro is about to go off, the Prime Time Players interrupt and beat the hell out of the current tag team champions.
After a methodical beatdown of both Kofi and Truth, the PTP take Truth's limp body to the ring and demand for the ref to start the match. Despite reservations, the referee starts the match as both Titus and Darren hit their newly minted tag team finisher (which mostly involves Darren Young doing all the work and Titus just observing).
After the PTP pick up the pin, Booker T enters the arena and claims that the PTP are cheaters and that they did not win the belts. The tag team championship then becomes vacated and Booker announces a tag team tournament with the winners becoming the new WWE Tag Team Champions.
The teams involved are the Uso's, the Colon's, the PTP, Rey Mysterio and Sin Cara, three completely useless teams and Kofi plus a new partner after Truth has been sidelined for 17 years.
Kofi and his new tag team partner, Cody Rhodes, win their way to the finals by cheating all the way. They face Mysterio and Sin Cara in the finals where Sin Cara blindsides Mysterio with a chair. After Kofi picks up the win Rhodes and Kofi attack Mysterio, thus cementing them as heels.
Worst Case Scenario
We continue to have a lackluster tag team division with absolutely zero storyline, yet the WWE creative gives themselves a big pat on the back.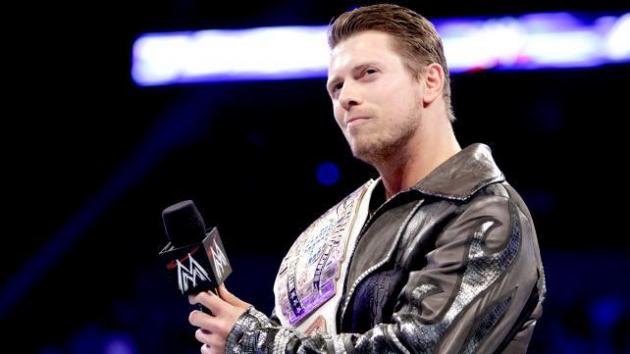 photo courtesy of wwe.com
Best Case Scenario
The Miz enters the ring in Boston and claims that no Superstar in the back would face him, mostly resulting in the WWE creative spending all of their time thinking of what to do to keep Alberto Del Rio vs. Sheamus 18.
Out comes Alex Riley, yes he is still employed and yes I had to Google that. A-Ry starts complaining that the Miz buried him backstage and complained to the higher ups that he was a bad worker, because Riley believes breaking the fourth wall is the way to get people to like you.
After a beautifully passionate speech about how it is his dream to be a main event player in the WWE, A-Ry promptly gets buried by the Miz again in roughly 53 seconds.
Worst Case Scenario
The Miz, who has no set opponent for Night of Champions, comes to the ring and claims how everyone in the locker room is afraid to face him (yes, every WWE Superstar is scared of the fauxhawked-girly man who can't seem to grow facial hair).
That's when we all get the luxury of Jerry "The King" Lawler saying that he will challenge the Miz because the Miz tried to take his place on commentating during his cage match with CM Punk.
The lucky fans in attendance in Boston get to witness a glorified Divas match that will consist of two people in the ring who seemingly have no idea what they are doing and the match will end, predictably so, in a roll up.
Lawler defeats the Miz, then gets challenged by Michael Cole, who once again can't decide if he is annoying or a jackass.
The Miz goes onto believing his role in The Marine 3 makes him a movie star (because that worked out so well for Ted Dibiase Jr.) and makes more and more terrible films as the WWE hypes him as a mega-star.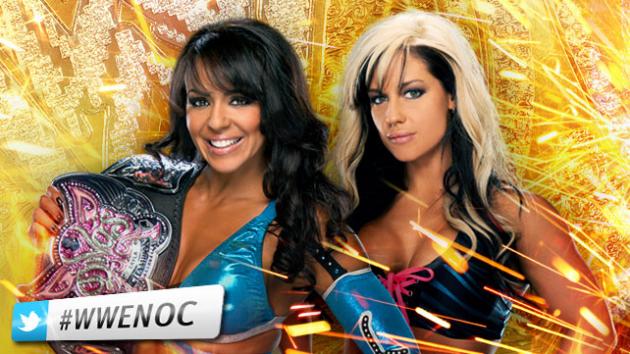 photo courtesy of wwe.com
Best Case Scenario
Katilyn defeats Layla, by actually using a finishing move. However, AJ comes out and accuses Kaitlyn of cheating to win. Kaitlyn denies this and as she is leaving AJ says that this is not the end of this.
The following weeks on Raw, AJ tortures Kaitlyn by mentally tormenting her. Eventually AJ snaps and beats Kaitlyn with a chair; yeah, violence in women's wrestling. The following day on WWE.com it is reported that AJ has been relieved of her duties as Raw General Manager.
However, AJ is not fired as a Diva and she challenges Kaitlyn to a match. This eventually culminates in a series of matches that bring hope to the future of women's wrestling in the WWE...then Kelly Kelly wins the belt and it all goes down the tubes.
Worst Case Scenario
It takes longer to read this slide then it would to watch the match; and Layla wins.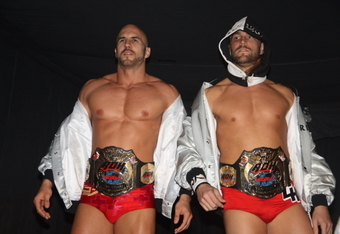 photo courtesy of pwponderings.com
Best Case Scenario
Antonio Cesaro does his usual thing where he says simple phrases in other languages. He then threatens to change the United States Championship to the European Championship. Just then we hear music we have never heard on WWE TV.
Enter Kassius Ohno.
Ohno, challenges Cesaro and they give an amazing match, considering they only get about five minutes to perform. This leads to an extended rivalry that perfectly exploits these two guys chemistry in a ring.
Worst Case Scenario
Santino Marella.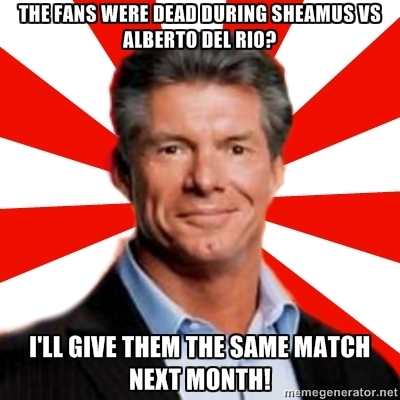 photo courtesy of memegenerator.net
Best Case Scenario
Sheamus is standing in the ring awaiting Alberto Del Rio's annoying entrance.
As Ricardo introduces Sheamus, from the top of the entrance ramp, Del Rio does his usually flailing of his arms. Then, all of a sudden, Del Rio's 1.2 million dollar car starts rolling forward. Del Rio never notices this and gets hit with the car.
Sheamus leaves NOC as the champion and never has to defend it. Del Rio appears on Raw the following night and announces his retirement due to both of his legs being shattered.
Worst Case Scenario
A comet doesn't strike one of these men and we get the luxury of watching them again and again and again and again.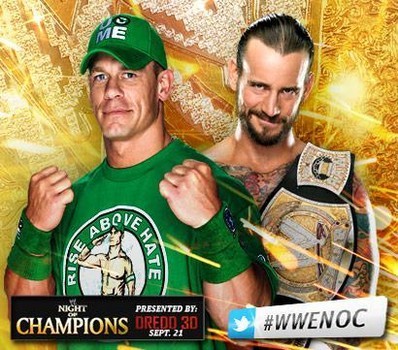 photo courtesy of wwe.com
Best Case Scenario
CM punk retains the belt by cleanly beating John Cena, which will cause a chorus of "boos" from the Boston crowd who can't handle losing gracefully.
CM Punk retains the belt until the Royal Rumble defeating John Cena in every PPV along the way. Then, the epic confrontation of CM Punk vs. The Rock main events the Royal Rumble. CM Punk defeats The Rock after hitting him with the newly minted WWE Championship.
The Rock shows up at Raw and says he is going to face CM Punk for the championship at WrestleMania. However Raw General Manager, someone who is not AJ, tells The Rock that he got one free chance and he has to earn another shot.
The Rock actually wrestles in consecutive PPV's and earns his number one contendership. Then at Wrestlemania, CM Punk defeats The Rock cleanly, cementing himself as the best in the world.
Worst Case Scenario
John Cena wins the WWE title after Jerry Lawler interferes and screws over CM Punk. Punk then viciously assaults "The King" the following night on Raw (that's actually a good thing), which allows him to go away for a LONG time.
CM Punk ends up winning the belt back and challenging the Rock at the Royal Rumble. John Cena wins the Royal Rumble and faces The Rock in a horribly predictable match at WrestleMania. CM Punk, now just floating around, ends up feuding with the newly shaved Big Show.
As of right now the only other match scheduled at WWE Night of Champions is Dolph Ziggler vs. Randy Orton; however, I wanted to address the title matches because it is Night of CHAMPIONS.
So that's it everyone. I would like to say I am grateful to hear so many people calling for my return to writing after taking a break over the last month.
Am I insane? Are you just as insane for asking me to come back?
Is the Big Show really going to come back any time soon?
Make sure to leave me a comment below and follow me on twitter @footballcanuck to hear more ridiculous wrestling ramblings.
Write you later friendos!