Missouri Football: Winners and Losers from the Week 2 Game vs. Georgia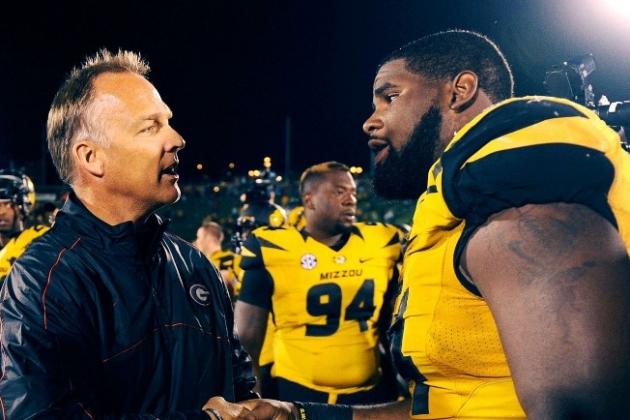 Sheldon Richardson meets with Georgia head coach Mark Richt following the Tigers' 41-20 loss in Columbia. AP Photo / L.G. Patterson
The Missouri Tigers got welcomed into the SEC with open arms by the Georgia Bulldogs last Saturday.
The only problem is those open arms turned into a bear hug of problems for the Tigers, who dropped their second week contest 41-20 to a packed house in Columbia.
What was a very close and entertaining clash for most of two hours turned into a southern-style route of Mizzou, who couldn't find an answer late in the game, giving up 24 straight points to Georgia after taking a 20-17 lead.
Both teams started out shaky and couldn't seem to get a firm grip on any of the fundamentals, but the star-quality of Georgia's defenders, especially Jarvis Jones, was the difference on a historic night of SEC football in Columbia, Mo.
And now, after the high quality performance the Bulldogs put together, the moniker of "old man football" may not be so much of an insult and more of a motivator; the Georgia fans have embraced it.
But despite the loss, Missouri did take away some positives from the game. We revisit Georgia's trip to Columbia to examine the winners and losers for Mizzou, starting with the not-so-good for the Tigers.
Begin Slideshow

»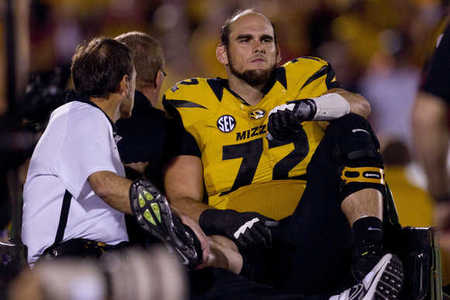 Missouri All-America candidate Elvis Fisher is carted off the field after an MCL injury. Photo by Shane Keyser / Kansas City Star
So much has been made of the highly talented left tackle Elvis Fisher passing on the NFL draft and going for his final year of eligibility as a Tiger.
The excitement of his decision came to a brutal stand-still as Fisher lay face down in obvious pain in the first half. The injury was an immediate cause for concern, and when star receiver T.J. Moe took a knee by Fisher to check on his condition, that feeling got worse.
Fisher is seen being carted to the Missouri locker room along with head team physician Pat Smith. Although Fisher would make a return to the playing field before the conclusion of the game, it was without pads and with the aid of crutches.
Missouri coach Gary Pinkel has speculated that it may be a month before Fisher could return to action, but the actual timetable simply won't be known until progress is seen.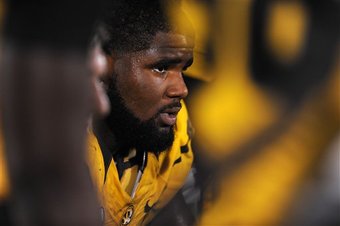 Photo by L.G. Patterson / Associated Press
Sheldon Richardson came to Missouri as a five-star recruit by Rivals.com, ranked as the No. 1 defensive tackle in the nation as a junior college transfer in 2009.
But Richardson has turned into one of the biggest busts in Missouri history, starting only two games in 2011 and making a minimal impact in games he's played in.
But it hasn't been enough for Richardson to embarrass the Tigers on the field. A week ago, he made comments to the Columbia Daily Tribune about Georgia's game against Buffalo resembling "old man football."
The quote quickly became bulletin board material in Athens, and gave a solid Georgia team plenty of motivation that would have otherwise not existed.
Richardson finished the game Saturday with five tackles, three of which were assisted.
Georgia fans in attendance in Columbia began to chant "old man football," over and over as the game became out of reach for the Tigers.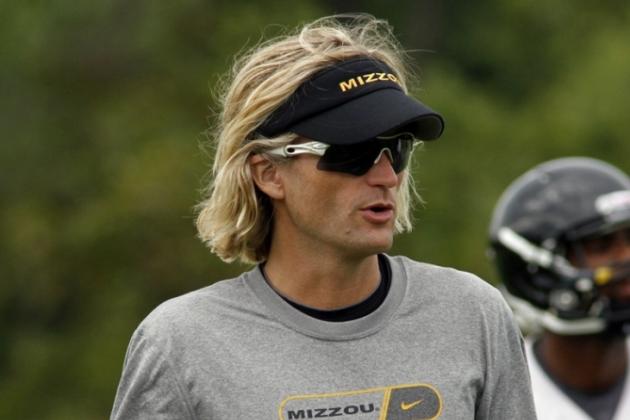 Missouri offensive coordinator David Yost made some questionable decisions about the Mizzou offensive attack.
Offensive play-calling is the key to winning against a tough defense. Knowing the strengths and weaknesses of your opponent will enable you to make the best decisions.
With that being the case, it's tough to know what game or team Missouri offensive coordinator David Yost was calling plays for on Saturday.
It kept happening...over and over again. James Franklin would get the snap, perhaps give a half-hearted attempt at a fake hand-off, and run up the gut of the Georgia defense.
At no point in the game was this approach even remotely effective. It never caught Georgia by surprise. Franklin did have a run of 14 yards, but his average was an unimpressive 1.2 yards-per-carry.
Franklin led both teams with a total of 20 rushing attempts. Most of them looked nearly the same; up the middle, no surprises, right into the teeth of a tough SEC defense.
With so many fans able to see this ineffective pattern, it's a mystery what exactly Yost was thinking in this approach.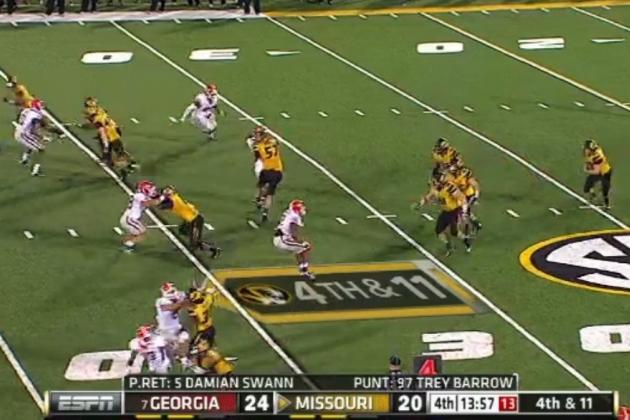 Photo courtesy ESPN3.com
Two critical 4th down decisions hurt Missouri in the game, one of them however was simply mind-boggling.
The first was Missouri's decision to go for a field goal on 4th-and-two from the Georgia 12 late in the third quarter. This decision put points on the board, but it sent a message that Missouri was going to play soft.
But the big one was early in the fourth quarter.
With Mizzou trailing 24-20 on a 4th-and-11, one of the worst play calls I've seen on special teams in several years occurred.
Missouri punter Trey Barrow was asked to take the ball from the Missouri 23-yard line where he accepted the long snap, and attempt to run a fake punt play to just shy of the Missouri 46 for a first down.
The difference of 23 yards for your punter to run on a top SEC team can't be expected. Why this call was even entertained is a complete mystery.
Okay, enough of the bad. Let's look at the good things that Missouri fans can take away from this game.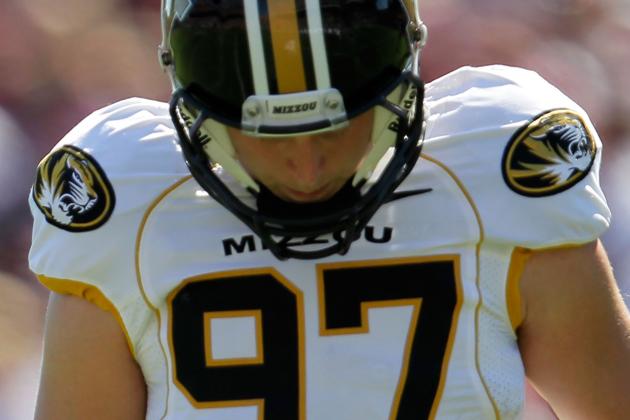 Sarah Glenn/Getty Images

Although, he couldn't complete the nearly impossible 4th-down conversion, Missouri punter Trey Barrow had two very good punts early on.
One of the punts came with Missouri at their 31-yard line. Barrow boomed the kick that pinned Georgia down to their nine.
If Barrow is consistent with this ability, he will be a weapon. Missouri will have to be effective in the field position game in the defense-heavy SEC, and if Barrow can deliver like he did, Missouri will be able to win some games because of it.
Having Barrow as the backup place kicker is also a great asset for Mizzou, as he has plenty of experience from last season in big-time spots.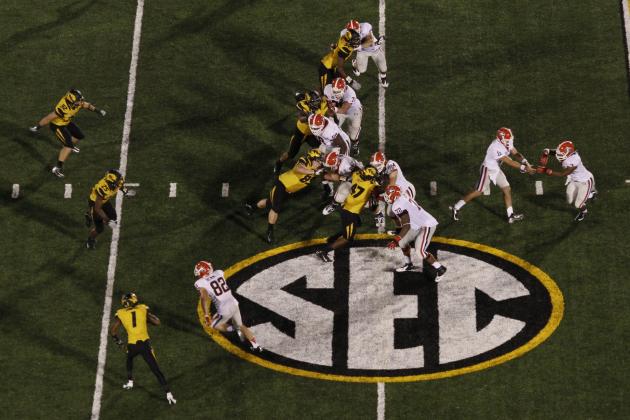 Ed Zurga/Getty Images

Although, Missouri was defeated handily on the scoreboard, the Tigers measured up to Georgia in nearly every single statistical category.
Missouri had 18 first downs while Georgia had 17. Georgia had a mere 11 more net rushing yards than Mizzou. In total yards, Mizzou had the advantage at 371 to 355.
And on down the list, from top to bottom, the stats are nearly identical.
This shows that indeed the game was a lot closer than the score indicated, a sentiment reiterated by Georgia coach Mark Richt.
"You know, 21 points was really not indicative of how close the game was," Richt said. "It was definitely a great challenge for our football team."
It was a tough loss for the Tigers, but when you want to play among the big dogs, you have to be willing to take your licks. The amount of experience gained from this contest should be invaluable to Missouri.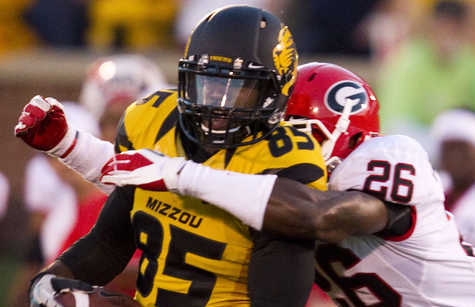 Photo by Shane Keyser / Kansas City Star
Missouri receiver Marcus Lucas was by far the most consistent Mizzou offensive performer in a huge game when it mattered.
He had six catches for a total of 88 yards and a touchdown, including a 41 yard strike from James Franklin.
Lucas is a top receiver from a year ago, at a position for Missouri that didn't shine as it has in the past. Getting him going and keeping him involved will help free up T.J. Moe and get the entire offense running up to its full potential.
After the game he did offer up some of his feelings about the loss.
"We knew it was going to be a dogfight the whole game," said Lucas. "But we can't have that many turnovers that late in the game. We had the sack, and then we don't get the fake punt. Different things like that hurt us."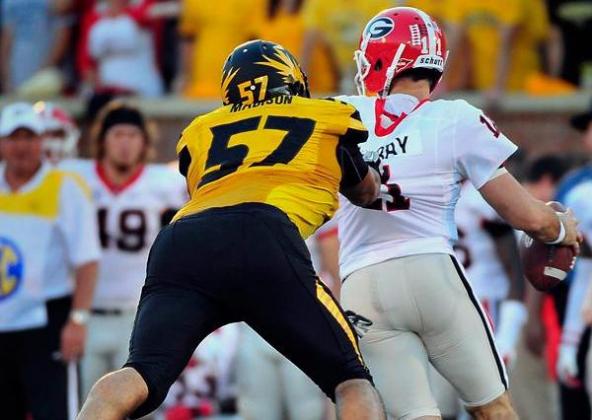 Photo courtesy of the Columbia Missourian
He is the lone returning starter from last year's defensive line, and he was active early, helping set a tone that Missouri was not going to roll over in this game.
In the first Georgia drive, senior Brad Madison had a solid sack on Bulldogs' quarterback Aaron Murray which forced them out of field goal range and sent a big time psychological message that Missouri wasn't to be taken lightly.
Madison would get another unassisted sack before his night was finished.
Knowing if the defensive line is going to show up this season is a huge concern for the Tigers, and if they are to make a quality showing it's going to start with Madison.
"No matter what, we have to play good football if we want to win," said Madison of the Missouri loss.
"If we play a game like that in the Big 12, we would probably lose that game, too. We just have to fix the little mistakes and come back here ready to go."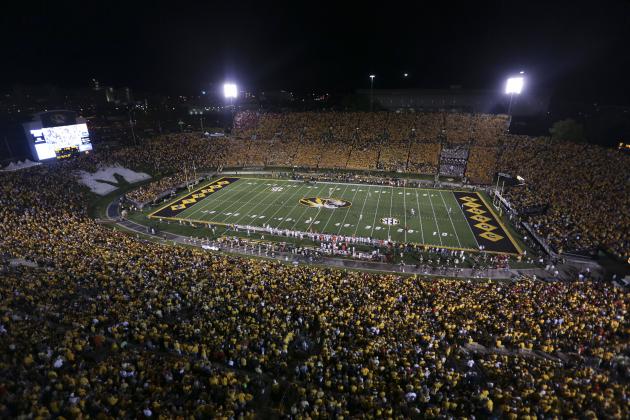 Ed Zurga/Getty Images

For three quarters, Missouri fans felt really good about being in the SEC.
But in the fourth, the quarter Gary Pinkel prides himself on winning the most, the Tigers were hurt by a combination of inability to execute, poor decision making and Jarvis Jones.
Many Missouri fans and players are using the term "beat ourselves," and although that can usually be pulled out any time a team loses, there's no way I will take away from what Jarvis Jones did.
Jones' performance against Missouri has likely earned him some serious national attention, and he could be in line to be a first-team All-American.
But where there's a tough loss, there's always a lesson to be learned. The Tigers still have everything to play for in their freshman season in the SEC.
Although my 31-13 prediction of a Georgia win was incorrect, 41-20 means that my margin was only off by three points.
After my week one score of 55-3 yielded the same predicted margin of victory (52) when Mizzou beat SE Louisiana 62-10, my total preseason aggregate prediction is only off by three points in two games.
Up next is Arizona State, and I do have Missouri back in the win column, big in this one, with the Tigers routing one of the Pac-12's better teams 42-17. Let's see if I can keep these predictions rolling.