Chicago Bears: Top 5 Players in the Victory over Indianapolis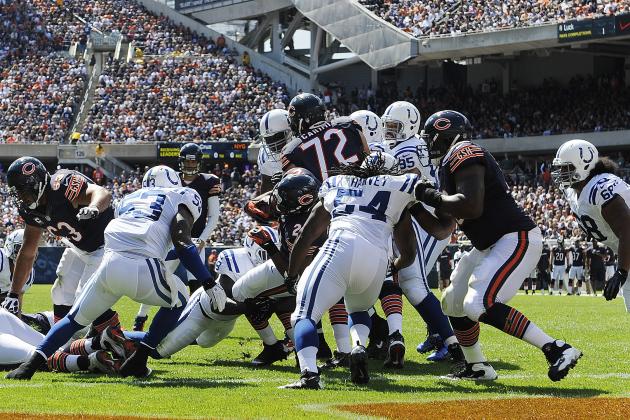 David Banks/Getty Images
The Bears won their season opener 41-21
After a horrendous start to the game, the Bears would rebound and dominate the Indianapolis Colts. The Bears asserted themselves in all phases of the game today.
The Colts just did not know what hit them. Dwight Freeney left the game early because of an ankle injury, and Robert Mathis started the game with two sacks but would be mostly ineffective for the remainder of the game.
The Bears' defense stood its ground, the offense looked in-sync and the Bears also handled business on special teams.
Jay Cutler did make some bad decisions today. Decisions such as the first-quarter interception that went for a touchdown, and all of the balls he threw toward Brandon Marshall that were in double and triple coverage.
But luckily those decisions did not impact the outcome of the game. Andrew Luck also got his first official start in the National Football League.
After a nearly flawless preseason, Luck finally got to see the true grind of an NFL game. Here are the five Bears players who propelled the team to victory today...
Begin Slideshow

»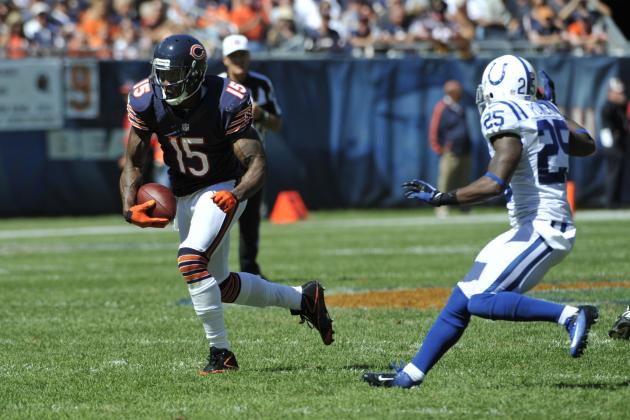 David Banks/Getty Images
Brandon Marshall grabbing one of his nine receptions.
Jay Cutler went to Marshall early and often, and it eventually paid off. Brandon Marshall would lead all Bears receivers with nine catches for 119 yards along with one touchdown.
Cutler threw the ball to Marshall 15 times this afternoon. Most of those passes were thrown into double and sometimes triple coverage, but Marshall gave the effort to catch every single one of those pass attempts.
Today was just the beginning of what Cutler and Marshall can do together.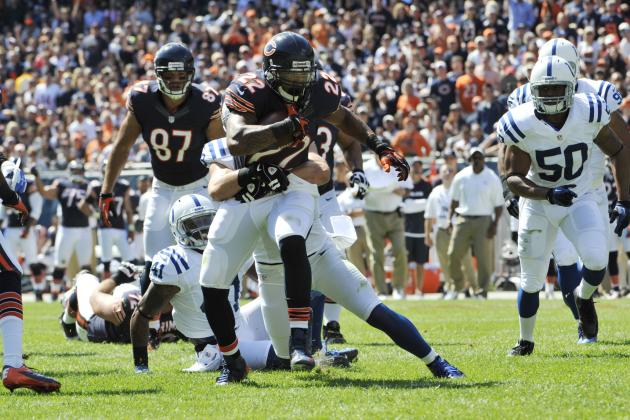 David Banks/Getty Images
Matt Forte finished with 120 total yards for the Bears today.
Matt Forte and Michael Bush were the driving force behind the Bears' offense today. Both men ran for a combined total of 122 yards and three touchdowns.
Forte averaged five yards per carry while Bush averaged just over three yards per carry. Every time one of these men touched the ball, they refused to be denied.
They ran hard, broke tackles and wore down the Colts' defense. Every time Michael Bush ran the ball, he was almost unstoppable.
Aside from his two touchdown runs, he also had a 20-yard run in the second quarter that required three Indianapolis defenders to bring him down.
Forte also chipped in with 40 receiving yards. He used his speed and quickness to keep the Colts' defense on its toes all day long.
If Forte and Bush can team up for performances like this for the remainder of the season, it will be a long year for opposing defenses.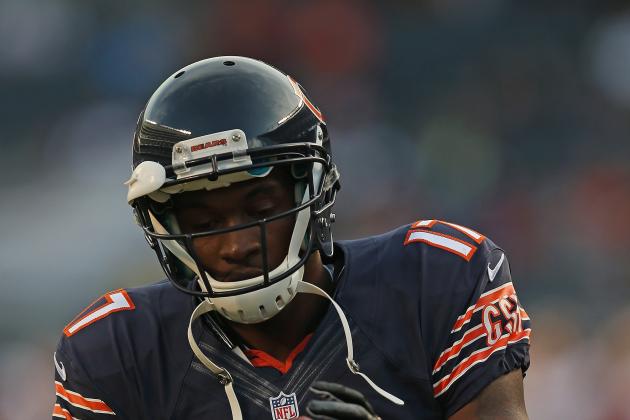 Jonathan Daniel/Getty Images
Jeffery was the Bears' second leading receiver today.
Now the rookie only had three catches on the day, but his first two catches went for first-down yardage. His third catch was a 42-yard bomb from Jay Cutler that went for a touchdown.
It was the touchdown that sealed the game for the Bears. Jeffery would gain 80 receiving yards and would finish second in yardage among Bears receivers before all was said than done.
He will look for more opportunities against Green Bay this coming Thursday.
Jonathan Daniel/Getty Images
Jay Cutler has won the last three season openers as the starting quarterback.
It took a while for the Bears to get things going. Jay Cutler was sacked on the first two offensive drives. He also threw an interception which gave the Colts their first points of the game.
But after the dreadful start, Cutler got his head together and went on to lead the Bears to victory. Cutler finished the game completing 21-of-35 passes for 333 yards and a touchdown.
He also averaged almost 10 yards per pass completion, and he was not afraid to throw the deep ball. This is what we have been waiting to see from Jay Cutler.
Now that he has Brandon Marshall and Alshon Jeffery at his disposal, I expect Cutler to have a big season provided that he can stay healthy.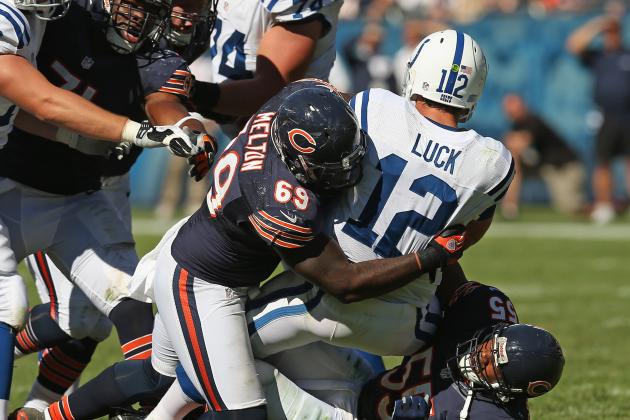 Jonathan Daniel/Getty Images
Henry Melton sacked Andrew Luck twice today.
In order to win a game by 20 points you need a big effort from your defense. And today the Bears' defense gave quite the effort.
The Colts' rookie quarterback Andrew Luck was under pressure all day. The Bears sacked Luck three times, hit him five times and forced him to rush most of his throws.
Chicago's defense forced five turnovers today, and it's been a while since the Bears have forced that many turnovers.
They also held the Colts to just 63 rushing yards and 14 points. The Bears needed to make a big statement today, and they did exactly that.
If I were the Green Bay Packers, I would not take this Bears team lightly. Thursday night's contest will be very interesting.