Manchester United: Players Who Will Shine with Wayne Rooney out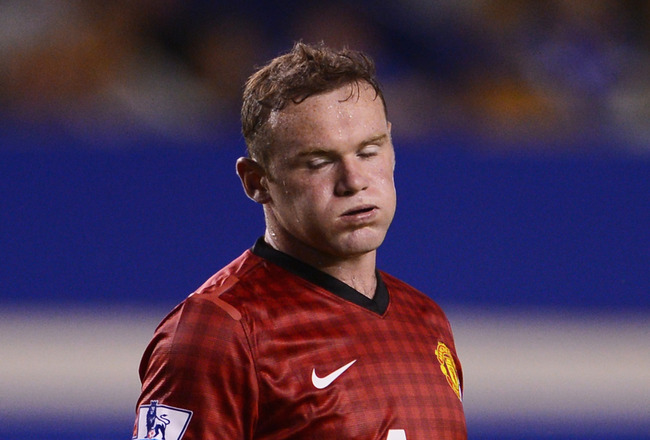 Michael Regan/Getty Images
If you have been following the English Premier League and are an avid Manchester United Fan, there is no doubt you think the forward line looks lonely in the absence of Wayne Rooney.
On his return, there are talks of Man United's wonder boy switching positions from striker to attacking midfielder. This seems like an uneducated choice considering his goal tally from last season.
Either way, Rooney is currently warming the bench, rather than making offensive advances. In his absence though, there are a number of talented players looking to prove they can fill his shoes until he returns.
Here are a handful of players who will shine in Rooney's absence.
Shinji Kagawa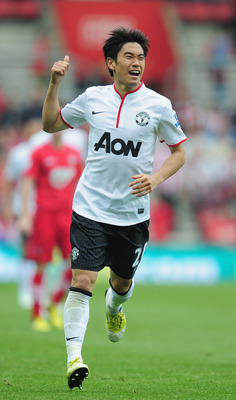 Jamie McDonald/Getty Images
Shinji Kagawa has slipped into Rooney's goal scoring position, and has made a name for himself with the Red Devils.
Kagawa, the first Japanese player to grace Old Trafford, is more comfortable dropping behind the center forward position, but his versatility allows him to float from midfield into threatening positions inside the box.
He has youth, intelligence and has proved he has goal-scoring ability.
He scored his debut goal against Fulham, coincidentally the same match that left Rooney on a stretcher.
It looks like Rooney may only be missing for another two weeks, but his absence has given Kagawa a golden ticket to prove himself in order to earn more playing time in the future. Kagawa has shown he is instrumental on the pitch, a natural playmaker.
Ferguson could have discovered the perfect partner for Rooney. Robin van Persie is the obvious pairing, but Rooney and van Persie may be too alike, and the English international may have better chemistry with Kagawa.
Van Persie was the Premier League's top scorer last season with 30 goals, while Rooney was on his tail with 27 goals.
Tom Cleverley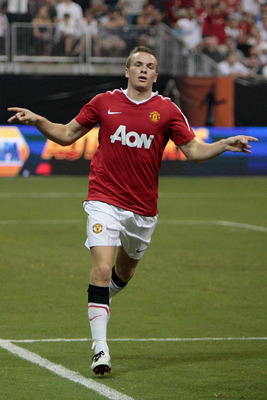 Bob Levey/Getty Images
Tom Cleverley is young and versatile and in the future, will be more than a guest star in United's midfield lineup.
Cleverley justified his position in England's lineup against Moldova last Friday night when he put on a strong display in the Three Lions' qualifier. This performance may prompt Alex Ferguson to invite Cleverley onto the pitch more frequently, but it is hard to say, considering competition from other young hot shots like Kagawa.
Rooney's involuntary exit from the soccer pitch is giving players like Cleverley a generous chance.
Cleverly has had top-notch players applauding his game. Steven Gerrard, England's skipper commented on Cleverley's recent performances by saying this to Yahoo! UK:
Tom is going to be a good player. He is only a young boy. Games like that in Moldova will be fantastic experience for him. He is playing for one of the biggest clubs in Europe and he has broken into the England team so he has got a fantastic future. He keeps learning the game, keeps trying to improve, he is going to be a top player.
Cleverley's strengths lie firmly in his ability to attack and defend simultaneously from the middle of the field. He is extremely perceptive when on the ball and can pick out players to supply effective passes to.
The problem for Cleverley is Man United's historical domination in the middle of the pitch. Although Cleverley is clearly talented, he has big names to live up to. Paul Scholes, Ryan Giggs and Darren Fletcher to name a few.
Danny Welbeck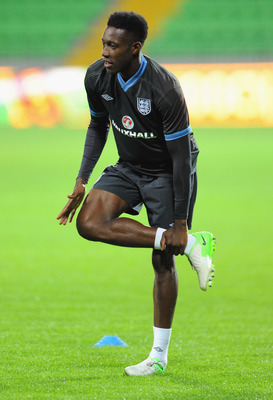 Michael Regan/Getty Images
Danny Welbeck is another man to watch out for.
Welbeck did not enter Old Trafford as a star-studded player like Rooney, but he's worked up the ranks consistently. A member of United since the tender age of eight, Welbeck is a relentless hard working player.
Welbeck is a flexible player who can play out wide, but can also move into the danger zone to create chances. He impressed with nine goals last season and although spaces are limited offensively, Welbeck could serve as a replacement for Rooney.
Michael Carrick commented on Welbeck's future with United when he told Yahoo! Australia that he's "also played out wide and done fine. But I think he'll play more than his fair share of games up front and score enough goals. Watching the likes of Robin and Wayne [Rooney] will improve him as the years go by."
Even if Rooney is back in two weeks, Welbeck should shine his boots for the upcoming season.
Keep Reading

Manchester United: Like this team?