10 Reasons Notre Dame Fighting Irish Will Be out of Top 25 by End of September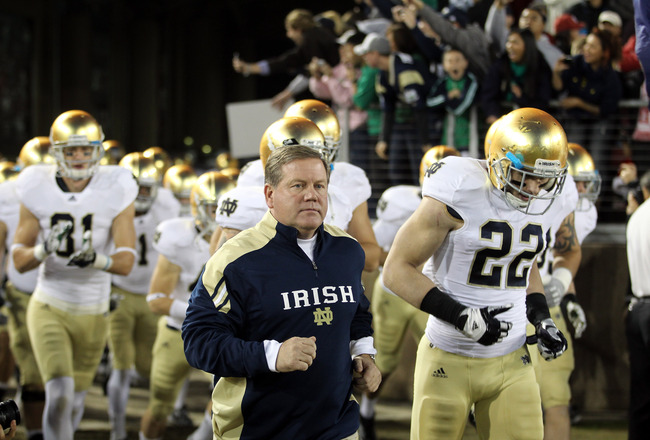 Ezra Shaw/Getty Images
We are only two games into the college football season, and Notre Dame has climbed into the Top 20 of the rankings in both major polls.
The schedule so far has not been too difficult, but Purdue gave the Fighting Irish all they could handle at home over the weekend.
For Notre Dame, they are now entering one of the harder parts of their schedule, and it is safe to say, there are going to be a few bumps along the road. Possibly enough to drop them out of the Top 25.
Here are 10 reasons why the Fighting Irish will be out of the Top 25 by the end of the month.
A Road Trip to East Lansing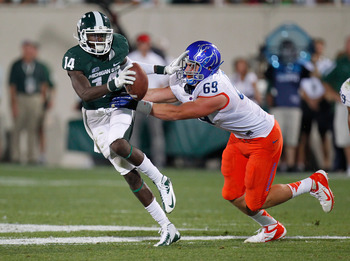 Gregory Shamus/Getty Images
In one of the marquee college football games of Week 3, the Fighting Irish take to the road for their first true road game of the season, and it is not going to be an easy one.
They not only have to take on the Michigan State Spartans, who are one of the Top 10 teams in the country, but also have to do it in an extremely tough environment.
It will be under the lights and a huge challenge for the Fighting Irish.
A Home Game with Michigan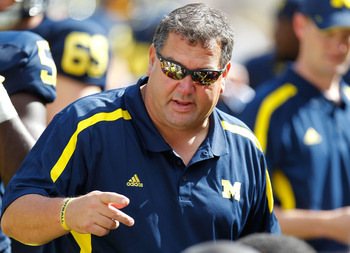 Gregory Shamus/Getty Images
After traveling to East Lansing and taking on Michigan State, Notre Dame returns home to battle Michigan in their annual game the following week.
They will have their hands full controlling Denard Robinson and the Wolverines offense.
A loss here, coupled with a loss against Michigan State, will certainly drop even Notre Dame out of the Top 25.
Quarterback Questions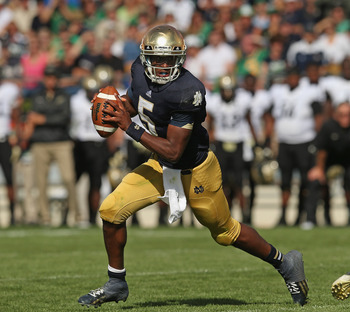 Jonathan Daniel/Getty Images
It wouldn't be a Brian Kelly team without questions from the quarterback position, and this year is no different.
Freshman Everett Golson appeared to have supplanted himself as the starter heading into the second game of the season but suffered a thumb injury against Purdue and was replaced by Tommy Rees.
He led Notre Dame on their final drive to win the game 20-17, and while it appears Golson is still the starter when healthy, everyone knows Kelly is not afraid to pull him for Rees or even Andrew Hendrix for that matter.
A Bye Week at the End of the Month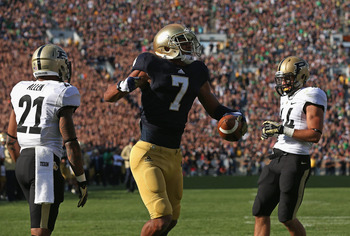 Jonathan Daniel/Getty Images
A bye week may not seem like a big deal, but when a team is not on the field, it is never a good thing, at least in the eyes of the voters.
If they lose their next two games and then have a week off, the voters are not likely to do them any favors and move them up in the rankings.
They are more likely to get jumped by a team behind them who comes up with a big victory.
Just ask Boise State about that.
Le'Veon Bell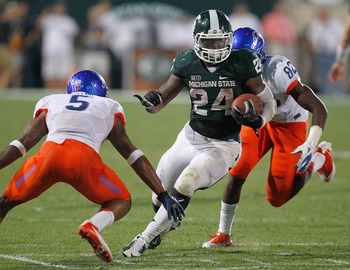 Gregory Shamus/Getty Images
What could prove troublesome for Notre Dame is the fact that they will play two completely different offenses over the next two weeks.
On Saturday they play a Michigan State offense that likes to grind it out, and they are led by running back Le'Veon Bell.
Bell rushed for 280 yards through two games and is a workhorse, as was evidenced in the season opener against Boise State when he carried the ball 44 times for 210 yards and two touchdowns.
The Fighting Irish might not have enough up front to slow him down.
Denard Robinson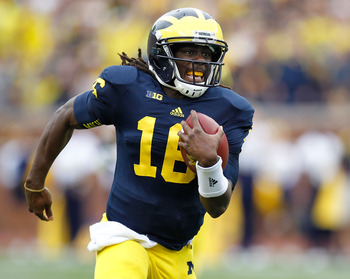 Gregory Shamus/Getty Images
A week after taking on a grind-it-out Michigan State team, the Fighting Irish will have to completely change their game plan when they take on Michigan.
Denard Robinson can do a little bit of everything and will be unlike anybody Notre Dame will face all season.
Robinson has also rushed for 245 yards and three touchdowns this season to go along with 408 yards and three touchdowns through the air.
He will be hard to stop, particularly after facing the Spartans seven days earlier.
Key Injuries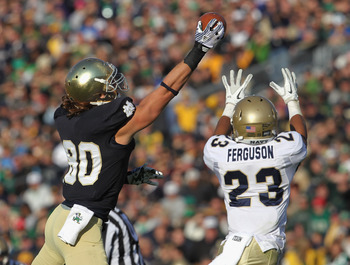 Jonathan Daniel/Getty Images
While for the most part, Notre Dame is relatively healthy, there are a few players who came out of the Purdue game a little banged up.
Tight end Tyler Eifert, who is considered one of the best in the country at his position, suffered a slight concussion against the Boilermakers, and quarterback Everett Golson also went down with an injury, as was mentioned earlier.
Safety Jamoris Slaughter has also battled injury, along with a few other players.
Overconfidence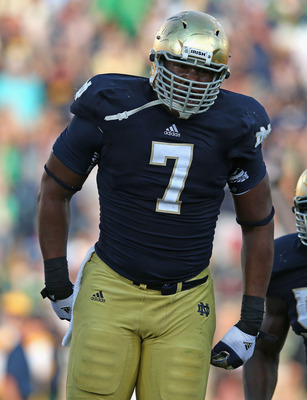 Jonathan Daniel/Getty Images
Overconfidence is something that can be found with nearly any college football team, but particularly one who is as big of a media darling as Notre Dame is.
The Fighting Irish continue to get more and more national attention for not really having too much success.
Most teams would need to defeat somebody of significance to get this much attention, but for the Fighting Irish, the attention is always there.
A Brian Kelly Blunder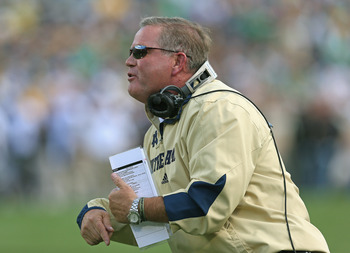 Jonathan Daniel/Getty Images
Sooner or later, head coach Brian Kelly is going to do something that will cost his team big time during a game, whether he panics after a few bad drives and switches quarterbacks or goes for it on a fourth down when he would be better off punting it and playing for field position.
This outgoing head coach is certain to mess up sooner or later.
They Really Aren't That Good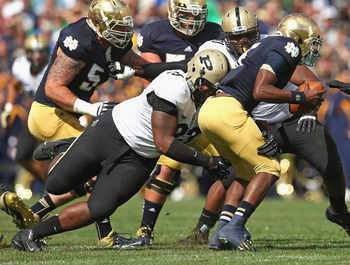 Jonathan Daniel/Getty Images
While Notre Dame receives a lot of media attention, sometimes well-deserved, this season, they are nothing more than a six- or seven-win team.
The talent is not there, particularly on offense, to contend with the big boys, and that will be the case as they take on teams like Michigan State, Michigan, Stanford, BYU, Oklahoma and USC in the coming weeks.
It would be hard to imagine them winning more than seven games in 2012.
Keep Reading

Notre Dame Football: Like this team?