Tennessee Vols Football: Winners and Losers from Week 2 Game vs. Georgia State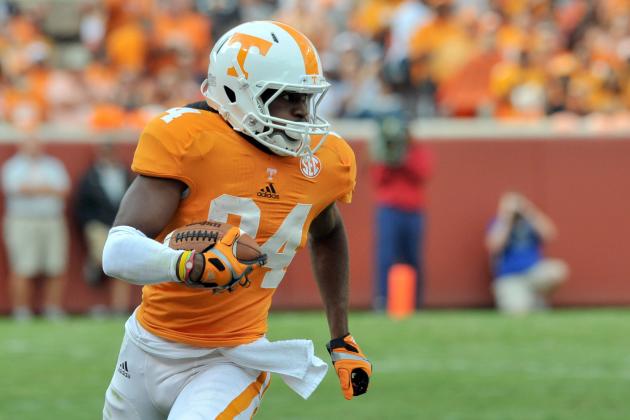 Jim Brown-US PRESSWIRE

The Tennessee Volunteers' strong start to the 2012 season continued on Saturday with a blowout of FCS opponent Georgia State. To put it simply, the Vols had their way with the Panthers in nearly every facet of the game.
And it's that key word "nearly" that breathes life into this article on winners and losers for Week 2 home opener. Obviously the team was the ultimate winner, but there were certain players and situations that stand out.
Similarly, a few players had a down day, especially considering the opponent. A few of the guys were so disappointing, I wouldn't be surprised if Derek Dooley makes a move leading up to this week's game against archrival Florida.
Without further ado, here are my winners and losers from the game against Georgia State:
Begin Slideshow

»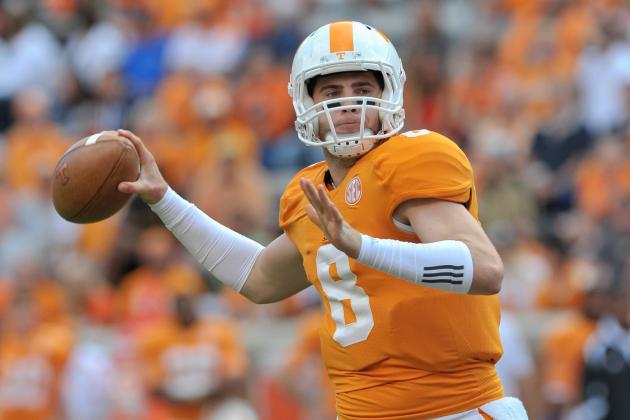 Jim Brown-US PRESSWIRE

It's deja vu all over again. Tyler Bray is off to another superb start to the season. Let's just keep his thumb intact.
After two games, Bray leads the SEC in passing yards and touchdowns. His 194.8 passer rating is fifth in all of the FBS. His performance against Georgia State was terrific.
Bray completed 18 of his 20 passes—including 13 in a row—for 310 yards and four touchdowns. He did exactly what a star college football quarterback is supposed to do against inferior opponents—torch them.
The 13 consecutive completions ties him for third on the all-time list at Tennessee. If he completes his first three passes against Florida, his 16 consecutive completions will be second only to Tee Martin's 25.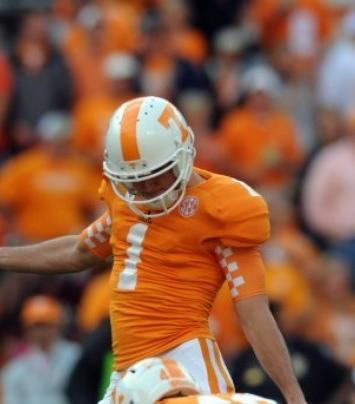 govolsxtra.com
Against NC State, a bad snap may have caused Michael Palardy to miss an extra point. Against Georgia State, it was all on him.
After going up 34-6, there were few things that could have happened that would put a damper on the afternoon. Palardy's missed extra point was one of those things.
In the first quarter, he missed a 39-yarder that stunted the rhythm that offense was finally getting into. What happens if Tennessee needs a field goal against Florida or Georgia?
Palardy had a chance to get game-time repetitions on kick-offs, field goals and extra points, but he botched it.
Don't be surprised if Derrick Brodus trots on the field to win the game on a 30-yard field goal.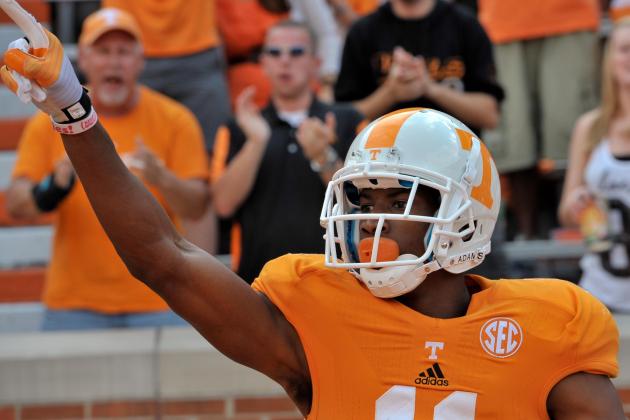 Jim Brown-US PRESSWIRE

The only wide receiver that didn't get in on the scoring in Week 1 was Justin Hunter. That wasn't a problem in Week 2.
Hunter led the Tennessee Volunteers with eight receptions, 146 yards and three touchdowns. The uncharacteristic drops were gone, and the knee looked perfectly healthy.
It may have looked easy to us at home, but Hunter admitted that he had to work hard to have such a strong outing.
I am not going to say it was easy. Some of the catches were, but you have to play like you do in practice. -UTsports.com
Hunter's 2012 coming out party makes him a winner.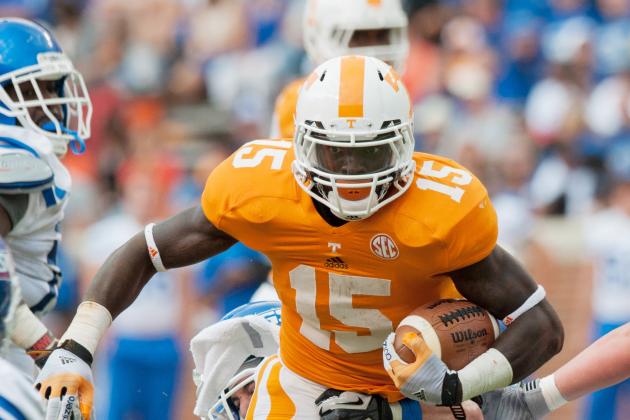 Jim Brown-US PRESSWIRE

After impressing his teammates, coaches and fans with 75 yards on just nine carries against Week 1, sophomore tailback Marlin Lane was a dud against Georgia State.
He tallied just 31 yards on eight carries—a 3.9 yards per carry average. He also coughed up a fumble that resulted in a Georgia State field goal. Looking at the discrepancy between the two games for Lane, indicates that he's still too inconsistent to be relied upon.
Tennessee ran the ball well as a team with 184 yards, including a strong 65 from starter Rajion Neal on 13 carries. But Lane had the opportunity to win back his starting role and didn't.
The Vols may be a running back-by-committee offense for every game this season.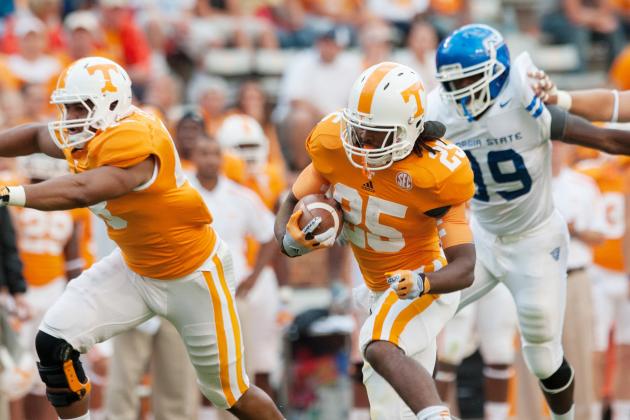 Jim Brown-US PRESSWIRE

With eight minutes left in the third quarter, Justin Worley entered the game along with many other second and third-string players. It's always a win when you can get your back-ups live snaps.
Worley was able to get some snaps, complete a few passes and get a feel for game-time action in a low-pressure environment. His interception came on an unlucky batted ball.
John Propst and Channing Fugate saw significant time as the two inside linebackers, too. Propst played a ton of energy, garnering a comparison to Ryan Karl by yours truly, and made me feel a little better about the Vols' linebacker depth.
Fugate ended up tied for the team lead in tackles with seven.
Quenshaun Watson was the star of the back-ups, though. He caught a pass for 17 yards and had a nice 15-yard run up the middle that set up a powerful goal-line touchdown run. Watson has some explosive speed, the likes of which Tennessee hasn't seen since Lamarcus Coker.
(Anyone else think he looks like Chris Johnson?)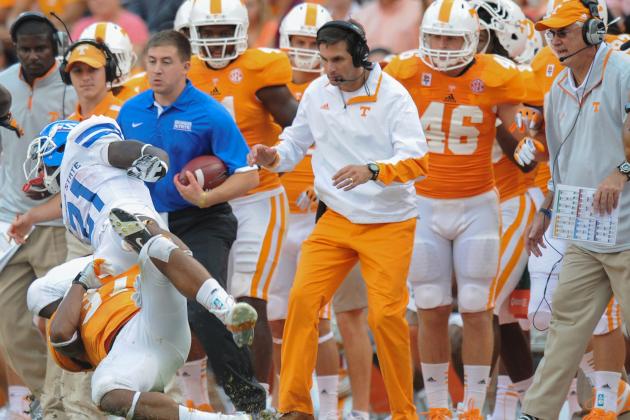 Randy Sartin-US PRESSWIRE

Leave it to me to find a negative about Tennessee's ability to score at will.
The time of possession against Georgia State weighed heavily in the Panthers' favor, who kept the ball 34 minutes and 18 seconds. The Volunteers are a fast-scoring team, but when the fourth quarter rolls around, they need to be able to let the air out of the ball.
I don't care if it's with a collection of 10-to-12-yard passes! But even safety Brian Randolph commented on it:
Sometimes the offense does score fast and we get tired. -UTsports.com
If Tennessee is up by a touchdown with five minutes to go this weekend, the freshness of their defense will be key to the final outcome.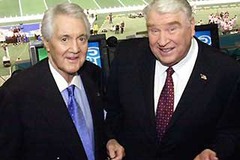 foxnews.com
The play-by-play announcer called Tennessee's star wide receiver "James" Hunter three times before he caught on this his partner's subtle hints that his name was, in fact, Justin.
Quenshaun Watson, a scatback wearing No. 25, was confused with No. 15 Marlin Lane numerous times in garbage time before the color commentator was able to convince his partner that a co-starter wasn't in a 51-13 game.
According to the play-by-play, kicker Derrick Brodus even had an interception! Admittedly, Geraldo Orta wearing the name number as Brodus, No. 26, is slightly confusing, but when was the last time any kicker played safety in college football?
The color commentator saved the day again, and corrected his partner. Great job, friend!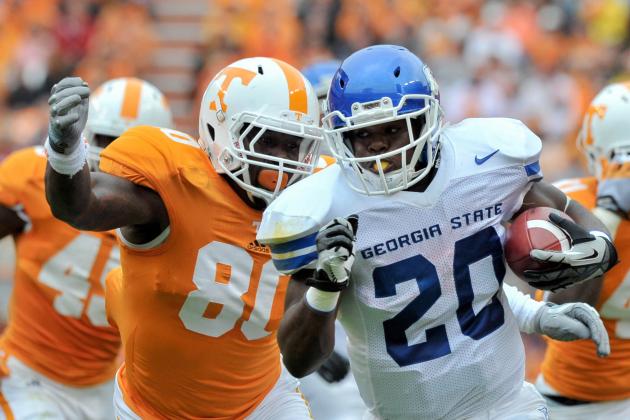 Jim Brown-US PRESSWIRE

The Tennessee defense lost focus a few too many times on 3rd down and long. On Georgia State's first drive, they converted a 3rd and 20 and then got 24 yards on a 3rd and 25 before converting a 4th and 1.
That simply can't happen against SEC opponents. Maybe it's just unluckiness, maybe it's lack of focus on Georgia State or maybe it's growing pain from the switch to the 3-4, but it has to be fixed.
The Volunteer defense looks prone to getting out of sync for long stretches of time. A ranked team needs to work those kinks out.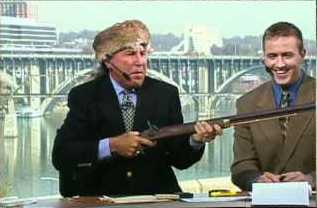 Lee Corso picking Tennessee! (article.wn.com)
When you win 51-13, watch your in-state foe fall to 0-2 and see three top-20 teams lose to unranked opponents, there isn't a lot to complain about.
The Volunteers are now ranked No. 23 in the AP Poll, the first time they've appeared in the poll since Week 1 of 2008.
The home game against No. 18 Florida has drawn the interest of ESPN's College Gameday, who will host their show from Knoxville this Saturday for the first time since 2004. It's just win after win for the Volunteers right now.
We've been for this for four years. It's here and now. A win this weekend would vault Tennessee back into the national spotlight, the kind of which hasn't been shed on Neyland in five or six years.