Lucas Matthysse put the rest of the elite junior welterweights on notice Saturday night when he registered a devastating 10th-round knockout over the previously unbeaten Olusegun Ajose.
Matthysse sports a fantastic record of 32 wins against only two highly controversial losses that came in his opponents' backyard. The heavy-handed Argentine has a knockout percentage of over 90 and has put every man he has ever faced on the canvas.
Last night there was certainly no controversy as Matthysse put a beating on the former Nigerian Olympian over the 10-round bout. Coming into the fight, Ajose was the No. 1 rated contender according to the WBC.
Matthysse is still an undefeated fighter in my opinion, although his record says otherwise. Both Zab Judah and Devon Alexander were lucky to escape with gift decisions and neither is looking to get back in the ring with him anytime soon.
The question facing Golden Boy Promotions is, who is next for Matthysse?
Now the interim WBC champion, the most likely scenario for Matthysse would be a fight with the winner of the Danny Garcia-Erik Morales matchup scheduled for October 20. A fight with either Garcia or Morales should be easy enough to make, as all three fighters are promoted by Golden Boy Promotions.
A fight with either man would most likely be a war in the ring. Matthysse's style would mesh perfectly with both men and would make for an exciting all-action fight until ultimately someone is knocked out.
In my opinion, Matthysse would get the better of either Morales or Garcia.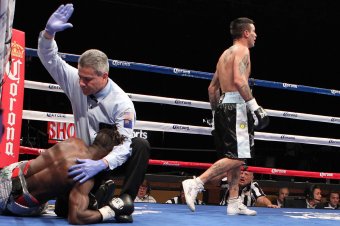 If the winner of that fight chooses to duck the Argentine slugger, who should be the mandatory opponent for a safer looking fight, I think the next logical choice would Marcos Maidana.
The all-Argentine matchup would be a war for as long as it lasts, as both men are big punchers who are always looking to knock their opponent out. Personally, I think that Maidana would get stopped, as his crude style would be no match for the more skilled Matthysse.
Another option that would have fight of the year written all over it would be a matchup with Brandon Rios.
One huge potential roadblock in making the fight would be the ongoing cold war between rival promoters Golden Boy and Top Rank. Also, Rios would need to be victorious in his fight with Mike Alvarado next month for this matchup to get the proper attention it would deserve. A matchup between the two all-action fighters would have boxing fans salivating.
Other possible candidate's include the brash Adrien Broner or Juan Manuel Marquez. Both fights would be toss-ups in my opinion and too close to call.
A Broner-Matthysse fight makes sense because they have the same promoter, and Broner is looking to move up in weight after losing his WBO super featherweight title on the scale. Broner is also in desperate need for an opponent for his next fight after HBO canceled his October date on the network.
Who should Matthysse fight next?
A win for Broner would silence his critics and make him a legitimate pound-for-pound list candidate.
If Matthysse were to win against the hugely popular Broner, it would elevate him to superstar status.
Marquez is still angling to get a fourth fight with Manny Pacquiao, but if that fight doesn't get made, a fight with Matthysse could be a real barn burner. Marquez's counterpunching could give Matthysse serious problems, but at 39 who knows how much the Mexican icon Marquez has left in the tank.
Hopefully, one of the aforementioned fighters will step up and fight Matthysse sooner than later.