Why Paul Heyman Belongs in the WWE Hall of Fame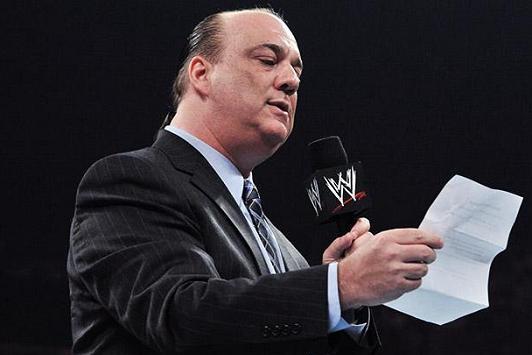 Photo courtesy of thesun.co.uk
As we are near the halfway point between WrestleManias, the buzz surrounding upcoming Hall of Fame classes begins to heat up. There are rumored inductees right around the time that WWE is calling up people they wish to have immortalized in their Hall of Fame.
Who really knows what kind of Hall of Fame class we will see when April comes in the shadow of New York City. There are some great and likely candidates, while other names seem more like really nice-sounding pipe dreams. Somewhere in between lies a man that has a strong case for a Hall of Fame place: Paul Heyman.
Heyman was the man who helped turn ECW from a regional territory with no personality into an extreme brand of wrestling that changed the way you looked at the sports entertainment world. It was the new ECW style Heyman brought to the table that helped make changes to ECW's competition.
They were a smaller company than WWE or WCW, but they were changing the game. It was Heyman's guys and Heyman's decisions that were directly impacting gigantic personalities like Ted Turner and Vince McMahon.
ECW ultimately folded from financial issues, but the legacy of the original ECW is still heralded to this day. It also took Heyman's name and connected it with other great wrestling minds over time. Had it not been for this, Heyman would be nothing more than a wrestling manager from yesteryear.
Instead, his resumé now looks more like that of a WWE Hall of Famer. Here are 10 stellar reasons that a Paul Heyman induction is only a matter of time.
Begin Slideshow

»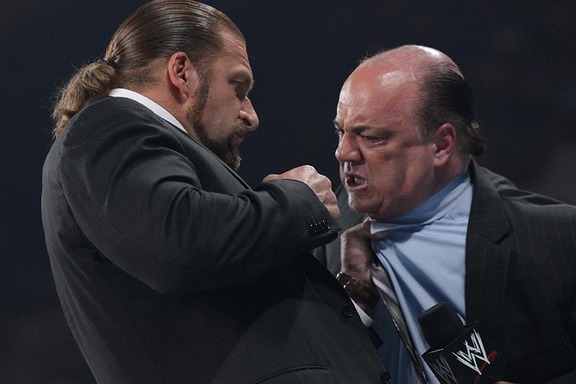 Photo courtesy of wwe.com
This is so important in order to get into the Hall of Fame. After all, it is WWE's own Hall of Fame. If they don't like you and you don't like them, it isn't going to happen.
Heyman currently appears on a semi-regular basis on WWE programming. He returned as the representative of Brock Lesnar and now, without Lesnar, Heyman has an on-screen alliance with current WWE Champion CM Punk.
The reason that such legends like Bruno Sammartino, The Ultimate Warrior and Randy Savage are not in the Hall of Fame right now is because either themselves or their families cannot seem to agree with WWE. Despite many years of trying, the relationship with these men and WWE is just broken right now and may never be corrected.
Heyman is here in WWE right now, so you know that feeling does not exist. Heyman's return to WWE may have only been for a potential Hall of Fame induction in the coming years. With his success outside of wrestling, Heyman doesn't really need the money at all.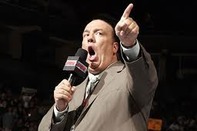 Photo courtesy of boards.ie
The hardest pill to swallow for WWE and Paul Heyman is what happened to Heyman's ECW. There were issues with ECW being on TNN and WWE essentially pushing them off the network in order to move RAW there in a hiatus from USA broadcasting the flagship show.
ECW ran an operation that was not nearly as profitable as WWE or WCW and didn't have nearly as much exposure. Eventually, it just couldn't work anymore and with WWE's Attitude Era making the company richer than ever, while ECW had to close its doors, it left Heyman with a pretty bitter taste in his mouth.
A lot of this anger seemed to come out in shoot promos during the WCW/ECW invasion in the summer and fall of 2001. Still, Heyman was a WWE employee and seemed to have the company guy attitude all worked out. When ECW made a comeback under the WWE name, Heyman was right in the middle of it.
Still, you could see a shift in the way the brand was being used. Eventually, without Heyman at the helm, ECW saw its attitude change and the premise fall more around the young stars of WWE and the forgotten stars that could not hack it in bigger situations.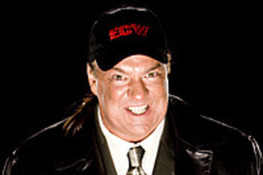 There had been extreme wrestling in the past, but it was mostly believed to be underground and backyard wrestling, which was often criticized and rarely heralded.
ECW changed that idea by bringing in world-class talent and not being afraid to throw money at international stars that didn't have the mainstream attention.
Heyman was certainly in the business of making names for his stars, as opposed to the bigger organizations and smaller independent promotions, who were fascinated with bringing in notable names for the sake of sparking interest in fans.
Heyman wanted fans to be able to watch international wrestling and understand the art of a match. On the surface, it was a bunch of tables and chair shots, but ECW was honestly a lot more than that.
If Heyman could take an NWA territory, branch away and make the big promotions nervous, it's hard to paint him as anything short of a great wrestling promoter.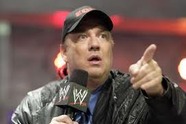 WWE obviously changed their business model to feature a lot of ECW stars and take their spirit, referring to it as their "Attitude Era."
It helped WWE win the Monday Night Wars from WCW and make wrestling fans yearn fondly for the extreme aspects ECW brought to the table. As WWE moved into PG programming, ECW became a great example of "the good ol' days" of wrestling.
To be quite honest, a promotion quite like ECW will not exist anymore or be very successful. With the concern over head trauma and concussions higher than ever, making matches that include a lot of weapon use just isn't very common anymore.
Those who do use weapons are often using them as filler for a match, where as Heyman knew how to work weapons into telling a great story in a match.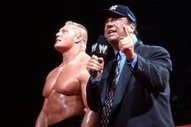 Even before ECW, Heyman was known as Paul E. Dangerously, a play on Michael Keaton's character from the movie Johnny Dangerously. Heyman was compelling as a manager and was very easy to hate. With ECW, Heyman was the underdog owner and very respected by fans.
When he came to WWE, he mixed those emotions together very well. Originally still remembered for his ECW days, Heyman brought ECW into the invasion of WWE and was loved for it. Then, the alliance of WCW and ECW became hated by fans and Heyman was hated as well.
Following the invasion storyline, Heyman was back to managing superstars. He brought in Brock Lesnar and almost seemed to be hated by the time that fans started to like him again.
He turned his back on Lesnar in favor of Big Show, who he then turned on to manage Kurt Angle. Heyman became the first manager in history to manage three consecutive world champions.
He has also managed such men as The Dudley Boys, Heidenreich and currently seems to have an alliance with CM Punk.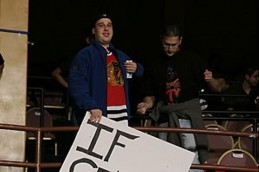 Photo courtesy of whatculture.com
ECW fans travel well. Even though the promotion is known for shows in a bingo hall in the Philadelphia area, ECW fans now exist all over the world. WrestleMania brings people from across the globe as it is. A Hall of Fame ceremony with the guy who took extreme to the mainstream will bring a whole different kind of wrestling fan.
The crowd will be rowdy, they can boo the good guys, and the signs can be incredibly entertaining. WrestleMania is back in the New York area, so you know WWE wants to give the best Hall of Fame class they can.
With a lot of the original ECW fans being nearby, it would be a good choice. This especially becomes the case if Mick Foley get inducted, which would be another great choice given the area.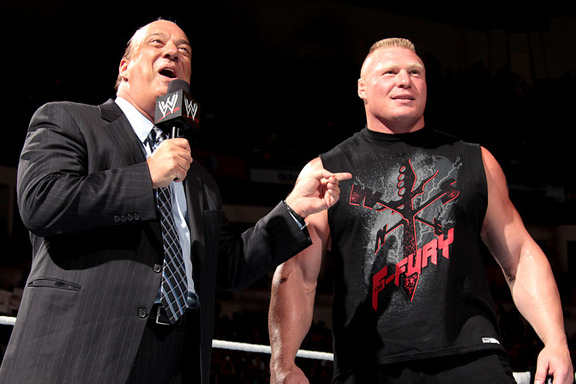 Photo courtesy of wwe.com
Fans want notable names that they can remember to be inducted. This is not a knock to Gorgeous George, but most fans at the time of his induction had no clue who he was.
Seeing superstars like Edge, Shawn Michaels and even a legend like Yokozuna make fans see the stars they once saw compete getting immortalized.
Believe me; you aren't selling Hall of Fame tickets to the younger audience. This is a night meant for the older fans who want to feel a little bit nostalgic. Heyman's legacy fits right into that pretty well.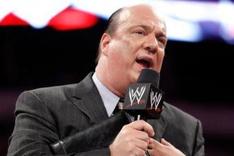 Heyman really gave a jolt to Brock Lesnar's character upon returning to WWE in April. Heyman was very instrumental in making the build to the SummerSlam match between Triple H and Lesnar mean something.
When Lesnar quit WWE, you figured that Heyman would disappear, too. Suddenly, CM Punk was able to prove that he was "a Paul Heyman guy."
The Night of Champions match this upcoming Sunday had a good feeling of a John Cena victory in his hometown to end CM Punk's long title reign. Now with Heyman around, you have to imagine that he will have a hand in this match and help Punk retain his championship.
Punk has the fifth-longest reign in the last 24 years and the 12th-longest reign in the history of the championship. Heyman can keep that streak going and make a lasting impact in the main-event scene.
Inductees often get into the Hall of Fame with a speech from their friend or long-time colleague. Just imagine who can induct Paul Heyman into the Hall of Fame. Could Brock Lesnar do it? What about Vince McMahon himself? Then, there is long time ECW announcer Joey Styles, who works for WWE.com.
Styles could tell some great Heyman stories and sure would be a nice sight to induct Heyman, who gave him a chance and helped to make him a big deal in the wrestling world. Even now, Styles is remembered fondly and a lot of that has to do with Paul Heyman.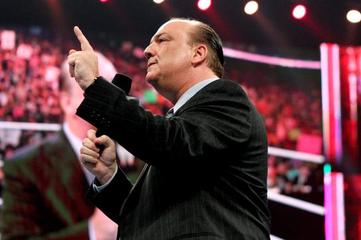 Photo courtesy of wwe.com
There's the feeling that some inductees are put into the Hall of Fame for WWE simply to fill up a draft class or reward those who have stayed loyal to the company over the years.
It's actually refreshing to see superstars who have had issues with WWE over the years and make it into the Hall of Fame despite that. Usually, it is a big star, like a Bret Hart. It still makes the Hall of Fame feel legitimate when issues with WWE are pushed aside.
Heyman competed with WWE, hated Eric Bischoff, bad mouthed WWE, yet worked alongside the men he hated for the company that took him out of business.
Heyman improved the product both on and off screen and has returned to the product to make current programming exciting. If that doesn't mean Heyman in the Hall of Fame makes sense, I'm not quite sure what does.