LSU Football: 10 Things We Learned from the Tigers' Win Against the Huskies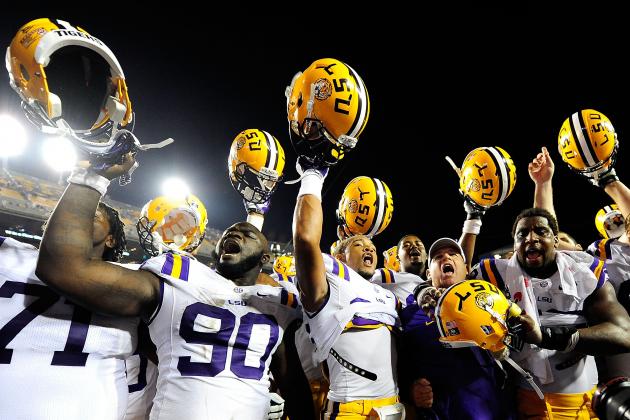 Stacy Revere/Getty Images

In dominant fashion, the Tigers pounded Washington en route to a 41-3 victory.
Washington got on the board first after a turnover on the opening kickoff, then LSU proceeded to score 41 straight points.
Had it not been for the turnover, the Huskies likely wouldn't have gotten on the board at all.
LSU is now 2-0 and has another cupcake coming to Baton Rouge next week in Idaho.
Here are 10 things we learned Saturday night.
Begin Slideshow

»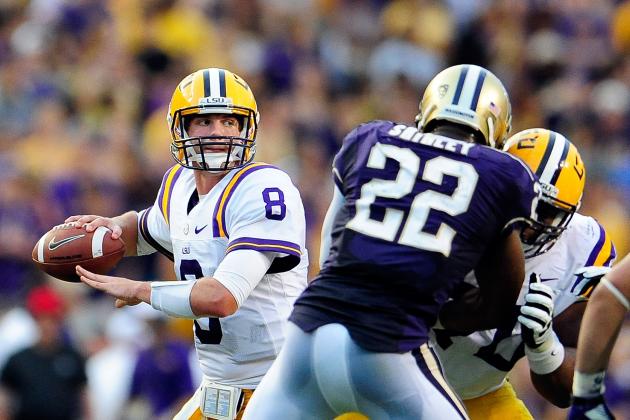 Stacy Revere/Getty Images

Looking at the LSU teams of the last few seasons, the offenses have been pretty one-dimensional. A lot of that is due to the lack of ability in the passing game of Jordan Jefferson and Jarrett Lee.
Watching Mettenberger, LSU has a legitimate passing attack. There were throws he made on Saturday that were top-flight passes.
He has a cannon for an arm, and came close to playing a perfect game.
He threw just six incompletions in the game, and if his receivers would have offered some help, his numbers could have been huge. Five of his six incompletions were drops by teammates.
There's still room for Mettenberger to get better, but you are already seeing an improvement at quarterback from previous years.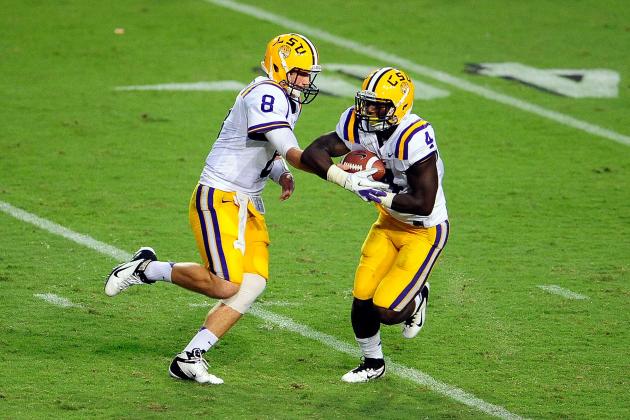 Stacy Revere/Getty Images

We are just two games into the season, but this LSU team has the potential to be better than the team from last year that spent 11 weeks atop the polls.
The LSU defense is still nasty, and now the offense has a true passing threat.
There are still many hurdles to jump over the course of the season, but Les Miles has a team on his hands that will be in the thick of the championship hunt throughout the season.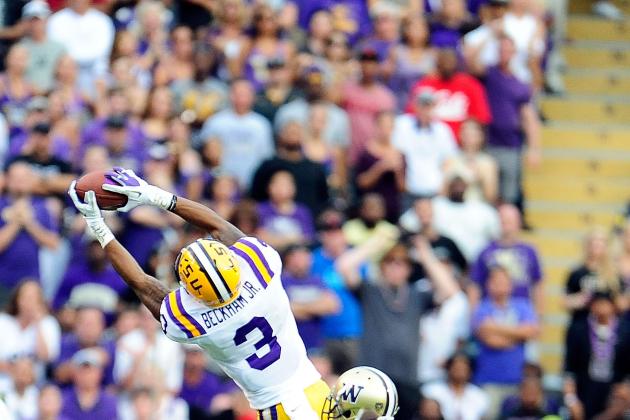 Stacy Revere/Getty Images

For everything the Tigers did right on Saturday, the receivers really struggled.
Quarterback Zach Mettenberger was on target all night long, as illustrated by his numbers. Had the receivers caught the passes that hit their hands, Mettenberger would have had only one incompletion.
LSU obviously wasn't affected by the drops, but you never know when a drop could prove costly in an important game. This is an easy fix, and I imagine this will get fixed.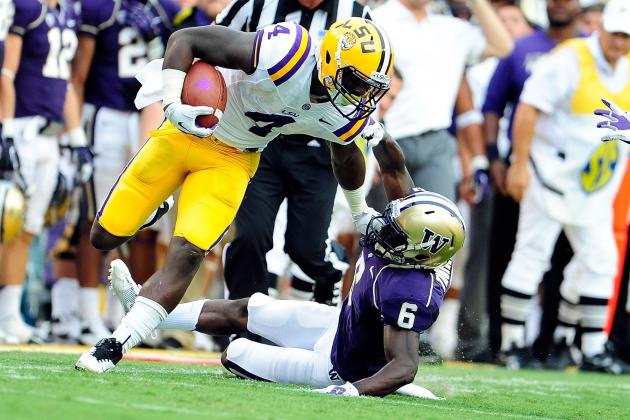 Stacy Revere/Getty Images

LSU starting left tackle Chris Faulk suffered a season-ending injury during practice Wednesday. Many people wondered how the Tigers would manage without Faulk.
Josh Dworaczyk answered that question Saturday night.
The sixth-year senior made his first career start at the tackle position, but you couldn't tell watching him.
Dworaczyk was part of an offensive line that help LSU average 4.7 yards per carry in the win, including a lot of success on the ground behind the left side of the line.
It was only one game, but LSU's offensive line looks like it will be just fine.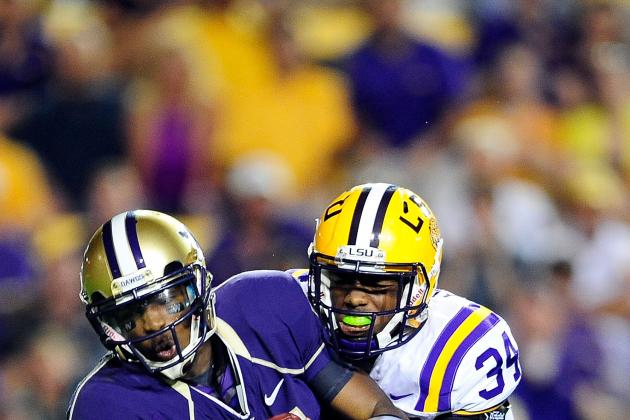 Stacy Revere/Getty Images

Four LSU defensive players were selected in the 2012 draft, including cornerback Morris Claiborne and defensive tackle Michael Brockers, who were selected in the first round.
Add in the loss of defensive back Tyrann Mathieu and there was a lot of talent to replace on the defensive side of the ball.
However, the Tigers appear to have reloaded.
Saturday night, the Tigers became just the second team to hold Steve Sarkisian's Huskies without a touchdown. Stanford in 2010 was the only other team to do so.
The Tigers allowed less than 200 yards of offense, came up with an interception and sacked Keith Price four times.
This defense is very good.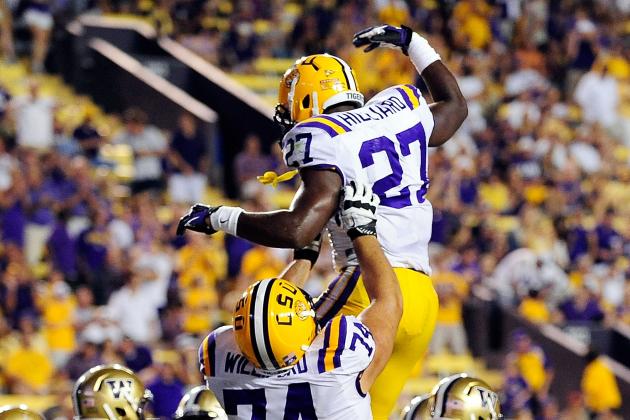 Stacy Revere/Getty Images

LSU won by 38 points, and it is hard to complain about a performance like that. However, the Tigers could have won the game by 50 or more.
The Tigers stalled out twice in the red zone leading to two short field goals, dropped five passes and had several penalties stop the offensive attack.
This win already looks impressive. The Huskies are lucky that it wasn't much worse.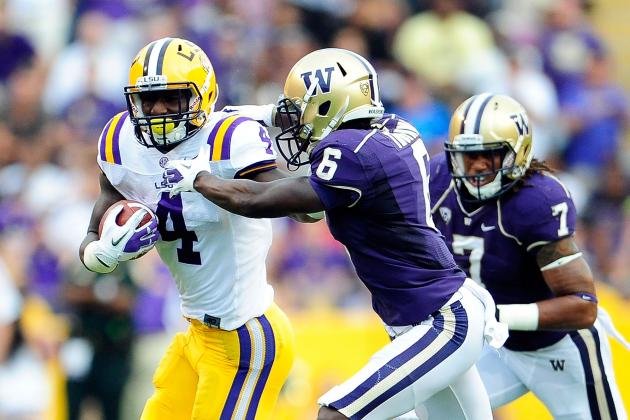 Stacy Revere/Getty Images

Many teams across college football are looking for a dynamic running back to anchor their offense. Most teams would kill for two.
LSU has four.
Alfred Blue was the leading rusher on Saturday with 101 yards on 14 carries. He became the first Tiger with back-to-back 100-yard rushing performances since Stevan Ridley in 2010, and the first to do it to start a season since Charles Scott in 2008.
Kenny Hilliard scored two touchdowns on the ground, and Michael Ford averaged almost five yards a carry.
By the way, let's not forget Spencer Ware, who rushed for nearly 800 yards in 2011.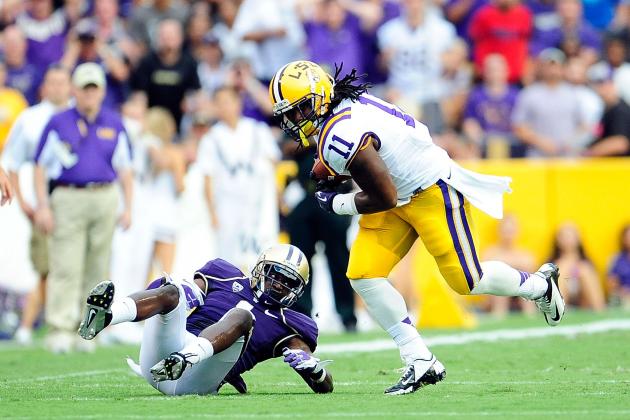 Stacy Revere/Getty Images

In an out-of-conference game involving an SEC team, it was yet again defense and rushing that led to an SEC victory.
Washington entered the game with a high-powered offense, but ran into a brick wall with the Tigers defense.
On the opposite side, LSU piled up 242 yards on the ground and controlled throughout.
The conference's recipe is no secret, but it continues to work.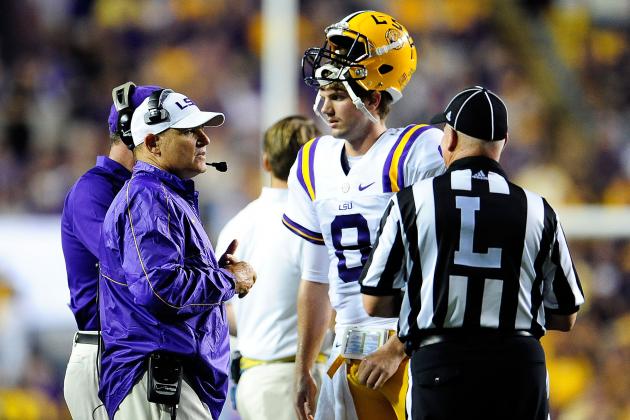 Stacy Revere/Getty Images

The USC Trojans opened up the season as the No. 1 team in the country. Following Alabama's dominant performance against Michigan, the Crimson Tide surpassed the Trojans in the polls.
When the new poll comes out on Sunday, LSU should leapfrog USC and become the new No. 2 team.
USC didn't look impressive in a victory over Syracuse. Meanwhile the Tigers dominated Washington. I'll take LSU at No. 2 this week.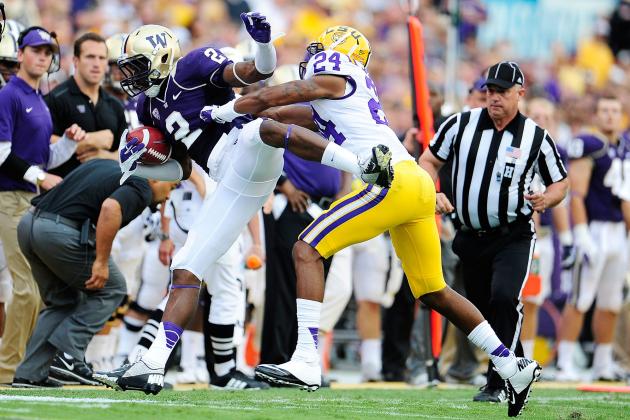 Stacy Revere/Getty Images

LSU and Alabama met in last year's national championship game and a regular-season meeting that was deemed the "game of the century."
They were clearly the top two teams in the SEC, and this year doesn't look any different.
Their matchup on November 3 has already been circled by all football fans, and it's going to determine who will represent the West in Atlanta.
Auburn doesn't look like it is going to contend. Texas A&M already has a conference loss. Then Arkansas took an embarrassing loss at home to Louisiana-Monroe.
Once again, it will be LSU and Alabama duking it out for SEC supremacy.