Ohio State Football: Winners and Losers from the Week 2 Game vs. UCF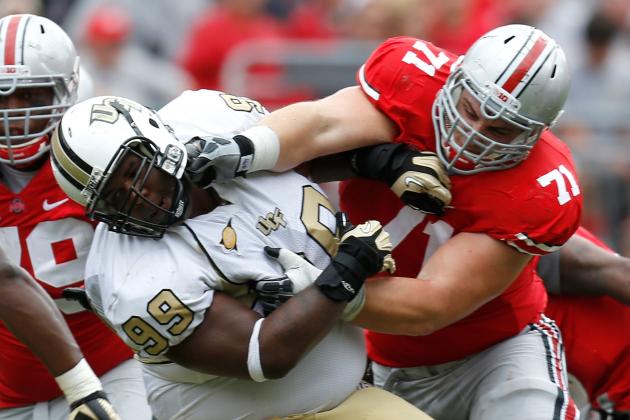 Kirk Irwin/Getty Images

The No. 14 Ohio State Buckeyes defeated the UCF Knights 31-16 in Columbus Saturday afternoon.
The Knights gave the Buckeyes a fight—especially in the first half—before the Buckeyes pulled away in the third quarter. Ohio State quarterback Braxton Miller had another fantastic game, leading his team to consecutive victories to open the 2012 football season.
Let's take a look at the winners and losers from Ohio State's Week 2 win over UCF.
Begin Slideshow

»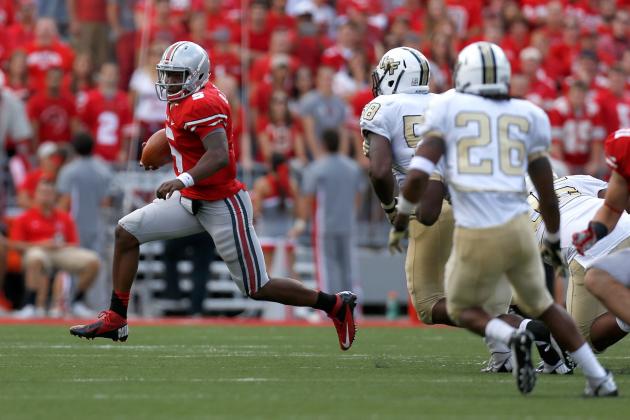 Kirk Irwin/Getty Images

Braxton Miller turned in another dominant performance this week, throwing for 155 yards on 18 of 24 passing with one touchdown and one interception. He also added another 141 yards and three touchdowns on the ground.
In two games, Braxton has accumulated 664 yards of total offense and seven touchdowns. He has completed 67% of his passes so far and is the leading rusher on the team by a wide margin.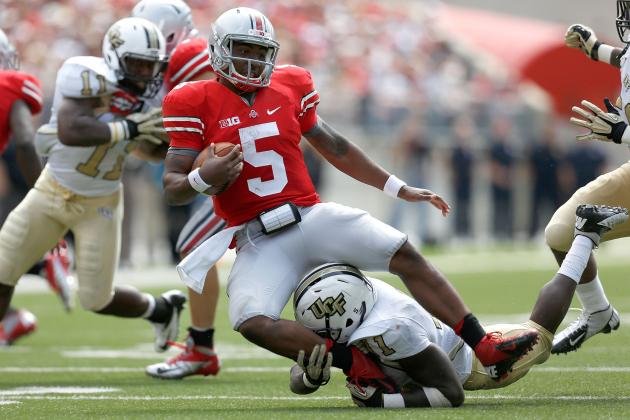 Kirk Irwin/Getty Images

Although Miller has put up incredible numbers so far, it has taken him an incredible amount of snaps to get him there.
After last week's game against Miami (OH) when Braxton ran the ball 17 times, Urban Meyer said he wanted to reduce his rushing attempts moving forward.
On Saturday against UCF, Miller ran the ball 27 times. Granted, a lot of that was a result of Carlos Hyde's injury, but as the season progresses, the coaching staff will have to find ways to reduce his rushing attempts.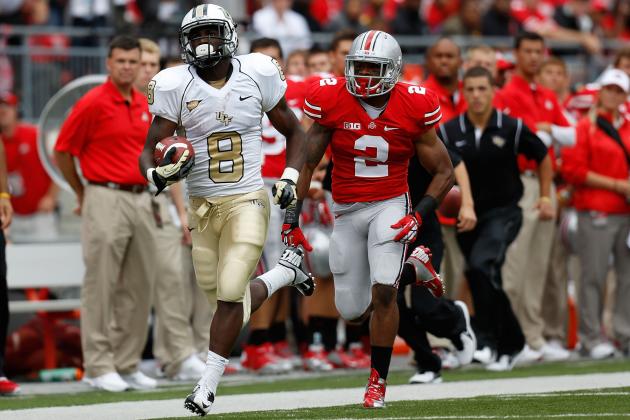 Kirk Irwin/Getty Images

They weren't dominant, and honestly, they didn't impact the game as much as they could have with better play calling, but UCF's running backs performed very well against Ohio State's defense.
With Latavius Murray out with a shoulder injury, backups Storm Johnson and Brynn Harvey combined for 111 yards on 19 carries (5.8 yard average). This came just a week after Ohio State held Miami (OH) to minus one yard rushing on 20 attempts.
UCF has a loaded backfield and that should bode well for the Knights heading into Conference USA play.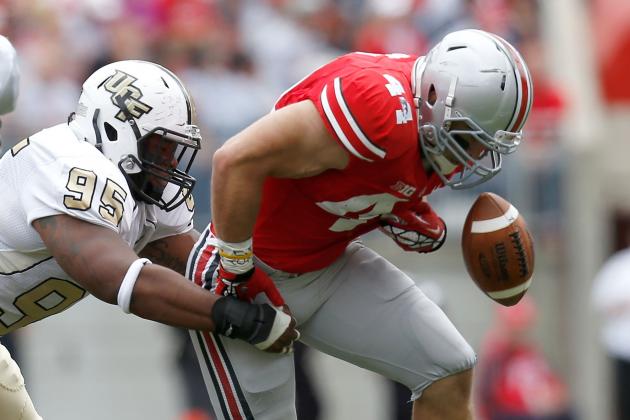 Kirk Irwin/Getty Images

Although the Buckeyes finished the game with 256 yards rushing, the Ohio State running backs only accounted for 26% of that total (66 yards).
The coaching staff obviously used Braxton as their weapon of choice in the running game, but as previously stated, the Buckeyes really need to get his rushing attempts down.
The only way they'll be able to do that is if the running backs step up, so that will be something to watch for in Week 3.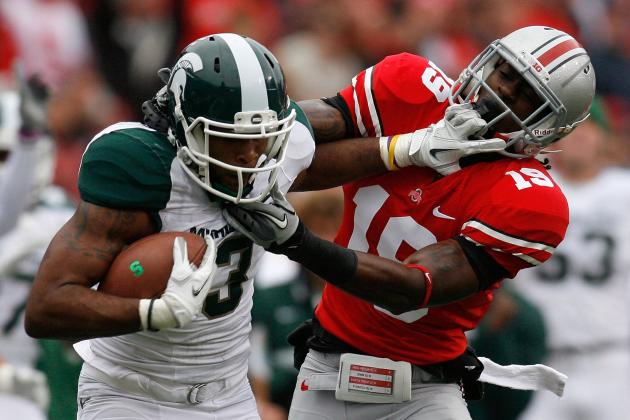 Kirk Irwin/Getty Images

Images like this one became a familiar scene for Buckeye fans during Orhian Johnson's career at Ohio State. The senior safety has struggled at times, becoming an exploitable matchup for opposing quarterbacks over the years.
He may have been Ohio State's best defender against UCF.
Johnson finished the game with six tackles and a momentum swinging interception that halted any chances of a comeback for UCF to start the fourth quarter. If he continues this strong play, Johnson could secure his spot as Ohio State's nickel back.
Kirk Irwin/Getty Images

Carlos Hyde was coming off a solid 82 yard, two touchdown performance coming into Ohio State's game against UCF, but the junior running back's day was cut short in the second quarter when he injured his knee.
It was revealed after the game the he sprained his MCL, an injury that could sideline Hyde for a game or two, according to The Plain Dealer. That's terrible news for Hyde, who was really making an impression on the coaching staff with Jordan Hall sidelined with a foot injury.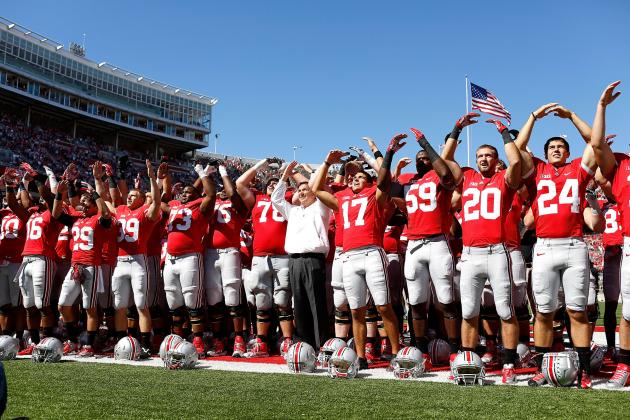 Kirk Irwin/Getty Images

Earlier this week, the Buckeyes received word that they're still eligible to win the Big Ten's Leaders division.
They obviously can't play in the Big Ten championship game because of their postseason ban, but if the Buckeyes finish with the best record, they'll be the official 2012 Leaders division winner.
After Saturday's action, Ohio State looks like the favorite.
Wisconsin, Purdue, and Illinois all lost on Saturday, and Purdue was the only team that didn't look terrible in defeat.
If things continue playing out as they have the first two weeks, Ohio State will enter conference play the outright favorites to win the division.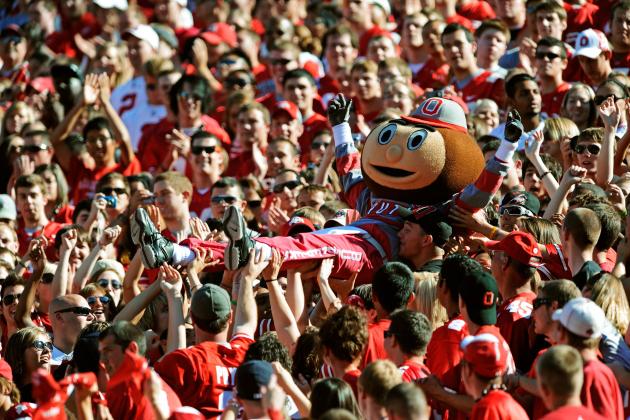 Jamie Sabau/Getty Images

UCF coach George O'Leary made some controversial comments on a radio show in Orlando last week, claiming that Ohio Stadium and the fans that occupy it on Saturday's aren't very loud.
These comments needlessly fired up Ohio State's home crowd—especially in the first quarter—and the UCF Knights were flagged for two false starts on their two opening drives thanks to the sweltering crowd noise.
A helpful hint for any upcoming Ohio State opponents—don't make a claim as ignorant and misguided as O'Leary's. It will only hurt you in the long run.