Pittsburgh Panthers Football: Predicting Each Game for Rest of 2012 Season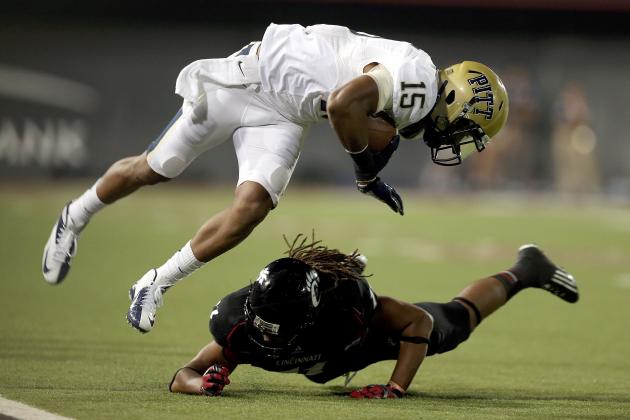 Andy Lyons/Getty Images

It's been a tough start to the season for Pittsburgh.
A loss to Youngstown State and Cincinnati have cast a shadow over what many hoped would be a much better year, especially with new coach Paul Chryst at the helm.
But that hasn't been the case.
So what's left for this season? Unfortunately for Panther fans, it doesn't look good.
Here's a look at Pitt's remaining games.
Begin Slideshow

»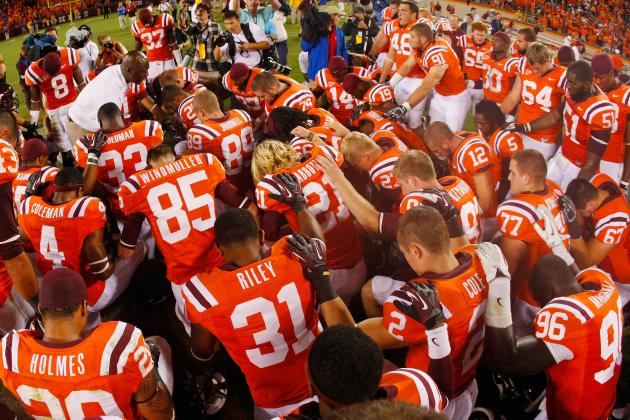 Geoff Burke/Getty Images
Virginia Tech will be too much for the Panthers
This isn't exactly who Pittsburgh wants to face trying to rebound off two dismal games.
The Hokies have the type of offense that will cause problems for an inexperienced Panthers front seven. Junior quarterback Logan Thomas is a dual-threat passer going up against a defense barely capable of defending the pass.
Thomas tossed for 230 yards and two scores in the opener against Georgia Tech while rushing for 40 yards. His backfield mate, freshman running back Michael Holmes, ran for 54 yards on 13 carries against the Yellow Jackets.
Considering Pittsburgh hasn't been able to hold an opponent to under 200 yards on the ground so far, I can't imagine Virginia Tech not reaching at least 150 yards.
Thomas should have a monster game as the Panthers spend every play trying to figure out if he'll take off and run or lob one deep.
And we didn't even mention the Pittsburgh offense...
Prediction: Loss (0-3)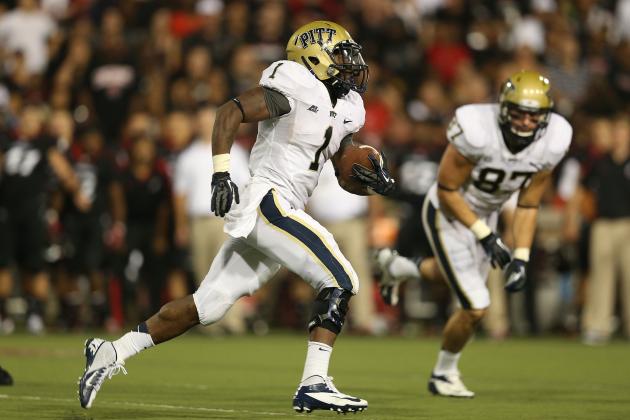 Andy Lyons/Getty Images
Pitt's first win may just come in their fourth game
This might be where coach Paul Chryst finally gets his first victory.
Gardner-Webb is coming off a 4-7 season, including 2-4 in the Big South Conference. They opened the season by promptly losing to Wofford 34-7 and losing the ground game, getting outgained 402-12.
Six Wofford Terriers ran for more yards than Gardner-Webb's entire team.
Suffice it to say, the Panthers might actually have an easy game for their run defense. It's also going to be a walk in the park for senior running back Ray Graham.
On the flip side, if Pittsburgh manages to squander this gimme matchup, I have to imagine fans will be calling for Chryst's job.
Prediction: Win (1-3)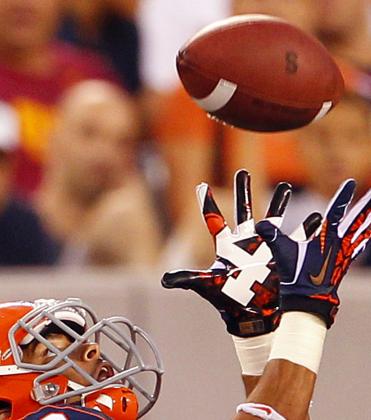 Rich Schultz/Getty Images
Syracuse is battle tested after its match against USC
This is where predicting games gets harder, since a two-game sample size is not a lot.
By the time these two teams face Syracuse will have been far more battle tested. The lost a heartbreaker against a sneaky-good Northwestern team in Week 11 before hanging tough against No. 2 USC.
Their next two games are against Stony Brook and Minnesota, two teams who the 'Cuse could easily beat to get back to 2-2. They'll also be hosting the Panthers, making things that much more difficult for Chryst and company.
While Pitt's pass defense seems to be more capable of making stops than its run defense they're going to have a hard time against senior quarterback Ryan Nassib. The Orange signal-caller racked up 470 yards in the season opener. He has plenty of weapons and knows how to use them.
Unless the Panthers' defense figures itself out coming off a bye week, I can't see them making nearly enough stops to come away with a W.
Prediction: Loss (1-4)
Andy Lyons/Getty Images
Look for Louisville to pound the ball early and often
I hate to keep beating a dead horse here but this matchup will also come down to whether or not the Panthers can stop the run and keep their opponent out of the end zone.
The Cardinals opened the season against Kentucky and promptly got 100 yards on the ground from juniors Senorise Perry and Jeremy Wright. The duo tacked on another 115 yards combined against Missouri State on Saturday.
If Youngstown State could run up and down on the Panthers for 300 yards, what makes you think Louisville's backfield tandem can't?
Plus sophomore quarterback Louisville's Teddy Bridgewater was nearly perfect, going 19-21 and 232 yards in the season opener.
The Big East isn't looking kindly on Pitt in their final season.
Prediction: Loss (1-5)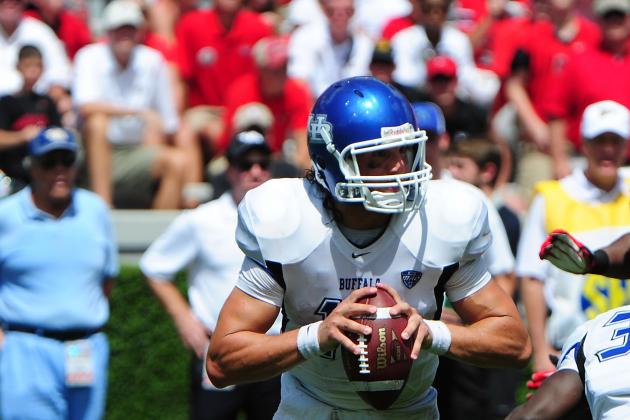 Scott Cunningham/Getty Images
Is Buffalo a win for the Panthers?
After coming off a tough loss against Louisville, the Panthers are going to be looking for some sort of jump-start.
A game against Buffalo isn't a bad game to start.
Buffalo didn't get killed but didn't exactly come close to an upset against Georgia to open the season. However, in Week 2, they handled their business against Morgan State.
Buffalo also focuses on the run, but I can't see a Mid-American Conference team having that much success against a Pitt squad that will be fighting to save their season.
Prediction: Win (2-5)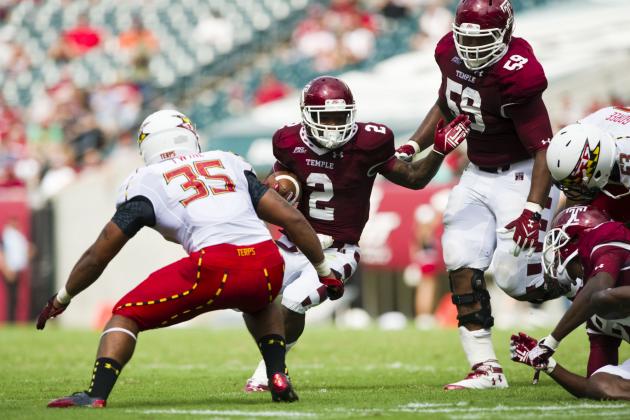 Howard Smith-US PRESSWIRE
Matt Brown will be the Panthers' toughest challenge against Temple
It pains me to say this as a Temple fan, but I'm nervous about this game.
I don't think this run defense will be this bad the rest of the season. The Owls sole goal on offense is to run senior running back Matt Brown and junior quarterback Chris Coyer as many times as possible and wear down the opponent.
The Panthers are still bigger and faster (presumably) than the newest member of the Big East so that's a huge advantage. Maryland proved that on Saturday.
This game will be close, and ultimately the home crowd advantage (if there's any left at Heinz Field) could be the deciding factor.
Prediction: Win (3-5)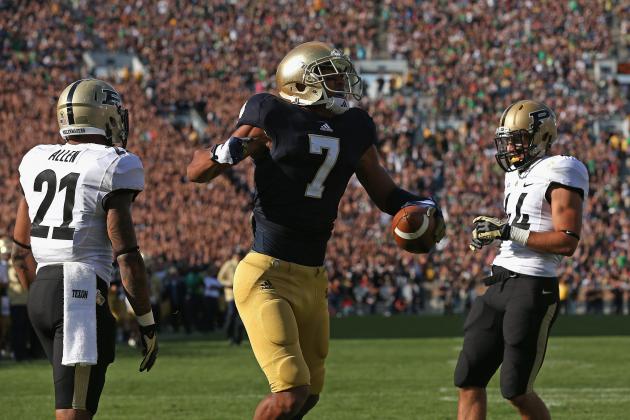 Jonathan Daniel/Getty Images
The Irish are too battle tested to fall to the Panthers
The Panthers could potentially be riding a small winning streak heading into this game.
But the Irish are flat out the better team. They can run over anyone (293 yards per game) and have a tough schedule that will get them prepared.
The next few weeks for Notre Dame bring Michigan State, Michigan, Stanford and Oklahoma. That's before they even host the Panthers.
Barring a rash of injuries to Notre Dame or a sudden resurgence by Pitt, I just don't see this being that close.
Prediction: Loss (3-6)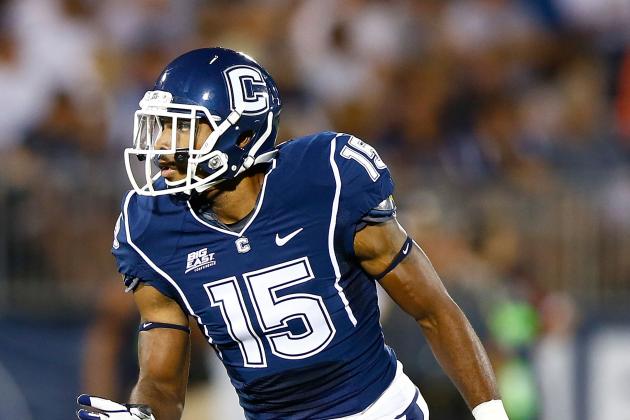 Jared Wickerham/Getty Images
A tough battle of mediocre Big East teams at the end of the season could decide who gets a final bowl game spot
This could very well be one of the last chances Pittsburgh has to hold onto bowl eligibility this season.
If they enter the game 3-7, they have to win out. No exceptions. If they can pull off another win or two they have some breathing room. But with Rutgers and South Florida still on the slate this is possibly the most winnable game of the final three.
Connecticut probably can't expose the Panthers run-stopping deficiencies as well as other teams in the conference, so if the Panthers can get some momentum going, that may be all it takes.
If the team hasn't given up on the season—or coach Chryst—by this point, then this is still a winnable game for the Panthers. But they have to still want it.
Do they want this game? I think they will.
Prediction: Win (4-6)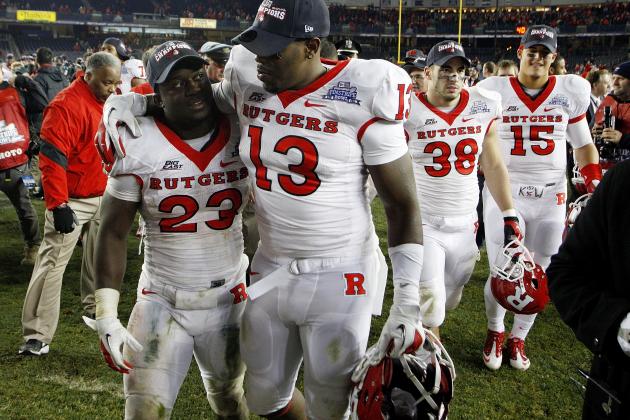 Jeff Zelevansky/Getty Images
Could Pitt still have a shot at a bowl game by the time they face Rutgers?
It's tough to get a read on this Rutgers team this early.
They've had two easy games, against Tulane and Howard, and handled their business. But they haven't exactly lit up the scoreboard. It would be easier to predict this game after watching them take on USF and Arkansas in the coming weeks.
If Pitt gets even slightly better production from their defense, which I think they will by this point of the season, I think its offense will be able to do enough to get the win. Graham will (hopefully) be healthier with each week and gaining steam. And I don't see the passing game being terrible year long.
Something will click, at least a little.
Prediction: Win (5-6)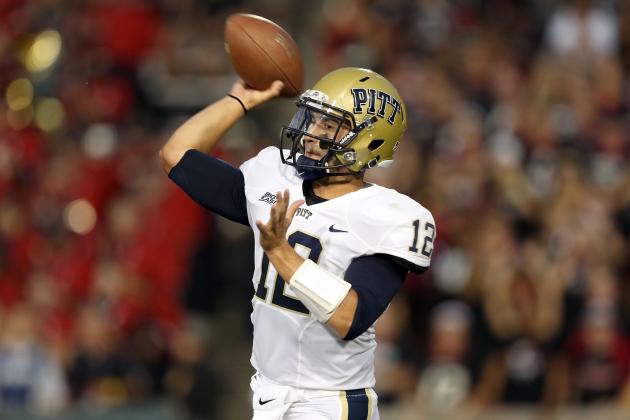 Andy Lyons/Getty Images
Pitt QB Tino Sunseri won't be able to overcome the defense's inability to stop the run
In two cupcake games USF has put up points. Simple as that.
Against Nevada they barely escaped with a last-minute win, 32-31. But senior quarterback B.J. Daniels has already tossed six TDs this season and went off for 363 yards against Nevada.
For all the late-season wins the Panthers will be able to scrape together to maintain hopes of bowl eligibility, I fear this is the end of the road.
USF may not have the best defense, but they'll be able to outscore Pitt in a shootout. Graham could go off for 200 yards and two scores but that won't matter much in the end.
Prediction: Loss (5-7)