WWE Night of Champions: Ranking Every Tag Title Match in the PPV's History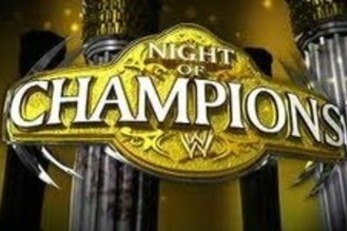 At Night of Champions, every championship will be on the line on the same night. For the tag team championships, it is the only times all night in which two belts, not one, are up for grabs.
Since Night of Champions was born as a part of Vengeance in 2007, there have been seven tag team title matches, the most of any division in WWE. Keep in mind that in 2007 and 2008, there were two sets of tag team championship belts.
In 2009, the WWE Tag Team Championships and World Tag Team Championships were unified and replaced with new belts in 2010.
The eighth instance of a tag team title match in Night of Champions history will occur on Sunday as current champions R-Truth and Kofi Kingston will take on the unlikely duo of Daniel Bryan and Kane.
In the previous seven title matches, only twice has there been a title change. That number rises to three if you consider that Chris Jericho got a new partner to retain his title in 2009.
The advantage is with the champions, who were actually on opposing teams in a WWE Tag Team Championship match at last year's Night of Champions.
In preparation for the latest title bouts, here is a power ranking of all seven tag team championship matches in Night of Champions history.
Begin Slideshow

»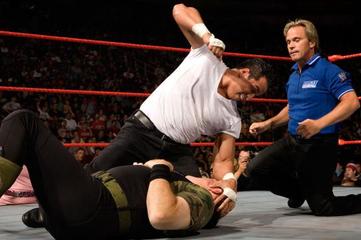 Photo courtesy of wwe.com
There is a lot wrong with this match. Were they so desperate to get Deuce N' Domino hated that they would have to face legends for the sake of generating heat? It's funny to look back now and see that Deuce was actually the son of Jimmy Snuka, but this was simply grasping for straws.
The champions had knocked off a long-standing championship duo in Paul London and Brian Kendrick. Deuce N' Domino were yet to have had a significant victory as champions to really hang their hats on.
This match began as an open challenge. The champions berated Tony Garea and Rick Martel, former tag team champions who were sitting at ringside. Little did we all know that moments later would see Sgt. Slaughter and Jimmy "Superfly" Snuka, two legends of the business, come to the ring and tag together for the first time ever in a WWE Tag Team Championship match.
Snuka and Slaughter were a lot older than their primes and Deuce N' Domino had a hard time selling their moves. The match was very stiff and had a lot of offense from the legends. In fact, the only way a victory came to the reigning champions was from rolling through following a Superfly Splash.
By all accounts, the titles should have changed hands. I know that legends like to look strong when they dust their wrestling boots off, but there are relatively new tag team champions that need any positive momentum. This match embodied the entire time Deuce N' Domino spent together: lackluster.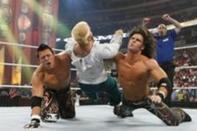 The first event to only be named Night of Champions featured WWE Tag Team Champions The Miz and John Morrison continuing their heated rivalry with Finlay and his leprechaun son, Hornswoggle. This match meant that we would have to see the little guy in action against a pretty strong tag team at the time. The match was better than anticipated, but the anticipation was rather low to begin with.
Thankfully, The Miz and John Morrison were very capable of selling moves from Hornswoggle and really showing their skills in helping to carry this title match. It is no wonder that John Morrison became a beloved superstar leading up to his departure from WWE and that The Miz would become a WWE Champion a few years later.
The real star of this match, offensively anyway, was Finlay. He was booked as the strongest of the four. When Hornswoggle was in the match, he tried his best, but it never looked great.
When Finlay was in the ring, he almost seemed invincible. An aging Irishman and his short son with a dated gimmick seemed more important that one of the best tag teams WWE has produced in the last five years. Yikes.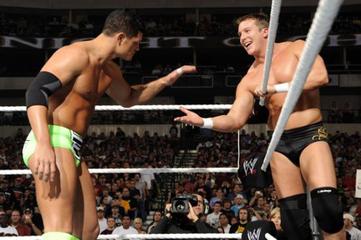 Photo courtesy of wwe.com
It's never quite what it may seem at Night of Champions. In 2008, the World Tag Team Championships were on the line when Cody Rhodes and Hardcore Holly, the reigning champions, were going to take on a debuting Ted DiBiase and a mystery partner he had promised for weeks.
The night finally came and DiBiase came to the ring without a partner. After trying to stall, he said to start the match and that his opponent would eventually show up.
As the match began, Rhodes tagged in Holly to start before ambushing his tag team partner. Rhodes then was announced as DiBiase's tag team partner, much to the shock of the crowd. Rhodes then tagged in DiBiase, who finished off Holly and won the match.
DiBiase had won his debut and become a tag team champion in the process, while Rhodes had both defended and won the same title in the same match.
Rhodes and DiBiase as a team was born that night. It was also the night that Rhodes turned heel for the very first time, a position that Rhodes has not relinquished in the four years since. It was also the unofficial beginning to what would grow into the faction known as Legacy.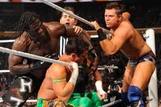 Photo courtesy of wrestlingvalley.org
Last year's WWE Tag Team Championship match featured the current WWE Tag Team Champions...on different teams. Kofi Kingston was in a team with Evan Bourne, known then as Air Boom, while R-Truth teamed with The Miz, known as Awesome Truth.
The match was somewhat competitive, but ended with a pretty unusual finish. After Air Boom was all over the challengers, R-Truth and The Miz began to take control of the match. After all, these were two men who were in WWE Championship matches just months earlier, so they were intended to win if they had the chemistry.
A tag from The Miz to R-Truth that went unseen by referee Rod Zapata forced Zapata, who had been in multiple discussions with the team throughout the match, to force R-Truth back into the corner.
As Zapata was getting R-Truth near the turnbuckle, The Miz hit a Skull Crushing Finale and new champions seemed likely. Instead, Zapata continued to talk to R-Truth and began his count late enough that Evan Bourne is able to kick out at two.
The Miz was furious, attacked Zapata, and got his team disqualified. Air Boom retained by the skin of their teeth and would be just weeks away from an Evan Bourne Wellness Policy violation.
As for Awesome Truth, they continued to yell at Zapata and beat him up, which was the real beginning of their crusade through WWE, which lasted all the way until November. Sure, it's two months, but that's like a year and a half in WWE time.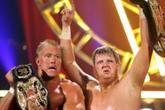 Photo courtesy of wwe.com
In the first match in Night of Champions history, the World Tag Team Championships were up for grabs as the champions, Lance Cade and Trevor Murdoch, took on Matt and Jeff Hardy.
The Hardys had lost the titles just a few months earlier to Cade and Murdoch and the champions were going through a phase of seeming to have sportsmanship. This was all an act and Cade and Murdoch ultimately showed their true colors.
The match was a very solid opener to a good pay-per-view. The Hardys set the tone pretty early on to give a spook to the champions, but the duo responded and had full control over Matt Hardy. A hot tag from Jeff Hardy followed and it looked as if Cade and Murdoch were about to become ex-champions.
Murdoch attempted to knock Jeff Hardy off the turnbuckle, but was greeted by Matt Hardy. The referee attempted to get Matt back into his corner, which gave enough of a distraction to have Murdoch knock Jeff off anyway.
All it took from there was one move by Cade and the champions defended in an underhanded, but very appropriate way in a great opening contest.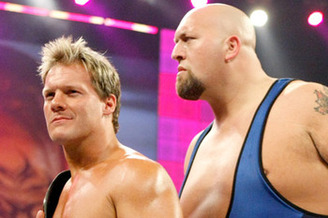 Originally, this could have been a very good tag team match. Chris Jericho and Edge were reigning Unified WWE Tag Team Champions, but an injury to Edge meant Jericho needed a new partner.
A pending title match with Legacy at Night of Champions made Jericho look worried, but Y2J was quick to flip the mind games on Rhodes and DiBiase. With their history at Night of Champions, Jericho planted the seed that one of them would turn their back on their partner.
Neither man did such a thing, so Jericho still needed to show an opponent. Jericho's surprise partner was Big Show, who was slated for a Six Pack Challenge for the United States Championship later on in the night.
Big Show was starting off the night trying to be a tag team champion instead, and his spot in the other match was filled by Primo.
Big Show came to be a very dominant part of the match, making Jericho's defense a lot simpler. Jeri-Show was born and you could tell that something special was born then.
Jeri-Show is one of the more memorable tag teams in recent memory and even with longer reigns since, Jeri-Show may be the best tag team WWE has seen in the last three years.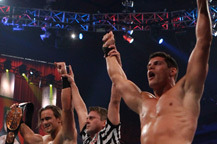 Photo courtesy of wwe.com
It may not have been the best match overall, but how can you ever hate on a Tag Team Turmoil? Two years ago, WWE had five tag teams all vying for the WWE Tag Team Championships. The first two teams were The Hart Dynasty, the champs at the time, and The Usos, the main rivals of the champions.
The two couldn't quite get the crowd too excited, though Tyson Kidd had a phenomenal moonsault to the outside. After about two minutes, The Usos moved on and we were already guaranteed new champions.
Out next was Santino Marella and Vladimir Kozlov. At this point, they were still a relatively new tag team and had not become champions just yet. Santino came in and went into his comeback sequence. He then prepped for The Cobra, along with Tamina at ringside trying to learn how, but was distracted enough to fall into a Samoan Drop and a loss to The Usos.
Following this was Evan Bourne and Mark Henry, who showed a nice mixture of strength and high-flying ability. Bourne had some nice offense and tagged in Henry, who dominated both Usos. A World's Strongest Slam and an Air Bourne later and The Usos were gone as well.
Now, the final team was Cody Rhodes and Drew McIntyre. Neither of the established tag teams were around anymore and a random team would become champions.
Bourne was weakened from his Air Bourne finisher and was in for a big disadvantage from Rhodes and McIntyre. Frequent tags and damaging moves had Mark Henry champing at the bit for a tag. He finally got it and Rhodes looked to be all done in the match.
Henry and Bourne wasted time for Bourne to climb Henry's shoulders for a higher Air Bourne, but McIntyre interfered and Rhodes delivered a Cross Rhodes to Bourne for the victory.