11 Reasons Oakland A's Are Legit AL Playoff Contenders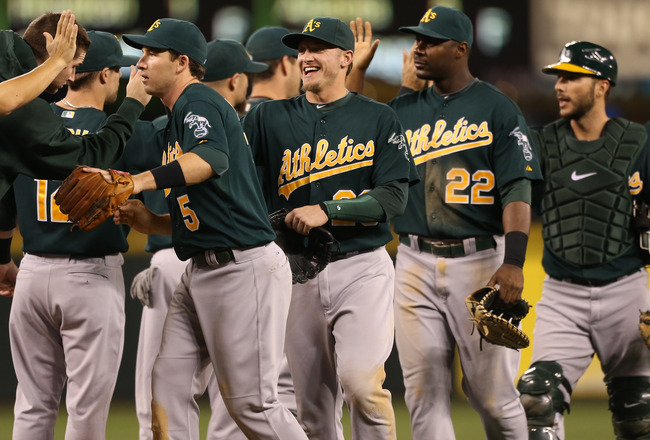 Otto Greule Jr/Getty Images
The Oakland Athletics entered the 2012 season with little hope of playing in October, yet one month away from playoffs, they find themselves as legitimate contenders for postseason baseball.
If you think the A's are a fluke, you're oh so wrong.
There may indeed be disbelievers out there still. These folks deny the talent in Oakland and have already shrugged the A's off as pretenders—a team who is destined for an epic collapse or a quick oust in the first round.
OK, so they aren't a powerhouse. Still, the A's have a shot at not only making the playoffs, but advancing.
In fact, here are 11 reasons the A's are legitimate postseason contenders.
Thier Record Says So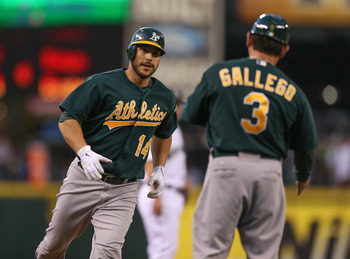 George Kottaras heads home after hitting a 3-run shot
Otto Greule Jr/Getty Images
The Oakland Athletics are 79-60 with just under one month left to play.
If being 19 games over .500 isn't convincing enough, consider the fact that the A's are on pace for 90 wins.
In 2011, the St. Louis Cardinals finished 90-72. They went on to win the World Series.
En route to a championship ring, St. Louis knocked off the Texas Rangers (96 wins), the Milwaukee Brewers (96 wins) and the Philadelphia Phillies (102 wins).
A 90-win team is a legit threat come playoffs.
Of course, they'll have to get there first, which means winning 11 of the last 20 games.
The Standings Say They Are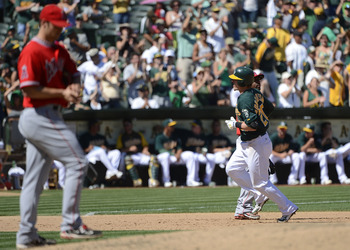 The A's still lead the Angels—barely.
Thearon W. Henderson/Getty Images
The Oakland Athletics are currently the top seed for a wild-card spot in the postseason. They're also second in the AL West, 4.5 games back from the Texas Rangers.
It's hard to say the A's aren't legit when they're in front of teams such as the Tampa Bay Rays, Los Angeles Angels and Detroit Tigers. Furthermore, they have a better record than the Chicago White Sox—the AL Central's best team.
If they were in the National League, the A's would still be in the wild-card hunt.
Their record is better than the Los Angeles Dodgers, Pittsburgh Pirates and St. Louis Cardinals.
The Long Ball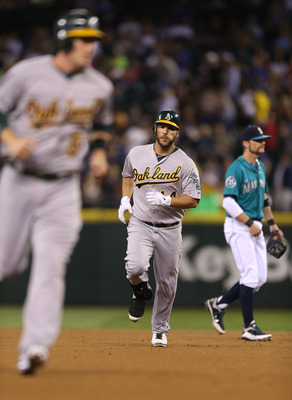 Here comes that Geore Kottaras home run trot again
Otto Greule Jr/Getty Images
Surprisingly, the Oakland Athletics as a team are in the top 10 in home runs.
Their 160 big flies are better than teams like the Cardinals, Tigers and Rays. Furthermore, less than 10 home runs separate the A's from the next three teams higher on the list.
They may not have a high batting average or knock in the most runs, but you must respect the fact that anyone on this team will put one over the fence without notice.
The A's average one home run per 29 at-bats.
Walks and Stolen Bases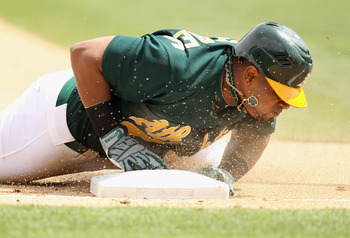 Safe!
Ezra Shaw/Getty Images
The Oakland A's are fourth in the league in walks at 461.
Why is this important?
Well, when the same team is eighth in the league in stolen bases, those walks become far more important to avoid as an opposing pitcher.
Especially when they are successful 79 percent of the time.
Guys like Coco Crisp and Yoenis Cespedes are incredibly talented base stealers. On Sept. 1, Cespedes stole second base standing up, and moments later, stole third base.
He didn't need to slide then either.
Throw in more guys with above-average speed like Jemile Weeks (if he's called up), Cliff Pennington, Adam Rosales and Josh Reddick, and it becomes difficult to be comfortable with runners on.
The Bench Is Dangerous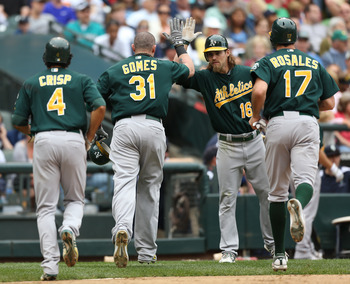 Jonny Gomes and Adam Rosales return to the dugout
Otto Greule Jr/Getty Images
Led by Jonny Gomes, the Oakland A's bench is hitting a combined .299.
That's good for second-best.
As a role player, Gomes has produced 39 RBI and 15 home runs. Brandon Moss has 16 home runs—that's as many as Yoenis Cespedes.
Josh Donaldson's stats have been steadily climbing as of late. He's hit in eight runs in the last seven games.
Adam Rosales and Derek Norris have filled in nicely as well.
The Rotation Is the Definition of Legitimate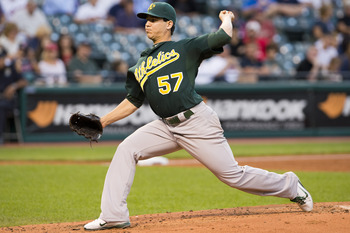 A's stud Tommy Milone
Jason Miller/Getty Images
Oakland A's starters have compiled a collective 3.77 ERA—good for sixth-best in Major League Baseball.
Imagine that: Only five teams have a better pitching staff.
They may not pitch perfect games, no-hitters or even complete games, but they're effective. So far, the A's have the second most shutouts this season.
Oakland has given up just 365 runs. Only one team has given up less.
One.
The Defense Is Quietly Good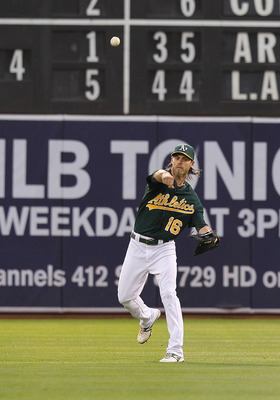 Josh Reddick throws the ball back into the infield
Tony Medina/Getty Images
Do not attempt to run on the Oakland Athletics.
The catchers are throwing out 32 percent of runners attempting to steal a base. That's eighth-best in MLB.
Josh Reddick has the second-highest outfield assists in the league, at 14. Yoenis Cespedes has another six.
Trying to sneak a hit into a gap is inadvisable as well. Each of the everyday outfielders have a range factor above 2.10. Coco Crisp, Reddick and Cespedes are in the top 25 in this category.
What does that mean?
It means they cover a whole lot of ground.
If and when you do find a hole, the chances of someone throwing you out should you get greedy are pretty good.
The Bullpen Matches the Starters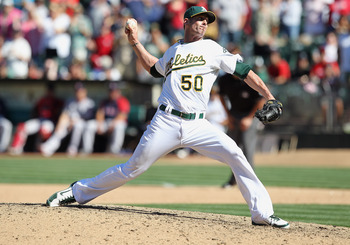 Veteran Grant Balfour
Tony Medina/Getty Images
With an ERA of 2.89, the Oakland A's bullpen is third-best in Major League Baseball.
The unit has the fourth most wins and is solidly in the top half for saves.
They're job is simple: Don't let the other team score.
How do you do that?
Don't let them get a hit.
Maintaining opposing batting averages and earned runs well below the league average, the bullpen also has more strikeouts than the average.
Late-Inning Magic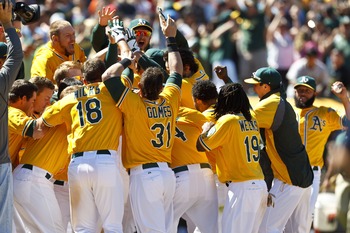 Walk-off wins are fun
Jason O. Watson/Getty Images
Believe it or not, the Oakland Athletics are in the top 10 in RBI, runs and home runs in the seventh inning or later.
The A's have 13 walk-off wins and only four walk-off losses. They've come from behind for victories 35 times.
They. Do. Not. Quit.
Head to Head Against Powerhouses, the A's Have Done Well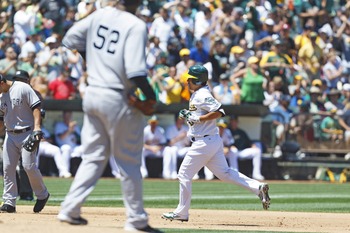 A home run trot off CC Sabathia is no easy task
Jason O. Watson/Getty Images
The Oakland A's are likely to face one of the following teams in the first or second round of playoffs: Texas Rangers, New York Yankees, Chicago White Sox, Baltimore Orioles, Tampa Bay Rays, Los Angeles Angels or Detroit Tigers.
So far, they've split against Chicago, Baltimore, Detroit and Texas.
The A's have beaten the Yankees four out of seven times in 2012, including a four-game sweep in July. They have won five of nine against the Rays.
The only team that has a winning record against the A's (of those on the list above) is the Los Angeles Angels. They are 8-7 against the A's, but it took a three-game sweep in September to get them over.
Most of the games left this season are against one of these teams.
So far, they've shown they are capable of beating each of them.
The Pressure Is on the Opponent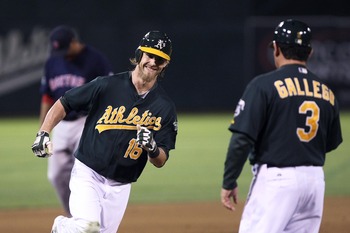 Winning is fun
Kelley L Cox-US PRESSWIRE
The New York Yankees are expected to win the World Series every year.
The Texas Rangers have back-to-back World Series appearances, but lost both times. There is immense pressure for them to get over the hump and win.
The Los Angeles Angels and Detroit Tigers have spent considerable money, adding punch to their lineups (Prince Fielder to Detroit, Albert Pujols to LA) and rotations. Both need to prove their spending was worth it.
Each of these teams, including the Tampa Bay Rays and Chicago White Sox, have been to a World Series within the last decade.
The A's haven't been since 1990.
They weren't even expected to come this far in 2012. Yet here they are.
If the A's lose in a one-game playoff, it will be disappointing. But the reflection of 2012 won't be "what might have been," as it will be for the teams listed above.
Instead, it will be "that was awesome."
Keep Reading

Oakland Athletics: Like this team?