After what can only be described as an embarrassing defeat at the hands of Alabama, the No. 19 Michigan Wolverines (AP/USA Today) look to get back on track against the Air Force Falcons on Saturday.
This contest will be the first meeting between the schools since 1964. After an embarrassing loss in Week 1's most highly anticipated matchup, the Wolverines will look for a similar result to their 24-7 victory 48 years ago.
And for a Michigan squad that came into the season with BCS bowl hopes, it's imperative that the team comes away with the victory.
It just won't be as easy as you think. Though the Wolverines come into the Big House as heavy favorite, Air Force looked dominant in a 49-21 victory over Idaho State last week.
With the season likely on the line for Michigan, here's a look at the biggest keys to a Wolverines victory.
Denard Robinson Must Return to Form
With the key to the Wolverines season riding on his right arm and legs, it's necessary for Robinson to put his Alabama failure behind him.
Going just 11-of-26 for 200 yards and one touchdown against two interceptions, the Alabama defense took the dual-threat quarterback and seemingly stripped him of any threat whatsoever. Even Robinson's 27 rushing yards were the second lowest of his reign as starter.
Luckily for Michigan, Air Force's defense has far less talent than the Crimson Tide. The Falcons gave up 431 total yards to Idaho State last week, 355 of which came from the arm of quarterback Kevin Yost.
However, an easier opponent does not necessarily mean a cakewalk. Robinson's Heisman buzz that followed him into the season is lost, but Saturday could be about recapturing his confidence going forward.
Fitzgerald Toussaint Must Be Involved Early and Often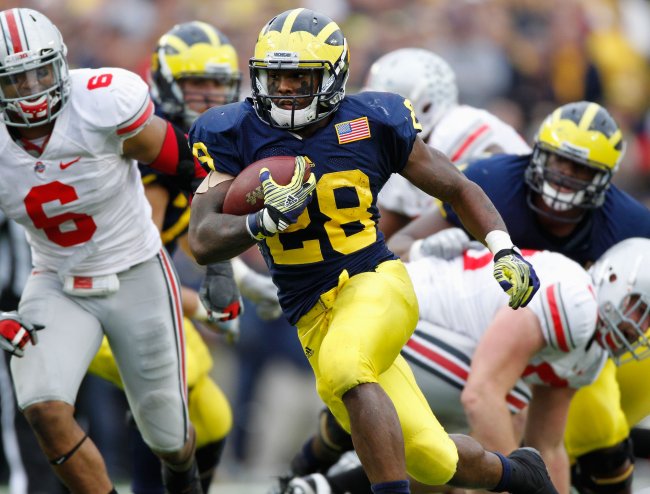 Gregory Shamus/Getty Images
If Robinson hopes to recapture that confidence, a huge game from his star running back certainly would not hurt.
Toussaint, who was suspended for the Alabama game after being charged with a DUI (via USA Today), will return against Air Force after being reinstated by head coach Brady Hoke earlier this week.
And after Michigan rushed for just 69 yards on 29 carries against Alabama, it looks like the redshirt junior could not be returning at a better time. Toussaint rushed for 1,041 yards last season and was integral to the team's read-option attack.
If Hoke gets the ball in his running back's hands early and has success, it should open up the field for Robinson to take some shots down the field through the air.
Get Penetration From the Defensive Line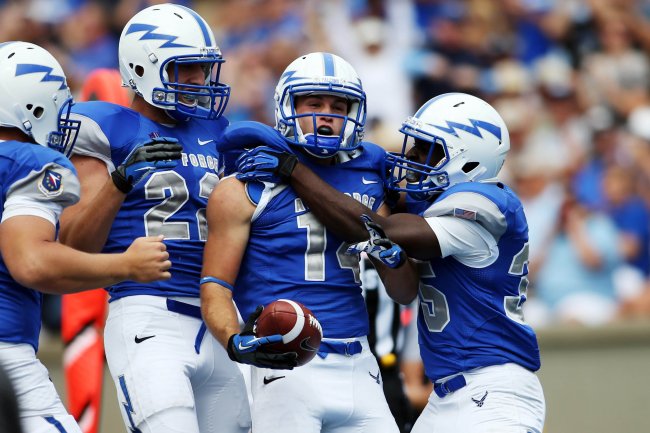 Chris Humphreys-US PRESSWIRE
Defensively, the Wolverines' biggest task will be stopping the opposition's vaunted option attack.
Facing a weak Idaho State defense, the Falcons rushed for an astounding 484 yards and seven touchdowns last week. And, strangely enough, that figure is almost par for the course for Air Force.
The school is always among the nation's leaders in rushing attempts and yardage. And despite returning just five starters on the entire team, this group of newbies seem ready to pick up where their predecessors left off.
For Michigan to come out on top, it's vital that the team hits the line of scrimmage hard and stops the option at the point of attack. Tasked with that chore is a Wolverines defensive line that struggled mightily against the Crimson Tide Week 1.
The line, which replaced all four starters coming into the season, got beat off the ball on a regular basis and gave up 231 yards to Alabama on the ground last Saturday.
That cannot happen this week if Michigan wants to avoid a massive upset.