Philadelphia Eagles: What Needs to Happen for the Eagles to Win the Super Bowl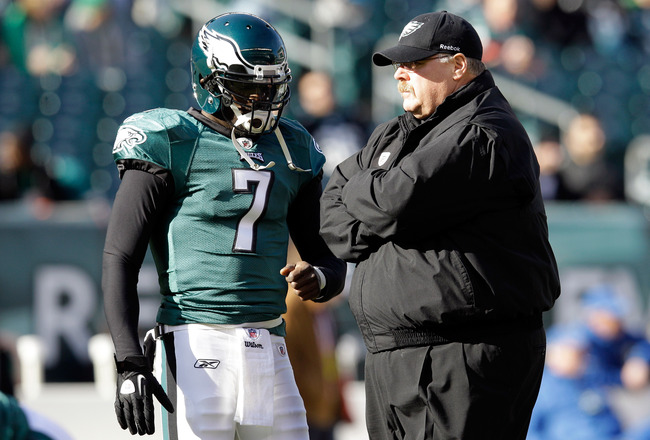 Rob Carr/Getty Images
It's always comforting to hear that your team is being picked to win the Super Bowl, especially when the predictions themselves are coming from the likes of ex-coaches, ex-players and national sports personalities. But if the last two seasons have taught us anything, it's that success cannot be guaranteed in the NFL.
To demonstrate this point, the New York Giants only had one more regular-season win than the Philadelphia Eagles. They went on to win the Super Bowl, while favorites like the Packers and 49ers did not live up to expectations.
The year before, the offensive powerhouse New Orleans Saints were knocked out of the playoffs by the Seattle Seahawks, who became the first team to win a division, a playoff berth and a playoff game with a sub-.500 regular-season record.
These examples alone should be sufficient enough to determine that preseason predictions are ultimately fruitless, because no one saw either of these happening prior to the start of their respective seasons.
Now, the Eagles are far from teams like the Rams and the Jaguars, who definitely have no hope of winning it all this year. As a matter of fact, an Eagles Super Bowl victory is not out of the realm of possibilities at all. But let's try to seek out and justify the reasoning behind these kinds of assertions before we get ahead of ourselves with buying into them.
After all, the Eagles haven't done anything to indicate that they will make that Super Bowl leap. However, they have indicated that they are ready to try.
The following is an outline of what needs to happen for the Birds to finally capture that elusive first Super Bowl in 2012.
Michael Vick and the Offensive Line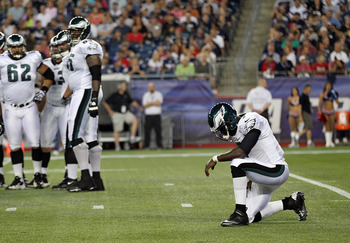 Jim Rogash/Getty Images
First things first: Michael Vick has to stay healthy. The Eagles will live and die with him.
It's unwise, unfounded and foolish to think that Nick Foles can take this team all the way this year if Vick goes down. That's not to say that in the future he can't, but for the purposes of this piece we're going to limit the scope of the Eagles' potential success to this season.
Sure, Foles had a great preseason, throwing all over the second-worst defense in the NFL last year (the Patriots), and the second- and third-teamers from the Steelers, Browns and Jets. What in the world could make one think that Foles is capable of doing that this year if Vick goes down?
Nothing. The bottom line is that Michael Vick needs to be healthy.
Aside from not leaving himself open to big hits, Vick needs a strong O-line to be successful. Sure, he scrambles. But when he runs, he gets hit. When he gets hit, he gets hurt. So, when he drops back to pass, the O-line needs to give him enough time and protection to make plays with his arm. Scrambling and running should, and most likely will, be the last resort.
This year the Eagles lost arguably the best OT in the NFL in Jason Peters. Moreover, a lot of LeSean McCoy's success last year came via off-tackle runs, which Peters had a huge part in. I'm not saying that the O-line will doom the Eagles, but I am saying that given Demetress Bell's shaky play and King Dunlap's history of underachieving, the absence of Peters is not insignificant.
In summation, a healthy Vick needs a strong offensive line. And a healthy Vick means one of the most dynamic players in the NFL will be taking the snaps. If Vick can stay healthy, the Eagles' chances to win it all are that much stronger.
The Defensive Line and the Linebackers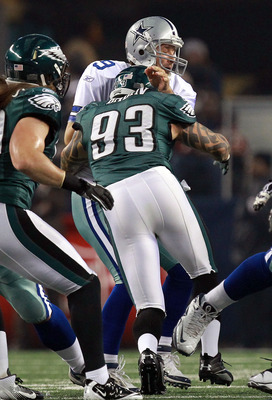 Ronald Martinez/Getty Images
If a team wants to have a strength on defense, the line is the best place to have it. However, when the defensive scheme features a wide-nine, the ends are used for pass rushing—which was far and away the best thing about the Eagles last year. But the linebackers are needed to compensate for the open space by picking up the offense's ground game—which was a weak point for the team last year.
I'm not too concerned with DeMeco Ryans' lackluster preseason. As a matter of fact, I think the Eagles' linebackers will be dramatically improved in 2012. It's not Casey Matthews anymore. But at the same time, Ryans hasn't proved anything during his time in Philly, so I can't let myself be completely convinced he can be what the team needs him to be yet.
With the emergence of Mychal Kendricks, the acquisition of DeMeco Ryans and the play from Akeem Jordan, there's a lot of reason to believe that the Eagles' linebacking corps will be reliable in the upcoming season.
Cornerbacks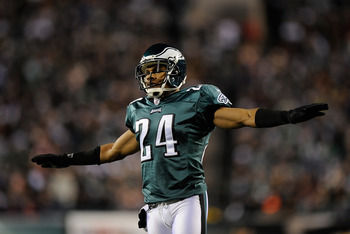 Patrick McDermott/Getty Images
Nnamdi Asomugha's play last year was disappointing, but it wasn't terrible. It just wasn't the 1B to Revis' 1A we were expecting.
The reason for this, as we all know, is the zone coverage we saw Nnamdi often looking lost in during all of 2011.
However, there is reason to believe we could see a return to form from Asomugha in the upcoming season.
Why? Because the Eagles have indicated that they will play more man press coverage.
This is terrific news for two reasons. One: That's where Nnamdi excels. Two: That's where Dominique Rodgers-Cromartie excels.
DRC has also shown that he is great in man coverage. He's athletic and smart—not to mention the 13 picks he had during his first three seasons prior to coming to Philadelphia.
Now, all of this is speculative. We haven't seen them do it yet. Nonetheless, its promise is undeniable.
For the Eagles to even think about winning the Super Bowl, Asomugha and DRC need to be given the opportunity to exercise what they do best, and we could see them flourish in 2012.
Safeties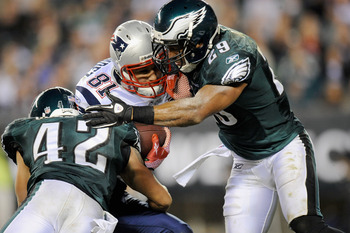 Patrick McDermott/Getty Images
The problem with the Eagles' safeties isn't that they're bad. Rather, it's that the team is thin in that area.
Kurt Coleman is an overachiever, and that's a good thing. He led the team in interceptions last season, and he is consistent. He's not the best, but he's not the worst. He'll do.
On the other side of Coleman is Nate Allen, who has thus far been unimpressive. But you can't say he's a bust either.
Personally, I think Allen will have a good year if he's healthy and he stops missing tackles. But in the event that Coleman or Allen is unable to play, the Eagles have to rely on Jaiquawn Jarrett and recently acquired David Sims, both of whom are unproven to this point.
Coleman and Allen need to perform, and they are capable. But they also need to stay healthy if the Eagles defense is to succeed.
Wide Receivers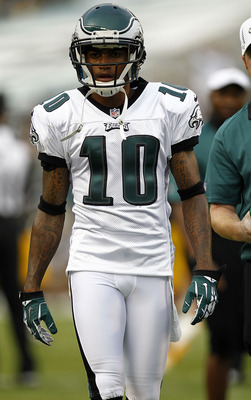 Jeff Zelevansky/Getty Images
The Eagles have three great wideouts in DeSean Jackson, Jeremy Maclin and Jason Avant. But the team isn't deep at the receiver position, especially when you consider Riley Cooper's injury problems.
If one of the top three goes down, are you that comfortable with Cooper stepping up?
What if Cooper's injury problems continue? Is Damaris Johnson a reliable option?
I'm not saying that Cooper and Johnson are bad, but I am saying that we don't have any reason to believe they pose the same threat as Jackson, Maclin and Avant. Those three guys are key pieces in the Eagles offense. It could mean trouble if one of them goes down.
As of now, though, the wide receiver position is a strength for the Birds—one that will play a huge part in any success the team has.
Keep Reading

Philadelphia Eagles: Like this team?