Power Ranking the Former Iowa Hawkeyes in the NFL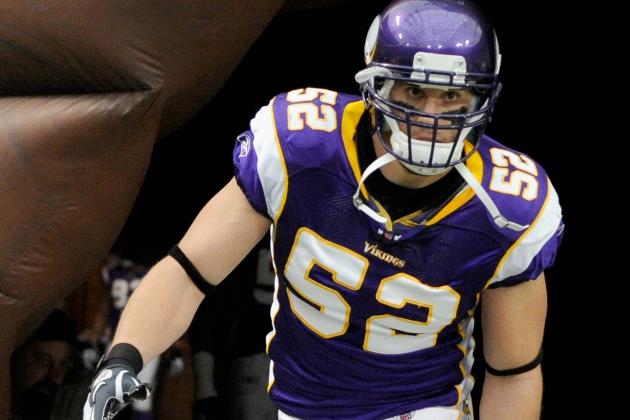 Hannah Foslien/Getty Images

The Iowa Hawkeyes continue to produce NFL talent.
While there are not as many former Hawkeyes on NFL rosters as there were when I ranked them last season, there are still 29 former Iowa players on NFL teams.
Some have retired since last season (Robert Gallery, Matt Roth, Eric Steinbach), and some have been put on practice squads or are free agents (Marvin McNutt, Jeff Tarpinian, Ryan Donahue).
I am only including the players on NFL rosters—the official team rosters according to ESPN.com.
It is not an easy task to rank all of the impact-making Hawkeyes, and there is no clear-cut No. 1, but many continue to make Iowa proud on Sundays.
Begin Slideshow

»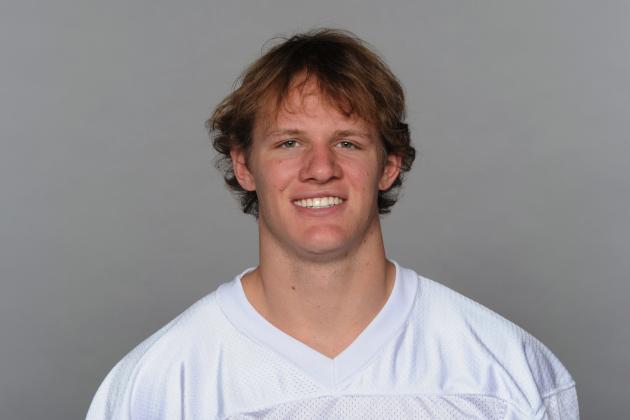 Handout/Getty Images

A.J. Edds is, sadly, last on the list.
Edds tore his ACL before the season ever started and will lose his second full year of professional football due to the injury.
For his career, he has totaled 13 tackles.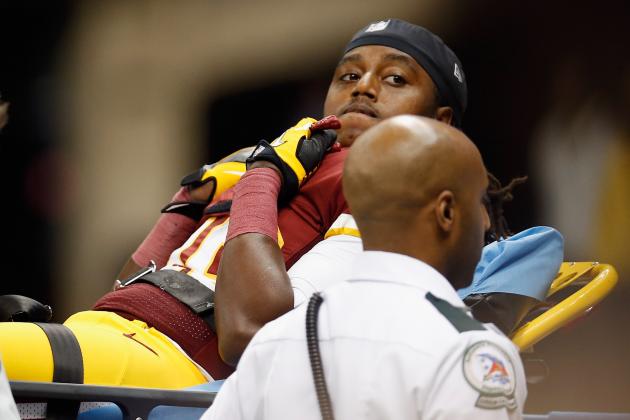 Chris Graythen/Getty Images

Jordan Bernstein actually worked his way into playing time for the Washington Redskins in their season opening upset of New Orleans.
During the game, however, Bernstein tore knee ligaments and is out for the year.
Bernstein had an injury-plagued career at Iowa, and one can only hope he gets healthy and uses his immense talent to carve out an NFL career.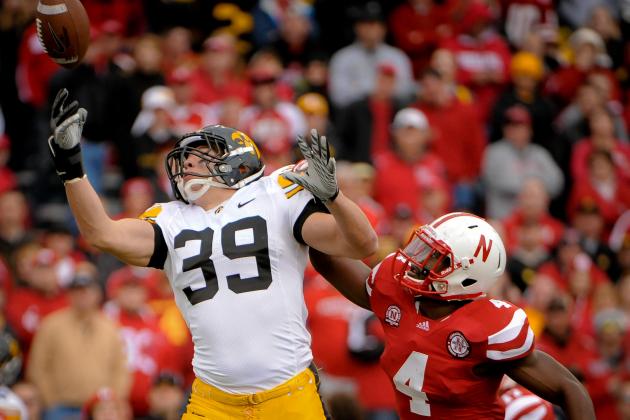 Eric Francis/Getty Images

Rookie Brad Herman made the Patriots roster as a tight end but will likely never see the field.
Even with Aaron Hernandez missing time over the next few weeks, the Patriots are deep at the position, and Herman has many names in front of him.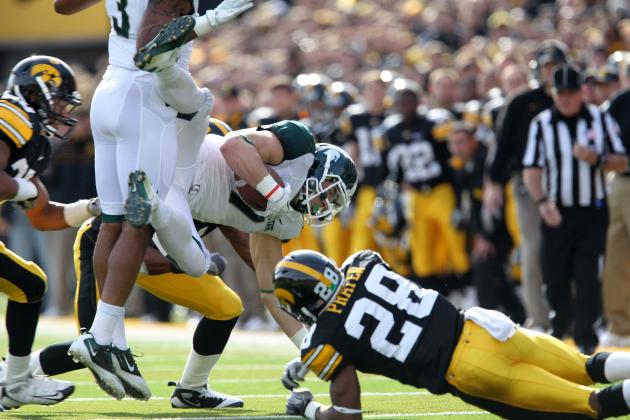 Reese Strickland/Getty Images

Shaun Prater has found a spot in Cincinnati.
Prater is on the roster as a cornerback but does not appear on the depth chart.
Prater may see some time on special teams, but don't count on seeing him on many, if any, defensive formations.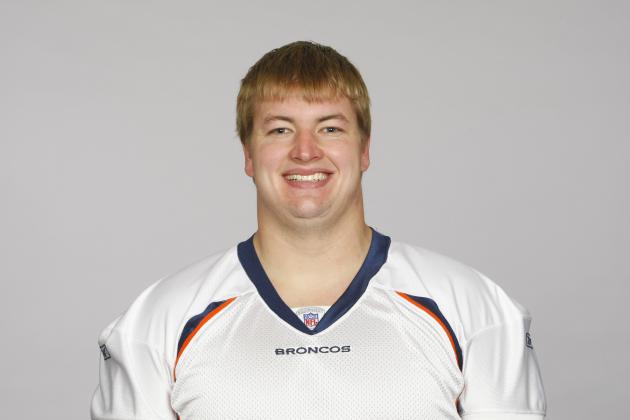 Handout/Getty Images

Seth Olsen is the second string right guard for the Colts this season.
Olsen has been getting some playing time for the young Colts team, blocking for Andrew Luck.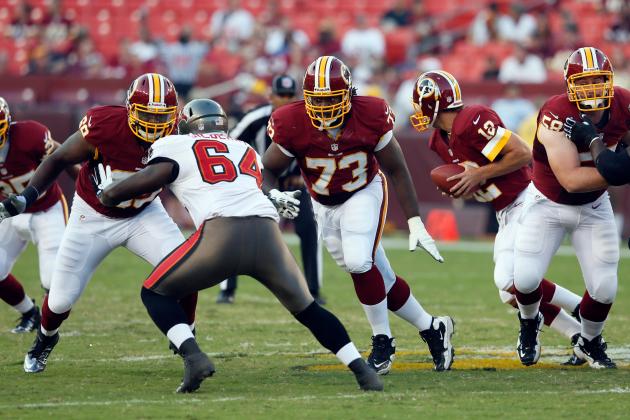 Rob Carr/Getty Images

Rookie Adam Gettis has seen some early action as the second-string right guard for the Washington Redskins.
Gettis was not a highly touted draft pick but has shown consistency throughout his college career. He seems to be progressing in Washington for an offense that is suddenly very exciting.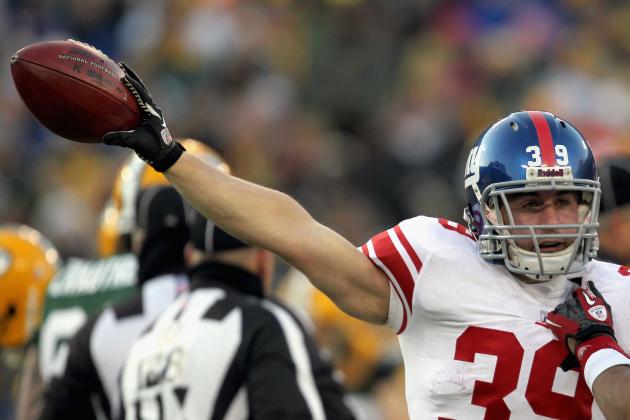 Jonathan Daniel/Getty Images

Tyler Sash had a great rookie season, in terms of success.
Sash only had 17 tackles, but he saw a lot of time on the special teams unit and forced two fumbles. Also, he got a Super Bowl ring.
This year hasn't been as charmed. Sash is serving a four-game suspension for using Adderall and also has an ankle injury.
The good news for Sash is that the Giants' pass defense has been so bad that, when he returns, he may see more playing time than he did last year.
Hannah Foslien/Getty Images

Allen Reisner has one career catch and has done nothing so far this season, yet I felt 22 was the right spot for Reisner.
While he is listed as the fourth-string tight end in Minnesota, Reisner also sees some time at fullback. It has been proven in years past, namely by Visanthe Shiancoe, that tight ends can have big years in Minnesota, thanks to having Adrian Peterson open up the passing game.
If Christian Ponder continues to spread the ball around and use the tight ends, Reisner could see some time here and there and could haul in a few more passes.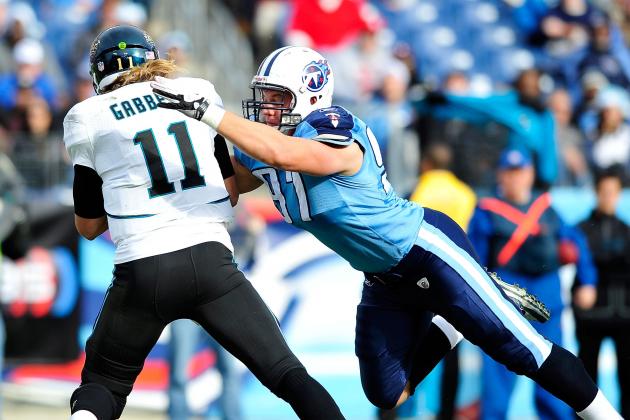 Grant Halverson/Getty Images

Karl Klug had a surprisingly good rookie campaign last year. This year, he has started slowly and is currently listed as the second-string defensive tackle.
Klug had 20 tackles and seven sacks last season and also forced two fumbles. This year, Klug has one solo tackle.
Klug should end up somewhere between his slow start this year and his seven sacks from a year ago.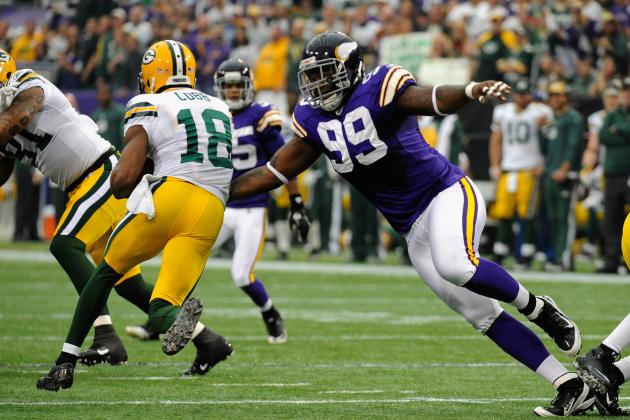 Hannah Foslien/Getty Images

Christian Ballard doesn't play a ton, but when he has, he has thrived. The problem is that Ballard is stuck behind Kevin Williams, who is one of the best interior linemen in the game.
Ballard had 13 tackles as a rookie and has four this year.
If Williams or Letroy Guion suffer any type of injury for the Vikings, Ballard will likely be the guy to get those snaps.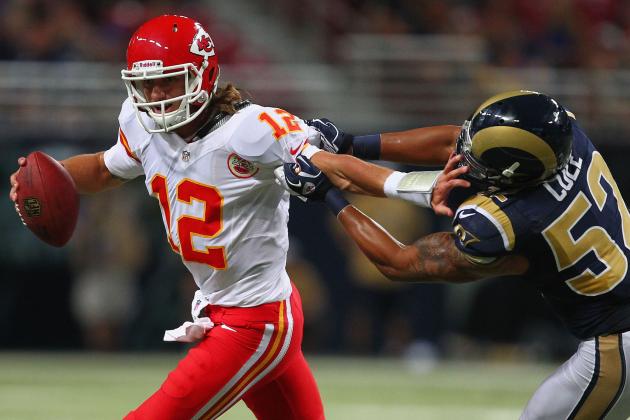 Dilip Vishwanat/Getty Images

Ricky Stanzi almost got his shot last year. When Matt Cassel was injured, many fans wanted to see Stanzi get his chance. Instead, Tyler Palko was the starter, leaving Stanzi on the sidelines.
Now, Stanzi has not only Cassel but Brady Quinn in front of him. It will be difficult for Stanzi to see the field in 2012.
If Stanzi does ever get a shot, I would not be surprised if one of the winningest quarterbacks in Iowa history steps up and does well.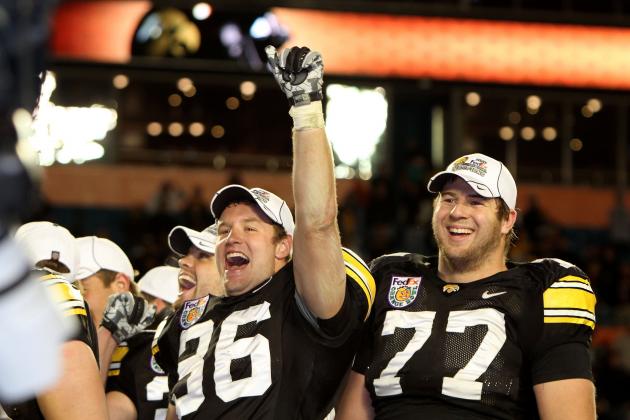 Doug Benc/Getty Images

The Detroit Lions spent a first-round pick on Riley Reiff, so they obviously expect big things out of him. However, he remains listed as second on the depth chart at left tackle, behind 12-year veteran Jeff Backus.
The Lions offense has not gotten off to the start they wanted in 2012. Reiff should see the field more and more as the season progresses. If the Lions continue to struggle on offense, some shaking up may be in order, and he may see more playing time sooner rather than later.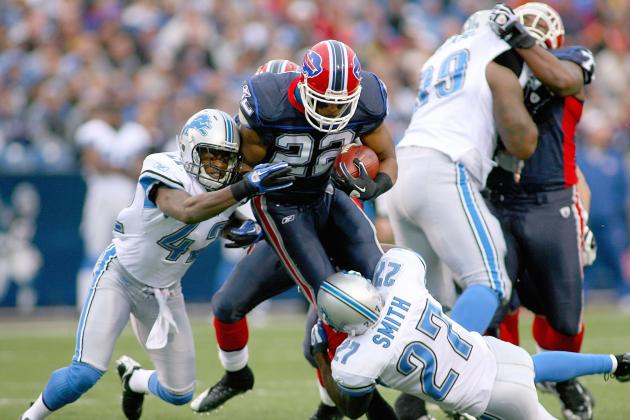 Rick Stewart/Getty Images

Amari Spievey started for Detroit last season but has been relegated to a backup safety role this year.
Spievey does have five picks and 123 tackles in his two years in the league but only two tackles in the first two games of this season.
Detroit can be a playoff team for the second year in a row, but the secondary will have to improve to make any noise in the playoffs.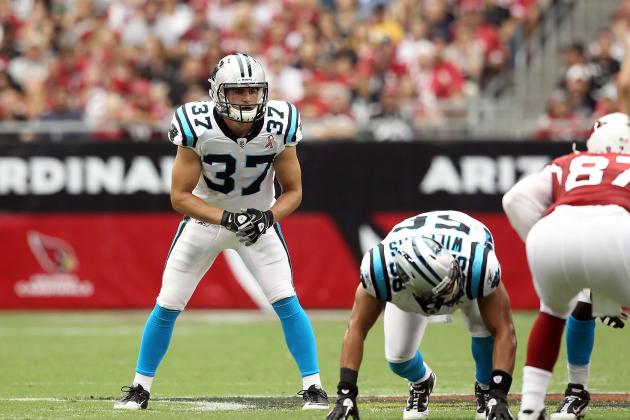 Christian Petersen/Getty Images

Sean Considine is probably on the tail end of his career. The eight-year veteran is now in Baltimore.
Considine has four interceptions, two forced fumbles and 252 tackles for his career but only one of those tackles has come this season.
Considine may have lost a step, but Baltimore is also likely the best defense he has ever been a part of. He has a chance to be an X-factor on the Ravens defense this season.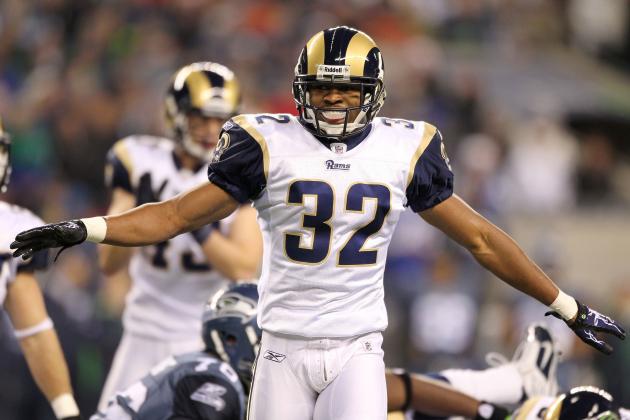 Otto Greule Jr/Getty Images

Bradley Fletcher continues to be a solid cornerback option for the St. Louis Rams.
Fletcher has started slowly this season, with only five tackles thus far, but he has been fairly consistent throughout his career.
The Rams had a statement win last week over Washington and are suddenly getting sleeper hype. They have a huge game this weekend against Chicago. Fletcher and the secondary will have to show up and shut down Jay Cutler for any chance of winning.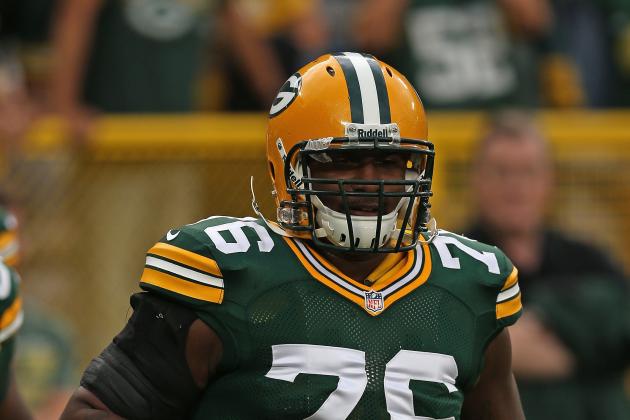 Jonathan Daniel/Getty Images

Mike Daniels is probably the surprise on the list.
Daniels is off to a pretty good start with Green Bay in his rookie season. Most outside of Green Bay probably didn't expect Daniels to play much this season, but he has been very good in two games.
Daniels already recorded his first professional sack and has been a handful for opposing offensive linemen.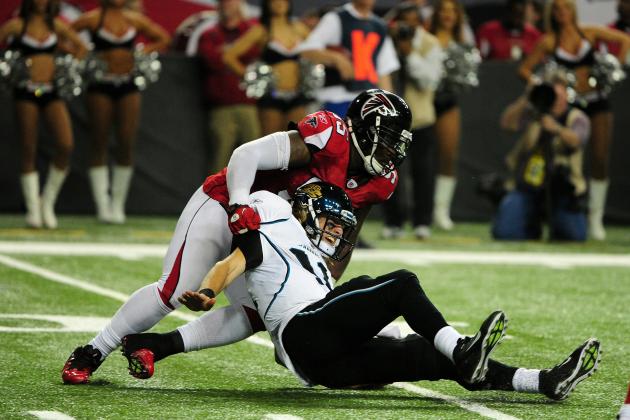 Scott Cunningham/Getty Images

Jonathan Babineaux only has two tackles through two games, but both have been sacks. In Monday night's game against Denver, Babineaux was very disruptive on the defensive line.
Babineaux has 21 sacks in his eight-year career, to go along with seven forced fumbles and 240 tackles. He remains an above-average defensive lineman for Atlanta.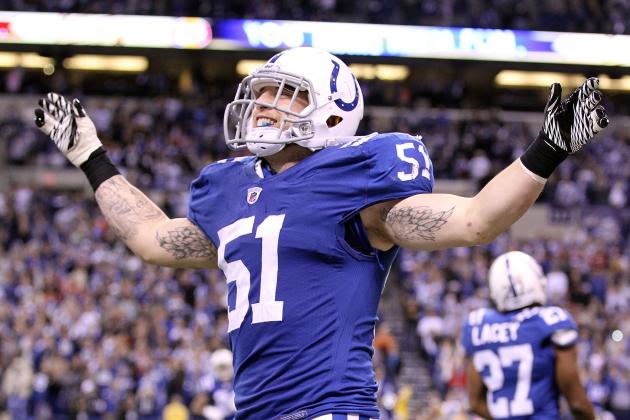 Andy Lyons/Getty Images

Pat Angerer is at No. 12 on this list simply because he is injured.
Angerer has not played yet in 2012 due to a broken foot he suffered in Week 1 of the preseason.
He could see action before Indianapolis's bye week in October, but it is unsure.
When Angerer is healthy, he is always around the ball. In just two years, Angerer has racked up 236 tackles, three forced fumbles and an interception.
The Colts are young and hungry, and Angerer fits right in with that.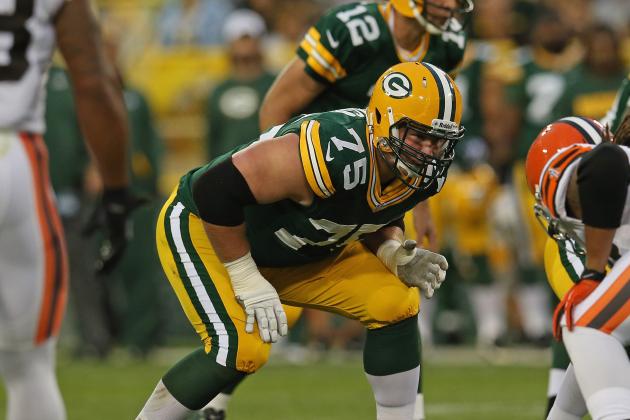 Jonathan Daniel/Getty Images

It kind of seems like Bryan Bulaga has been on the Packers for 10 years by now.
In actuality, Bulaga is in only his third season in Green Bay. He continues to start at offensive tackle for one of the most prolific offenses in the NFL.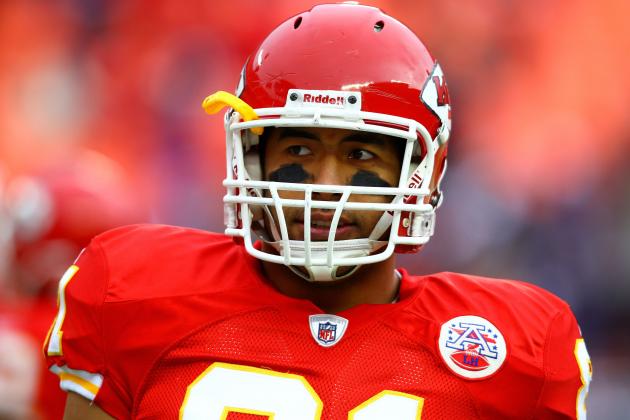 Dilip Vishwanat/Getty Images

After a surprisingly good rookie season, Tony Moeaki lost all of 2011 to an injury.
He hasn't started too quickly in Kansas City this season, with only four receptions for 45 yards, but in his defense, nobody in Kansas City except maybe Dwayne Bowe has had a good start.
Moeaki still has good size and athleticism for a tight end, and as he becomes more comfortable in the Chiefs offense, he could start to see more passes his way.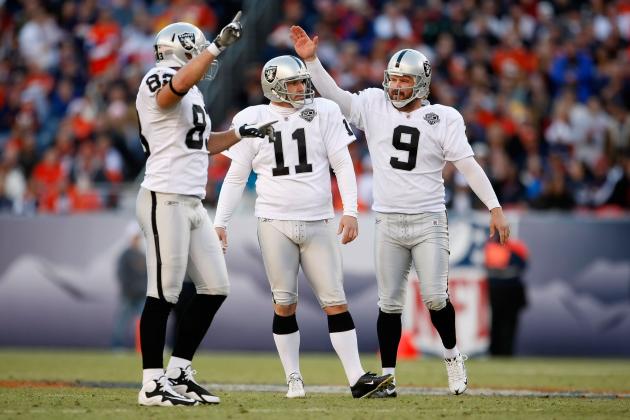 Jeff Gross/Getty Images

Brandon Myers is off to a nice start with Oakland this season.
Myers has already hauled in 11 passes for 151 yards. In his pro career, he has yet to score a touchdown but does have 43 receptions for 401 yards.
If nothing else, he is still improving and seems to be a favorite target of Carson Palmer.
Rob Carr/Getty Images

Marshal Yanda, in his sixth year out of Iowa, has become a Pro-Bowl offensive lineman.
Yanda is a member of the Baltimore Ravens offensive line, blocking for Joe Flacco and Ray Rice.
The Ravens are looking to take the next step and reach the Super Bowl, which many believe they can. Having a Pro-Bowl O-lineman is a good start.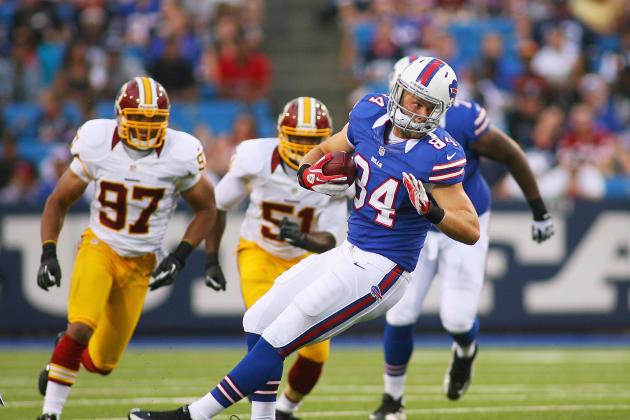 Rick Stewart/Getty Images

Scott Chandler doesn't catch a ton of passes, but when he does, he is often in the end zone.
Of Chandler's 45 career catches, eight of them have been for touchdowns. He already has two scores on the young season.
Buffalo quarterback Ryan Fitzpatrick continues to show confidence in Chandler in the red zone, which makes him a very effective tight end.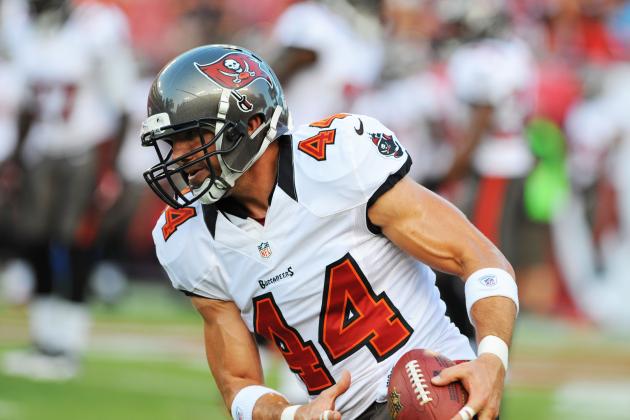 Al Messerschmidt/Getty Images

New team, same Dallas Clark. Sort of.
Clark has 46 career touchdowns, all in a Colts uniform, but has yet to reach pay dirt this season.
Clark only has five catches and 66 yards through two games. But fear not. Clark has always had great hands and is an excellent possession tight end.
As the season goes on, and Josh Freeman becomes more comfortable with Clark, I expect his production to go up.
He may never be as good as he was catching passes from Peyton Manning, but he can still be awfully effective.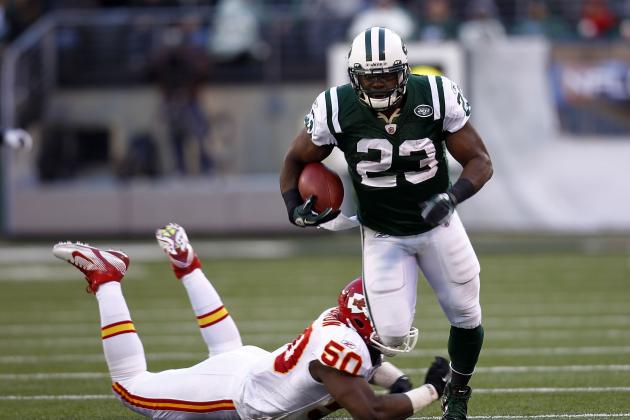 Jeff Zelevansky/Getty Images

Don't get mad, Hawkeyes fans, but I have to say it: Shonn Greene has been a disappointment in the NFL. Just ask a Jets fan.
After his dominant junior season at Iowa, Greene showed flashes of being a game-changing back in his rookie year, especially in the playoffs.
Since then, Greene has only been pedestrian.
He does have 2,477 yards in his four-year career, with an average of 4.2 yards per carry. This season, Greene has gained 117 yards on 38 carries, good for a 3.1 yard average.
Why is he still so high on this list you ask? He is still the feature back on a high-profile team. If Mark Sanchez is ever hurt or benched and the almighty Tebow takes the reins, Greene may see his production increase, much like Willis McGahee's did last year.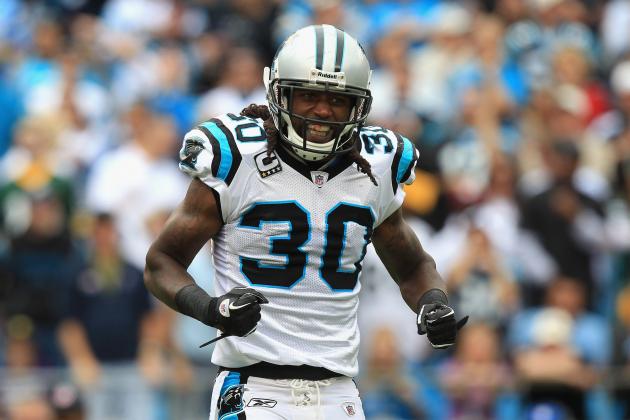 Streeter Lecka/Getty Images

Charles Godfrey is one of the most underrated Hawkeyes in the NFL. Heck, he is one of the most underrated secondary players in the NFL.
Godfrey has 291 tackles, seven forced fumbles and 10 interceptions in his career. In his two games this year, he has 17 tackles and a pick-six.
The Panthers defense still has work to do to be considered a legitimate playoff squad, but they are getting better, and Godfrey continues to be a big part of it.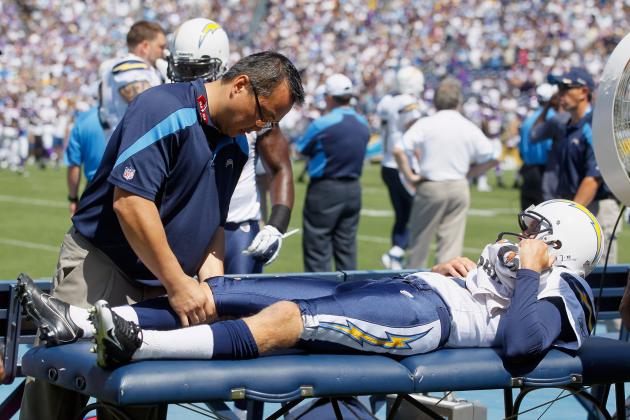 Jeff Gross/Getty Images

That picture essentially is Nate Kaeding's 2011 season.
Kaeding hurt his knee on the very first play of the season and was out for the year.
Many people, both fans and fantasy players, forgot just how consistent Kaeding has been throughout his career.
Kaeding is already 6-for-6 on the young season on field goals. For all you mathematicians, that is a 100 percent clip. For his career, Kaeding has made 86.9 percent of his field goals. Compare that to celebrated Raiders kicker Sebastian Janikowski, who has made 79.8 percent for his career. I grant you, Janikowski is more coveted for his strong leg than his accurate leg, but that is still a large difference.
The Chargers have flown under the radar to a 2-0 start. Kaeding has been flawless. Watch out for San Diego to hang around the top of the standings all season long.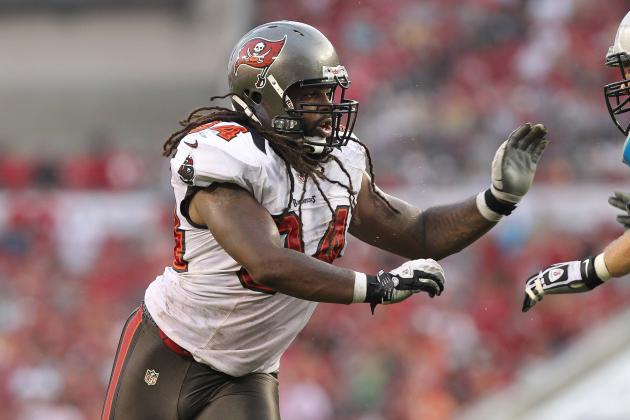 Kim Klement-US PRESSWIRE

Adrian Clayborn may be listed too highly based off one successful season and a not-so-successful two games of this season, but I remain impressed.
Clayborn, while racking up 42 tackles, three forced fumbles and 5.5 sacks as a rookie, only has one tackle this season. Those who have watched the Bucs games, though, know how disruptive he has been on the line.
Since losing weight coming into his rookie season, Clayborn has shown improved quickness off the ball.
The Buccaneers look to be an improved team in 2012, and if they are serious about making a playoff run, Adrian Clayborn will have to be better than his impressive rookie campaign.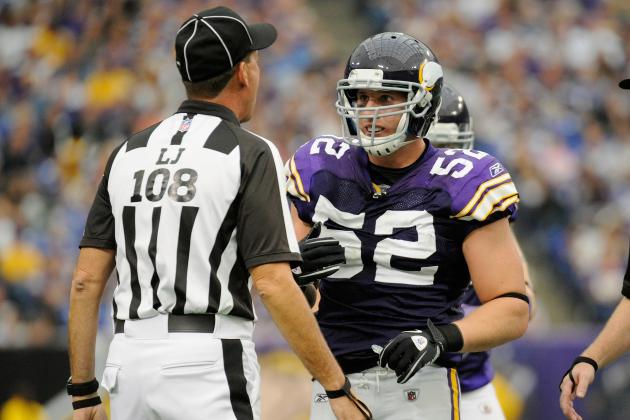 Hannah Foslien/Getty Images

Chad Greenway tops the list.
The downfall of Greenway is that some say he is too slow in pass coverage. True. He is sometimes unable to man cover top wide receivers or elite tight ends. He does perform well in pass coverage when he is free to roam. Remember the end of the Week 1 game against Jacksonville in which he dove and knocked down a crucial pass?
Greenway makes up for his lack of speed in the passing game with an incredible nose for the ball.
Greenway has led the Vikings in tackles for four straight seasons. He has already racked up 20 tackles in two games this year. For his career, Greenway has recorded 637 tackles, forced seven fumbles and picked off five passes.
The Vikings may be rebuilding, but Greenway is one player they can count on to perform week in and week out.