Auburn vs. Mississippi State: Final Report Card, Player Grades for Auburn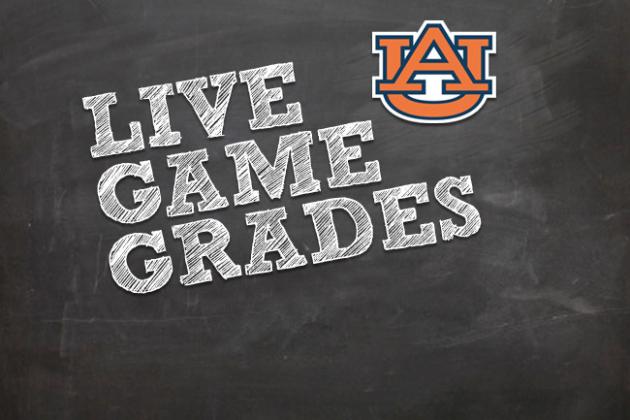 Auburn fell to Mississippi State, 28-10 today in Starkville in front of the ninth largest crowd in Davis Wade Stadium history. Auburn is now 0-2 overall and 0-1 in the SEC. The Tigers have their first home game next weekend against Louisiana-Monroe.
Here are our position-by-position grades for the Tigers.
Let us know what you think by dropping a civil comment below.
Begin Slideshow

»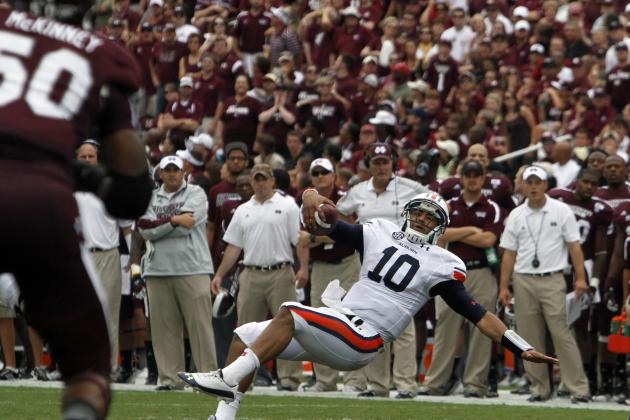 Butch Dill/Getty Images

Quarterbacks: F
Auburn fans expected growing pains for Kiehl Frazier. It is safe to say that they did not expect something like what happened against Mississippi State on Saturday.
Frazier went 13 for 22 and was responsible for five turnovers. Three of those turnovers were interceptions. Much of those 13 completions came later on when the game was out of reach.
It was obvious that Frazier felt very uncomfortable in the pocket. The sophomore repeatedly locked in on his intended receiver and the experienced secondary for Mississippi State took advantage.
Preseason All-American Johnthan Banks had two interceptions in the first half. The other interception occurred in the end zone when the Auburn offense was putting up a rare touchdown threat.
Auburn fans expect a lot out of Frazier and he will start to hear the displeasure among the fan base unless he improves quickly. Scot Loeffler said postgame that they never thought of replacing Frazier.
Opposing teams are going to continue to force Frazier to beat them with his arm just like Mississippi State did today. The only problem is that Frazier will be going up against much better defenses than the one he saw in Mississippi State.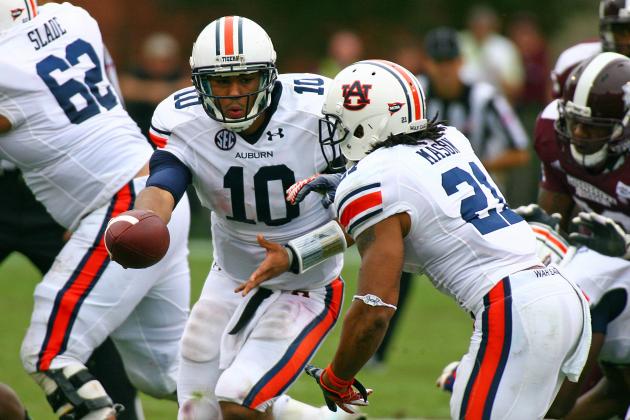 Spruce Derden-US PRESSWIRE

Runningbacks: C
The Bulldogs' defense was focusing in on stopping the run, and they were successful. Auburn rushed for only 91 yards today. Mike Blakely came onto the scene after seeing minimal playing time against Clemson.
Blakely led the Tigers in rushing with 42 yards on 11 attempts. Tre Mason added 25 yards and Onterio McCalebb had eight yards.
It was odd that Mason had only eight carries this week after rushing for over 100 last week.
McCalebb was used mostly to the outside and the Bulldogs did a good job of containing him and not letting him get to the corner.
Auburn ran the ball 39 times against Mississippi State. The Tigers had minimal success early on.
As defenses focus on stopping the run, the group of runningbacks will find life hard between the tackles.
On a positive note, there were no turnovers from the runningbacks. Last week, Tre Mason had a costly fumble against Clemson.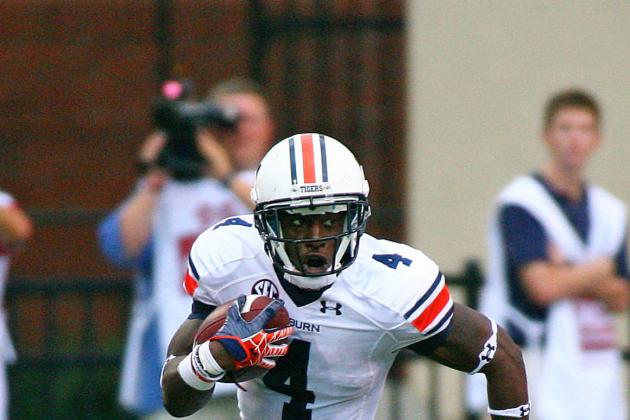 Spruce Derden-US PRESSWIRE

Wide Receivers: C
The receivers did not get much of an opportunity against Mississippi State until late in the game when there was no chance to win and the Bulldogs were in their base defense.
The Bulldogs took Emory Blake out of the game and made him a non-factor. Blake had two catches for 31 yards.
Quan Bray led all receivers with six catches for 50 yards. Six players caught passes today, which is an improvement over last week when only four players caught a pass. Bray, Blake, Trovon Reed, Phillip Lutzenkirchen, Travante Stallworth and Onterio McCalebb all had receptions.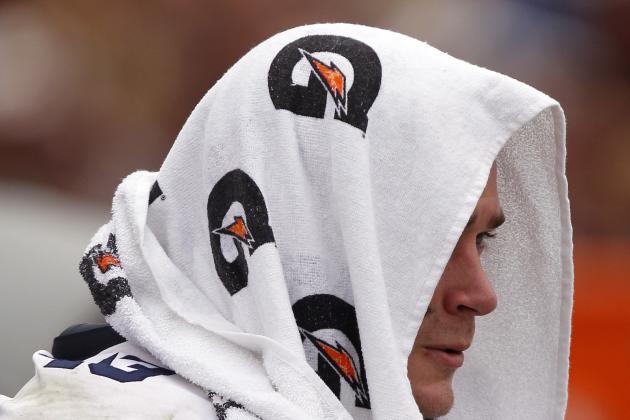 Butch Dill/Getty Images

Tight Ends: B
Phillip Lutzenkirchen has to be getting frustrated. Prior to the season starting a lot of the talk about Scot Loeffler's offense was that Lutzenkirchen would be a major player. So far, that has not happened.
Just like Emory Blake, the Bulldogs made sure Lutzenkirchen would not be a factor in this game.
Lutzenkirchen had two receptions for 12 yards. One of those receptions required an acrobatic catch. Early in the game, Kiehl Frazier threw a poor pass to Lutzenkirchen that caused him to take a big hit because it was badly overthrown.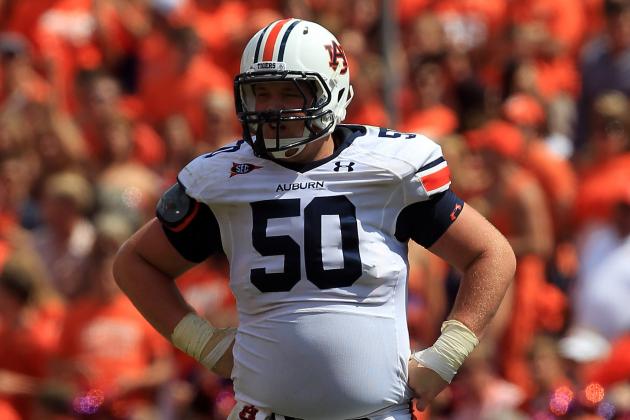 Streeter Lecka/Getty Images

Offensive Line: C
Center Reese Dismukes returned to the starting lineup for the offensive line on Saturday. Other than Dismukes, it was the same starters from the Clemson game.
Early on, the left side of the offensive line was playing well enough for the Auburn running backs to get decent yardage. The Auburn coaches seem to like running behind Greg Robinson and Chad Slade.
Eventually, Mississippi State was able to put consistent pressure on Kiehl Frazier and not allow him to sit in the pocket.
The offensive line allowed two sacks of Kiehl Frazier.
Redshirt Freshman Christian Westerman was able to get on the field for the first time as an Auburn Tiger today. Westerman was one of the top recruits for Gene Chizik in the 2011 recruiting class.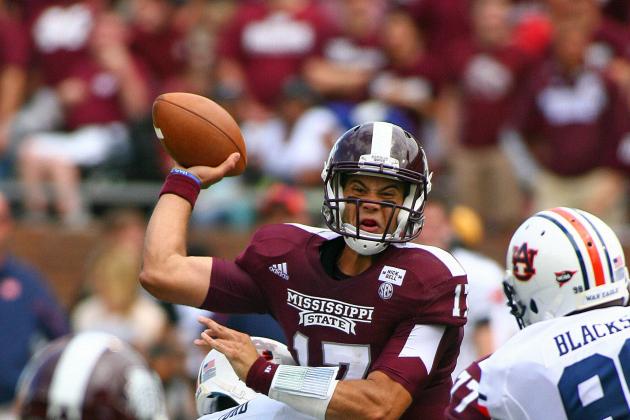 Spruce Derden-US PRESSWIRE

Defensive Line: C
The Mississippi State offensive lineman were using the cut block early and often to try to combat the speed and strength of the Auburn defensive line. The defensive lineman were still able to get a decent push for most of the game.
There was some improvement in the interior defensive line. Last week, the defensive tackles were getting blown off the ball into the linebacker's laps. Kenneth Carter led all lineman with five tackles.
Corey Lemonier and Dee Ford once again had a solid game at defensive end.
Despite putting consistent pressure on Tyler Russell, the Tigers only mustered one sack on Saturday. That came from Corey Lemonier.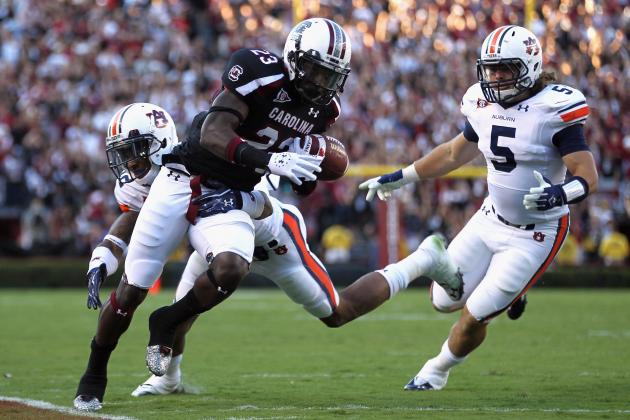 Streeter Lecka/Getty Images

Linebackers: D
Although the tackling had improved, there were bad angles being taken all day by Jake Holland and the other Auburn linebackers.
In pass coverage, the middle of the field was wide open even when there was no blitzing.
Without stepping onto the field one time as a coach, it appears that Holland does not do a good job of dropping and seeing the crossing routes.
Daren Bates led the linebackers with 10 tackles. Holland had six and Jonathan Evans added one. It is usually not a good sign when safeties are making more tackles than the linebackers. Mississippi State was able to get to the second and third level of the defense numerous times.
Will Jake Holland hold onto his starting position all year? He is not playing like he wants to.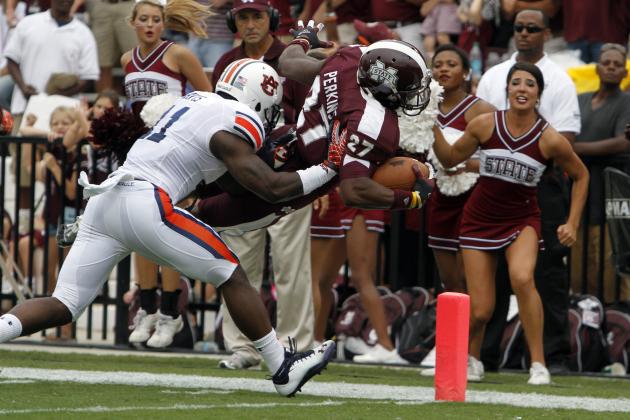 Butch Dill/Getty Images

Defensive Backs: C
Brian Van Gorder shook up his starting lineup in the secondary on Saturday. Demetruce McNeal got the start at Free Safety and came out leading the team in tackles with 18.
Once again, there was a lot of loose coverage being played by the Auburn defensive backs. Once again, the opposing quarterback picked apart the Auburn defensive backs.
Tyler Russell found a wide open receiver twice behind the Auburn secondary for a touchdown.
Tackling improved overall this week, but the defense will not be successful just giving wide receivers five yards every play. "Bend but don't break" is not a recipe for long term success for a defense. Most of the time, defenses break more than they bend.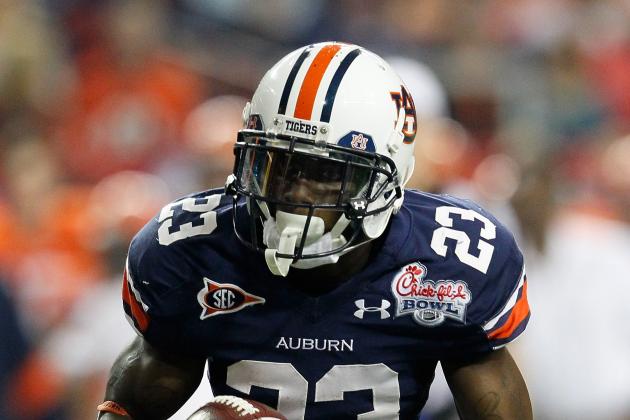 Kevin C. Cox/Getty Images
Onterio McCalebb found the end zone for Auburn on a kickoff return
Special Teams: A
The lone bright spot on Saturday came on Special Teams. Onterio McCalebb returned the opening kick off of the second half for a touchdown. That is the only time a player in white saw the end zone all day.
There was an important field goal block at the end of the first half that kept the game close heading into halftime.
Steven Clark punted well once again. He stayed busy. He had six punts that averaged 41 yards.
Cody Parkey stayed perfect on the year with field goals. He attempted and made one from 23 yards.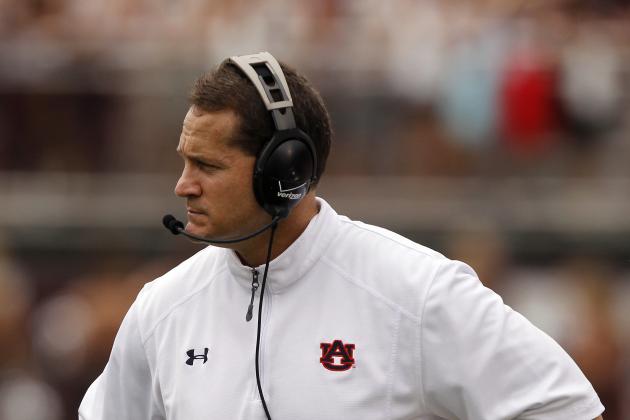 Butch Dill/Getty Images

Coaching: F
Most Auburn fans probably were not expecting an undefeated year and a BCS championship run.
They did expect to see a well-coached team improve every week. That did not happen this week. The team that took the field today was worse than the team that took the field last Saturday. There can be a variety of reasons for that but it ultimately falls on the Coach Gene Chizik's shoulders. Gene Chizik said after the game, "We got out played and I'll own it. That's the bottom line." (via @Jhokanson on Twitter)
Bleacher Report's Barrett Sallee had his take on Chizik's job security.
Offensive Coordinator Scot Loeffler does not trust Kiehl Frazier's arm but he must open up the playbook a little more. On an important third down and six, Loeffler called a delayed draw that went for about two yards. That is not even an attempt at winning the ball game. There were other moments on third down that probably made Auburn fans scratch their heads.
The defense looked better today than last weekend. Until the fourth quarter. It was obvious that the defense gave up. There was no more emotion or swarming to the football.
One sign of a well-coached team is how hard they play for that coach when times are tough or when they have nothing left to play for. Auburn gave up on Saturday.