Michigan State Football: 5 Keys to the Game vs. Central Michigan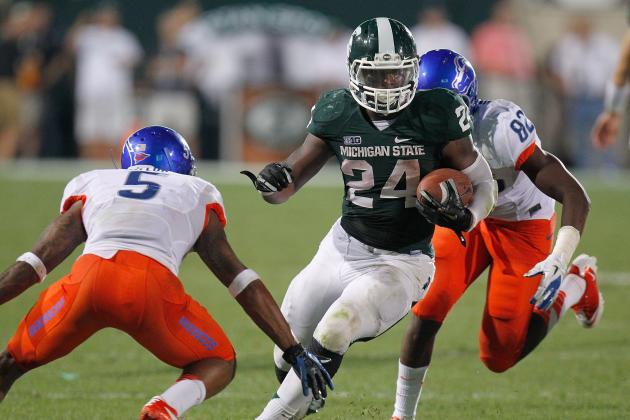 Gregory Shamus/Getty Images
Le'Veon Bell carrying the ball
To start their season, the Michigan State Spartans took out the Boise State Broncos 17-13 and perfectly debuted their campaign. Their next challenge is to take on Central Michigan, a game in which the Spartans are heavily favored.
Their Week 1 win was a difficult one that provided both positives and negatives for MSU. It was enough for the victory, but it won't be enough for the rest of the season.
When a team enters a game as heavy favorites, the pressure is entirely on them to perform. Michigan State will need to dominate, and that is born from acknowledging your successes and your failures. Here are the things MSU needs to do if they want to be 2-0 at the end of the week.
Begin Slideshow

»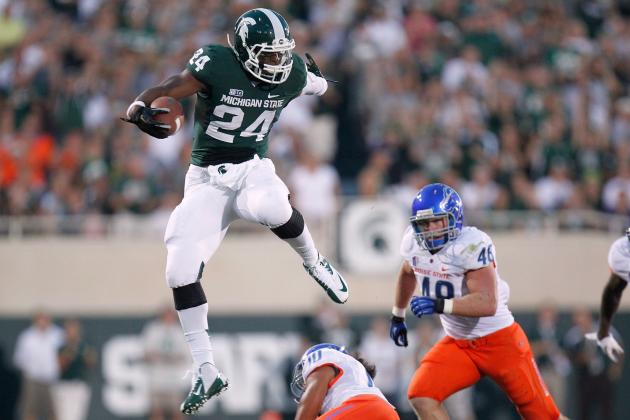 Gregory Shamus/Getty Images
Le'vean Bell hurdling a defender
Were it not for Le'veon Bell, Michigan State would likely not have come away with the win against Boise State.
Besides his astounding numbers of 265 total yards for two touchdowns, what marked Bell's week was just how much he was used. Bell carried the ball 44 times and added six catches to his total.
Bell was huge and actually put himself in the ranks of dark horses for the Heisman Trophy. If Michigan State wants to be successful against Central Michigan, they need to keep Bell's production up. This means continuing to give Bell touches, which he will deliver.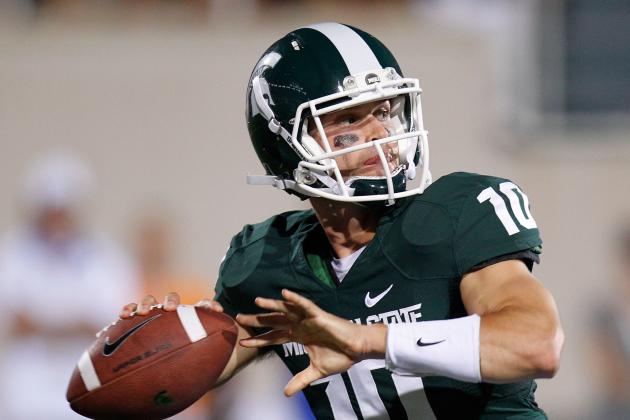 Gregory Shamus/Getty Images
Andrew Maxwell loading up
College Football is so vastly different from high school football that coaches rarely allow freshmen to just jump into it. For that reason, Andrew Maxwell needs time.
Maxwell is a talented quarterback, but he's also a very inexperienced one. The game against Boise State was his first collegiate start, in fact.
He threw for three interceptions and couldn't get the flow of the offense going, but that doesn't mean he's unfit to play. He was facing an elite defense, and his wide receivers weren't giving him much.
In order for Michigan State to make a run at a BCS Bowl game, they need to give Maxwell time to get used to this level of play and continue to show confidence in him. His skill will prevail if that is done.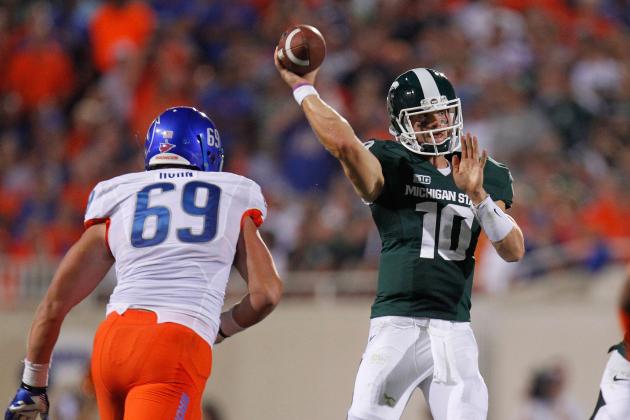 Gregory Shamus/Getty Images
Pressure on Andrew Maxwell
Turnovers—many are guilty of committing them, not just Andrew Maxwell.
Last week Maxwell had three interceptions, which is completely unacceptable. He must make more intelligent decisions and look for the open receiver.
However, the turnover blame isn't only on him. Tony Lippett gave away a huge gain by fumbling the ball and by tipping the ball into an interception in the first quarter. These are the kinds of mistakes that you pay for.
Michigan State is favored in this game, and staying ahead is crucial to extinguishing any hope their opponents may have. That happens by keeping possession of the ball.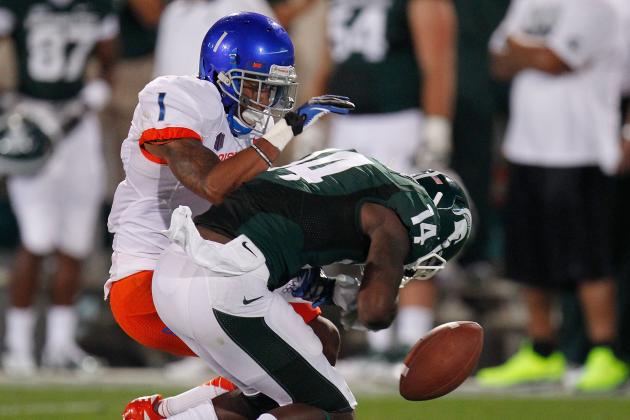 Gregory Shamus/Getty Images
Tony Lippitt incapable of keeping the ball
Andrew Maxwell was starting for the first time in Week 1, and he was facing one of the best defenses in football. In order to overcome these obstacles, he needed the help of his wide receivers.
He got none.
TE Dion Sims was the leading receiver for MSU with seven catches, and Bell was second with six. Other than that Maxwell only completed eight passes to his wide receivers. That number is absurdly low, but it gets even worse when you consider Lippett's awful fumble and the tipped passes that turned into interceptions.
Maxwell will need time to feel comfortable with the college game, and his wide receivers need to help him. They simply must create separation and catch the balls they need to catch.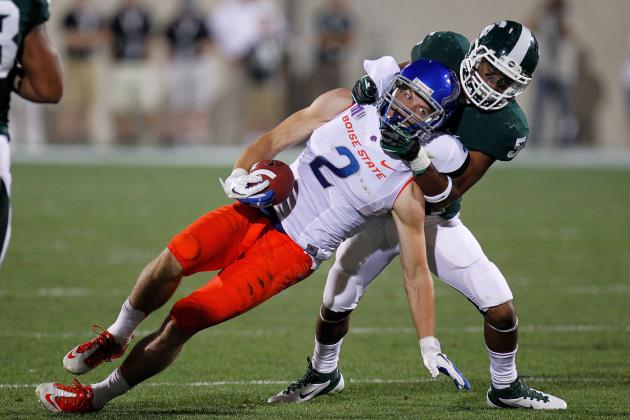 Gregory Shamus/Getty Images
Michigan State applying a hard tackle
Against Boise State, the defense wasn't the problem for Michigan State. It probably won't be the problem often as it is one of the best units in the nation. However, they can still do more to help their offense.
Against Boise, MSU only managed one interception on an inexperienced Joe Southwick and recovered one fumble. These numbers ended up being enough to take the win, but they are low considering the quality of the defense.
The Spartans will want to get out to a quick start against Central Michigan, and that will only be possible if the defense keeps the ball in the hands of their offense.