12 Bold Predictions for 2013 Major Golf Tournaments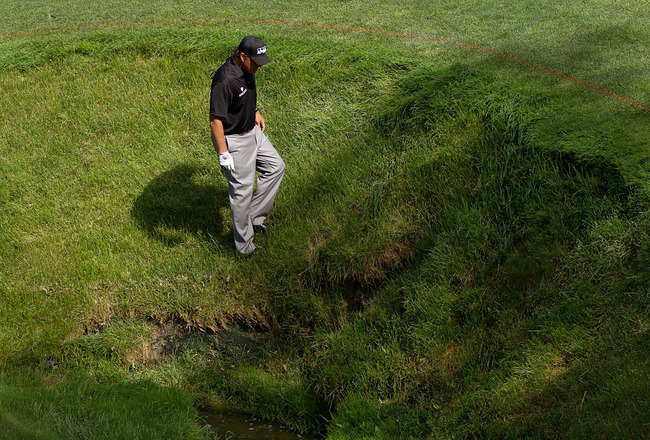 More moments like this in 2013 for Phil Mickelson
Allan Henry-US PRESSWIRE
How high will Rory McIlroy fly in 2013?
Can Tiger Woods attain and maintain that rarefied airspace?
Who are newest stars in waiting?
What current stars will fall?
What records will topple?
Check out a dozen predictions about what might happen in the majors in 2013. But, please, place your wagers based on these predictions with appropriate caution!
Dustin Johnson Will Benefit in a Major Way from Big Bounce
Dustin Johnson will find the mark in 2013
Jim Rogash/Getty Images
Dustin Johnson's drive on the 463-yard 18th hole at Merion Golf Club will land on the fairway marker commemorating Ben Hogan's famous 1-iron shot in the 1950 U.S. Open. Thereafter, it will take a monstrous bounce forward and reach the green.
That will be the climactic moment late Sunday afternoon and makes Johnson a most unlikely Open champion.
Woods-McIlroy Will Stage a One-for-the-Ages Masters Duel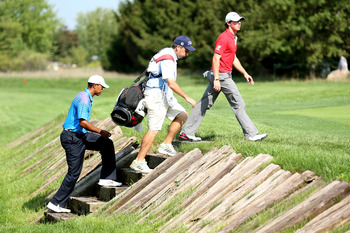 Golf's future and past will duel at Augusta National
Warren Little/Getty Images
The epic duel that's been much anticipated will finally take place in the 2013 Masters.
With sunlight almost completely gone, Tiger Woods edges Rory McIlroy by holing a greenside bunker shot on the fifth hole sudden-death playoff.
Woods' winless streak in majors, which stretched back to the 2008 U.S. Open, comes to an end.
Sergio Garcia a Major Champion? Si!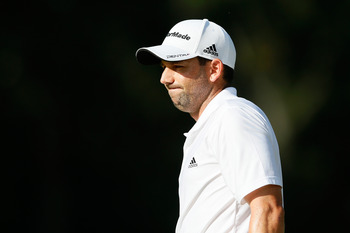 Sergio Garcia will attain the status expected of him for many years
Kevin C. Cox/Getty Images
Long the poster boy for potential unfulfilled, Sergio Garcia finally ends his majors winless streak at 57.
In typical Garcia fashion, he'll make his scores from everywhere, showing off that fabulous short game, dazzling bunker game and will putt like he's in the Ryder Cup.
Garcia will comfortably cruise past Martin Kaymer in the Open Championship at Muirfield.
Oak Hill Country Club Will Pose Different Kind of PGA Championship Test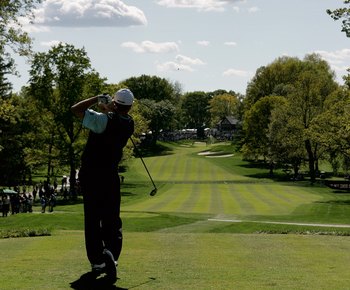 Oak Hill will be a stern test for the 2013 PGA Championship
Hunter Martin/Getty Images
Everybody had issues at Kiawah Island's Ocean Course at the PGA Championship last month.
Fans and media had to deal with massive traffic issues. Players had to deal with the difficult Pete Dye course and the sometimes very difficult weather.
At the 2013 PGA, the concerns of the fans and media won't be an issue.
The players, however, will have to contend with Oak Hills Country Club's high, thick rough, tree-lined fairways and fiercely-guarded greens.
It will be tough going inside the ropes.
Bubba Watson Won't Be Close to Major Contention in 2013
Bubba Watson won't be kicking up any dirt in any 2013 majors
Kevin C. Cox/Getty Images
Bubba Watson won't contend at the Masters.
The out-of-nowhere champion from 2012 hasn't done much since April and in years to come, he'll be looked at in the same way as Michael Campbell is now—the flash-in-the-pan 2005 U.S. Open winner at Pinehurst.
Bubba Watson won't make the cut at the Masters.
It will be years before Bubba Watson is a factor in a major championship again.
Historic Merion Golf Club Will Be Just That for Webb Simpson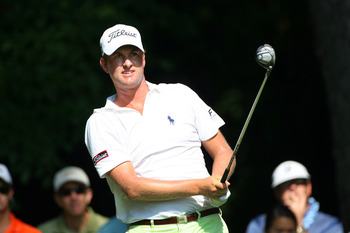 Webb Simpson's stock will continue to rise in 2013
Hunter Martin/Getty Images
Despite critics questioning whether historic Merion Golf Club, at barely 6,900 yards, was worthy of hosting a U.S. Open in the modern era, only three players finished under par after 72 holes.
The winner?
Webb Simpson, becoming the first back-to-back Open champion since Curtis Strange did so in 1988-89.
A Stormy, Windy Forecast for the 2013 Open Championship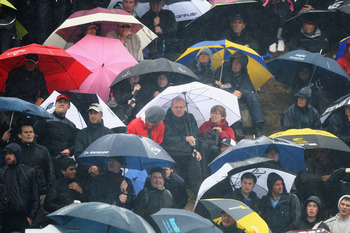 Don't forget your waterproofs for Muirfield in 2013
Scott Halleran/Getty Images
For the first time in several years, Open Championship weather will actually be a factor.
It's been quite a while since the field for the oldest championship in golf has had to battle the elements for four days.
They say if there's nae wind, there's nae golf.
There will be wind and lots of it and much rain as well.
Not a lot of birdies will be seen, airborne umbrellas will dominate the skies.
Rory McIlroy Will Become Golf's Big Mac in 2013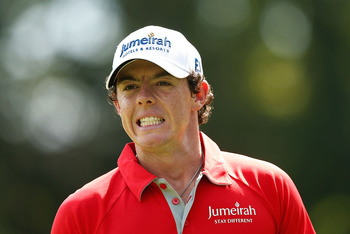 Grimaces will be rare at the majors for Rory McIlroy
Scott Halleran/Getty Images
When Rory McIlroy realizes just how good he is, he might run the table.
That moment may come to him leading up to the PGA Championship next year.
And then, to celebrate Webb Simpson's U.S. Open double, McIlroy will find fairway after fairway and his extreme length will play a big factor in golf's top-ranked player, becoming the first to win consecutive PGA Championships since Tiger Woods in 2006-07.
Remember the Name: Seung Yul-Noh in 2013
Seung Yul-Noh looks like he has the game to be in the group that pushes Rory McIlroy
Warren Little/Getty Images
He won't win a major, but South Korea's Seung Yul-Noh will be a major factor in the U.S. Open and PGA Championships.
This is a youngster who has a superb swing and nerves that don't appear to make him back off when he starts going very low.
Noh will push McIlroy in terms of accomplishing things at a very young age.
Phil Mickelson's Best Major Days Get Further Behind Him in 2013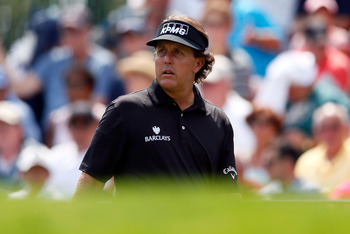 It won't be a banner year for Phil Mickelson
Kevin C. Cox/Getty Images
There seems to be no real reason to explain Phil Mickelson's ho-hum results this year.
Maybe he's doing too many things off the course to get zeroed in on the competitive aspect of the game.
Maybe his focus abilities aren't what they used to be.
Whatever the reason, Phil Mickelson's resolve and focus will continue to wane as will as his appearances at the top of major championship leaderboards.
Jimmy Walker Will Be Next Unheralded Major Champion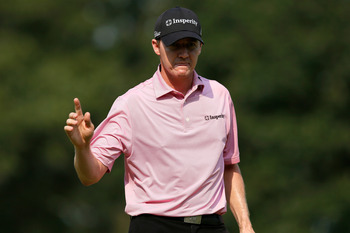 Jimmy Walker will surprise in 2013
Scott Halleran/Getty Images
Jimmy Walker is hardly a household name, but his is a name that kept popping up on leaderboards throughout the year.
He's not a kid at age 33, but really hasn't done a great deal in the game thus far.
But Walker is going to be a contender in a major in 2013 and contend well into the final round.
Which major? That will be part of the surprise.
Irish Eyes Will Smile on Rory McIlroy and His 62
Rory McIlroy's Smile will be much bigger when he shoots a major 62
Brian Spurlock-US PRESSWIRE
It's been somewhat amazing that the long-standing major championship scoring record of 63 for one round has not been bettered as the quality of courses, equipment and players has improved.
That will finally happen this year and it will happen at the Masters.
The biggest surprise about that? It won't be Tiger Woods who does it.
Nope, Rory McIlroy will extract some revenge from the course where he had that back-nine meltdown to let a green jacket slip away.
Mark it down. A 62 for Rory.
Keep Reading