49ers vs. Packers: Key Individual Matchups That Will Determine Outcome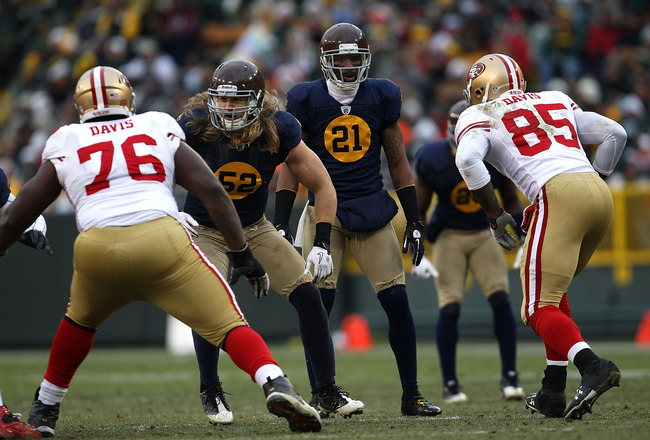 Jonathan Daniel/Getty Images
If San Francisco 49ers right tackle Anthony Davis puts together a bad performance in Week 1 against the Green Bay Packers' pass rush, the 49ers will lose.
This is just one of a few different key individual matchups that will be crucial in determining which team wins this upcoming game.
Will offense prevail, or will defense reign supreme?
The performances of these upcoming players will determine the outcome.
Anthony Davis vs. Nick Perry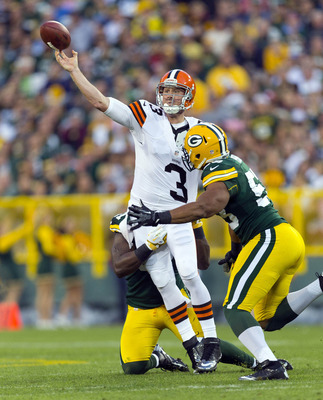 Jeff Hanisch-US PRESSWIRE
2012 is really a make-or-break year for Anthony Davis. He showed some improvement from 2010 to 2011, but from what I've seen from him so far in 2012, he still has a ways to go.
He'll be lining up opposite the Packers' No. 1 draft pick Nick Perry most of the night, and Perry will give him all he can handle.
If Davis fails to stay focused, starts making mental errors like false starts and lets Perry dictate how things will go throughout the night, Alex Smith will have a difficult time of it on Sunday. Once Smith starts getting hit, he begins to get a bit jumpy in the pocket and can start to overthrow his receivers.
Davis must be at the top of his game. Perry is an excellent pass-rusher, and it's going to take every bit of ability, concentration and discipline Davis has to contain him.
T.J. Lang and Marshall Newhouse vs. the Smiths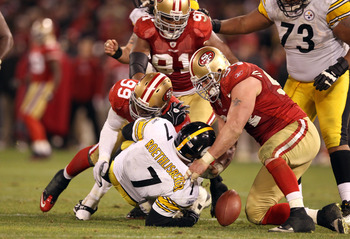 Ezra Shaw/Getty Images
Aldon and Justin Smith are terrifying opponents for any offensive line to face, and the two youngsters on the left side of the Packers' offensive line will be hard-pressed to contain both of them on Sunday.
T.J. Lang (24) and Marshall Newhouse (23) must win their individual battles against the Smith brothers, but they must also work together in concert when the 49ers' dynamic duo starts to stunt.
J. Smith is freakishly strong, and he can push more than one man out of the way when he starts to bull rush. Aldon Smith takes advantage of that in a major way by using his superior quickness to dart inside on the stunt, and we saw him take down quite a few quarterbacks in this fashion in 2011.
If the Packers' young linemen aren't able to contain these two pass-rushing specialists, Aaron Rodgers will be running for his life and the Packers will lose.
Jermichael Finley vs. Patrick Willis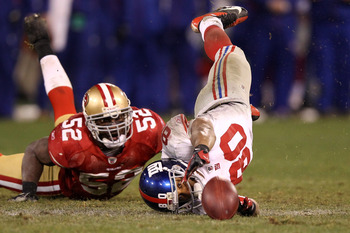 Ezra Shaw/Getty Images
It's funny to me that the biggest knock on Patrick Willis coming out of college was that he wasn't good in coverage.
Willis is one of the only NFL middle linebackers capable of covering the new breed of tight ends one-on-one, and he'll see plenty of action against Jermichael Finley in this upcoming contest.
If Willis can lock Finley down by himself, it creates a big advantage for his partners in the secondary, and the 49ers will need every single advantage they can get in order to slow down Aaron Rodgers and the Packers' aerial attack.
If Finley can beat Willis, then the entire game plan of the 49ers will change, and not for the better as far as they're concerned.
49ers Secondary vs. Packers Wide Receivers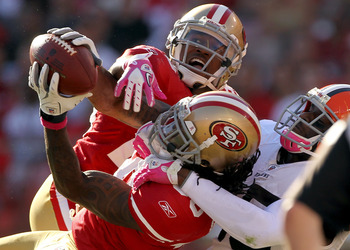 Ezra Shaw/Getty Images
Even if Justin and Aldon Smith are able to apply consistent pressure on Aaron Rodgers, the 49ers secondary must play disciplined or the Packers wide receivers will have a field day.
James Jones, Randall Cobb, Jordy Nelson and Greg Jennings form the best group of receivers in the NFL. Tarell Brown, Carlos Rogers, Perrish Cox and Chris Culliver will need to stay in their hip pockets, and Dashon Goldson and Donte Whitner will need to play smart, technically sound football.
If the 49ers secondary deviates from the game plan, it will result in a big play. The entire unit must work together, or the Packers will certainly hurt them with quick-strike touchdowns, which would put more pressure on the 49ers offense than it can handle.
Charles Woodson vs. Vernon Davis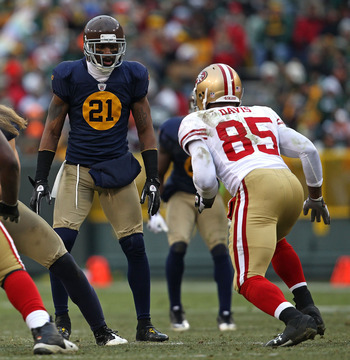 Jonathan Daniel/Getty Images
The last time these two teams met, Charles Woodson took on Vernon Davis one-on-one most of the afternoon. Davis broke out, catching six passes for 106 yards and a touchdown, but much of his production came in the second half after the 49ers were well behind.
I expect to see these two locked up again on Sunday, and given the talent the 49ers have brought in on the perimeter, it will be crucial for Woodson to keep Davis under wraps. If he doesn't, Alex Smith will find his tight end for some monster gains, which will open up everything else for the offense.
The biggest game of Week 1 is full of dynamic playmakers on both sides of the ball for both teams. I'll be shocked if we don't have a full slate of highlights to refer to by the time it's all over, and I'm expecting the game to be tight all the way through.
Who will win? We'll find out soon enough.
Follow me on Twitter @JesseReed78
Keep Reading

San Francisco 49ers: Like this team?