10 American League Playoff Matchups We'd Love to See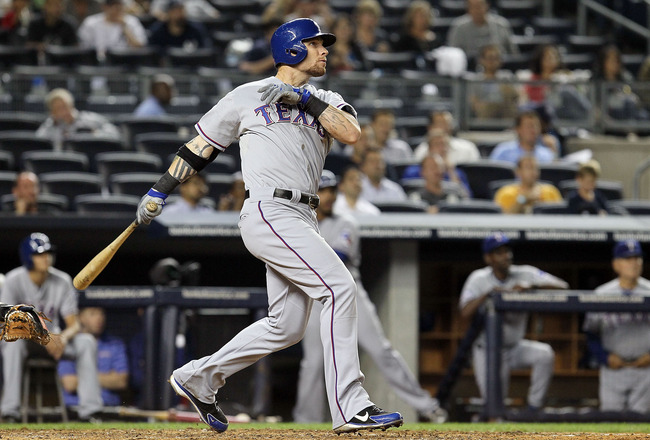 Raise your hand if you want to see Josh Hamilton take on the Yankees again.
Jim McIsaac/Getty Images
Major League Baseball's postseason is awesome in large part because it gives baseball fans a chance to watch the best teams the league has to offer going head-to-head for basically an entire month.
But that's not all that makes the postseason awesome. In addition to the excellent team-versus-team matchups, it's fun to watch the best pitchers take on the best hitters and the best managers match wits against one another.
You have to dig the individual matchups just as much as the matchups between teams. And on the American League side of the fence this year, odds are we're going to be treated to excellent matchups of both kinds.
We don't know yet which AL teams are going to be playing in October this year, but it's not too early to get excited about certain matchups that we might see. There are 10 in particular that come to mind.
Note: Stats are courtesy of Baseball-Reference.com unless otherwise noted.
10. Chris Sale vs. Brennan Boesch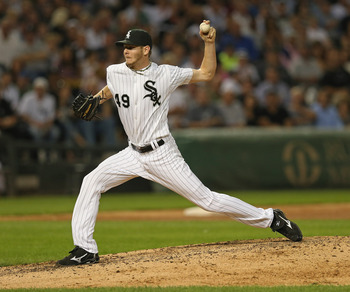 Jonathan Daniel/Getty Images
"Huh, what? I mean, I get Chris Sale, but Brennan Boesch? Who gives a [blankity blank] about him?"
That's what some of you are saying. Others probably know where I'm going with this.
Sale has been death on left-handed hitters this season. He's holding them to a .208 batting average and a .308 slugging percentage. Against lefties, he's surrendered only two home runs all season.
And both of them were hit by—you guessed it—Brennan Boesch. Naturally, the two home runs he's hit off Sale this season are the only two home runs he's hit against lefty pitching.
Sense? I see none.
Hang on. It gets better.
Boesch has logged a total of eight at-bats against Sale this season. He's homered twice for his only two hits against him. Of the six outs he's made against Sale, five have come in the form of a strikeout.
So basically, Boesch is either going to hit a home run when he faces Sale, or he's going to go the way of most lefties.
Clearly, this is a matchup that needs to be played out in the postseason. Such weirdness deserves a bigger stage and brighter spotlights.
9. C.J. Wilson vs. Texas Rangers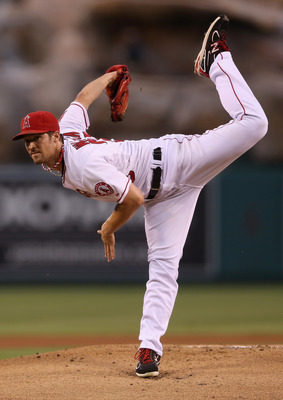 Jeff Gross/Getty Images
It's a bummer that the St. Louis Cardinals aren't in the American League. It would be a ton of fun to watch Albert Pujols take on his old team in a playoff setting (though we may get that in the World Series someday).
Oh well. I guess we'll have to settle for C.J. Wilson taking on his old team in a playoff setting.
And this just might happen. The Angels could end up playing the Rangers in the ALDS if they get into the wild-card play-in game and then win it. That would match them up against the top seed in the AL, and that's likely to be the Rangers.
Wilson hasn't fared so well against his old mates this season, posting a 7.27 ERA in four starts against the Rangers. He's given up 16 hits and eight walks in 18.1 innings pitched.
The Rangers would have to like their chances if they were to go up against Wilson in the postseason. They know as well as anyone that pitching in October isn't really Wilson's forte, as he has a 4.82 ERA in 10 career postseason appearances (nine starts). He's given up 10 home runs in 52.1 career postseason innings.
The unbiased fan in me wouldn't mind seeing Wilson shut the Rangers down in October.
Then again, the unbiased fan in me also wouldn't mind seeing Josh Hamilton take Wilson deep once or twice. That's always fun.
8. Adam Dunn vs. Max Scherzer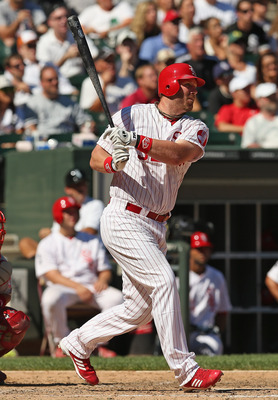 Jonathan Daniel/Getty Images
Speaking of always fun, I never miss an Adam Dunn at-bat if I can help it. When he connects, the ball tends to go very, very far.
And when he doesn't connect, it tends to be really, really funny.
Such is Dunn's lot in life. He's come to the plate 573 times this season, and he has 194 strikeouts and 38 home runs. Translation: Over 40 percent of his at-bats result in either a strikeout or a home run.
When I sat down to conjure the ultimate foe for Dunn to face in October, one name came to mind:
Max Scherzer.
Strikeouts are Scherzer's specialty. He leads the major leagues with a K/9 of 11.29, and he ranks second in the American League behind teammate Justin Verlander in strikeouts with 204.
However, Scherzer will also give up the long ball on occasion. He gave up 29 last season and has given up 22 this season.
Dunn is well aware of both of Scherzer's tendencies. Scherzer has struck Dunn out 10 times in his 21 career at-bats against him, but Dunn has also taken him deep twice.
A matchup between these two in October would be great theater. I'd give the edge to Scherzer, but all it would take for Dunn to get the last laugh is one misplaced fastball.
Dunn would surely place said misplaced fastball on the moon.
7. Oakland A's vs. Tampa Bay Rays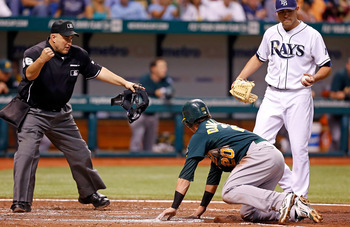 J. Meric/Getty Images
Why the A's and Rays?
Shoot, why not the A's and Rays?
Baseball fans tend to look forward to seeing the big clubs with huge payrolls go head-to-head in the playoffs. Television executives do as well. For them, there's nothing better than a good Yankees vs. Red Sox showdown in October.
A series between the A's and Rays would be the exact opposite of another Yankees vs. Red Sox affair, and that's the beauty of it. Both teams are low-budget, small-market underdogs who have gotten to where they are by defying conventional baseball wisdom.
Beyond that, it would be a matchup between two fairly evenly matched teams.
Both clubs are based around pitching. The Rays lead all of baseball with a team ERA of 3.26, and the A's aren't very far behind at 3.47. There's little question the Rays have the better starting pitching, but they wouldn't necessarily have an advantage if a game were to become a battle of the bullpens. Rays relievers lead the American League with a 2.79 ERA, but the A's are right there with them, at 2.89.
And as far as the A's are concerned, the longer a given game lasts, the better. They're 9-3 in extra-inning games, while the Rays are a mere 4-5 in such games.
The TV execs would hate this series, but it would be a ton of fun for those of us who only care about baseball.
6. Yoenis Cespedes vs. Yu Darvish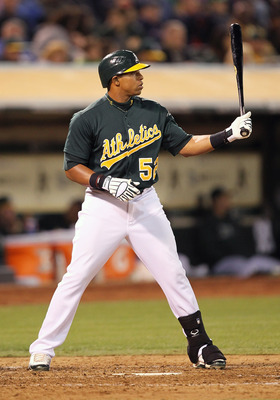 Tony Medina/Getty Images
This offseason, the Oakland A's gave Yoenis Cespedes the largest contract ever given to a Cuban defector.
Before that deal went down, the Texas Rangers spent over $110 million to sign Yu Darvish, topping the $103 million the Boston Red Sox spent to sign Daisuke Matsuzaka before the 2007 season.
Amazingly, both players have turned out to be good investments. Cespedes has an .829 OPS to go along with 16 home runs and 65 RBI in 103 games. Darvish has won 14 games with a 4.29 ERA, and he ranks second in the AL to Max Scherzer in K/9.
Darvish has faced the A's three times this season, but he's only gotten to face Cespedes four times. In his four at-bats against Darvish, he's collected two hits (including one double) and struck out twice.
That's the story of both players' seasons right there. Darvish is either going to get you to swing and miss, or you're going to touch him up. Cespedes is either going to clobber the ball, or he's going to whiff.
Methinks these two were made for each other.
Their matchup would be not unlike the Dunn vs. Scherzer matchup from a baseball perspective. The money being spent on both players and the international overtones would only add to the intrigue.
5. Joe Maddon vs. Mike Scioscia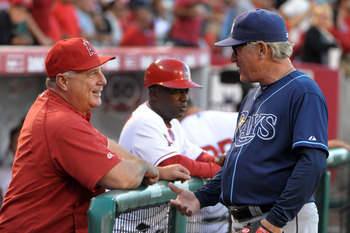 Kirby Lee-US PRESSWIRE
Joe Maddon is the smartest manager in baseball, but there was a time not too long ago when that title belonged to Mike Scioscia.
Coincidentally, this was right around the time when Scioscia and Maddon were sharing the same dugout. Maddon was Scioscia's bench coach up until he left to go manage the Rays in 2006.
You know how many postseason series the Angels have won since Maddon left town? Exactly one: the 2009 ALDS against the Boston Red Sox.
The Rays, meanwhile, managed to win two postseason series in 2008 alone on their way to the World Series under Maddon's guidance.
Things that make you go, "Hmmm...."
Indeed, just who was the smartest guy in the room when Scioscia and Maddon were partners in Anaheim? The manager or his underling?
There's clearly only one way for that question to be answered. The Angels and Rays need to meet up in the postseason so Scioscia and Maddon can have a Tron-like faceoff.
Ideally, the Angels and Rays will meet in the wild-card play-in game, where both managers would be forced to use every last one of their resources, not to mention every last trick up their respective sleeves.
My money would be on Maddon, but there's one thing Scioscia has that his old comrade doesn't:
Mike Trout.
4. New York Yankees vs. Baltimore Orioles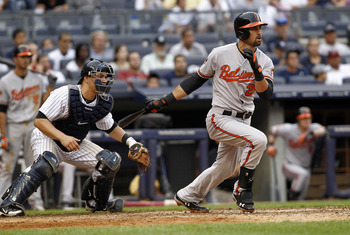 Jeff Zelevansky/Getty Images
The Orioles haven't been to the postseason since 1997, when they won the AL East with a record of 98-64.
The year before that, they lost the American League Championship Series to the Yankees, who got a little help in Game 1 from Jeffrey Maier. Orioles fans still frown when you bring that up.
If the Orioles and Yankees were to meet in the postseason this year, I guarantee you that incident would not be brought up a single time.
Except not. It would probably be brought up a million times, much to the chagrin of Orioles fans. Frowns would be everywhere.
The old Maier storyline isn't the only storyline a Yankees vs. Orioles series would have going for it, though. There are more contemporary matters at hand, such as the fact that the Orioles look like a rising power in the AL East while the Yankees seem to be falling in the same division.
A battle between these two clubs in October could be the final nail in the Yankees' coffin, or it could result in the Bronx Bombers showing the world that they're not dead quite yet.
Either way, I'm game.
3. Mike Trout vs. Miguel Cabrera
Otto Greule Jr/Getty Images
Mike Trout is the best player in baseball.
That's my subjective interpretation, but the numbers back up that claim as well. Even despite his recent slump, Trout is leading MLB in weighted on-base average and WAR, according to FanGraphs.
Trout may be the best player, but the best hitter in baseball right now is Miguel Cabrera.
Cabrera and Trout have the exact same batting average at .330, but Cabrera has him beat in both on-base percentage and slugging percentage. Cabrera's 35 home runs and 116 RBI are also pretty nifty.
There are other players in the mix, but the AL MVP race is basically between Cabrera and Trout right now. As I explained in my rankings for the award this week, it's getting to be pretty close. The voters could swing either way if the status quo holds for the rest of the season.
But the Cabrera/Trout rivalry (for lack of a better word) doesn't necessarily have to end when the regular season ends. There's a chance the two of them will be on the same field in October if the Tigers and Angels both qualify for the postseason.
One can only hope that they find their way onto the same field. They wouldn't come up against one another directly, but we could see the two of them put their respective teams on their shoulders and try and prove once and for all which of them is the more all-powerful player.
It would be kind of like that old commercial with Michael Jordan and Mia Hamm, except better in every way possible.
2. Josh Hamilton vs. New York Yankees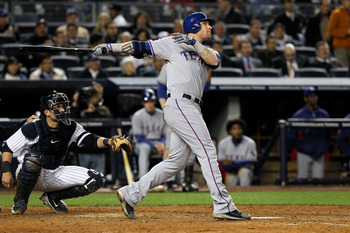 Jim McIsaac/Getty Images
Josh Hamilton and the Yankees have a strange relationship.
There's plenty of respect for Hamilton among the denizens of the Bronx because of what he did in the 2008 Home Run Derby at the old Yankee Stadium. He put on a spectacle that the locals aren't going to forget anytime soon.
There is also, however, some fear of Hamilton among both Yankees fans and the team itself because everyone remembers what he did to the Yankees in the 2010 ALCS. He touched the Bombers up for four home runs and seven RBI in six games, winning the ALCS MVP.
Hamilton hasn't bothered the Yankees too much during the regular season, but it was just a few weeks ago that he reminded the Yankees who they're messing with by clubbing two homers and two doubles in a span of two games.
If the Yankees make it to the postseason this year, there's a good chance they'll come up against Hamilton and the Rangers. They'll either play them in the ALDS after winning the play-in game or in the ALCS if they make it in as the AL East champions and then advance.
If they do come up against Hamilton again, they'll be watching him very intently.
They'll be looking to beat him, for one. For two, they may be scouting him for a potential rendezvous during the winter.
Just throwing it out there.
1. Justin Verlander vs. David Price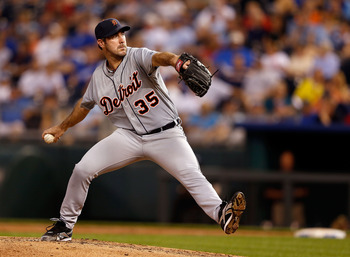 Jamie Squire/Getty Images
For my money, the two best pitchers in baseball right now are Felix Hernandez and Justin Verlander.
We may get to see King Felix in October someday, but not this year. That means we'll have to make do with watching Verlander in October (assuming the Tigers stop underachieving in the next few weeks).
As you may or may not recall, we were supposed to get an epic showdown between Verlander and CC Sabathia in Game 1 of the ALDS last year. Mother Nature had other plans, as her rains ultimately turned Game 1 into a slightly-less-epic showdown between Doug Fister and Ivan Nova.
We didn't get our Verlander vs. Sabathia fix until Game 3, and by then, the buzz had worn off. Neither pitcher ended up having his best stuff anyway.
A Verlander vs. Sabathia showdown this season doesn't have the same ring to it, as Sabathia just hasn't been his usual self for a variety of reasons.
But a Verlander vs. David Price showdown?
Uh, yeah. Sign me up.
Verlander is the reigning AL Cy Young and MVP winner and is currently co-leading MLB with Hernandez in WAR, according to FanGraphs.
Price, meanwhile, is leading the AL in wins with 17 and is second in ERA at 2.54.
This matchup needs to happen.
Like, now.
If you want to talk baseball, hit me up on Twitter.
Keep Reading