Wisconsin Football: Football: 3 Keys to the Game vs. Oregon State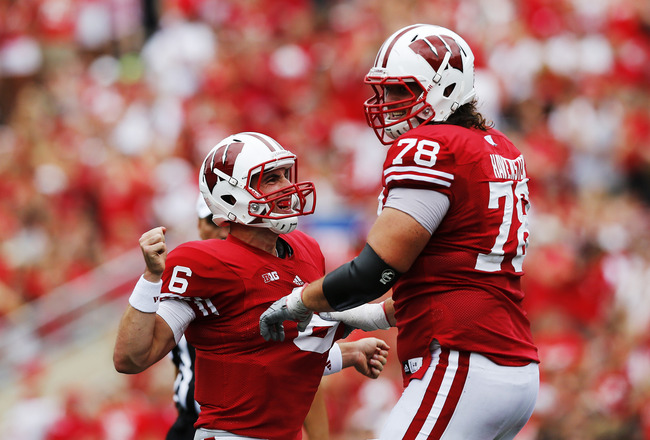 Tom Lynn/Getty Images
Last week, Wisconsin thought it would be dining on cupcakes.
Northern Iowa was not in the baking mood.
The result was dramatic television and worried fans as the Badger eeked out a win with a few defensive plays to seal the deal. While the team did secure the "W," it also uncovered some ugly truths about itself. Analysts began salivating a the miscues and general lack of "pop" Wisconsin has been known for. The Panthers came ready to play and locked horns from the opening kickoff, not intimidated or hesitant.
Oregon State is a BCS team, at home, with some serious talent.
It was a scary debut for the 2012 squad, and it could get downright terrifying if Wisconsin does not clean up its act.
Control the Line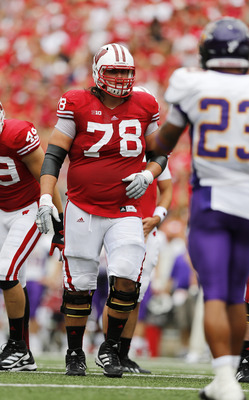 Tom Lynn/Getty Images
The one constant Wisconsin can rely on is its line. It tends to be the mold by which other offensive lines are built.
Sound. Big. Stable.
The performance last Saturday did not show off that bulldozing pedigree.
UNI looked like they could penetrate too easily and fool the front five at will with a few different packages. Not to say Oregon State is a defensive juggernaut, but they have talent, youth and something to prove.
Sophomore Scott Crichton had six sacks in 2011, and looks to build on that performance.His agility far surpasses anything on the UNI roster and he could create his fair share of havoc. The Badgers need to neutralize defensive linemen like Crichton, while keeping linebackers like Feti Taumoepeau (formerly Unga) out of the backfield.
The talent and potential is on the Wisconsin side of the line, but the chemistry is a work in progress. Above all, the line needs to gel and work as one.
Otherwise, it will be a long season regardless of the outcome in Corvallis.
No More Home Runs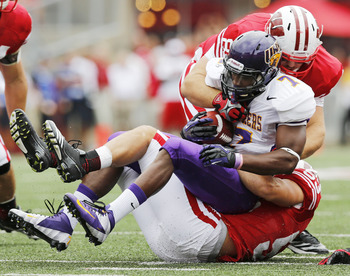 Tom Lynn/Getty Images
The running mantra in the press and in the locker room this season was very simple: limit big plays.
UNI did not realize the Badgers were supposed to stop those explosive moments, and exploited major miscues for scores. Panther receiver David Johnson put on a clinic in broken plays and scored twice on receptions of over 20 yards—31 and 55 yards to be exact.
Oregon State DVRs must be worn out watching those plays unfold. For the Wisconsin defense, it simply cannot happen again.
Both plays seemed to happen during a coverage breakdown, with linebacker Mike Taylor as the culprit for at least one touchdown. The good news is that Taylor does not let mental mistakes happen often, and fans can expect a much sharper performance on the west coast.
Finish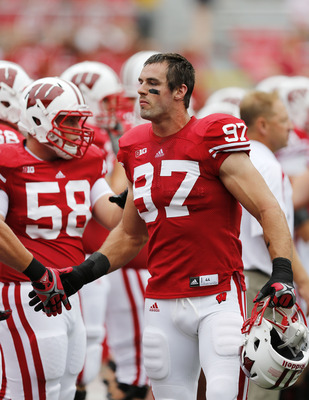 Tom Lynn/Getty Images
Brendan Kelly was in the offensive backfield so much they started asking for rent. But he never sacked the quarterback.
Montee Ball always had one man to beat for a big run. That man always seemed to beat him.
The Badgers were absolutely dominant for three quarters. Too bad, American football is played in four.
There were some exciting takeaways and a few glaring mistakes—which let an outmatched team creep back into the game last week. The defensive line as a unit looks like they have a killer instinct. Kyle French can really kick. Danny O'Brien resembled a caged animal ready to go vertical, while James White seems to be a scary wrinkly for defenses.
Best of all, it was fairly evident, even in the end, that Wisconsin has more than a few tricks up its sleeve.
Regardless, the score reflects the effort. If UNI would have won, the Badgers could have only themselves to blame. They ran 24 miles in a 26-mile marathon.
So the biggest key to beat a fairly woeful Oregon State may be the biggest coaching cliche in the game.
Finish.
Think there are more important priorities for the Wisconsin win? Tweet Peter at twitter.com/PeterRaisch.
Keep Reading

Wisconsin Badgers Football: Like this team?