Philadelphia Phillies: 10 Ways to Keep Chase Utley, Ryan Howard Healthy in 2013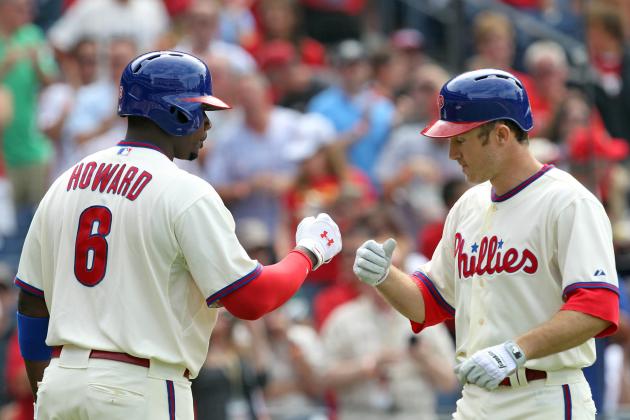 Hunter Martin/Getty Images
The middle of the order making almost $40M next season...they'd better stay healthy.
Chase Utley's first game of the 2012 season came on June 27, 2012.
Just shy of two weeks later, on July 6, 2012, Ryan Howard made his long-anticipated return from the Achilles tendon tear that so strangely occurred on the last play of the Phillies' 2011 season.
By the time Howard returned to live action this year, the Phillies were 37-47 and buried in the National League East basement, 13 games behind the Washington Nationals.
Today, the Phillies are five games better from a win-loss standpoint. Considering that they have played the last two months without Hunter Pence or Shane Victorino, this improvement is encouraging.
And it proves how critical it is to the Phillies for Utley and Howard to stay in the lineup.
How can they maximize these assets in 2013? Here are some ideas.
Begin Slideshow

»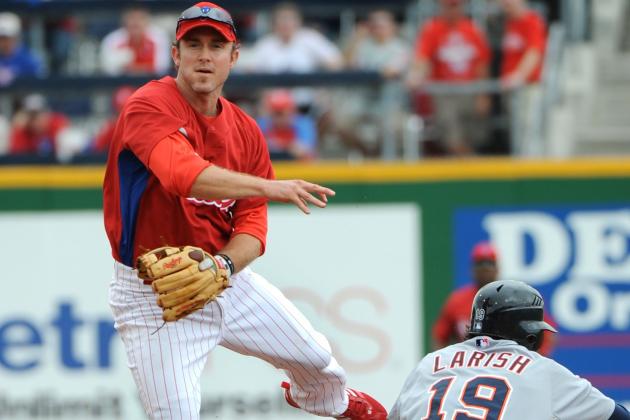 Al Messerschmidt/Getty Images
The spring training unis are cool, but Utley is probably past that now.
The Phillies have turned spring training in Clearwater into big business, and if they had a choice they would probably like to see Utley and Howard take regular at-bats in Florida next March.
It just is not a very good idea under the circumstances.
Neither Utley nor Howard will be fighting for a job in the spring. Exposing either to injury in a split-squad game next spring would be insanity.
Maybe with two weeks to go before the games start to count, maybe then you work Utley and Howard into the spring lineups.
It is not as though either player needs significant preseason work to get into game shape.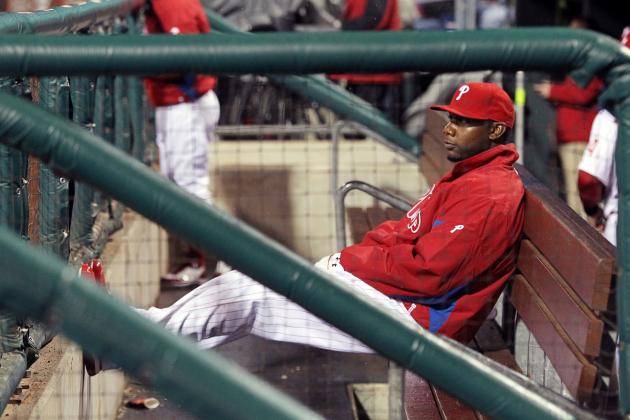 Hunter Martin/Getty Images
This is not the worst place to be on a cool night in April.
It will be crucial for the Phillies to start quickly next season after the disappointing 2012 campaign.
But that does not mean that Utley and Howard should be playing seven games a week in April, either.
Cold weather, rain, wind...none of these things agree with 30-something bones and joints with preexisting damage.
Both players will need to be eased into the season.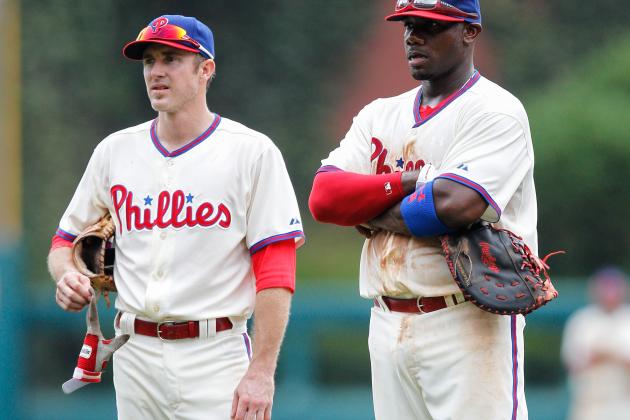 Brian Garfinkel/Getty Images
Some days, they may just need to watch others work.
In fact, playing Utley and Howard anything close to seven games in seven days probably will not make any sense—unless and until the team is in contention in, say, August.
Unless and until that happens, both players should probably be the beneficiaries of scheduled downtime.
And "downtime" should be measured in series, not innings. A three-game series in Houston on the back end of a ten-game road trip? Send them home early.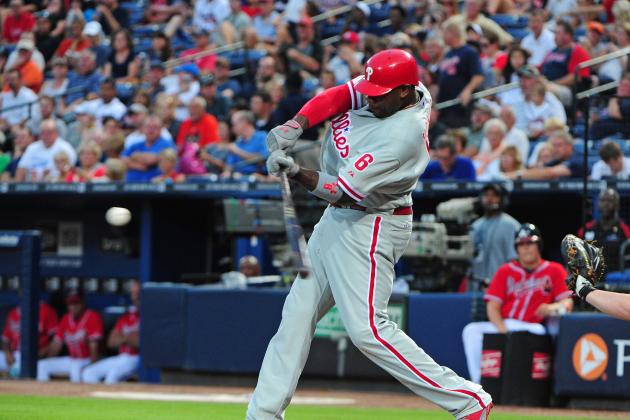 Scott Cunningham/Getty Images
An eighth-inning pinch-hitting appearance does not equal an off day.
The temptation is great to sit Utley or Howard with the thought that, if the game is close, either or both can come off the bench late to pinch-hit.
Again, not a good idea.
That late-inning pinch-hitting appearance is not a full game in the field, but it is not a day off, either. The player still has to get warm, face live action and, if he gets a hit, run the bases.
The better play is, when they sit, to keep them seated.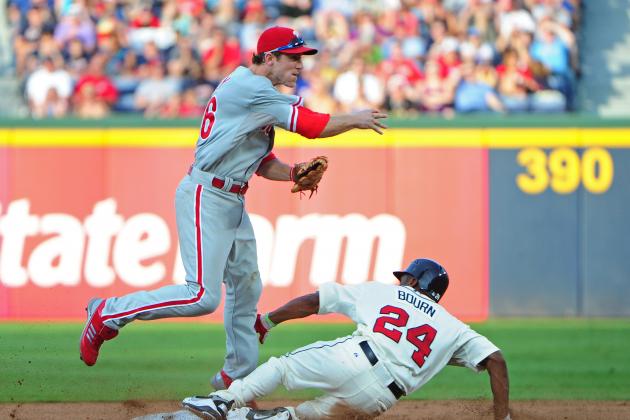 Scott Cunningham/Getty Images
The on-rushing baserunner is just the sort of hazard the late-inning defensive replacement should be facing.
Neither Utley nor Howard can be considered a premier fielder at this point in his career.
Which is all the more reason to be aggressive where substituting them for defensive purposes in the late innings is concerned.
If one of them makes the last out of the seventh inning, and he has had three or four turns at the plate, it might be a good time to make a change.
Particularly if the score is four or more runs up or down.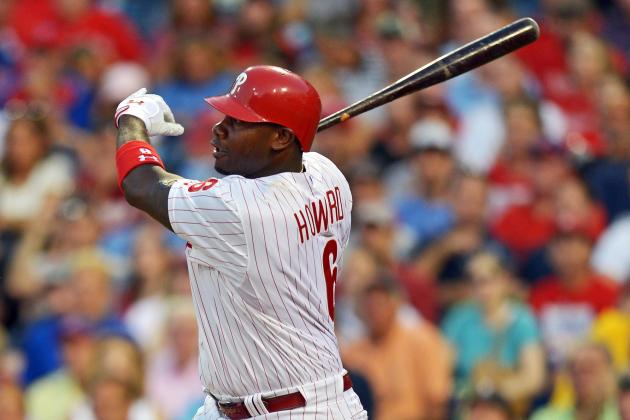 Drew Hallowell/Getty Images
Interleague play builds in some low-impact time.
Granted, it is only a couple of handfuls of games a season. But when Jim Thome was on the team this season, he proved that limited defensive players still matter in American League parks.
Almost certainly, Howard and Utley should split the DH role in the interleague road games in 2013.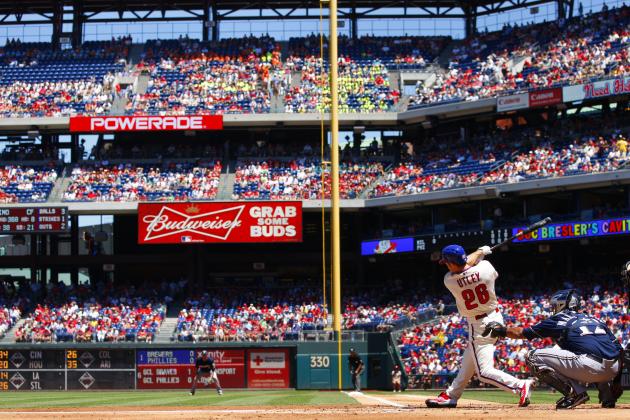 Rich Schultz/Getty Images
When in doubt, sit it out.
Given their ever-changing states of health, Utley and Howard should be listening to their bodies. A twinge here, a pull there...it is always tempting to "gut it out" for the sake of the team.
But the Phillies' training staff needs to assert itself in these situations going forward.
An extra game or two after a small ache or pain could translate into a week missed, or a disabled list stint.
The wiser course is to sit these players if there is any evident hitch in the giddy-up.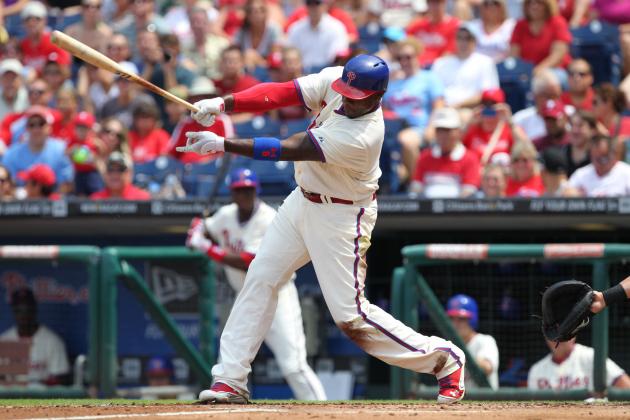 Hunter Martin/Getty Images
Was he swinging over another slider from a lefty here? Hard to tell....
OK, so maybe not all left-handed pitching—but a lot of it.
In 65 at-bats this season, Howard is hitting .200 with only three of his 10 home runs coming off lefties.
In 78 at-bats this season, Utley is hitting .192 with only three of his 10 home runs coming off lefties.
Those splits are eerily similar, and they tell you what you probably already knew: Utley and Howard do not hit left-handed pitching well.
So, if keeping them healthy is the goal, sitting them against tougher lefties probably makes sense.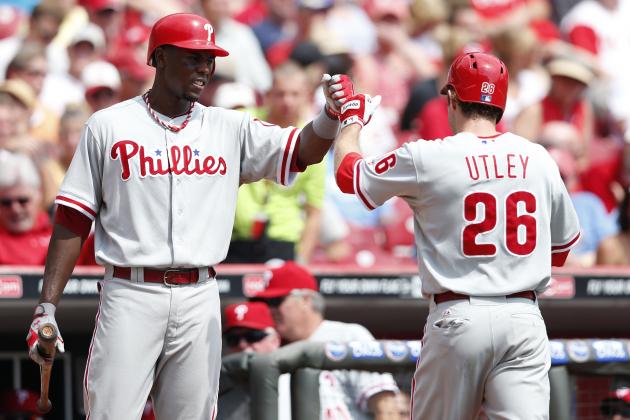 Joe Robbins/Getty Images
You could see less of Utley in the sunshine in 2013.
Catchers routinely take day games after night games off. Their bodies take a beating, and their managers know that the short turn-around time can be hard on the knees.
Chase Utley's knees cannot feel too much better than Carlos Ruiz's at this point, not with a degenerative condition that has cost him large portions of two consecutive seasons.
And while Ryan Howard's Achilles may be healed, it will never be good as new.
Taking day games after night games off is just common sense at this point for these players.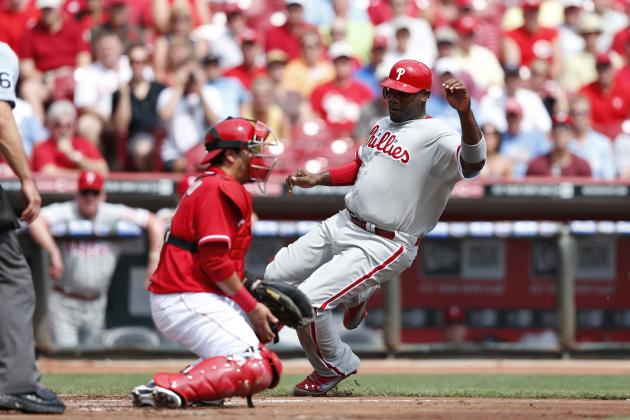 Joe Robbins/Getty Images
Maybe take it easy on the sliding, big fella.
"But wait," you say, "playing not to get hurt is exactly when you get hurt."
Well, maybe. That is certainly true in sports like football and basketball and hockey, i.e., contact sports. Moving at less than full speed in those sports just makes you an easier target to hit.
Baseball players do not have that problem. Aside from take-out slides at second base and collisions at the plate, contact between players is rare. And a lot of it is optional.
It may be difficult for a "gritty" player like Utley to curb his urge to go first-to-third on a soft single to right. For his own good, though, it may be necessary.