49ers vs. Packers: San Francisco's Biggest Winners & Losers from NFL Week 1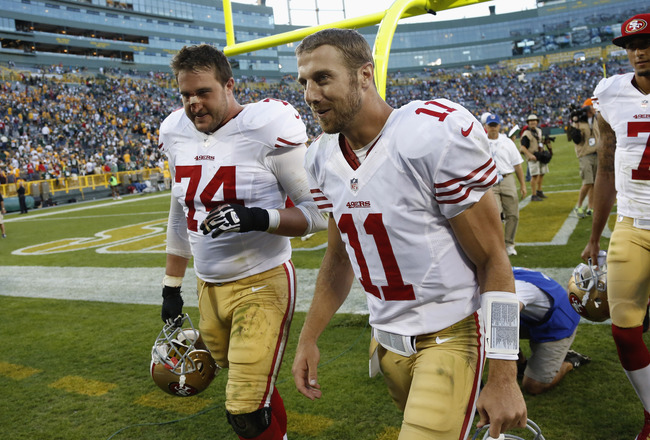 Joe Robbins/Getty Images
America's Game of the Week really lived up to the hype.
The San Francisco 49ers and Green Bay Packers faced off at Lambeau in Week 1 and what a match-up it was. It was a fiery competition from beginning to end, where the 49ers' defense limited Aaron Rodgers and the high-octance Packers offense.
There were strong performances from a number of players in particular, signifying a complete team win. San Francisco played smart, disciplined football and were able to steal a tough road win to start the season 1-0.
For the biggest winners and losers from Week 1 between the 49ers and Packers, continue through the following slides.
Winner: Vic Fangio & the 49ers' Defense
Joe Robbins/Getty Images
This was a sizable challenge defensively for San Francisco.
For the Niners to come away with a victory, they were going to have to execute their game-plan and play mistake-free football for sixty minutes.
It seemed that from a personnel standpoint, the 49ers were able to do things that other teams could not in order to restrict the Packers' offense. San Francisco was able to pressure with three to four players at a time, dropping the rest into coverage and making Rodgers hold the ball.
The depth of the Niners' secondary was on full display, as they ran with the Packers' elite WR corps all day.
The 49ers' defense looked like a historically dominant unit as they put the clamps down on the league's reigning MVP.
Loser: Aaron Rodgers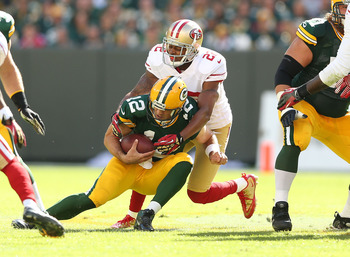 Andy Lyons/Getty Images
Aaron Rodgers is rarely labeled a loser, so this is an opportunity that needs to be taken advantage of.
The Packers were clear about what they were going to do from the get-go, and that was to allow Rodgers to let it rip in an attempt to win this ball game. Rodgers went 30-of-44 for 303 yards, two touchdowns and an interception.
The one pick he threw was costly. The Packers were playing from behind, just got the football back and were looking to make this a ball game. Rodgers dropped back, fired across the middle but completely missed linebacker NaVorro Bowman hanging tight in the middle.
Bowman snatched the ball, officially taking the wind out of the Packers' sails. Aaron Rodgers' facial expressions during the game were of surprise and concern. At no point during this match did Rodgers have complete control, as he is used to.
Winner: Randy Moss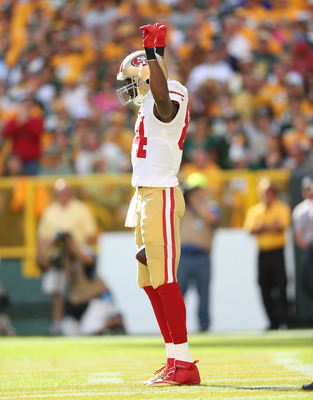 Andy Lyons/Getty Images
Sure, he was limited, but Randy Moss was definitely a factor in this game.
The future Canton inductee was the first San Francisco 49er to find the end zone to kickoff the 2012 season. Moss had four receptions for 47 yards and a touchdown against Green Bay.
Moss displayed a commanding field presence. At 35, the wide receiver is still able to dictate coverages and wreak havoc on secondaries. On his touchdown play, Moss lined up in the slot and San Francisco motioned a wide receiver over, which caught the entire defense off-guard.
This 49ers offense was able to take advantage of the busted coverage when Alex Smith pulled the trigger and found a wide open Randy Moss in the end zone.
And more than just his statistics on the day, Moss had a front row seat to this major Week 1 upset. In what was arguably the toughest imaginable match-up (facing Green Bay at Lambeau), the 49ers asserted themselves in the driver's seat and never relinquished control.
Moss witnessed what this team is capable of and is no doubt thrilled with what he saw.
Loser: 49ers Special Teams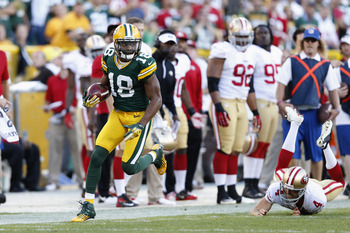 Joe Robbins/Getty Images
Well, yes, but not really.
The 49ers did allow a punt return for a touchdown on the day, but there were two uncalled illegal blocks in the back. The Packers ST unit illegally blocked both Larry Grant and Anthony Dixon, and although there was originally some laundry on the field, the refs picked up the flags.
San Francisco was also without Ted Ginn Jr., and didn't put themselves in great field position for most of the game.
Kyle Williams shouldered the return responsibility, calling for fair catches throughout the game. While there were no turnovers, the Niners are used to giving their offense good field position. Regardless, the 49ers were able to put up 30 points on the road, but with Ginn, this game might not have been so close.
Winner: NaVorro Bowman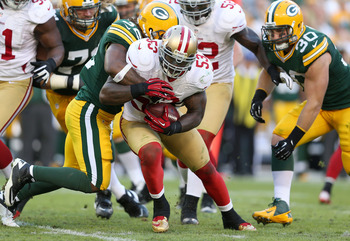 Andy Lyons/Getty Images
The San Francisco 49ers had a specific game plan, which oddly removed star linebacker Patrick Willis from a number of defensive snaps.
The Niners went heavy with the defensive backs and had All-Pro NaVorro Bowman in pass coverage. Entering his second year as a starter, Bowman only seems to be getting better and better. Bowman led the 49ers in tackles with 8 on the day.
But perhaps his most shining moment was when he picked off quarterback Aaron Rodgers. The Packers' QB threw hardly any interceptions (6) in 2011, which is astounding considering the pass attempts he had (502).
However, eager to make a play, Rodgers forced a throw he shouldn't have tried to make and Bowman capitalized. He displayed great hands and awareness, and the clutch gene to make that play when he did. NaVorro Bowman is a rising star in this league.
BONUS Winners: Alex Smith & David Akers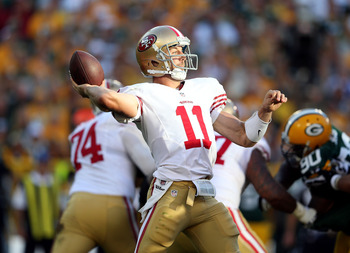 Andy Lyons/Getty Images
Alex Smith
I'm saying it now: The San Francisco 49ers can win a Super Bowl with Alex Smith.
The Niners QB executed this offense, and played mistake-free football. He looked confident and pulled the trigger when he had to. Smith went 20-of-26 for 211 yards, 2 touchdowns and no interceptions. Against a defense that tied for 1st in takeaways in 2011, Smith protected the football.
He didn't force costly throws and guarded the ball when the pass rush was too much for his offensive line to handle.
Smith spread the ball around, finding six different receivers on the day. He also finished with a 125.6 QB rating which was 30 points higher than Rodgers'.
David Akers
It would be foolish to leave Akers out of this one. In a game where points really mattered, Akers was rock solid.
With only two seconds left on the clock before halftime, Akers lined up for a 63-yard field goal to extend the Niners' lead. Akers booted it, it hit the cross bar and bounced right over. With this 3-point play, Akers tied a league record for longest field goal in NFL history.
Akers went 3-for-3 on the day, and accounted for 12 of San Francisco's 30 points.
Keep Reading

San Francisco 49ers: Like this team?