WWE Night of Champions 2012: GSM's Top 10 Favorite Moments from the Event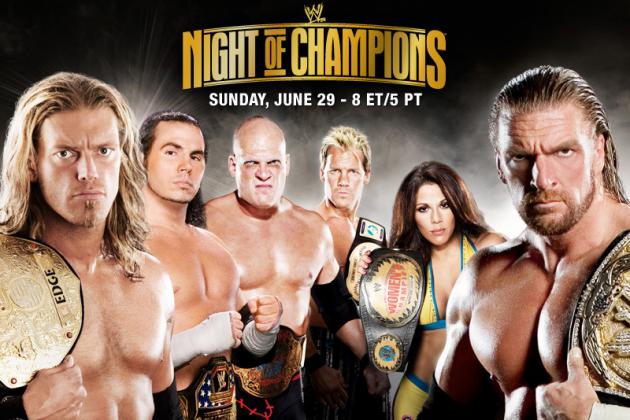 WWE Night of Champions 2008 Promotional Poster
Next Sunday, WWE presents their sixth annual Night of Champions pay-per-view live from Boston, Mass. While the build to the event in recent weeks has been somewhat lackluster, I'm eagerly anticipating the one night where every title in the WWE is up for grabs.
As some of you might already know, I started watching wrestling in early 2008 (shocking, I know), so that year's Night of Champions pay-per-view was one of the first events I ever watched. I immediately fell in love with the concept upon seeing it for the first time and have been looking forward to next Sunday's event since last September.
With every active WWE title being defended on this monumental night, it gives the each respective strap a chance to regain some prestige it's lost as of late. Along with WrestleMania, Night of Champions has always been one of my favorite WWE pay-per-views during the course of the year.
We've been treated to a handful of shockers at the annual event since its inception in 2007, so I've constructed a list with my personal top 10 moments that I found to be the most enjoyable and noteworthy. With the following list being based off strictly my opinion, I ask you to keep an open mind, as you could quite possibly not agree with a majority of my picks.
Begin Slideshow

»
Every summer season in WWE always includes one major angle, and 2009's ruthless rivalry pitted Jeff Hardy against CM Punk. The two were absolute polar opposites, and the fact they were feuding over the World Heavyweight Championship throughout the entire summer only fueled the fire.
In early June, Punk cashed in his opportunistic Money in the Bank briefcase on a dazed Jeff Hardy at the conclusion of Extreme Rules to win his second World Heavyweight Championship. Hardy had been chasing the strap since that point in time and couldn't seem to win back the golden prize whenever it mattered most.
Once it was revealed that Hardy's WWE contract was quickly coming to a close, the fans saw his title opportunity against Punk at Night of Champions as his final farewell. Nonetheless, the Charismatic Enigma shocked the world by soundly defeating Punk and regaining the World title for a second time.
Upon his return to WWE in early 2009, Christian had his sights set on one thing and one thing only: the ECW Championship. Following a few unsuccessfully attempts at winning the title, he finally achieved his goal by defeating Jack Swagger for the strap at that year's Backlash event.
However, his reign lasted a mere month, as Tommy Dreamer would win the title in early June at the Extreme Rules pay-per-view. Christian was determined on winning back the ECW title, and he was able to successfully do so at the Night of Champions event against Tommy Dreamer.
This monumental title victory would mark the start of Captain Charisma's record-breaking ECW Championship reign for the remainder of the year.
2008 will forever be known as the year that hosted one of the greatest feuds in recent history between Shawn Michaels and Chris Jericho. Although Jericho had ambushed Michaels only a few weeks prior to Night of Champions, a match between the two at the event over the Intercontinental Championship was never made official.
However, per the stipulation of the event, Jericho was forced to defend his Intercontinental title against a mystery opponent who ended up being recent Raw draftee Kofi Kingston. With a little help of an interfering HBK at ringside, Kingston scored the pinfall on Y2J to capture his first Intercontinental Championship within the first six months of his WWE career.
Jericho is undoubtedly the best in the world at what he does, and that includes putting bright, young stars over. This would also mark the start of a tremendous tenure on Raw for the Ghanaian-born Superstar.
Upon his WWE re-debut in late 2008, Dolph Ziggler was seen as nothing more than an enhancement talent. However, he quickly proved the naysayers wrong once he was sent packing to SmackDown as part of the 2009 WWE supplemental draft.
While on the blue brand, Ziggler was able to make a name for himself, specifically at the cost of then-Intercontinental Champion Rey Mysterio. Ziggler got the better of Mysterio a handful of times heading into their one-on-one match at Night of Champions, so it strongly speculated that Ziggler might've been on the verge of winning the title.
On what was a rather uneventful card, Mysterio and Ziggler absolutely stole the show with their awe-inspiring performance. Although I was initially disappointed with Mysterio's successful title defense, the bleached-blonde Superstar still managed to prove to the world that he was capable of putting on excellent matches.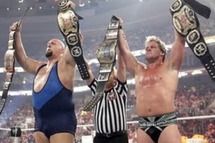 Big Show and Chris Jericho as Unified Tag Team Champions.
In mid-2009, Chris Jericho and Edge shockingly formed a tandem and won the Unified WWE Tag Team Championships together at The Bash. Shortly thereafter, Edge was severely injured in early July, rendering him inactive for nearly six months.
Instead of forfeiting the titles, Jericho decided to maintain possession of his half of the straps while searching for a new partner to replace the Rated-R Superstar. At Night of Champions, Jericho's blockbuster announcement kicked off the show, in which he chose Big Show to team with going forward.
And thus, Jeri-Show was born.
I'll admit, I originally groaned at the idea of pairing these two together with there being better options, but it ended up being for the best. Jericho and Show had unmatchable chemistry, bringing back life to the tag team division for the first time in years.
Of all the shocking moments to occur in 2010, it's safe to say that Kane winning his first World Heavyweight Championship halfway through the year came as the biggest shock to me. A month later, he'd fully turn heel after ambushing Undertaker upon his return at SummerSlam, revealing himself as the Deadman's attacker.
This would lead to an epic confrontation at Night of Champions over the World Heavyweight Championship, where the two blood brothers competed against one another on pay-per-view for the first time in nearly seven years. Kane made it clear going into the event that he was hellbent on finally defeating Taker, whom he had never defeated in an important encounter in years past.
Taking full advantage of the No Holds Barred stipulation, Kane and Taker battled throughout the arena before ultimately ending up back in the ring. It was there that Kane silenced Taker with his own finishing maneuver to score the one-two-three and successfully retain his World Heavyweight Championship.
It was this huge victory (or in my eyes, an upset) that truly solidified Kane as a dominant threat on Friday nights, as well as proving that Taker is indeed vulnerable.
In what was billed as a "Special Attraction," CM Punk was set to take on Big Show in the first-ever non-title match at Night of Champions in 2010. The two had been at each other's throats for months, and it was finally concluding with a one-on-one bout live on pay-per-view.
However, one minor forgotten detail was that the event occurred in Chicago, the hometown of CM Punk. Of course, once the Second City Saint made his entrance that night, the crowd instantly popped huge for their hometown hero.
Since Punk was a heel at the time, he chose to disregard the boos (unlike this past Monday on Raw) rather than embrace them. In doing so, he completely obliterated the Chicago crowd by saying he'd rather watch the town burn to the ground.
Needless to say, it was absolutely hilarious. Classic Punk.
Heading into 2008's Night of Champions pay-per-view, the biggest question to be asked was who Ted DiBiase's impending tag team partner would be. He claimed upon his debut that he'd be victorious and a champion in his first match, so speculation arose as to who DiBiase's partner would be for the event.
Once the match finally occurred, DiBiase's partner apparently "hadn't arrived yet," which meant the match kicked off under Handicap rules with then-World Tag Team Champions Hardcore Holly and Cody Rhodes against the son of the Million Dollar Man. Suddenly, Holly was hit from behind with Rhodes' Silver Spoon DDT, signaling that Rhodes was in fact the mysterious ally of DiBiase.
Moments later, DiBiase hit his finisher on Holly as well, thus doing exactly what he said he was going to do in winning the World Tag Team titles alongside Rhodes. It was the start of a beautiful partnership, as the duo would go on to join Legacy later in the year.
Although many viewers may have claimed that they knew it was Rhodes all along, I was still blossoming as a wrestling fan at the time, so it came as a complete shock to me. I enjoyed every second of it, and Team Priceless instantly became my new favorite tag team.
Since his heel turn last April, Mark Henry was on an absolute roll as a force not to be reckoned with on Friday nights. He dominated everyone from Big Show to Kane to Sheamus, and inducted each one of them into his own vindictive Hall of Pain.
Next on Henry's hit-list was Randy Orton, who was the reigning World Heavyweight Champion at the time after regaining the title at SummerSlam. Given the fact that Henry got the better of Orton each and every week going into Night of Champions, I had a bad feeling that it meant the World Strongest Man's 15 seconds of fame were quickly coming to an end at the hands of the Viper.
Never before had I been so glad to be wrong.
Two years after claiming the ECW Championship at the very same event, Henry decimated Orton and was able to claim his first World Heavyweight Championship in the process. The best part came when the crowd cheered for Henry's monumental win, but Henry then garnered boos with his victory speech that turned the audience against him.
Not only did this mark the climax of the World Strongest Man's monstrous push, but it was also the first time Orton looked vulnerable since reverting into a fan favorite.
After being the first one eliminated from the inaugural season of NXT in early 2010, all hope seemed to be lost for Daniel Bryan. He had the chance of a lifetime to be a part of the Nexus once they debuted and revolutionized the business that June, but Bryan was abruptly released from the company due to inappropriate action displayed during the Nexus ambush.
Due to an overwhelming response by the IWC (among others) for WWE to re-sign him, Bryan ultimately made his return to the organization at SummerSlam in August. During the main event, he was eliminated from the match due to interference from The Miz, who was still enraged over the fact Bryan replaced him on Team WWE.
This would lead to a title confrontation at Night of Champions, where The Miz defended the United States Championship against his former NXT rookie. After multiple near-falls and mark-out moments from this viewer, Bryan eventually won the contest via submission to win the star-spangled prize.
What makes this my all-time favorite Night of Champions moment, you ask? I planned on attending an indy event a mere two weeks following Night of Champions, where the American Dragon would be present. So the fact I was going to meet the newly crowned United States Champion had me extremely excited.
As previously stated, the aforementioned list is based purely off my opinion and what I've enjoyed most about Night of Champion over the years. Feel free to drop a comment below with some of your favorite moments from the event, and tune into Night of Champions next Sunday as new moments look to be made.
GSM out.
Visit my website at Next Era Wrestling, and listen to my SAVE US GSM radio show every Wednesday night at 10/9c for more of my thoughts and writings, along with WWE/TNA news, reviews, recaps and more.
Listen to internet radio with Spoilerspodcast on Blog Talk Radio