The Top 5 Most Amazing Dunkers in Sacramento Kings History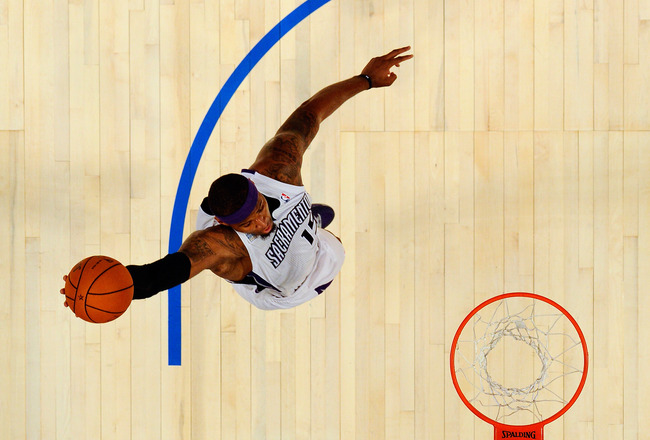 Pool/Getty Images
In the 27 years of Sacramento Kings basketball, there have been plenty of highlight-reel dunks and dunks of every variety imaginable. There have been alley-oops, dunks in transition and dunks over other players.
There have even been a few players who have received recognition for their high-flying slams with an invitation to the NBA's Slam Dunk Contest.
Other Kings players, meanwhile, have made a legacy out of posterizing the opposition by throwing it down in their face.
With so many different and worthy choices, it was difficult to whittle it down to only five. But that's exactly what I've done. Here are the top five most amazing dunkers in the history of the Sacramento Kings.
I'm interested to know what you think because of the many deserving choices. Who would you have picked? Who's left off the list that might deserve to be included?
Kenny Smith
Although he only played in Sacramento for the first two-and-a-half years of his career before being traded to the Atlanta Hawks at the deadline in 1989-90, Kenny Smith is one of the best dunkers to ever play for the Kings.
At 6'3", Smith wasn't the tallest of players, which meant he had to rely on his incredible vertical leap for his dunks. Nonetheless, he gained plenty of notoriety throughout his career as one of the most spectacular dunkers of his generation.
Smith participated in three NBA All-Star Game Slam Dunk Contests (1990, 1991, 1993). His best finish in the contest was second place, which he accomplished in 1991. It was also his only time partaking in the contest as a member of the Sacramento Kings.
In the contest, he had a couple superb slams. In one, he bounced the ball between his legs, off the backboard and spun 180 degrees to throw it down backwards. In his next dunk, Smith alley-ooped it to himself off a bounce and did a 360-spin in midair before grabbing the ball and tomahawking it home.
Spud Webb
You could make the argument that Spud Webb shouldn't be included on a list of the Kings' top five dunkers because he gets most of his recognition for dunking as a member of the Atlanta Hawks.
But since Webb was a pioneer as a short guy slam dunking, and since he's the only dunk contest winner to play for the Kings, I decided to list him here. Not to mention, Webb's best seasons all came with the Sacramento Kings.
Like Kenny Smith, Spud Webb was in three dunk contests (1986, 1988, 1989). But unlike Smith, Webb won a dunk contest (1986).
Webb was the first player of his height (5'7") to win the dunk contest. In fact, to pay homage to Webb, when Nate Robinson was a contestant and won the 2006 dunk competition, he used Webb as a prop and jumped over him for one of his dunks.
Gerald Wallace
When Gerald Wallace was on the Kings for the first three years of his career, he was an incredibly raw player. But anybody that watched him play could see his amazing athleticism.
Despite only averaging 9.7 minutes per game while with the Kings, we saw plenty of highlight dunks from Wallace. None of them were more amazing than when Wallace posterized Bostjan Nachbar in a 2003-04 preseason game.
Wallace also competed in the Slam Dunk Contest as a member of the Kings in 2002. He finished in second place, losing in the finals to Jason Richardson.
He's participated in another dunk contest since leaving the Kings (2010), but finished in fourth place. He's also had plenty of high-flying dunks and developed into an All-Star player.
However, in terms of dunking alone, nothing can compare to Wallace's work with the Kings, and it's hard to imagine him ever topping his dunk on Nachbar.
Chris Webber
Unlike Spud Webb, Kenny Smith and Gerald Wallace, Chris Webber never competed in a Slam Dunk Contest. He also never had the same acrobatic dunks as those three. But what Webber did better than any other King is slam the ball with authority.
He didn't care if someone was in his way or not. If Webber was close enough to the rim to slam it home, he'd go through or above anyone or anything that was in his way.
Not only did Webber have the physical skills to embarrass defenders, he also had the perfect scowl to go with it. After he was done making a mockery of the opposition, he'd get that famous look on his face, adding insult to injury.
He's arguably one of the best players to ever put on a Kings uniform. The same can be said for his dunking ability—it's up there with some of the greatest to ever play in Sacramento.
DeMarcus Cousins
DeMarcus Cousins' style dunking the basketball is like Chris Webber's—it's more about dunking on someone than the high-flying, acrobatic dunk.
In his short two-year career, Cousins has plenty of dunking highlights. My favorite is the one he got against the Chicago Bulls.
In the highlight, Cousins got the ball on the low block, did a spin move, took the ball under the hoop on the baseline and did a 180-degree reverse in the face of Chicago center Joakim Noah.
But he's also got a variety of dunk highlights. He's got excellent put-back dunks like his one against Pau Gasol and the Lakers. He has thunderous dunks in transition. He's been on the receiving end of some amazing alley-oops, including the one from Evan Turner in the Rookie-Sophomore game.
Cousins also has another thing in common with Webber: the scowl to go along with his posterizing dunks. It isn't enough to slam it home in someone's face; you've got to have the glare that goes with it.
And considering Cousins is just at the start of what looks to be a very promising career, he's sure to add plenty more ridiculous dunk highlights to his portfolio.
Follow me on Twitter: @SimRisso
Keep Reading

Sacramento Kings: Like this team?