5 Reasons This Will Be Jose Mourinho's Last Season at Real Madrid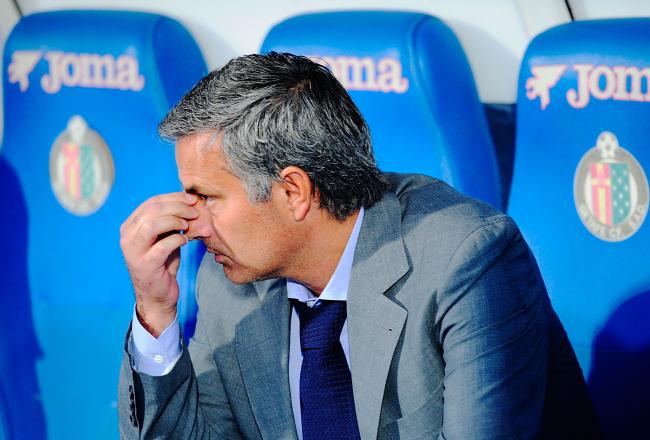 Gonzalo Arroyo Moreno/Getty Images
The beginning of the end for Jose Mourinho at Real Madrid started last season. The combination of results and the power struggle in Spain has given us a real indicator that Mourinho is unlikely to be in it for the long term.
The defeat to Bayern Munich was a real shock to the system for Madrid, especially considering their previous win over Barcelona in the league. Moreover, there were continued stories linking Mourinho with moves back to England, with Chelsea's naming consistently cropping up.
But even with Real Madrid's title success last season and a widely available market for Mourinho to pick his transfer targets, there is always an unshakable doubt that Mourinho will stay beyond the 2012/13 season.
Mourinho Doesn't Stay Long at Each Club
This is one fairly obvious, and it's something that Jose Mourinho has a good track record of. To put it plainly (because there is no other way to put it) the Portuguese manager doesn't hang about at clubs for too long.
Obviously, there have been different circumstances which forced him out of the door at each of his previous clubs.
Chelsea's owner Roman Abramovich became fed up with the slow start in Mourinho's fourth season at the club, pushing him aside and introducing a new face—the first of many following Mourinho's dismissal.
Inter Milan was always going to be a short-term gig for Mourinho, as the call from other teams proved to be too tempting. His one season at the San Siro brought the club success in Europe, as well as adding to their rich recent history in domestic competition.
Now with Real Madrid, it's difficult to see him break the trend and oversee a longer period of success in Spanish football. Mourinho has essentially been given the keys to the Bernabeu following Jorge Valdano's departure, with Florentino Perez keen to see the manager remain at the helm.
Naturally it's all speculation, but Mourinho's history certainly indicates towards another short spell at his current club.
Victory in the Champions League Will Mean His Work Is Done
Spanish football has already been conquered, but the big one in European competition continues to elude Real Madrid .
Los Blancos haven't lifted the Champions league since Zinedine Zidane's iconic volley in the 2002 final in Glasgow. With Mourinho at the club, there's always a possibility for success in Europe.
Prior to Mourinho's arrival at Madrid, the team had been on a less than spectacular run in the Champions League. Elimination occurred in the last 16 for six consecutive years, while rivals Barcelona and even Mourinho's Inter found success.
Now that the La Liga trophy has been captured back from Catalonia, you get the feeling that the last real piece of business is overseeing the return of the European Cup back to the Bernabeu.
Even though it would lead to an excellent dynasty if Mourinho were to stay long beyond this season, another win in the Champions League may be the perfect way to bow out.
The Call From Other Big Clubs Across Europe
The money and ambition across Europe means there is always another "project" for Jose Mourinho to pick up.
Any calls from France would likely fall on deaf ears, as Mourinho has never expressed any desire to work with PSG and the club already have an excellent manager in Carlo Ancelotti.
But the real story may come from England, where a number of clubs are likely to be chasing Mourinho's signature in the near future.
Manchester United have always seemed like a possible destination for the Portuguese manager, while Manchester City would be more than willing to part with Roberto Mancini if it meant rolling out the red carpet for Mourinho.
As disappointing as it is for La Liga, Mourinho does seem destined to return to England at some stage. With Alex Ferguson nearing the end of his career, that opportunity may present itself quickly to the Real Madrid manager.
Clashes with Spanish Players
There's been no secret of Jose Mourinho's clashes with some of the senior Spanish players at Real Madrid.
Sergio Ramos has questioned Mourinho's tactics in the past, while Iker Casillas and Xabi Alonso appear free from criticism in their efforts to stand up to Mourinho's methods.
That's not to suggest that there isn't a winning mentality inside the club: Real Madrid succeeded last season in the league and seem determined to spill that glory into this season.
But at both Chelsea and Inter, Mourinho really did have the full backing of his players. Perhaps it's not enough to drive him out of Madrid, but it certainly weighs in to his final decision when he feels his time is up.
Will He Ever Be Free From Criticism?
Jose Mourinho was brought in to put an end to Barcelona's dominance in Spanish and European football. So far, he's done half of that. But will it ever be enough for the critics?
It didn't appear to be enough last season even though Real Madrid were roaring through the second half of the league campaign. They sat atop of the league table with daylight between themselves and Barcelona, yet the mood was still that it wasn't good enough, notably from the press.
As mentioned, prior to Mourinho's arrival, the club were not performing in the Champions League and had failed to get past much smaller sides in the Copa del Rey. Mourinho has clearly changed all that, delivering the domestic cup and establishing Madrid as one of the fiercest sides in the Champions League.
It's clear that Mourinho is frustrated by the influence of the media and the expectation to do much more. However, it's easy to understand Mourinho's stance, especially considering his outstanding successes wherever he's managed.
Notably in England, he'll have a much better relationship with media, as he did during his Chelsea days.
This article is
What is the duplicate article?
Why is this article offensive?
Where is this article plagiarized from?
Why is this article poorly edited?

Real Madrid: Like this team?