WWE Saturday Morning Slam: Why It's Crazy for Adults to Bash New Show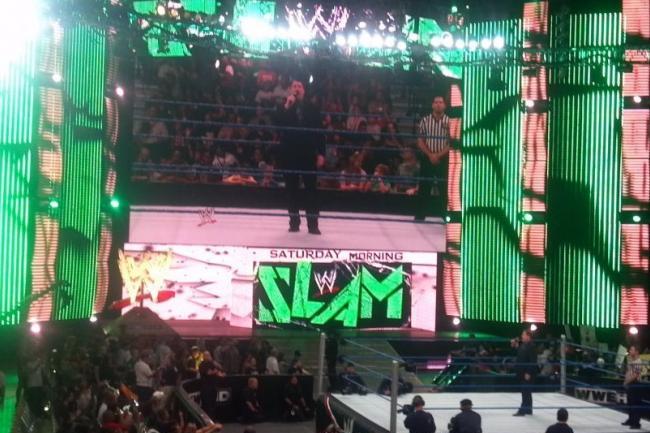 Photo courtesy of WWE.com

WWE's new show, Saturday Morning Slam, debuted on CW on August 25 and hasn't received good reviews from the core fanbase. What many need to understand, however, is that the program is perfect for the demographic that it's trying to reach.
The first two shows have featured only a few low-level matches, as well as a bunch of informative segments geared toward children. Adult fans such as myself want to watch as much wrestling as they possibly can, so Saturday Morning Slam may be in the viewing rotation, but it doesn't mean that it's meant for us.
That is a fact that seems to be lost on many. Saturday Morning Slam has been bashed mercilessly for banning moves to the neck, for airing Be A Star and "Don't try this at home" ads and for featuring clips of Brodus Clay teaching us how to dance. All of that may be lame to someone over 18 years of age, but it works for the kids.
Saturday Morning Slam is tailored to fit in with a block of shows that includes Iron Man and Power Rangers. We don't complain about those shows, so why complain about Saturday Morning Slam? It is produced by the WWE, and many of us are passionate about the company, but Saturday Morning Slam is a completely different entity from RAW or SmackDown.
I could understand people getting bent out of shape if Brodus Clay and Santino Marella discussed the virtues of sharing on the show only for it to become part of a regular storyline, but that simply isn't going to happen. Saturday Morning Slam has absolutely no bearing on the product, and it is just a vehicle to get children interested in the WWE.
If the WWE cared about adult fans watching Saturday Morning Slam, then it wouldn't be sandwiched between cartoons—and it wouldn't be airing at 10 a.m. ET, when the majority of people of legal age are still recovering from their Friday-night endeavors.
Kids don't pick apart the R-rated movies that we watch, so why should we bash the age-appropriate things that they watch, namely Saturday Morning Slam? Clearly, the issue is that there is a legion of fans that is dead set against TV-PG programming even though a good chunk of the Attitude Era was TV-PG in its own right.
The fact that Saturday Morning Slam is rated TV-G seems to have gotten under the skin of many fans, probably because they wrongly believe that it will lead to RAW and SmackDown being rated TV-G as well. The WWE is far from perfect, and the regular product is obviously more kid-friendly than it once was, but it's ludicrous to think that TV-G programming is going to advance past Saturday Morning Slam.
Do older fans have the right to bash Saturday Morning Slam?
A lot of fans have unrealistic expectations for Saturday Morning Slam. It's almost as if they want to see CM Punk vs. Jerry "The King" Lawler in a steel cage with Punk's head busted open. If little Jimmy's mother sees her son watching a guy with blood pouring out of his head, though, she certainly won't allow him to watch on Monday and Friday nights.
If she sees Brodus and the Funkadactyls dancing around and public service announcements, however, then she'll probably give the regular shows a chance, and that is how the WWE is going to build its fanbase for the future.
The WWE has already reeled us in as viewers, so why would they waste time and resources on an auxiliary program to secure what they already have? Does the WWE need to continue improving its core programming over the coming weeks and months? Absolutely, but that has nothing to do with Saturday Morning Slam.
When it comes to Saturday Morning Slam, you have a couple options. You can watch it and enjoy it because you love the WWE in general, or you can simply refrain from watching. Tuning in and complaining about it is senseless, though. If you wouldn't turn on Sesame Street or Barney and say that they suck, then don't do it with a wrestling show for kids either.
You aren't going to get title matches, scathing promos, barbed wire bats or bikini contests on Saturday Morning Slam, and if you're expecting anything other than harmless entertainment that children and their parents can enjoy, then you're fooling yourself.
Follow @MikeChiari on Twitter and listen to him on Ring Rust Radio.
This article is
What is the duplicate article?
Why is this article offensive?
Where is this article plagiarized from?
Why is this article poorly edited?