3 of the Biggest Wasted Talents in Boxing History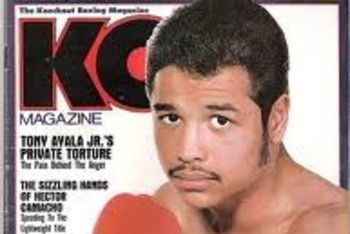 "The saddest thing in life is wasted talent, and the choices you make will shape your life forever," is a great quote from the movie A Bronx Tale.
I think it also perfectly sums up the careers of the following three boxers on this list.
Over the next three slides you will read about men who could have changed the boxing landscape as we know it had they not made the wrong choices in life.
Tony Ayala Jr.
Tony "El Torito" Ayala Jr. was an amazing amateur fighter who won the 1979 National Golden Gloves Championship as a middleweight in addition to many other amateur titles.
With the U.S. boycott of the 1980 Olympic games, Ayala Jr. turned to the pro ranks.
Ayala Jr. was just 17 when he burst on to the pro scene. Over the first three years of his pro career, he would rattle off 22 straight wins and register 19 knockouts in the process.
Because he was known for his ferociousness in the ring, some touted Ayala Jr. as the next Roberto Duran. His name was also being mentioned for possible fights with Sugar Ray Leonard and Thomas Hearns.
Before Ayala Jr. would ever get those opportunities, his career was cut short when he was charged and convicted of the brutal rape of a neighbor in 1983 when he was 20.
Ayala Jr. would emerge from prison 16 years later and resume his career, but he was never the same fighter. He would go 9-2 in his comeback with 8 KOs before eventually returning to prison for a parole violation.
Ike Ibeabuchi
At 6'2" and 235 pounds, Ike "Mr. President" Ibeabuchi may have been the perfect heavyweight specimen.
Ibeabuchi, who is originally from Nigeria, immigrated to the U.S. in 1993 and soon took up boxing. As a 20-year-old amateur, he won the 1994 Texas State Golden Gloves and turned pro shortly thereafter.
In the pro ranks, Ibeabuchi was an unstoppable force. In less than five years as a pro, he amassed a record 20 wins with 15 knockouts and no defeats. Among those wins was the highly touted David Tua and brutal knockout of Chris Byrd.
After the Byrd knockout it seemed as though Ibeabuchi was headed for greatness and an eventual shot at the heavyweight championship.
That shot would never come though, as Ibeabuchi was charged with the attempted rape and kidnapping of a Las Vegas call girl in 1999.
Ibeabuchi would eventually enter an Alford plea in the case in 2001 and has been imprisoned ever since.
Edwin Valero
Edwin Valero was a knockout fan's dream in the ring. In his first 18 fights, the southpaw Valero scored 18 first round knockouts. Actually, Valero scored a knockout in every one of his fights as a professional before his 27-bout career was cut short by his own doing.
Valero of Venezuela was a whirlwind of a boxer in the ring. He threw punches from every angle, and some touted him as the next Manny Pacquiao.
The life of the hard-punching Venezuelan was turbulent outside of the ring, to say the least. It included a stay in a mental hospital, a DUI in Texas and reports of drug abuse. He was ultimately charged with the murder of his wife.
While awaiting trial and facing the possibility of life in prison, the boxing phenom took his life in jail.
With all of the aforementioned fighters, we will never know what could have been because their inner demons got the best of them outside the ring.
Keep Reading