Dallas Stars: 5 Reasons to Believe the Stars Improved This Summer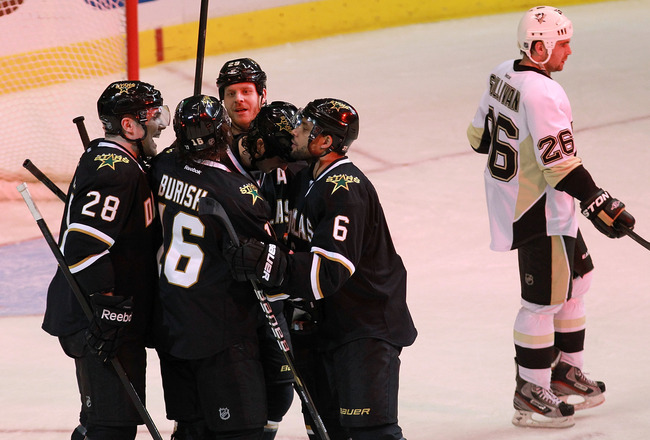 Ronald Martinez/Getty Images
The Dallas Stars have not been a bad team the past few years. But they have missed the playoffs in each of the last four seasons. Consistency has been their problem, but this offseason they addressed that and many of their other shortcomings.
Stars owner Tom Gaglardi dedicated himself and his resources to winning and putting the team in an improved position.
Outside of the broad Gaglardi contributions, here are five reasons why the Stars have improved.
GM Joe Nieuwendyk and Bob Gainey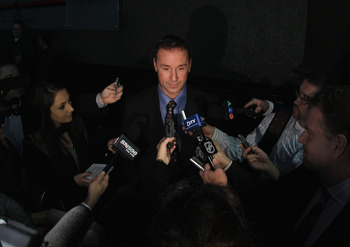 Bruce Bennett/Getty Images
Bringing in Bob Gainey to help Joe Nieuwendyk get to the next level as a general manager was a great move by Gaglardi. Gainey was the architect for the Stars Stanley Cup winning team and the general manager who signed Nieuwendyk.
The front office experience of Gainey mixed with the Nieuwendyk's eye for talent will only yield good results. Not to mention Gainey's relationships with others in the league is a huge benefit when the Stars need trading partners.
There is the old corporate saying that "success starts from the top;" and in this case that proves true. With Nieuwendyk and Gainey leading the charge into 2013 and beyond, everything looks as if it is pointing in the right direction.
Time with Glen Gulutzan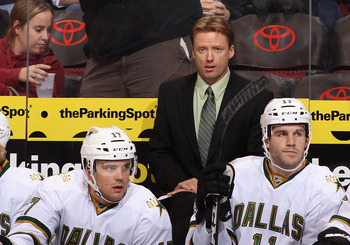 Christian Petersen/Getty Images
Glen Gulutzan is now in his second season as the Stars head coach. More often than not in professional sports, the second year under new a new coaching staff will yield far greater results than the first.
Now that Gulutzan has been able to bring in his own players and keep the pieces he wanted, the team will resemble him more than the roster that he inherited from Marc Crawford. Gulutzan also has more familiarity with his players which only helps the coaching process.
In the second campaign, the players have a better idea of what is expected from them. The coaching change wasn't as drastic as going from Terry Francona to Bobby Valentine for the Boston Red Sox, but it is still a shift in styles, philosophy and expectations.
The second season under Gulutzan will naturally make the Stars better than they were last year.
The Health of Brendan Morrow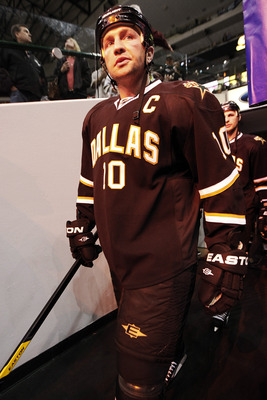 Brandon Wade/Getty Images
Brenden Morrow missed 25 games last year and couldn't seem to get into a consistent scoring groove. His campaign ended with only 26 points in 57 games played.
This year the captain of the Stars starts the season healthy. Many project him to be on the third line for most of the season which is great for Dallas.
Even if Morrow only shapes into his 2009 form, that will still add about 40 points that isn't coming from the top six forwards. Production from the third line will take a lot of pressure off the entire team.
Another year of experience for Jamie Benn
Bruce Bennett/Getty Images
Jamie Benn is entering his fourth year in the league, and up to this point, he has improved every season. This year he will push Loui Eriksson and Michael Ryder for the title of leading scorer.
Benn looks like he is poised to cross the 70 point mark for the first time in his career. Combine that with Morrow or another veteran producing from the third line and the lackluster offense of last season seems to be no concern.
Offensive Holes Filled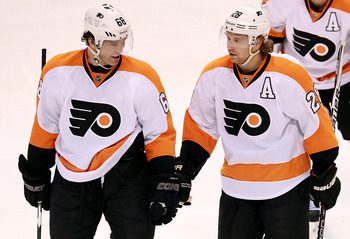 Ronald Martinez/Getty Images
In addition to having Morrow as a veteran presence, the Stars also brought in Ray Whitney and Jaromir Jagr to boost the offense. Dallas went from not having enough scorers to having too many for their top lines.
That is a problem that any team in the NHL would love to have. Jagr and Whitney aren't long-term solutions offensively (since both men are in their 40's), but they do have the ability to teach the younger players.
Having a future Hall-of-Famer like Jagr as an on-ice coach is a great benefit for all of the players on the roster. Just ask Claude Giroux how much he learned from Jagr.
It might be pure coincidence that Giroux tallied an extra 16 points in five less games while having Jagr as a teammate. But all Stars supporters hope it isn't.
Contact Mitch Klemp at MitchKlemp@yahoo.com and follow him on twitter @MeestaMitch
Keep Reading

Dallas Stars: Like this team?