Atlanta Braves: Early Predictions for the Team's 25-Man Postseason Roster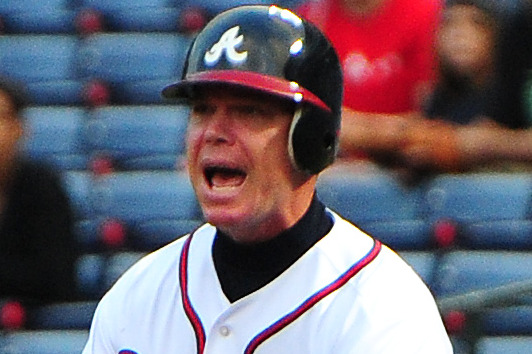 Scott Cunningham/Getty Images
Chipper Jones is a lock to make the postseason roster, but who else will join him?
At this moment the Atlanta Braves are in a very good position to make the playoffs, likely as a Wild Card since they have a seven-and-a-half game deficit in the NL East through today. The Braves have a one-and-a-half game lead over the third-place team in the wild-card race.
With it looking like the Braves are in a good position to make the playoffs, now would be a good time to take a look at the potential 25-man postseason roster. With so many players that have contributed this year and the increased amount of strategy in the playoffs with smaller pitching staffs, there should be some interesting decisions.
Barring injury I will assume that the following hitters have a spot on the postseason roster already locked up: Brian McCann, David Ross, Freddie Freeman, Dan Uggla, Andrelton Simmons, Chipper Jones, Juan Francisco, Reed Johnson, Martin Prado, Michael Bourn and Jason Heyward. That means there will be three-to-four spots left for position players.
The following pitchers are also locked into a spot on the roster: Kris Medlen, Tim Hudson, Paul Maholm, Craig Kimbrel, Jonny Venters, Chad Durbin and Eric O'Flaherty. That means there are three-to-four spots left for pitchers as well.
This article will predict the final seven spots on the Braves' postseason roster. There are two notes before reading. The first is I am projecting the Braves to carry four starting pitchers instead of three because they would need one in the Wild Card play-in game and then three in the divisional series.
The other note is that although a player must be on the active roster prior to September 1 to be playoff eligible, there are loopholes a team can use to get a player on if he wasn't on the roster at that time.
Begin Slideshow

»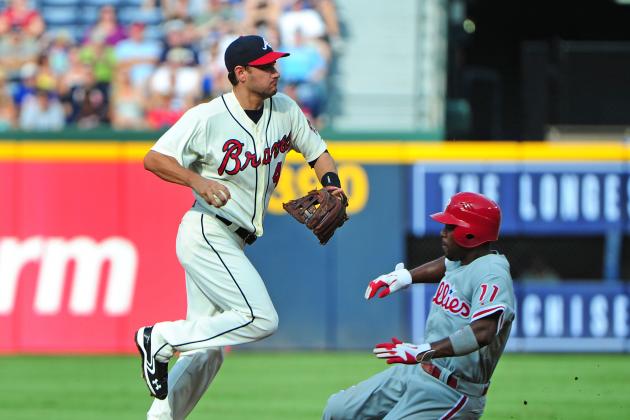 Scott Cunningham/Getty Images
Paul Janish's glove will put him in good position to make the postseason roster.
Paul Janish makes the team because of the questions surrounding rookie Andrelton Simmons. While Simmons should be back well before the playoffs, there is some question on how productive he will be after recovering from his hand injury. Then there is some question on how the 22-year-old with just 115 career at-bats will respond to the pressure he is about to face.
Janish provides insurance for the Braves, just in case there is an issue with Simmons. He doesn't provide much offense, as evidenced by his .191 average this year, but his glove at shortstop is almost on par with Simmons' glove. That will certainly help the pitching staff out on ground balls hit in that direction.
Another thing in his favor is the only other middle infielder that would really be considered is Tyler Pastornicky. Pastornicky is an upgrade with the bat, but his defense hurt the Braves pitchers while he was the starting shortstop, and it's not likely that the team would take a chance on him in the playoffs if there is any question on Simmons' health.
If Simmons comes back and looks great the rest of the way, this prediction could certainly change between now and October. However, at this moment, it is hard not to see Janish making the team.
Ralph Freso/Getty Images
Lyle Overbay is a strong candidate to make the postseason roster.
Lyle Overbay is just a solid big league hitter. He may not have good power for a first baseman, but for his career he is a .271/.354/.439 hitter. That totals an OPS of .793 because he has enough pop in his bat to rack up a bunch of doubles and has the plate discipline to take a walk.
In addition, Overbay has done a very good job of hitting right-handed pitchers throughout his career. This would give Fredi Gonzalez another player he can pick to exploit a particular matchup when needed. For these reasons, Overbay will likely make the Braves' postseason roster as a pinch-hitter as well as serving as another veteran presence in the clubhouse.
Overbay's main competition for this spot is Eric Hinske, who has had a dreadful season at the plate. Jeff Baker is also a candidate, but he's really only an option against left-handed pitchers, and the Braves have Reed Johnson for that already on the bench.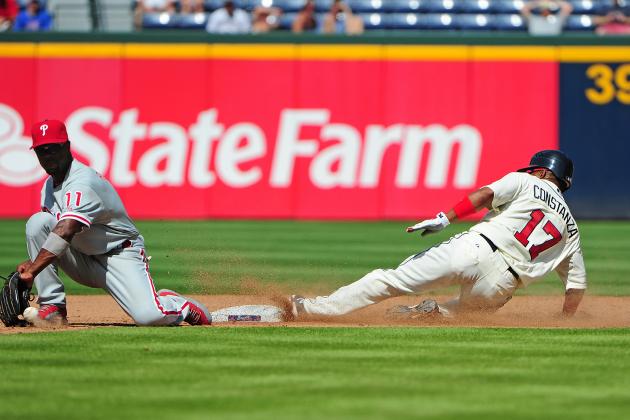 Scott Cunningham/Getty Images
Jose Constanza's speed makes him the last position player on the postseason roster.
Another guy that the Braves may pick for the roster is Jose Constanza, one of their surprise contributors from a year ago. While Constanza hasn't produced the same way this season, he did have a strong season in Triple-A.
The reason that Constanza makes the team is simple. He's fast. Speed has been one of the things that has really helped the Braves this season, as Michael Bourn and even Jason Heyward have been able to use their speed to make an impact.
Constanza also has that same ability to come off the bench late in a game and make a significant impact with his speed.
Speed is the main reason why Constanza beats out Jeff Baker for the final spot for position players.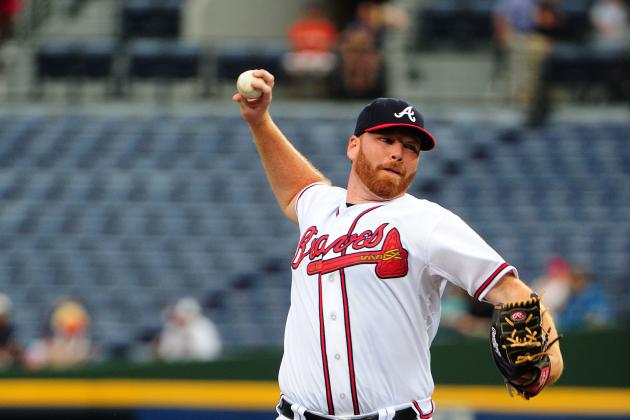 Scott Cunningham/Getty Images
For now Tommy Hanson is the best candidate to make the postseason roster.
The final starting pitcher on the postseason roster is Tommy Hanson. Hanson is the best of the remaining options for the Braves and also has the potential to shut down an opponent despite his up-and-down season overall.
Hanson, who is 12-8 with a 4.40 ERA in 26 starts, gets the edge over Mike Minor right now. However, this is the roster spot with the most chance of changing between now and the start of the playoffs. Depending on if one of these guys gets on a hot streak, success of the playoff opponent or the return of a healthy Ben Sheets, this spot could look very different a month from now.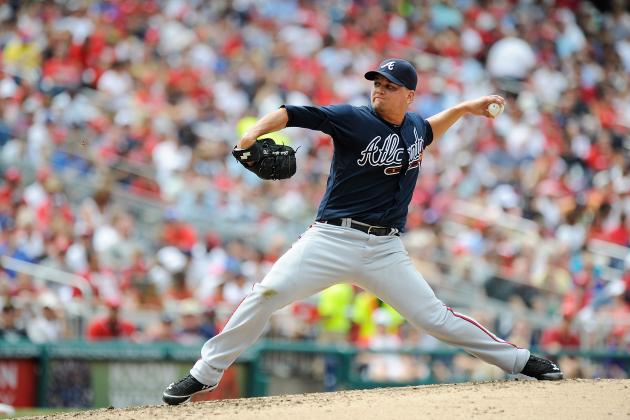 Patrick McDermott/Getty Images
Luis Avilan has been excellent for the Braves.
Since coming up from the minors, rookie reliever Luis Avilan has made an impact in the Braves bullpen. The 22-year-old Avilan has appeared in 20 games with a 2.16 ERA and 1.24 WHIP while appearing in some key situations.
With his recent performance, Avilan has quickly become one of the key members of the Braves bullpen and has pushed past some of the veterans to cement a spot on the postseason roster.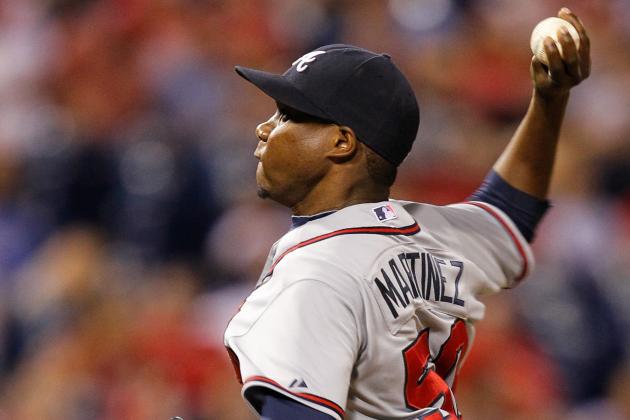 Brian Garfinkel/Getty Images
Cristhian Martinez is likely to make the Braves' postseason roster.
Cristhian Martinez has been a solid member of the Braves bullpen for the past few seasons. This year Martinez is 5-4 with a 4.19 ERA in 68.2 innings over 49 games. Martinez isn't going to be a guy used late in close games, but he is a guy capable of pitching multiple innings or being used frequently.
Then, when you add in the fact that Martinez is a right-handed pitcher, it helps to even things out with left-handers Eric O'Flaherty, Jonny Venters and Luis Avilan already in place.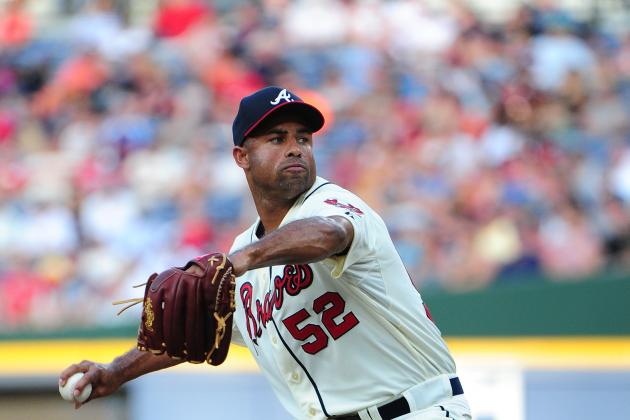 Scott Cunningham/Getty Images
Miguel Batista is a veteran with versatility.
The last spot on the postseason roster and the last pitcher to make the team looks to be Miguel Batista. Batista has only appeared in four games since signing with the Braves after being let go by the Mets, but he offers something that none of the other candidates do.
Batista is 41 years old and has almost 2,000 career innings under his belt to go with experience as a starter and as a closer. Batista has made starts as recently as this season, so he will be capable of giving the Braves multiple innings if necessary.
If he pitches well over the rest of the season, Peter Moylan is also a candidate for this spot along with Cory Gearrin and Anthony Varvaro, but Batista has the slight edge right now.