2012 NL MVP Voting: Melky Cabrera's Fall Leaves Field Open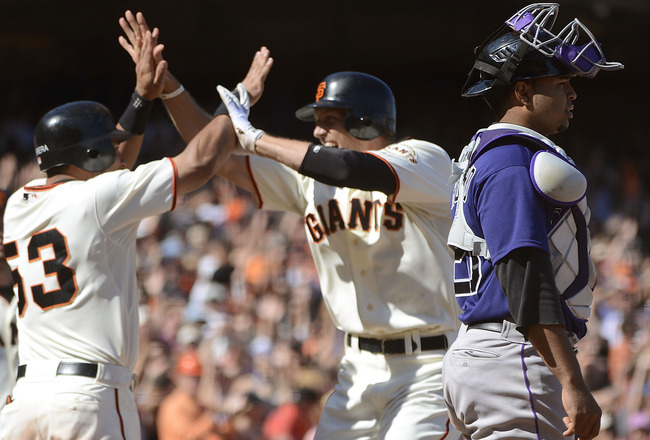 Thearon W. Henderson/Getty Images
Melky Cabrera may have not been the leading candidate for the NL MVP award when he incurred his 50-game suspension.
But what if the San Francisco Giants were to make the postseason? A lot of focus would be on the Giants left fielder who was having a career year, leading the league in batting average for a good portion of the season whilst throwing up double-digit triples.
So, with Melky doped up and out for the rest of the season, he will receive no consideration in the MVP voting. Who then is deserving of the award? Compared to the AL, there are a lot more players in the mix in the National League, some putting up some amazing stats in 2012. Many of them, however, come from subpar teams, which will help weed out those who play in less fortunate circumstances.
The following consists of a list of those who will garner votes at the end of the year, starting off with those with the best chances.
Andrew McCutchen, Pittsburgh Pirates OF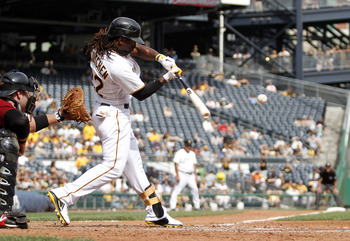 Justin K. Aller/Getty Images
This one's easy.
The Pittsburgh Pirates are finally in the discussion of possible playoff-bound teams. They sit in third in the NL Central, but are very close to the second wild-card spot for the National League.
The focus from there is given to McCutchen, who is having a phenomenal 2012 season. He leads the NL in batting average (outside of the suspended Cabrera) and has put up 24 HR and 16 SB.
Yadier Molina, St. Louis Cardinals C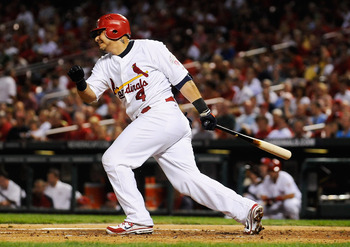 Jeff Curry/Getty Images
It's not too often that catchers have serious shots at the MVP award.
Molina should, and will be, in the discussion as the season nears its end, especially if the Cardinals hold on to a wild-card spot. Molina is having a career year in 2012: he's fourth in the league in batting average (career high) and is slowly approaching the 20-HR mark (Mauer of years past?).
There was a lot of concern when Albert Pujols left the Cardinals as to whether the team could contend for a postseason spot. A number of Cards hitters stepped up their game, Molina among them, and have St. Louis primed for playoffs.
Buster Posey, San Francisco Giants C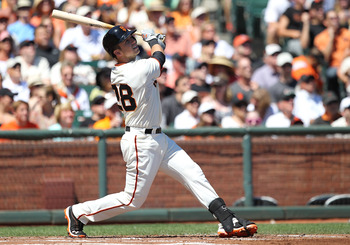 Tony Medina/Getty Images
Melky is out of MVP talks but what about his former teammate Buster Posey?
The catcher with injury concern written all over him? What about being third in the NL in batting average, over 30 doubles and nearly 20 home runs.
Posey's stats read a better chance at the MVP than Molina—not to mention that the Giants currently sit at the top of the NL West. If they falter and allow the Dodgers to take the top spot in late September, the Giants risk losing out on a wild-card entry, thus limiting Posey's chances of nabbing the MVP.
Ryan Braun, Milwaukee Brewers OF
Marc Serota/Getty Images
Picking Braun here is dependent on the baseball community getting over his having beaten the system in regards to testing positive for performance-enhancing drugs.
Picking Braun here means he will get votes, but he will not win the award, as the Brewers have almost no chance of landing a spot in the postseason. Braun's numbers are incredible, though, batting over .310 and approaching the 40-HR mark.
Braun also has a set of solid legs on him, putting up 22 stolen bases so far this season. If only the Brewers were better this year, but that's what happens when a hitter like Prince Fielder leaves.
Matt Holliday, St. Louis Cardinals OF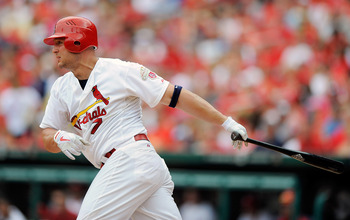 Jeff Curry/Getty Images
Another reason that Molina may struggle to gain votes could be due to the production by teammate Matt Holliday.
Holliday has always been a consistent hitter, and 2012 is no different. Holliday has over 30 doubles, 25 HR and is batting just above .300 on the season. There's also a good chance that Holliday will pass 100 runs on the year.
Again, there is not a great chance of Holliday winning the award, but he will steal votes away from those more deserving.
Carlos Gonzalez, Colorado Rockies OF
Scott Cunningham/Getty Images
Carlos Gonzalez suffers from playing for the last-place team in a division.
The Rockies are at the bottom of the NL West despite the hitting efforts of the above outfielder (at least he can assist fantasy owners). Many worried about Gonzalez regressing in 2012, but he actually has topped the year he put up in 2011.
Again, Gonzalez's purpose in 2012 NL MVP voting is to steal those third-, fourth- and fifth-place votes that could end up making the difference between who finishes first and who finishes second for the award.
The Best of the Rest: Vote Getters, but Not Contenders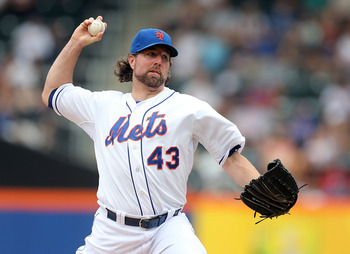 Jim McIsaac/Getty Images
David Wright, New York Mets 3B—(.313 AVG, 37 2B, 17 HR)
Aaron Hill, Arizona Diamondbacks 2B—(.302 AVG, 32 2B, 21 HR)
Ian Desmond, Washington Nationals SS—(.288 AVG, 21 HR, 15 SB)
R.A. Dickey, New York Mets SP—(18-4, 2.64 ERA, 3 SHO, 195 K, 1.03 WHIP)
Martin Prado, Atlanta Braves 2B—(.296 AVG, 38 2B, 17 SB)
Jay Bruce, Cincinnati Reds OF—(.265 AVG, 34 2B, 32 HR, .552 SLG)
Keep Reading

San Francisco Giants: Like this team?