Michigan Football: Key Air Force Players to Stop
Rob Carr/Getty Images

After Michigan's embarrassing season-opening loss to Alabama last week, the Wolverines return to Ann Arbor on Saturday for their home opener against Air Force Academy.
The Falcons opened their season with a statement win against Idaho State, racking up a nation's best 484 rushing yards, defeating the Bengals 49-21.
Air Force brings a different element to Michigan Stadium, employing their triple option offense that the Wolverines aren't used to seeing.
But the Falcons don't focus their offensive attack solely on the option. They give defenses several different looks including several pro-style sets that can spread the defense out and keep it honest.
Air Force has several different players that can beat you, but despite its stout rushing attack, and especially after the way Alabama abused Michigan last week, this is an absolute must-win game for the Wolverines.
Michigan defensive coordinator Greg Mattison said his defense is up to the challenge against the Falcons' triple option, and here are six key Air Force players Michigan will have to focus on:
Begin Slideshow

»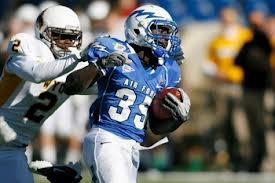 In August, Bleacher Reporter featured columnist Joe Penkala tabbed senior fullback Wes Cobb as the Falcons' most valuable player this season.
As one of three returning offensive starters, the stocky 5-foot-9, 196-pound back was fourth on the team last season in rushing with four touchdowns on 100 carries for 425 yards.
Cobb has a good body for a fullback and with his low center of gravity, when he gets the ball as the first possible ball carrier in the triple option, he might be tough for Michigan's inexperienced defensive line.
The senior didn't have a great showing in his season debut, rushing for just 16 yards on three carries, and with the emergence of Cody Getz and Mike DeWitt, Cobb will most likely be called on as a decoy, to make blocks and set up others in the run game against Michigan.
Photo Courtesy: Michael Kaplan
Sophomore running back Jon Lee had a big role in Air Force's win last Saturday, with 69 yards and a touchdown on 7.7 yards per carry.
Lee had a couple of good runs in the Falcons' opening drive last week, and helped set up Air Force's first score of the year.
Lee spent most of last season playing on special teams, but when he got his opportunity as a true freshman, he took advantage of it, rushing for 122 yards on just 11 carries last season.
The 5-foot-10, 190-pounder is the most inexperienced of the backs and receivers that Air Force will feature, but gives the Falcons a tough, dependable option if the Wolverines decide to key on other Air Force stars.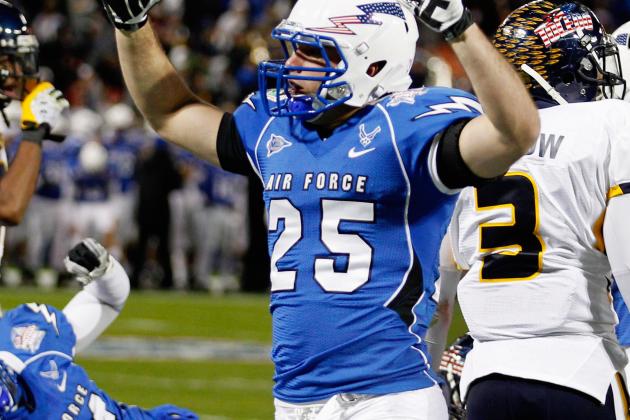 Rob Carr/Getty Images

Senior fullback Mike DeWitt is Air Force's leading returning rusher from a year ago, and looks to take over as one of the Falcons' feature backs this season.
After rushing for 567 yards and 12 touchdowns on 117 carries last season, DeWitt got off to a decent start in the Falcons' opening win, with 36 yards and a touchdown on 11 rushing attempts.
The 6-foot-1, 220-pound running back, whose 12 TD's last season led the team, is a home run threat every time he touches the ball, coming off a season in which he averaged 4.8 yards per carry.
DeWitt split time at fullback last season with Cobb, but has set himself apart this year and will most likely get the majority of fullback carries against the Wolverines.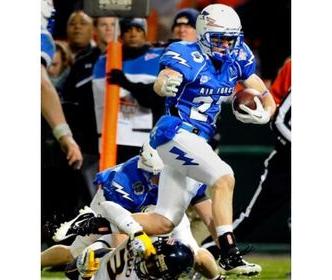 Junior wide receiver Ty MacArthur is the Falcons' No. 1 threat through the air.
MacArthur equaled his career reception total, last week when he caught four passes for 78 yards.
The junior only caught four passes all of last season, for 101 yards and a touchdown, and looks to factor more into the passing game this season with the departure of the Falcons' top four receivers from a year ago.
At 5-foot-9, MacArthur isn't a deep threat, but he uses his speed and quickness on short routes and run fakes to get open and rack up big yards in a hurry.
With Air Force running the triple option, wide receivers are seldom used, but because Michigan will be forced to focus so heavily on all the run options, the Falcons' occasional passes usually result in big plays.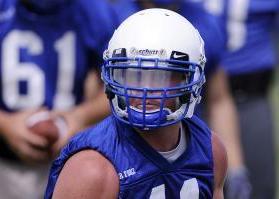 Photo courtesy: Michael Caplan
As an option quarterback, senior Connor Dietz is asked to do a lot of decision making for the Falcons.
Dietz is a mostly a run threat, but the 6-foot-1, 195-pounder can throw a pinpoint, strong pass when he's asked to.
Dietz completed 8-of-11 passes for 142 yards last week, and added seven rushes for 74 yards and a touchdown against Idaho State.
The redshirt senior is in his fifth year in the Falcons' program and knows the triple option scheme inside and out. He has seen sporadic action the last three years, appearing in at least five games in each season, and is finally getting his first shot as a starter this year.
He's completed 40-of-71 career passes for 634 yards, three touchdowns and an interception, and has 752 rushing yards on 134 career attempts, most of which came in his redshirt freshman season.
Dietz was granted an extra semester of eligibility due to injury hardship in completing academic and military work, and he said he stuck around for the game this week against Michigan.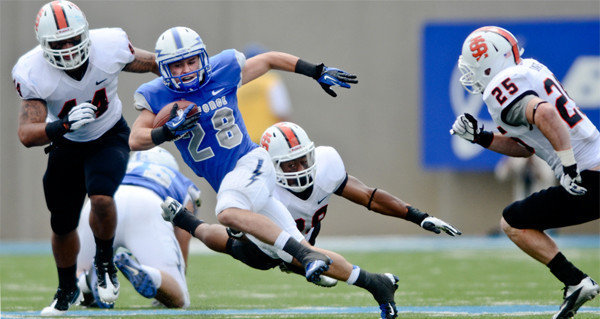 Photo courtesy: Michael Ciaglo
Senior running back Cody Getz put himself on the college football map last week with three touchdowns on 17 carries for 218 yards against Idaho State.
Getz's 218 yards was the second-most rushing yards by anyone in the Football Bowl Subdivision in the opening week, trailing only Clemson's Andre Ellington who ran for 228 yards in the Tigers' win over Auburn last Saturday.
Getz saw sporadic action in his first three years with Air Force, rushing 25 times for just 102 yards and one touchdown last season, and 23 times for 132 yards in 2010.
At 5-foot-7, 175 pounds, Getz used his low center of gravity and blazing speed to rattle off runs of 41 and 63 yards to lead the Falcons to the nation's most potent running attack in Week 1.