Tim Lincecum: San Francisco Giant Righty Deserves a Rotation Spot for Playoffs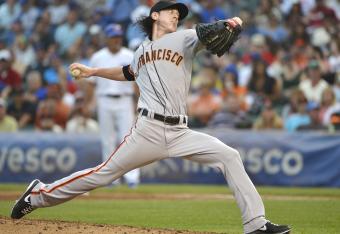 Consisent mechanics, not velocity, are the key for Timmy.
Brian Kersey/Getty Images
It's been a tale of two halves for Tim Lincecum in 2012.
The first half was certainly the worst of times. Lincecum was last among all qualified starters with a 6.42 ERA while delivering only three quality starts in 18 tries before the All-Star break.
However, since the All-Star break, Lincecum has started to turn things around—which should earn him a spot in the San Francisco Giants playoff rotation if they can hold onto their 4.5 game lead over the Dodgers in the National League West.
Lincecum has pitched similarly to how he did in 2010 and 2011 during the second half of this season. While he didn't win the Cy Young in either of the last two seasons, his All-Star level performance made him the twelfth most valuable starting pitcher in baseball during that span.
Lincecum 2010-2011: 9.45 K/9, 3.40 W/9, 0.69 HR/9, 1.24 WHIP, 3.08 ERA
Lincecum Second Half 2012: 8.60 K/9, 3.12 W/9, 0.89 HR/9, 1.27 WHIP, 3.26 ERA
In the first half of this season, even though Lincecum continued to post high strikeout numbers, he was ineffective due to poor command and control.
His lack of control led to a higher walk rate, while his lack of command within the zone led to a higher amount of good pitches to hit for opposing batters in the middle and upper parts of the strike zone. His command of the zone was particularly poor out of the stretch, which prevented him from stranding runners on base.
The bottom of this article by Dustin Parkes of The Score has a .gif of Lincecum allowing a home run to Juan Francisco of the Atlanta Braves during one of Lincecum's three non-quality starts in 10-second half turns through the rotation.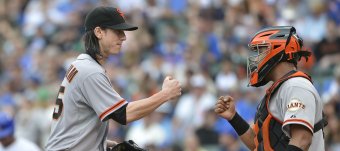 Brian Kersey/Getty Images
The image does a good job of highlighting Lincecum's command problems, which have improved significantly since the break. The pitch he throws in this instance is his vaunted split-change.
His arm is late in getting out front of his landing leg, so rather than driving the ball down to the knees from a good release point, he releases the ball too high, and it ends up right between Francisco's letters and belt.
When Lincecum is able to get the ball down closer to the knees, he gets more life and movement on the ball, and thus he induces weaker contact and more swings-and-misses.
While a lot of folks believe Lincecum's drop in velocity from the 91-95 MPH range last season down to 89-93 this year is the main culprit for his problems, the reality is that Lincecum can still pitch effectively even at a reduced level of velocity.
Watching the opposing hitters will tell you more about a pitcher's stuff than the radar gun, and Lincecum is actually inducing less contact this season than he did last year.
Barry Zito has had a solid year for the Giants from the fifth spot in the rotation, but he doesn't offer the same potential for dominance in a playoff start that Lincecum does.
In 2010, the Giants proved how effective power pitching can be in the postseason. With Lincecum leading the rotation in strikeout rate (9.27 K/9) and Zito dead last (5.33 K/9), the decision to go with Timmy in October should be a no-doubter for the Giants.
Lincecum is not out of the woods yet. While he's been better in the second half, he's also had a few starts that were reminders as to how fragile his control and command remain on a start-to-start basis.
However, he's also offered several tantalizing starts that are a reminder just how dominant the former two-time Cy Young Award winner can be.
If the Giants win the West, they'll have to roll the dice and see if Lincecum can replicate his performances in Game 1 of the 2010 NLDS and the clinching game of the World Series.
This article is
What is the duplicate article?
Why is this article offensive?
Where is this article plagiarized from?
Why is this article poorly edited?

San Francisco Giants: Like this team?