Liverpool FC: 10 Most Important Goals in Club History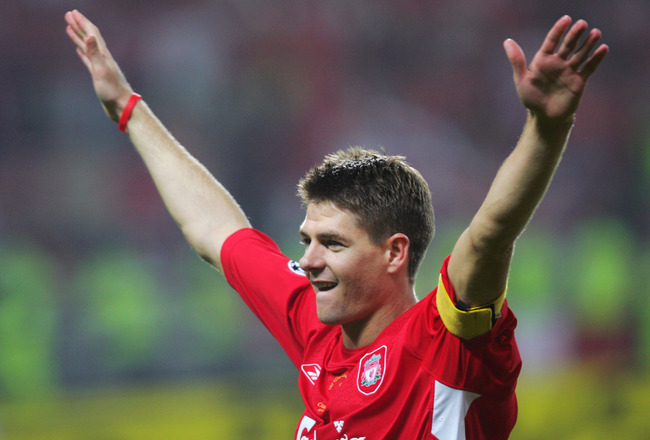 Mike Hewitt/Getty Images
While Liverpool have had some scoring problems as of late, it wasn't always that way.
Liverpool was dominant in the 70s and 80s and had no problem scoring wonderful and important goals.
Since the Premier League is currently on an international break, and the Reds have only scored two goals in three games this season, let's take a trip down memory lane and look at some of the most important goals in club history.
Alan A'Court, Second Division, 1959 vs. Charlton Athletic
On a cold December day, in the bowels of the Second Division, the football gods smiled upon a stern-looking man who wore an overcoat and a slight grin as he stood on the sidelines at Anfield.
The first goal of the Bill Shankly era had been scored, and Liverpool would never be the same again.
Tommy Smith, 1977 European Cup Final vs. Borussia Monchengladbach
This ferocious header from Tommy Smith in the 1977 European Cup, in Liverpool's first final appearance, put the Reds up 2-1 over Borussia Monchengladbach.
Liverpool would go on to win 3-1, and an era of European dominance ensued.
Luis Garcia, 2005 Champions League Semifinal vs. Chelsea
Jose Mourinho still tosses and turns in his sleep over this one.
Whether or not Luis Garcia's "ghost goal" actually went in the net is irrelevant. The goal stood, Liverpool went on to Istanbul and we all know the rest.
Alan Kennedy, 1981 European Cup Final vs. Real Madrid
No matter how many times I watch this, I always expect Kennedy not to score.
The fact is, he did.
The full-back scored the winning goal over giants Real Madrid to win Liverpool their third European Cup.
Kenny Dalglish, First Division, 1985/86 vs. Chelsea
What better way to win the league title in your first year as player-manager?
Score the winning goal yourself?
Score the winning goal yourself against Chelsea at Stamford Bridge?
Score the winning goal yourself against Chelsea at Stamford Bridge to hold off hated rivals Everton and beat them to the title.
Steven Gerrard, 2005 Champions League Group Stage vs. Olympiakos
Istanbul wouldn't have been a reality were it not for this strike from Steven Gerrard.
Liverpool were up 2-1 over the Greek giants, but needed a third to go through to the knockout rounds.
Enter Steven Gerrard.
This extra-time volley will forever be immortalized by Andy Gray's commentary.
Steven Gerrard, 2006 FA Cup Final vs. West Ham
This one is good for two.
Not only did Steven Gerrard equalize after being down 2-0 against West Ham with an unstoppable volley from inside the penalty area, the Liverpool captain unleashed a screamer from 30 yards just as the announcer was saying how much added time there was going to be to equalize again at 3-3.
Needless to say, Liverpool won the shootout.
Truly legendary.
Steven Gerrard, 2005 Champions League Final vs. AC Milan
The goal that jumpstarted a miracle.
Down 3-0 to AC Milan, the defiance in Steven Gerrard's perfect header perfectly represented the way in which Liverpool are meant to play.
Determined, strong and proud.
Vladimir Smicer, 2005 Champions League Final vs. AC Milan
The goal that continued a miracle.
In his last game in a Liverpool shirt, having come on for the injured Harry Kewell, Vladimir Smicer scored Liverpool's second goal in two minutes with a grass-cutter from 25 yards that Milan keeper Nelson Dida could not keep out.
Xabi Alonso, 2005 Champions League Final vs. AC Milan
The goal that completed a miracle.
Xabi Alonso stepped up to take a penalty that would tie the game up at 3-3. The Spaniard sent it to Dida's right, and the Brazilian did just enough to keep the ball out.
However, Alonso was able to follow up and pop the ball into the top of the net.
Had Xabi missed it, Liverpool never would have won its fifth European title.
Keep Reading

Liverpool: Like this team?