Miami Hurricanes vs. Kansas State Wildcats: Complete Game Preview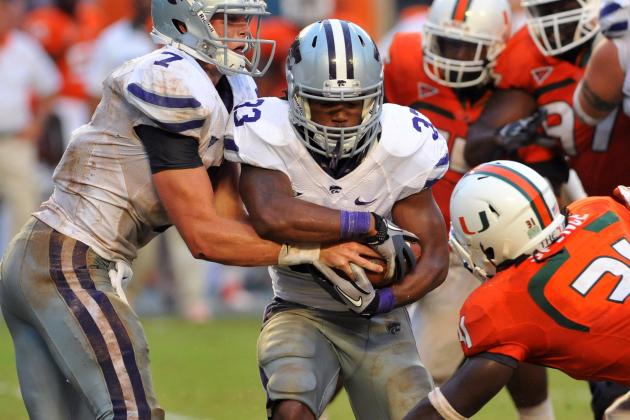 Al Messerschmidt/Getty Images

When Kansas State and Miami play on Saturday, it will mark the second time in two years the teams face each other. The Wildcats won last year's meeting 28-24 in Miami.
The Hurricanes had an opportunity to win the game, as they had a 1st-and-goal from the Wildcats 2-yard line,—with just more than two minutes left in the game—but failed to score the game-winning touchdown. Hurricanes quarterback Jacory Harris tried to run it in, but fell one foot short of the goal line.
The Wildcats finished last season with a 10-3 record while the Hurricanes struggled, finishing 6-6.
Here is the full preview of what to expect this time around between the Hurricanes and the Wildcats.
Begin Slideshow

»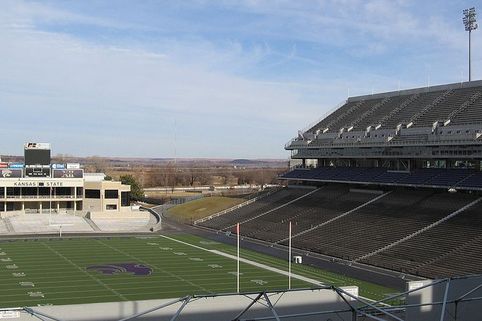 Who: Miami vs.Kansas State
When: Saturday, noon
Where: Manhattan, Ks.
Stadium: Bill Snyder Family Stadium (50,000)
TV: FX
Radio: 560 WQAM (Miami), Sirius 94 and 136
Internet Stream: Canes All Access, K-StateHD.tv
Jared Wickerham/Getty Images

Position: Starter, Backup (as of Sept. 3, 2012)
OFFENSE
QB: Stephen Morris, Ryan Williams
FB: Maurice Hagens, Sean Harvey
RB: Mike James, Eduardo Clements or Duke Johnson
TE: Dyron Dye, Asante Cleveland, Clive Walford
WR: Allen Hurns, Herb Waters, Davon Johnson
WR: Malcolm Lewis, Kendal Thompkins
WR: Phillip Dorsett, Rashawn Scott
LT: Malcolm Bunche, Ben Jones
LG: Jon Feliciano, Jeremy Lewis
C: Shane McDermott, Jared Wheeler
RG: Brandon Linder, Jermaine Johnson or Daniel Isidora
RT: Ereck Flowers, Seantrel Henderson
DEFENSE
DE: Anthony Chickillo, Jelani Hamilton
DT: Darius Smith, Jalen Grimble, Earl Moore
DT: Olsen Pierre, Luther Robinson or Corey King
DE: Shayon Green, Kelvin Cain or Tyriq McCord
OLB: Eddie Johnson, Thurston Armbrister, Gabe Terry
MLB: Denzel Perryman, Jimmy Gaines, Gionni Paul
OLB: Ramon Buchanan, Tyrone Cornelius, Nantambu Akil-Fentress
CB: Thomas Finnie, Tracy Howard, Antonio Crawford
CB: Brandon McGee, Ladarius Gunter
S: Vaughn Telemaque, A.J. Highsmith or Rayshawn Jenkins
S: Kacy Rodgers II or Deon Bush
SPECIAL TEAMS
P: Dalton Botts, Jake Wieclaw
FG: Jake Wieclaw, Matt Goudis
KO: Jake Wieclaw, Matt Goudis
H: Dalton Botts, Ryan Williams
LS: Sean McNally, Paul Kelly
SS: Sean McNally, Paul Kelly
PR: Phillip Dorsett, Malcolm Lewis
KR: Phillip Dorsett, Duke Johnson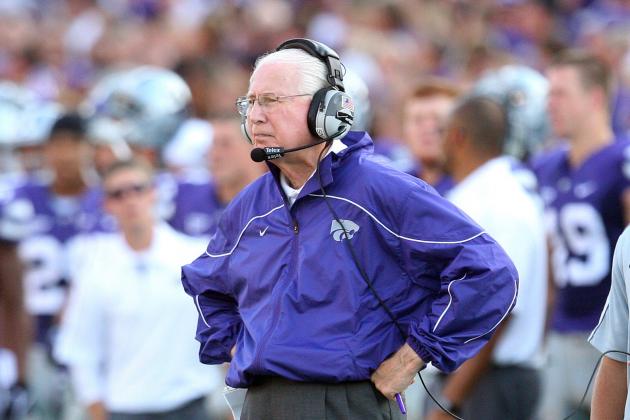 Scott Sewell-US PRESSWIRE

Position: Starter, Backup (as of Sept. 3, 2012)
OFFENSE

QB: Collin Klein, Daniel Sams or Sam Johnson
FB: Braden Wilson, Zach Nemechek
RB: John Hubert, Angelo Pease
TE: Travis Tannahill, Zach Trujillo
WR: Tyler Lockett, Curry Sexton
WR: Tramaine Thompson, Kyle Klein
WR: Chris Harper, Torell Miller
LT: Cornelius Lucas, Tomasi Mariner
LG: Nick Puetz, Matt Kleinsorge
C: BJ Finney, Drew Liddle
RG: Keenan Taylor, Ethan Douglas
RT: Cody Whitehair, Tavon Rooks
DEFENSE
DE: Adam Davis, Aluana Finau
DT: Vai Lutui, Travis Britz
DT: John Sua, Javonta Boyd
DE: Meshak Williams, Ryan Mueller
OLB: Tre Walker, Jonathan Truman
MLB: Arthur Brown, Blake Slaughter
OLB: Justin Tuggle or Jarell Childs
CB: Allen Chapman, Carl Miles
CB: Nigel Malone, Randall Evans or Kip Daily
S: Ty Zimmerman, Kent Gainous
S: Jared Milo, Thomas Ferguson
SPECIAL TEAMS
P: Mark Krause, Ryan Doerr
FG: Anthony Cantele, Brandon Klimek
KO: Anthony Cantele
H: Ryan Doerr
LS: Marcus Heit, Dalton Converse
PR: Tyler Lockett, Tramaine Thompson
KR: Tyler Lockett, Tramaine Thompson
Duke Johnson ran for 135 yards and two touchdowns on just seven carries as the Miami Hurricanes beat the Boston College Eagles, 41-32.
The game didn't start too well for the Hurricanes, as they were quickly down 14-0 just seven minutes into the game. Miami finally got on the scoreboard with just 53 seconds to go in the first quarter when Eduardo Clements ran it in from one yard out.
On the very next possession, Denzel Perryman picked off a Chase Rettig pass and returned it for a touchdown as time expired in the first quarter—game tied at 14.
The score would go back and forth, and the Hurricanes took the lead into halftime, 21-20.
After a Boston College field goal in the third quarter, the Hurricanes scored 23 unanswered points, giving them a 41-23 lead with just 9:49 remaining in the game.
The Eagles would score another touchdown with 6:48 remaining, cutting Miami's lead to just 11 points. After another Hurricane punt, Boston College got the ball down to Miami's 1-yard line, but couldn't punch it in on fourth down.
The Hurricanes decided to take the safety instead of punting out of their own end zone, making the score 41-32. Boston College had the ball with just four seconds left in the game. Rettig threw an incomplete pass to end the game with Miami winning 41-32.
Hurricane quarterback Stephen Morris completed 28 of 45 passes for 207 yards and a touchdown. True freshman Johnson showed his speed and quickness with two 50-plus yard touchdowns (56 and 54 yards). He would end the game with 135 yards on just seven carries.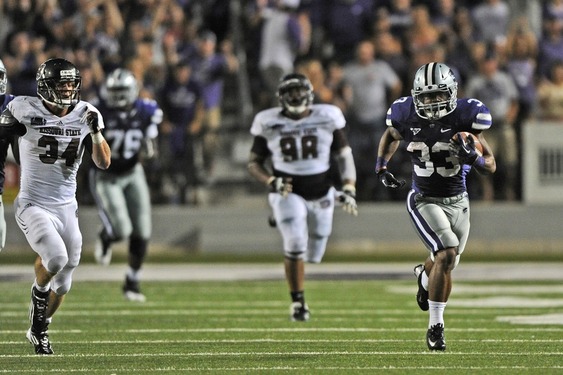 The Wildcats had a much easier opponent than Miami had last week when they faced the Missouri State Bears. Kansas State would win the game 51-9, but the score isn't as lopsided as it may look.
In fact, Kansas State was only up 9-6 going into the half. The third quarter wasn't any different, as Kansas State took just a 16-9 lead going into the final quarter.
That is when Kansas State decided to play some Wildcats football.
Kansas State fullback Braden Wilson punched it in from four yards out to give the Wildcats a 23-9 lead in the opening minute of the fourth quarter.
After a Missouri State punt, Wildcats running back John Hubert took a handoff 95 yards for a touchdown, giving the Wildcats a comfortable 30-9 lead. The Wildcats scored on all five possessions they had in the fourth quarter, including an 89-yard punt return for a touchdown by Tramaine Thompson to cap off the crazy quarter.
Wildcats quarterback Collin Klein completed 19 of 28 passes for 169 yards and two touchdowns while running for another 54 yards on 13 carries. Hubert ended the game with 152 yards rushing and that 95-yard touchdown run in the fourth quarter.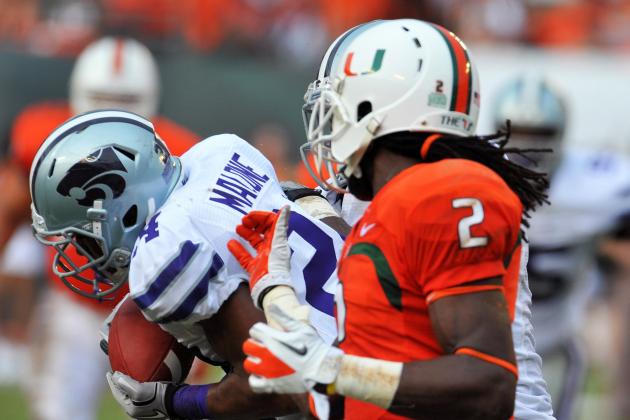 Al Messerschmidt/Getty Images

Although this a non-conference game for both teams, it doesn't mean the game isn't important.
Kansas State is ranked in both the AP and USA Today Coaches polls, and losing a game to an unranked Miami team could certainly have it out of the polls completely.
That being said, the season is still early, and Kansas State would still have a very good chance to get back into it before year's end.
For the Hurricanes this game is huge, not because of the ranking, but for themselves. Miami has been trying for years to bring back the program to its dominant ways, and this game could be a catapult for this very young team.
If the Hurricanes are able to pull out the victory, it will not only bring them into the college football polls, it will make them one of the most dangerous teams in the ACC.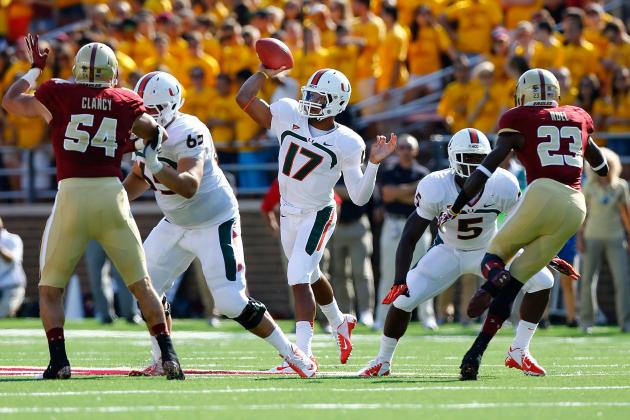 Jared Wickerham/Getty Images

There is no doubt the key player to the Miami Hurricanes' success will be the arm and leadership of junior quarterback Stephen Morris.
Morris led the team to victory last week because of great leadership and not turning the ball over; Morris did have an interception, but it wasn't his fault, as the picture-perfect pass bounced right off the hands of wide receiver Rashawn Scott.
If Morris can control the tempo on offense and not turn the ball over, the Hurricanes should be able to put up a lot of points. Miami has a lot of weapons on offense, and if Morris can successfully get the ball into their hands, there is no way this offense doesn't put up another 40-plus points.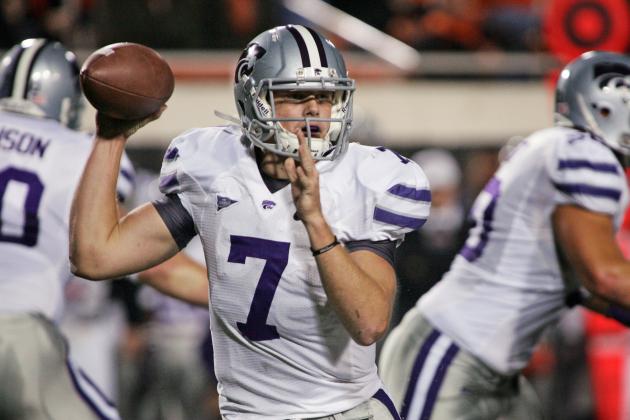 Brett Deering/Getty Images

This is about as a no-brainer as you can get in college football. Wildcats quarterback Collin Klein is not only the key player for Kansas State, he's probably one of the biggest key players in all of college football.
Without Klein, the Wildcats drop from a very good team to a mediocre one.
Klein is such a dangerous quarterback because he can throw it just as well as he can run it. Along with good playmakers on the offensive side of the ball, this is one of the most dangerous offenses in the Big 12.
Last season, Klein threw for 1,918 yards and ran for another 1,141. If he gets the offense rolling against Miami, the Hurricanes may be in big trouble.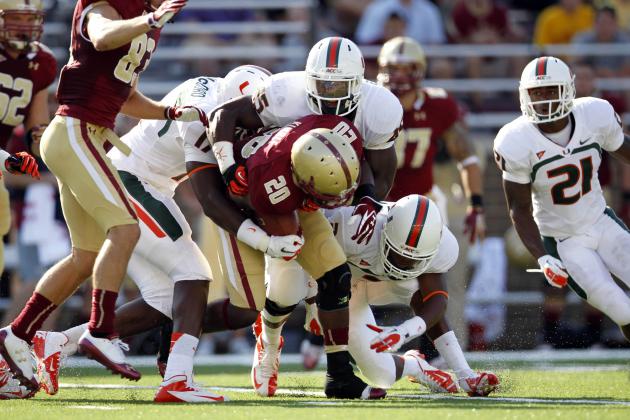 Greg M. Cooper-US PRESSWIRE

The Hurricanes will beat the Wildcats if they stop their rushing attack—plain and simple.
That proved to be easier said than done, as the Wildcats ran for 265 yards against the Hurricanes last season. If Miami allows similar numbers this time around, the results may be the same.
The defensive line really needs to play better than it did last week against Boston College. Even though the line was pretty solid in the running game, Eagles quarterback Chase Rettig had all the time in the world to complete passes.
The big difference between Rettig and Klein is that Rettig has a much better arm. If the Hurricanes can stop the rush first and foremost, there is no way Klein will light up the Miami defense like Rettig did last week.
I actually would love to see Hurricanes coaches use linebacker Denzel Perryman as a shadow on Klein and not let him run all over the field.
Whatever the Hurricanes decide to do, the main focus must be to stop the Wildcats rushing attack. If they can hold them to under 150 yards rushing, Miami should win this game.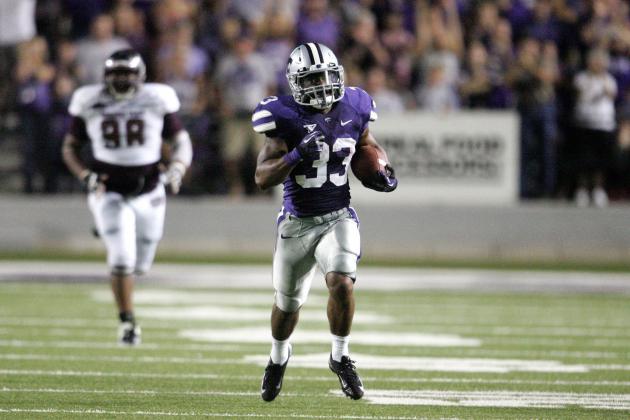 Scott Sewell-US PRESSWIRE

The Wildcats will win this game if they run the ball as effectively as they did last year against the Hurricanes. In that game, quarterback Collin Klein and running back John Hubert combined for 259 yards rushing in the win over Miami.
Even if they aren't able to run as well as they did last year, the Wildcats will still have a chance; the Hurricanes defensive line and defensive backs didn't look very good last week against Boston College.
Fortunately for the Wildcats, this game is just the second of the season, which doesn't give the Hurricanes defense much of a chance to improve in one week's time.
Overall, it is a very winnable game for Kansas State if it just sticks to what it does best—running the ball.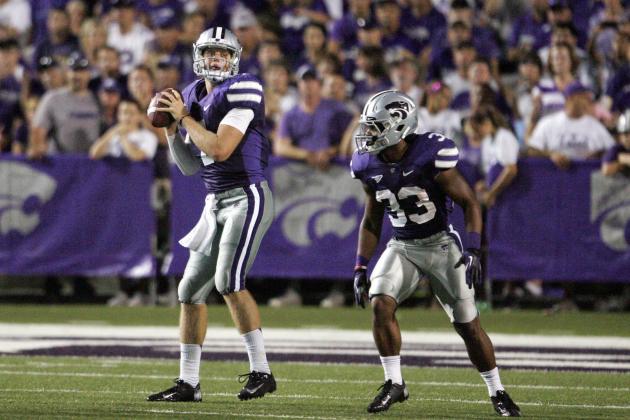 Scott Sewell-US PRESSWIRE

There are so many interesting stories in this rematch.
Will the Wildcats start off slow like they did last week against Missouri State—can they even afford to?
Is Duke Johnson the real deal at Miami, or was it just a fluke that he had two long runs against a so-so Boston College defense?
As much as I want to pick the Hurricanes to pull off the upset, I just don't think I can do it. Although they proved to me that the offense is much-improved, there are just too many holes in the defense.
As I mentioned in the previous slide, if this game was actually played in October, I would pick Miami to win, but a one-week turnaround from a horrific defensive game last week isn't enough time for this young defense—especially on the road against a Top 25 team.
Don't get me wrong, the Hurricanes have the athletes to completely shut down Kansas State's offense—I just don't believe they will.
Final Prediction: Kansas State 35, Miami 28