Evan Turner Headlines List of Big Ten Teams' Ultimate Starting Lineups This Era
Jonathan Daniel/Getty Images

Imagine if Evan Turner had stayed at Ohio State for his senior season and was given the chance to play alongside Aaron Craft, Jared Sullinger, and Deshaun Thomas. How good would the Buckeyes have been? While we'll never know, this list gives a look at ultimate starting lineups for Big Ten squads between 2008 and 2012.
I moved to Champaign in the Fall of 2008 as a college freshman and graduated this past May, helping you understand the reasoning behind my choice to make this list exclusive to those who played during the last four seasons.
During my four years at school I rarely missed a home game, while I also had the chance to make four straight Big Ten Tournament sightings, traveled to several other Big Ten schools, and watched as many games as I could on TV.
Some of the lineups here may have been used by the respective teams at one time or another, while some players never had the chance to suit up together. I did as best I could to put players in their natural positions, although some moving around had to be done to make these their true ultimate lineups.
Begin Slideshow

»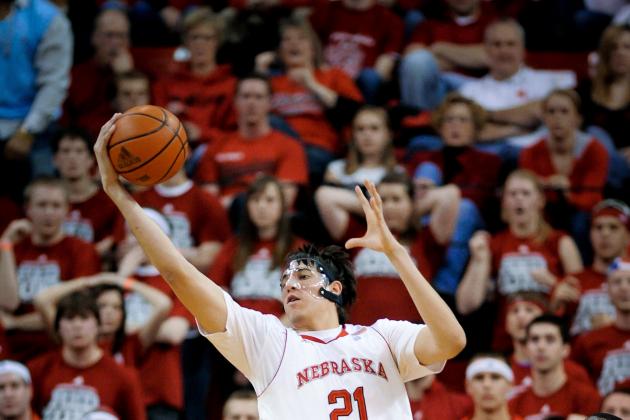 Eric Francis/Getty Images

PG: Bo Spencer
SG: Lance Jeter
SF: Ryan Anderson
PF: Toney McCray
C: Jorge Brian Diaz
Spencer only played one season in Lincoln, but was the Cornhuskers top scorer. McCray finished second in that category during the 2011-12 season. Jeter and Anderson led the Cornhuskers in scoring the two years previous to this one, while Diaz was a solid three year player before suffering a season ending injury last season.
Nebraska was a tough lineup to put together because last season was only their first one in the Big Ten. It won't get any easier for them after finishing in last place a year ago, as they only return one starter, Brandon Ubel.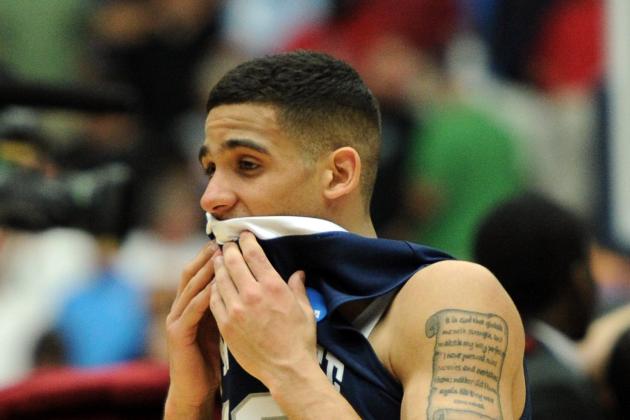 Harry How/Getty Images

PG: Tim Frazier
SG: Talor Battle
SF: Jamelle Cornley
PF: Jeff Brooks
C: Andrew Jones
After being selected to the First Team All-Big Ten in 2011-12, it wouldn't have felt right leaving Frazier off this list. Battle was the easiest selection, although both Stanley Pringle and David Jackson may feel snubbed from the list.
Cornley was vital in the Nittany Lions' NIT Championship run in 2009, while both Brooks and Jones started a majority of their Nittany Lion careers. Penn State won an NIT and made an NCAA Tournament appearance during this span, but may not have as much success in the near future.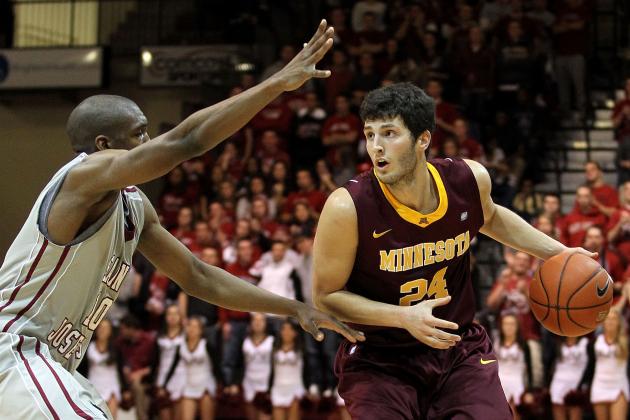 Chris Chambers/Getty Images

PG: Al Nolen
SG: Lawrence Westbrook
SF: Blake Hoffarber
PF: Damian Johnson
C: Trevor Mbakwe
Despite only playing one full season in Minneapolis, Mbakwe gets the nod over Ralph Sampson III at center. Johnson beats out Rodney Williams at power forward as one of the league's top defenders during his career.
Although Nolen had trouble with staying eligible and staying healthy, the Golden Gophers were always better when he was on the court. Westbrook could always be counted on in the scoring column, while Hoffarber had one of the sweetest strokes in all of college basketball.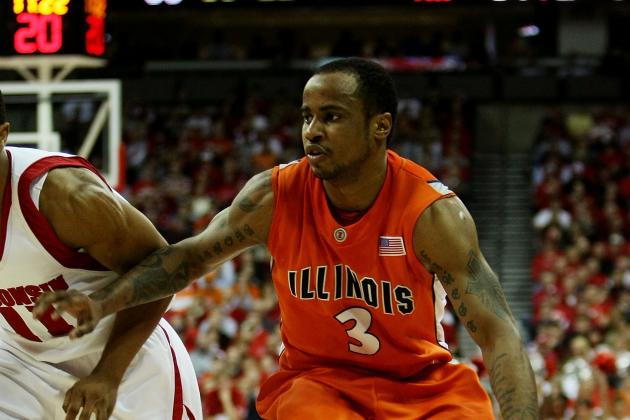 Jonathan Daniel/Getty Images

PG: Chester Frazier
SG: Demetri McCamey
SF: Brandon Paul
PF: Mike Davis
C: Mike Tisdale
Despite being selected in the lottery of this year's NBA Draft, Meyers Leonard did not make this list as he only had one good season in Champaign. McCamey, Davis, and Tisdale started together for three seasons, but were only able to muster one NCAA Tournament victory in their careers.
Paul has had some ups and downs since coming to Champaign, but has so much potential that it's hard to keep him off this list. Frazier, who later went back to be an assistant coach at U of I, was one of the Big Ten's top defenders and best spark plug.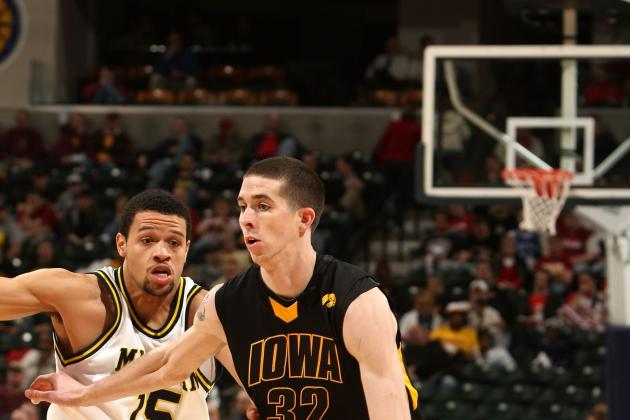 Jonathan Daniel/Getty Images

PG: Bryce Cartwright
SG: Jake Kelly
SF: Matt Gatens
PF: Aaron Fuller
C: Melsahn Basabe
Both Gatens and Cartwright graduated following last season. Cartwright was much better as a junior than a senior, while Gatens was rock solid during his four years as a Hawkeye. Despite a poor sophomore season, Basabe makes the list one of few decent post players during these four years.
Kelly and Fuller both transferred out of Iowa, Kelly going to Indiana State while Fuller ventured to USC. Kelly helped the Sycamores in the NCAA Tournament two years ago, while Fuller has one collegiate season remaining.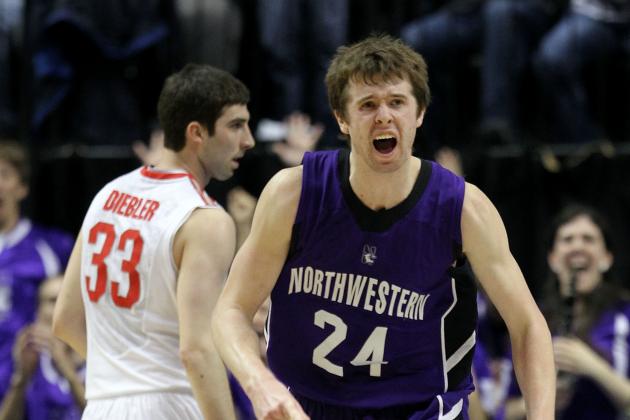 Andy Lyons/Getty Images

PG: Michael Thompson
SG: Craig Moore
SF: Drew Crawford
PF: Kevin Coble
C: John Shurna
Shurna heads this list, as he now stands as Northwestern's All-Time Leading Scorer. Crawford, a current senior, will also find himself near the top of NU's scoring list by the time he graduates. "Juice" Thompson was one of the toughest players in the Big Ten and rarely came off the court.
Moore was a deadly three point shooter while playing in Evanston, while Coble showed plenty of promise before deciding to quit the team prior to his senior season. Jeremy Nash is the biggest snub from this lineup, which lacks any true big men.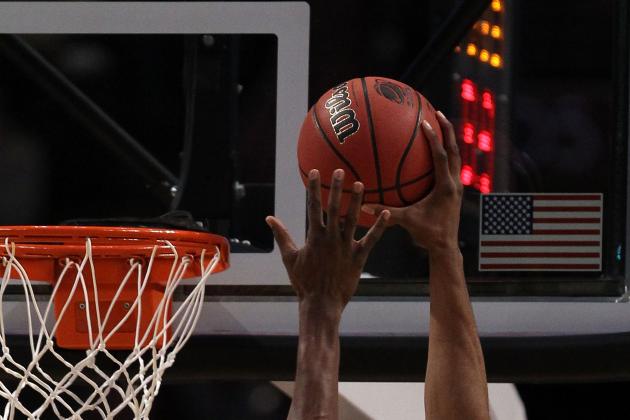 Jonathan Daniel/Getty Images

PG: Lewis Jackson
SG: E'Twaun Moore
SF: Chris Kramer
PF: Robbie Hummel
C: JaJuan Johnson
Johnson was the Big Ten's Player of the Year in 2011 as well as Defensive Player of the Year. Kramer was also a defensive stopper, while Jackson was a four year starter at point guard but had trouble staying healthy.
Moore led Purdue in scoring during his first three seasons in West Lafayette and was part of the same recruiting class as Johnson and Hummel. Hummel was slowed by injuries throughout his career, but battled back and had a terrific senior season in 2011-12.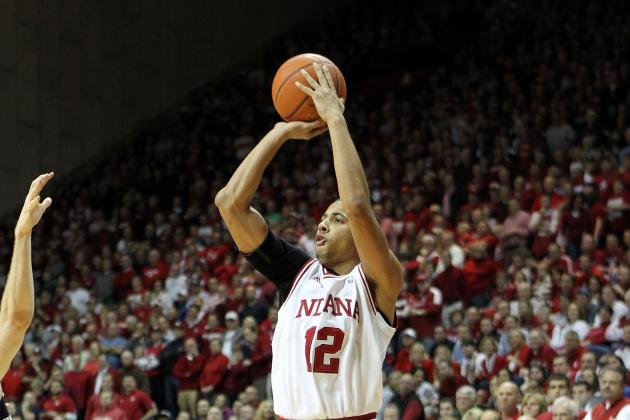 Andy Lyons/Getty Images

PG: Jordan Hulls
SG: Verdell Jones III
SF: Maurice Creek
PF: Christian Watford
C: Cody Zeller
While only a sophomore, Zeller's terrific freshman season made him an obvious choice to join a list of Hoosier's who struggled as a team to start their collegiate careers. Watford and Jones III both started from day one of their careers.
Creek's potential was never fully found as he has gone through numerous injuries that have led to surgeries, which truly is a shame. Hulls has improved in each of his three seasons in Bloomington, although his role may be diminished in 2012-13.
Streeter Lecka/Getty Images

PG: Trevon Hughes
SG: Jordan Taylor
SF: Jason Bohannon
PF: Jon Leuer
C: Keaton Nankivil
Nankivil and Leuer comprised the Badger frontcourt for three straight seasons, while Hughes and Bohannon both graduated a year prior. Marcus Landry and Joe Krabbenhoft left Wisconsin a year before them and could also have been added to this list.
Although listed at shooting guard, Taylor was as steady of a point guard as a coach (in this case Bo Ryan) could ask for. Hughes and Taylor played together, where the veteran Hughes took a large chunk of the ball handling duties.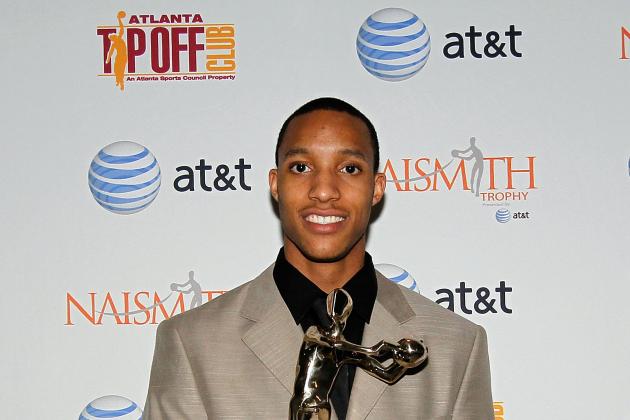 Kevin C. Cox/Getty Images

PG: Aaron Craft
SG: Jon Diebler
SF: William Buford
PF: Evan Turner
C: Jared Sullinger
Somehow David Lighty got left off this list, but if not Lighty, then who? Craft provides a true point guard, which the Buckeyes lacked during Evan Turner's National Player of the Year season. Sullinger was also an All-American and an easy choice for center.
Diebler was a three-year starter and one of the nation's best threats from long range. Buford was a four-year starter, whose game is incredibly fluid and smooth. BJ Mullens' one season in Columbus was nowhere near good enough to be considered for this list.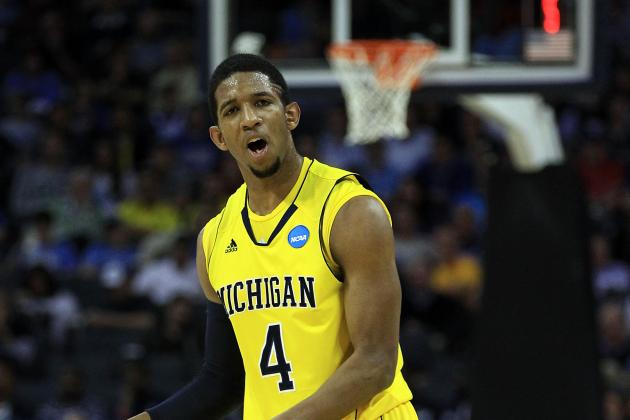 Streeter Lecka/Getty Images

PG: Darius Morris
SG: Stu Douglass
SF: Manny Harris
PF: Zack Novak
C: DeShawn Sims
Neither current Michigan stars Tim Hardaway, Jr. or Trey Burke made this list, despite being more talented than some others that did make it. Both Stu Douglass and Zack Novak were starters since their freshman year and have helped Michigan's program turn around, even if statistics don't imply it.
Harris and Sims were a nice duo during their time in Ann Arbor, although their final season there was a disappointment as a team. Morris gets the nod at point guard, after leaving for the NBA after an incredible sophomore season that no one saw coming.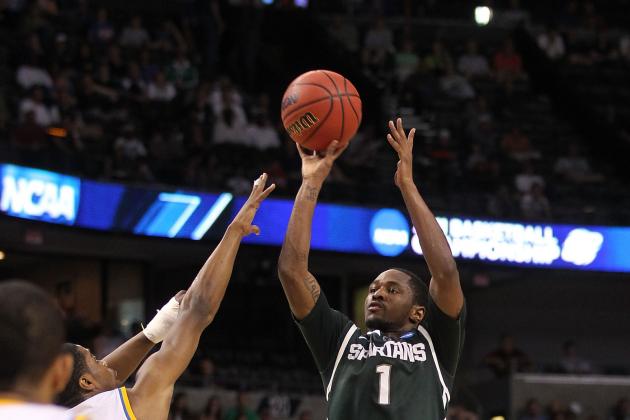 Mike Ehrmann/Getty Images

PG: Kalin Lucas
SG: Durrell Summers
SF: Raymar Morgan
PF: Draymond Green
C: Goran Suton
Lucas, another former Big Ten Player of the Year, helped Michigan State reach the Final Four twice during his time in East Lansing. Suton was a senior on the 2009 team that lost the National Championship to North Carolina.
Although he posted an up and down senior season, Summers gets the slight edge over Chris Allen and Keith Appling for the final spot. Morgan was one of the more underrated players in the league during his time, while Green was the most recent addition to the Big Ten Player of the Year list at MSU.