NFL Preseason 2012: Can the Arizona Cardinals Handle Their Schedule?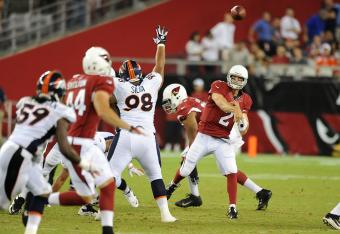 Norm Hall/Getty Images
In 2011, the Arizona Cardinals managed to pull off a .500 season and second place in the NFC West. They did this in spite of an early six-game losing streak. To an optimist, this could be cause for hope.
Unfortunately for Arizona, its 2012 schedule may be too much for it to handle. Here's a look at the challenging schedule the Cardinals have drawn and what this struggling team will have to do to have success in 2012.
Division Alignments
The NFC West has the most difficult out-of-division matchups this season. Its teams face off against the NFC North and the AFC East—the deepest divisions in the two respective conferences. This gives them the pleasure of playing against teams like the Green Bay Packers, Chicago Bears, Detroit Lions, New England Patriots and New York Jets.
Compared with their easy strength of schedule (.489 winning percentage) in 2011, the 2012 schedule is significantly harder, enough so to warrant one or two extra losses.
Out-of-Division Schedule
Beyond the divisional alignments, the Cardinals have drawn two very tough matchups by having a second-place schedule. By achieving the No. 2 spot in the NFC West last year, they have earned games against the Philadelphia Eagles and the Atlanta Falcons.
How many wins will the Cardinals get in 2012?
Both teams underperformed in 2011 and are extremely talented. There is a realistic possibility that the Cardinals will be considered the underdogs in all 10 out-of-division games this year. The one likely exception is the Miami Dolphins, who come to Arizona in Week 4.
Raising Expectations
Ideally, the Cardinals should have high expectations after an improved record in 2011. However, they were statistically not a .500 team in 2011. With a Pythagorean expected record of 7-9, they were one of the luckiest teams in the NFL last season.
The Cardinals had a minus-36 point differential in 2011, worse than that of the 6-10 Miami Dolphins. Perhaps the scariest statistic from the 2011 Cardinals season is that they did not win a single game by more than a touchdown.
Based on the way the Cardinals played last year, it is hard to expect them to be a stronger team this season than they were last season.
Quarterback Issues
A saving grace for the Cardinals would be offseason improvements. Unfortunately, there have not been many of those. Furthermore, it is unclear whether or not quarterbacks John Skelton and/or Kevin Kolb will be able to produce successfully for the Cardinals offense.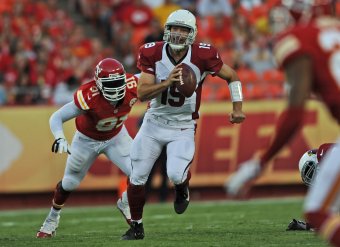 Peter Aiken/Getty Images
Kolb is entering his sixth year in the NFL. Skelton is entering his third year after being drafted in the fifth round out of Fordham in 2010. Both quarterbacks have thrown more interceptions than touchdowns so far in their respective careers.
What It All Means
It is hard to imagine the Cardinals doing better than .500 this year with all of the obstacles they must face. Their best hope is that the rest of the division will crumble against their similarly hard schedules. It is not impossible that 8-8 will win the NFC West this season. So there is still a little hope for the Cardinals.
Arizona needs to start off with a win in Week 1, hosting the rival Seattle Seahawks. A dominant in-division performance is the best way to survive a killer out-of-division schedule.
Adam Waksman is a featured columnist for the Bleacher Report New York Jets community. Be sure to follow Adam on Twitter to receive updates right away.
This article is
What is the duplicate article?
Why is this article offensive?
Where is this article plagiarized from?
Why is this article poorly edited?

Arizona Cardinals: Like this team?