WWE Night of Champions: Ranking Every U.S. Title Match in the PPV's History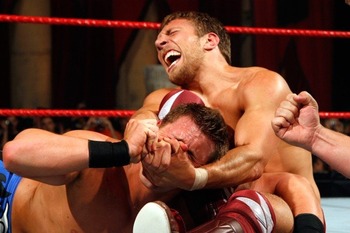 Photo: pizzabodyslam.blogspot.com
Night of Champions has a rich history of excellent matches, especially when it comes to the midcard championships.
The United States Championship has been defended in some of the best matches in Night of Champions' five-year history. Some matches were well wrestled and told a wonderful story while others were more fast paced and action-packed.
Not only have United States Championship matches yielded some great moments for each year's event, but some stand out as the better matches in the PPV's history.
That said, let's take a look back and rank the best United States Championship matches in Night of Champions history.
5. 6-Pack Challenge (2009)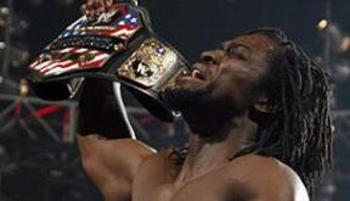 Photo: WWE.com
At Night of Champions in 2009, Kofi Kingston successfully defended his United States Championship against Carlito, Primo, MVP, The Miz, and Jack Swagger.
This match consisted of a good lot of midcard talent. Kingston, Carlito and Primo are three guys that really excel in matches like this because they can showcase their high-flying talents.
That said, this match was nothing more than a spot-fest. Because the match was only eight minutes long, they didn't have time to develop anything of substance. The only storyline advancement that resulted from this match was Carlito turning heel on Primo by dropping him with a Backstabber.
In my opinion, this match would have been better placed in the opening slot. While JeriShow would become an amazing tag team, the initial reveal of Big Show as Chris Jericho's new partner wasn't a good way to start the night. This exciting match would have done much better at setting the pace for the night.
4. Matt Hardy vs. Chavo Guerrero (2008)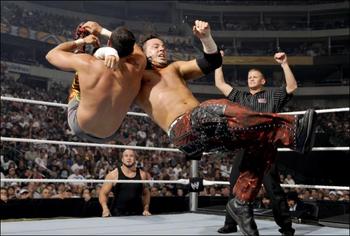 Photo: thesun.co.uk
Matt Hardy defended his United States Championship against Chavo Guerrero in an excellent, albeit formulaic, match.
Guerrero set his sights on Hardy's knee from the get-go. Bam Neely even managed to wrap Hardy's knee around the ring post while the referee was distracted. Guerrero's efforts culminated in two attempts at a submission victory with a half Boston crab.
Hardy was on the receiving end of Guerrero's calculating offense throughout the match. Because of this, the crowd responded well each time Hardy rallied back. The crowd went crazy when Hardy countered the third Three Amigos suplex and hit a Twist of Fate out of nowhere.
From a technical standpoint, Hardy vs. Guerrero was a fine match. It doesn't stand out among the other matches on this list, but it was a fine throwaway defense for Hardy.
Had they had more of a story to work with, they could have done more with the match. It was their inability to really tell a story that made this match relatively forgettable.
3. MVP vs. Ric Flair (2007)

Full match.

Early on in the match, Flair targeted MVP's legs. The "Nature Boy" was clearly setting up for the Figure Four Leglock later in the match.
Flair would only get in a bit of offense before MVP took over and dominated his challenger. MVP looked aggressive in the way he took it to Flair, and the way Flair sold his attacks only made MVP look that much more ruthless.
In the final minutes of the match, Flair regained control and targeted MVP's knee again. "Naich" locked in the Figure Four, but MVP was able to endure it. One poke to the eye and a Playmaker was all it took for MVP to pick up the pin an retain the United States Championship in his first defense.
All in all, this match was pretty good. MVP was dominant throughout the match and his aggression was emphasized by Flair's selling. MVP was also able to carry the 58-year-old Flair to a decent match.
In the end, he won by using the very same dirty tactics that Flair is famous for. Defeating Ric Flair is an accomplishment in and of itself. This first title defense did a good job setting the tone for MVP's United States Championship reign.
2. Dolph Ziggler vs. Jack Swagger vs. Alex Riley vs. John Morrison (2011)

Match highlights.

Dolph Ziggler defended the United States Championship against Jack Swagger, Alex Riley and John Morrison at Night of Champions 2011. Even with the odds against him, Ziggler managed to retain.
The main story behind this match was the growing tension between Ziggler and Swagger. Swagger suggested that Guerrero should manage both of them. The tension between the two came to a head when they faced off during the match.
When they went at it, Swagger looked strong in the way he attacked the smaller Ziggler. Swagger continued to demolish the competition and was poised to capture the title until Riley hit him with a Sudden Death TKO.
Riley was made to look like a legitimate threat to Ziggler and the United States Championship. His running feud with Ziggler, in addition to the amount of offense he got in and the way the commentators built him up, made Riley one of the favorites to win the match.
Some of the most exciting moments of the match came from Morrison and his explosive offense. Morrison's lack of a feud with any of the other competitors caused many to write him off as a viable winner for the match. However, Morrison's offense alone made his near falls convincing.
This match wasn't nearly as crowded as the fifth-ranked 6-Pack Challenge. These four competitors had about the same amount of time to work with and made the best of it from an action and storyline standpoint.
1. The Miz vs. Daniel Bryan (2010)

Match highlights.

This match had been in the works since NXT debuted in February 2010. Miz was Daniel Bryan's pro on the show. The two instantly clashed because Bryan believed himself to be better than Miz.
Bryan returned to the WWE at SummerSlam to fight with John Cena's team against the Nexus. Miz interfered in the match and caused Bryan's elimination, thus reigniting the feud between the two.
Miz and Bryan had phenomenal chemistry. Their match flowed very well and told an excellent story. After months of animosity between the two, Bryan and Miz finally met in the ring.
Near the end of the match, Miz accidentally knocked Alex Riley off the ring apron, knocking him out in the process. Miz rolled Bryan in a small package, gaining a close near fall. Miz then tried to pick Bryan up, but Bryan grabbed Miz's arm and trapped him in the LeBell Lock. Miz was forced to submit in the center of the ring.
Bryan vs. Miz not only ranks as the best United States title match in the history of the Night of Champions pay-per-view, but it is one of the best matches in the history of the event. The combination of top-notch wrestling one could expect from an "American Dragon" match and the great story told makes for a very memorable Night of Champions match.
Michael Prunka is a Bleacher Report Featured Columnist. To stay up to date with his WWE and NHL commentary, you can like his Facebook page, follow him on Twitter and follow him on Tout.
Keep Reading