Giovanni Trapattoni: Why It's Time for the FAI to Fire the Legendary Italian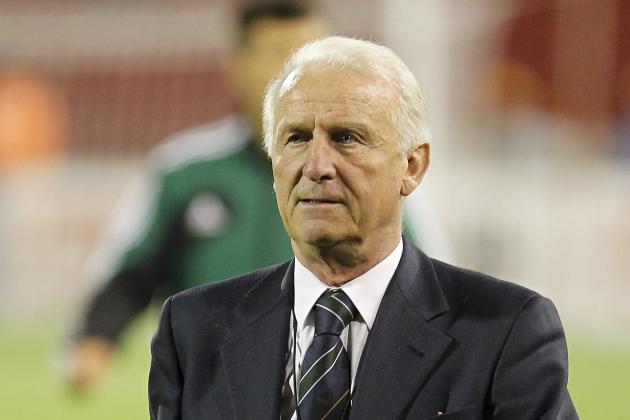 Srdjan Stevanovic/Getty Images

The Republic or Ireland surprised many when they appointed Giovanni Trapattoni as national team manager in 2008.
After the disastrous era's of both Brian Kerr and Steve Staunton, the FAI decided to appoint an experienced manager. They don't come more experienced than Trapattoni.
And at first it seemed a match made in heaven. He endeared himself to the Irish public through a personality that taps into long-held Irish values.
Fans ignored the defensive nature of the side when he steered them to the brink of qualification to the 2010 World Cup.
In truth, the furore over Thierry Henry's handball gave fans something to focus on other than the weaknesses in the side.
During the Euro 2012 qualification campaign fans began to tire of football on show, but in the end, qualification seemed to dampen the calls for his head.
Sadly, despite our wonderful support, our European adventure would end in embarrassment.
The FAI continues to support Trapattoni, but I for one believe it is time for him to pack his bags.
Here are my reasons why.
Begin Slideshow

»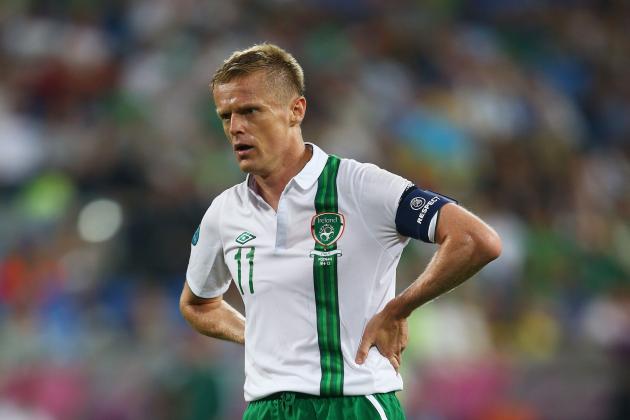 Clive Mason/Getty Images

For more than a decade, the Irish team-sheet has had a familiar ring to it. Damien Duff, Richard Dunne, Shay Given, Robbie Keane, Kevin Kilbane and the likes were ever presents.
Now most of these men have called time on their international careers. Only Richard Dunne and Robbie Keane remain and they are both past their best.
With so much change off the field, it stands to reason that that change should coincide with change on the field.
The introduction of new players will bring with it a raft of news skill-sets and ideas.
Why have these players conform to the antiquated style of football favoured by Trap, when a new manager could be brought in to suit the style of players available?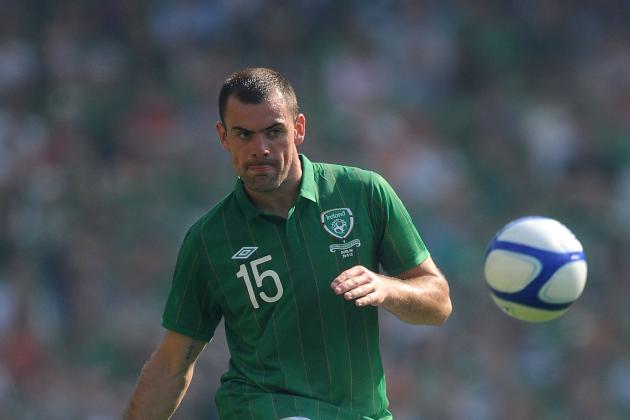 Christopher Lee/Getty Images

As a small nation with a huge spread of sporting interests, our player pool is relatively small. We need to make the very most of our limited resources.
As we prepare to embark on a new era, there is serious discontent among our stars of the future.
Darron Gibson, one of our few EPL players, has just withdrawn from international football at the age of 24—right when he had begun to make a name for himself at Everton.
Both James McLean and Shane Coleman have been largely ignored by Trapattoni despite their star performances for Sunderland and Everton.
James McCarthy has had significant issues with management during his brief time with Ireland, but seems to have put them aside for the time being.
Up-and-coming striker Shane Long has had a recent run-in with Trapattoni, but insists any issues have been put aside.
Having so many issues with the men that will form the backbone of our side for years to come does not bode well for the future.
It would be in Ireland's best interests to remove the the root cause of the problem now, rather than let it develop roots.
We don't want a string of Stephen Ireland's on our hands.
Handout/Getty Images

Members of the Irish press like to joke about Trapattoni's level of English. They say he speaks great English when things are going well, but his grasp of the language tends to deteriorate as soon as any issues arise.
Ever present by his side is his loyal translator Manuela Spinelli, who has the unenviable task of communicated Trap's ramblings into coherent points for the gathered press.
But she can't be with him at all times, which has led to communication issues with players. Dealing with players is hard at the best of times, but when you have to go through a third party, it is increasingly difficult.
Many fans also take issue with the fact that he continues to reside in Italy for much of the year despite his players competing on a weekly basis in England and Scotland.
He relies on his assistant Marco Tardelli to feed him reports on how they get on, and insists he watches hours of video footage each week.
But there is only so much you can pick up without actually being there, and that might explain his reluctance to embrace change.
How else do you explain picking Darren O'Dea who had been deemed not good enough for Celtic, at the expense of Ciaran Clark who has been performing at a high level in the EPL?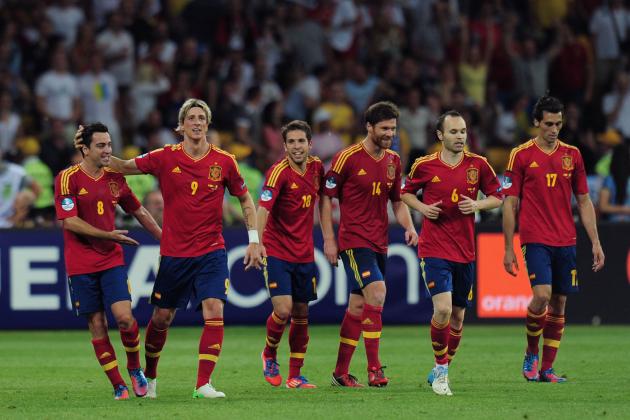 Shaun Botterill/Getty Images

If you watch a tape of Trapattoni's Juventus of the late 70's and his Ireland of today and the only difference you'll is the players on show.
Trapattoni's style lead to huge success in the 70's and 80's but is totally defunct in today's world.
Barcelona and Spain have led the way in pioneering possession football. This pioneering has led to huge success and most teams are trying to follow suit.
Our performance against Spain this summer showed the huge distance between the sides.
Xavi and Xabi Alonso completed more passes than the entire Irish team as they led Ireland on a merry dance.
When Ireland did win the ball, they couldn't hold onto it, which left Ireland with a meager 24% of possession in the 4-0 humiliation.
If Ireland are going to be successful, they will need to hold onto the ball better, and that doesn't fit in with Trapattoni's style of play.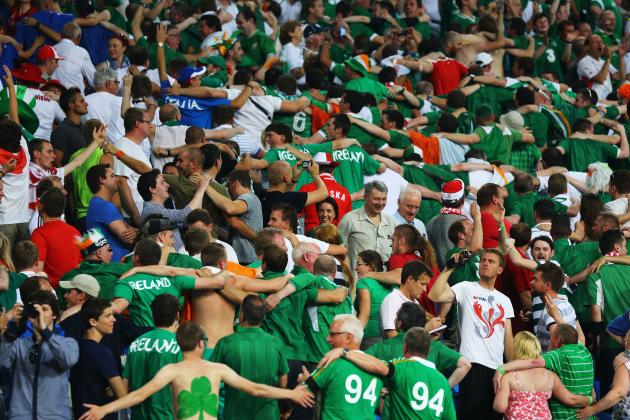 Christof Koepsel/Getty Images

The Irish fans were lauded by many, including UEFA, as the best on show at the European Championships.
The showed up in their masses, brought great humour and passion to the Championships, and sang their hearts out despite the humiliation on the pitch.
But go to the Aviva Stadium on a cold Tuesday night, and you'll witness an entirely different atmosphere.
It's hard to get excited and many are losing faith in the national side.
That not only affects the performances of the team, but also the FAI's profit margins and the amount of youngsters playing the game.
The Irish rugby teams have been hugely successful in recent years and are drawing more and more youngsters into the sport.
This has a direct effect on the amount of kids playing football and the amount of kids feeding into the youth systems.
If football loses their position as the number one sport in Ireland, the national team will have trouble competing on the international stage.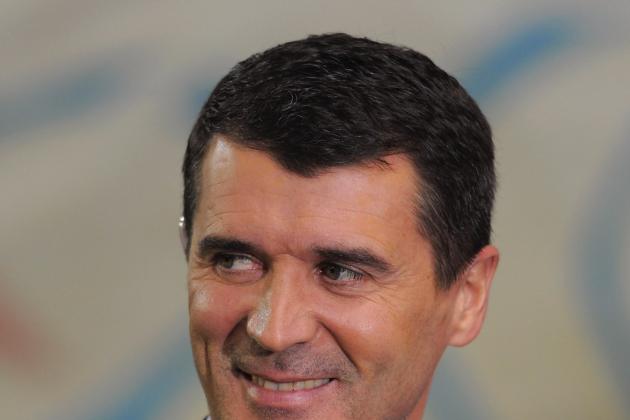 Michael Regan/Getty Images

If the FAI were to cut their losses with Trapattoni, then who could they replace him with?
Roy Keane: A long-shot considering his history with the FAI, but Keane's been relatively successful and would relish the prospect of revolutionising the Irish national team. He has high standards and wouldn't expect anything less than 100% from the players and the FAI. I would welcome him with open arms.
Owen Coyle: Still employed at Bolton but appears to be on the way out. He is young, hungry and experienced at the top level. He has an history of bringing out the best in unheralded players and is also in favour of playing good football. He would certainly bring a total change in style from Trap.
Mick McCarthy: Some would say it is a step backwards but McCarthy is worth consideration. He is proven at the top level and is a proud Irishman. His personality would resonate with the squad and provide experienced leadership for the new era.
Harry Redknapp: We've had success with an affable Englishman before so why not again. Redknapp was keen to try his hand at International football not so long ago so it may not take too much to persuade him to cross the Irish Sea. He would be familiar with our players and many have said his coaching style is suited to International management.
Chris Hughton: A dark-horse considering his is in charge at Norwich but Hughton is on thin ice after a poor start to the season. If Norwich's results don't pick up, he may find himself on the market again. His time as Brian Kerr's assistant means he would know what the job entails.
Dave O'Leary: Once regarded as one of the brightest young managers in the game, O'Leary has struggled in recent years. However, he has always been a progressive thinker and student of the game—I doubt he has lost touch. Returning to Ireland could give him the boost he needs to get back to the top level.