Power Ranking New York Knicks Under the Most Pressure in 2012-13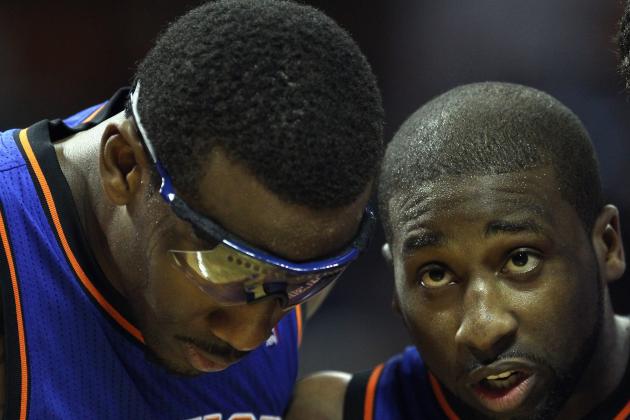 Streeter Lecka/Getty Images

It is not uncommon for an NBA team to have one or even two players facing high pressure heading into a new season. Whether they are coming off of a lackluster campaign, returning from injury or were acquired in free agency, there are a myriad of reasons why a player faces criticism heading into a season.

Unlike most teams, the New York Knicks have not one, not two, but five players facing high pressure heading into tip-off in October. These include their pair of franchise stars, as well as several new pieces and a re-signed bench sharpshooter.

Playing in a high visibility media market like New York and with a team assembled for the purpose of making a playoff run, every member of the roster is subject to extreme scrutiny during the course of the season, but these five players in particular will have all eyes on them for all 82 games.

Without further ado, here are the five New York Knicks facing the highest pressure in the 2012-2013 season.
Begin Slideshow

»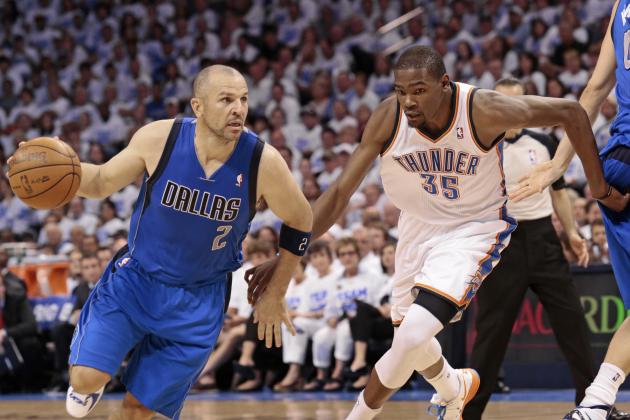 Brett Deering/Getty Images

Jason Kidd came to the New York Knicks expecting to play spot minutes behind Jeremy Lin and serve primarily as a mentor to their budding franchise point guard, but with Lin in Houston and Raymond Felton locked in to the starting lineup, Kidd will have to take on a larger role than anticipated.

The 39-year-old, six-time All-NBA point guard averaged a paltry 6.2 points, 4.1 rebounds and 5.5 assists in the lockout shortened season on 36.3 percent shooting from the field and 35.4 percent from three-point range, but looked sharper in Dallas' four playoff games, averaging 11.5 points, six boards, six assists and three steals.

Still, he struggled with injuries in 2011-2012, missing 18 total games and often disappearing during his time on the court. He was barely aggressive on offense, serving a complimentary role and only attempting 5.7 shots per game.

Kidd has long been considered one of the best point guards in the history of the game, a versatile, gritty perimeter player that can score and facilitate, crash the glass from the outside and play world-class defense on multiple positions. However, as he has aged, he has looked less and less like the player that led the New Jersey Nets to a pair of Finals appearances.

Kidd will be asked to be a strong presence in an incredibly dysfunctional locker room, uniting the team's controversial stars and role players while also contributing in his time on the court. The Knicks' offense needs three-point shooters to stretch the floor, so Kidd must shoot far better than he did last season.

With Iman Shumpert out for a solid chunk of the season with an ACL tear, Kidd will be asked to defend some of the league's better perimeter scorers and must play his usual airtight defense when he is out on the court.

Jason Kidd has undoubtedly had an incredible career in the league, but he cannot rest on his laurels if he wants to help his Knicks take the next step and become legitimate contenders.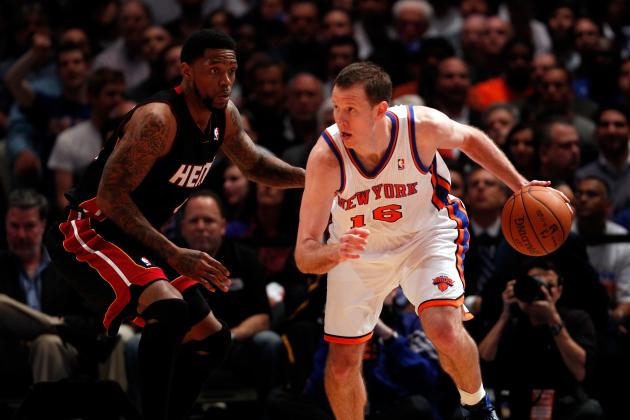 Jeff Zelevansky/Getty Images

The New York Knicks picked up Steve Novak off waivers to give them a little depth at forward behind Carmelo Anthony and they never expected him to emerge as an extremely competent role player and one of the best three-point shooters in the league.

However, "Novakaine" took the nation by storm, averaging 8.8 points and 1.9 boards per game while connecting on 47.8 percent of his shots from the floor and a staggering 47.2 percent of his attempts from three-point territory while earning himself a lucrative new contract.

Desperate to retain their best outside shooter, New York agreed to a four-year, $15 million deal with the Marquette product.

Novak looked excellent in the regular season, coming off the bench to provide consistent outside shooting and draw opposing forwards away from the basket. He moved extremely well without the ball, running off of picks to find an open shot and was also always ready in the corner for a kick-out pass.

However, Novak looked horrendous against Miami in the playoffs, averaging just 2.4 points per game against the Heat's suffocating defense. They crowded him, not allowing an easy shot, and Novak simply failed to make an impact in any other area of the game.

For the 2012-2013 season, New York needs another brilliant shooting campaign out of Novak. With teams throwing double-teams at Carmelo Anthony and Amar'e Stoudemire, Novak will have plenty of opportunities to fire away and must hit at a high percentage to keep defenses honest and stretch out the floor to provide room for the team's stars to work in the post.

Novak now has expectations, high ones at that, and must prove that his 54 strong games last season were not merely a fluke. For the Knicks to be competitive, they need their role players playing excellent basketball, with Novak's lethal shooting leading the way.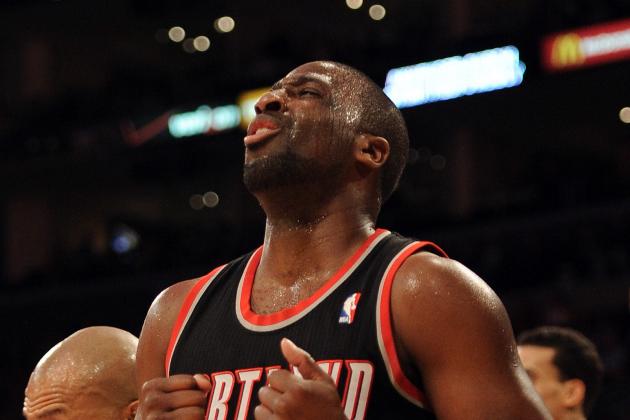 Harry How/Getty Images

When the Portland Trail Blazers traded for Raymond Felton the night of the 2011 NBA Draft, they thought they were getting the point guard that could cement them as a playoff contender in the Western Conference. What they ended up with however, was an overweight underachiever who never meshed with the team and put up some of the worst numbers of his career.

Felton averaged 11.4 points, 2.5 rebounds and 6.5 assists for the Blazers last season on 40.7 percent shooting from the field and 30.5 percent from three-point territory. Those numbers are alright, but beneath what Felton has proven he can produce on a nightly basis.

As with many players, he faced conditioning issues at the start of the season, but never quite found his legs until Portland's shot at a postseason berth was already out of the question. He shot the ball poorly, never meshed with LaMarcus Aldridge and was benched at one point during the season for Jamal Crawford.

During his last stint in New York, Felton looked like a possible All-Star, averaging 17.1 points, 3.6 boards and nine assists over 54 games. He played brilliantly with Amar'e Stoudemire and many fans were sad to see him shipped to Denver in the Carmelo Anthony deal.

Felton is also charged with the tall task of replacing Jeremy Lin, who was almost universally beloved by the Knicks' fan base and who was one of basketball's most electrifying players in 2011-2012. Felton will be the de facto starter and must not only thrive as a facilitator but also a scorer.

Defensively, he will have to guard some of the league's top point guards in the Eastern Conference and must find his role quickly within Mike Woodson's defense-first system in which he will be handling the ball less than usual.

Raymond Felton has an opportunity to prove that he is one of the better point guards in the NBA, and playing for a playoff team in New York is a perfect forum for him. However, with the importance of the one position and the shadow of Lin hanging over him, the UNC product faces considerable pressure in 2012-2013.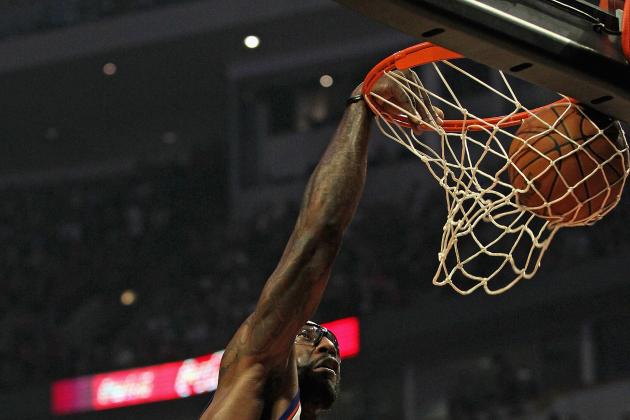 Jonathan Daniel/Getty Images

At this point, little needs to be said about Amar'e Stoudemire's 2011-2012 season. The All-Star power forward struggled with injuries, looked uncomfortable sharing the court with Carmelo Anthony and simply did not make the kind of impact we've come to expect from him.

This was all reflected in his numbers: 17.5 points, 7.8 boards and 1.1 assists on 48.3 percent shooting. These are decent statistics, but not for a player earning $20 million and who routinely threw up 20-10s in his prime.

Stoudemire has always been considered a subpar defender and rebounder, but his lack of defensive intensity was always mitigated by his offensive prowess. However, he never really fit as the second option and failed to impact the game in ways beyond scoring.

Stoudemire was hampered all season by a litany of injuries, chiefly a bulging disk in his back, and Stat missed 19 games over the course of the campaign. For a player who relies on deceptive quickness and athleticism to take advantage of slower-footed forwards, Amar'e needs to be healthy and running the floor in order to have a shot at returning to his former self.

Beyond just his play on the court, Stat earned much criticism for lashing out in anger and punching a fire extinguisher, lacerating his hand and missing a crucial playoff game. His leadership abilities have been called into question and Stoudemire must prove that he can be a role model both on and off the court for the team's younger players.

In addition, with Felton back, many expect a mini-renaissance from Stoudemire. The two played together for half a season in 2010-2011 and demonstrated great chemistry, running one of the most effective pick-and-rolls in the league.

Though the offense will still largely run through Anthony, Stoudemire will need to make the most of his touches while putting in a more concerted effort to rebound and protect the post than he has in the past. Stoudemire spent the offseason working on his post game with Hakeem Olajuwon in an effort to become more of a factor down low.

He may never be a franchise superstar like he was earlier, but Stoudemire is still being counted on by New York to be an impact player and he must have a solid rebound season coming off of an uncharacteristically dismal year.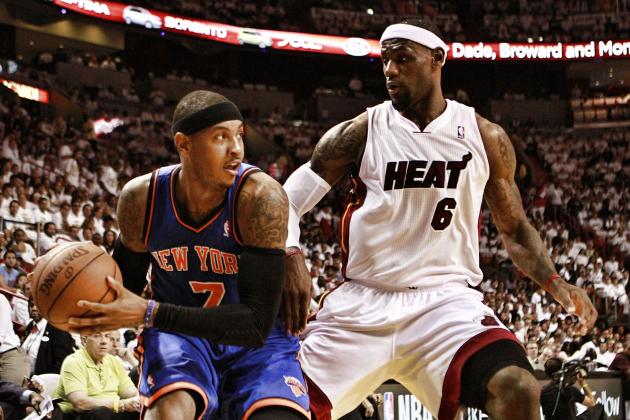 Marc Serota/Getty Images

Could it be anyone else?

Carmelo Anthony has been under tremendous pressure ever since he donned a New York jersey and that will be no different heading into the 2012-2013 season. Anthony faces expectations of not only being the team's franchise player, but also leading them into championship contention almost single-handedly, and that burden would be hard for anyone to bear.

Anthony had one of his worst professional seasons in 2011-2012, averaging 22.6 points, 6.3 boards and 3.6 assists while shooting just 43 percent from the field and 33.5 percent from beyond the arc. However, he looked significantly better playing under Mike Woodson and in the playoffs, meaning fans still have high expectations for the perennial All-Star.

Anthony has long been criticized for not playing up to his talent level defensively and taking bad shots, two things that he simply has to change heading into this season's tip-off.

He obviously will be the Knicks' first option on offense, but needs to force the issue less frequently. Additionally, while he improved as a passer in the lockout-shortened season, he must continue to work on his court vision and decision-making.

Plenty of New York supporters are still bitter the team let Jeremy Lin walk and put the brunt of the blame on Anthony's shoulders, meaning in order to earn the united support of Knicks' Nation he must hit the ground running and play his best all-around basketball.

Anthony also raised the pressure by playing phenomenally in the London Olympics. He came off the bench, but averaged 16.3 points and 4.8 boards while shooting a staggering 53 percent from the field and 50 percent from three.

He also set the United States' Olympic scoring record, hitting 10 three-pointers en route to an absurd 37 point outburst against Nigeria.

Carmelo Anthony has all the talent to be a top five NBA player and with a team constructed around his strengths this is his best chance to become one.