St. Louis Rams: The Team Is Young, but Just How Young?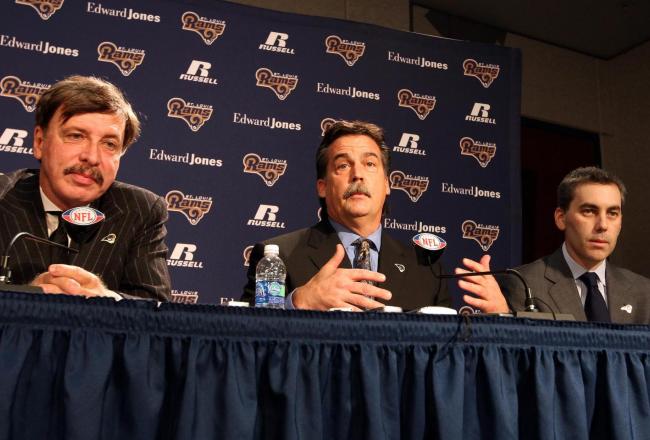 Photo via williiamgreenblattphotography.com

When head coach Jeff Fisher and general manager Les Snead took over the Rams earlier this year, it was safe to assume that some housecleaning would take place. Yet, most never expected to see 60 percent of the roster turned over in one offseason.
At the beginning of the 2011 season, St. Louis was the sixth-oldest team in the league. It had the second-oldest defense and the 16th-oldest offense.
Veteran players are needed, as young talent can't be totally relied upon, but holding onto a player too long can sometimes hurt a team's ability to improve.
So, with the season opener against Detroit just five days away, where do the Rams stand right now?
After a weekend full of roster cuts and practice squad assembly, St. Louis is now the youngest team in the NFL. Fisher and Snead don't care how old their team is or where players from the previous regime were drafted. It's easy to see this team is getting a stamp of approval by two men who have an absolute plan.
Thanks to the good people over at BloggingTheBeast.com, we can see just how young this team has become:
By my count, the Rams have 16 rookies on their active roster and eight of them are undrafted. That is an incredibly high number, which in turn means that one-third of the active roster is made up of rookies and 15 percent is made up of guys who weren't even drafted.
Only nine players remain from the Steve Spagnuolo-Billy Devaney era. From 2009-2011, St. Louis had 26 draft picks, meaning only 35 percent of those draft selections are currently on the 53-man roster. Futility at its finest.
Here's a chart that breaks down the starters by offensive and defensive position and average age: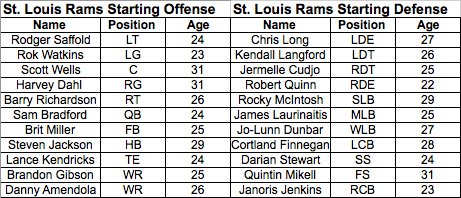 As you can see, there are only two starters over the age of 30 on the offensive side of the ball and on defense there is only one. The average age of the starters on offense is 26.18 and the average age of the starters on defense is 26.09.
An underlying factor in all of this is that St. Louis' depth is even younger than the starters. On defense, there are six reserves who haven't ever taken a snap in the NFL. Offensively, the reserves are even less experienced. There are nine players who have never taken a regular-season snap.
So, what does all this data mean?
It means the Rams are rebuilding a roster from the ground up and fans should be happy about it. Look at teams last year who were young and successful. The Green Bay Packers had the second-youngest team in the NFL and they went 15-1. Cincinnati had the fourth-youngest team and it made the first round of the playoffs. San Francisco went 13-3 and made it all the way to the NFC Championship game.
So being young isn't necessarily a bad thing. The key is to hit home runs and develop your young talent.
Only time will tell in regards to the Rams' 2011 draft class, but on paper, they arguably had one of the best drafts overall. Snead and Fisher were aggressive and stacked extra picks for years to come, which in turn will allow them to add even more young talent along the way.
While the Rams may not win the NFC West in 2012, look for them to push both Seattle and San Francisco in the coming years.
This article is
What is the duplicate article?
Why is this article offensive?
Where is this article plagiarized from?
Why is this article poorly edited?

St. Louis Rams: Like this team?