Michigan Football: 5 Interesting Observations from the Alabama Game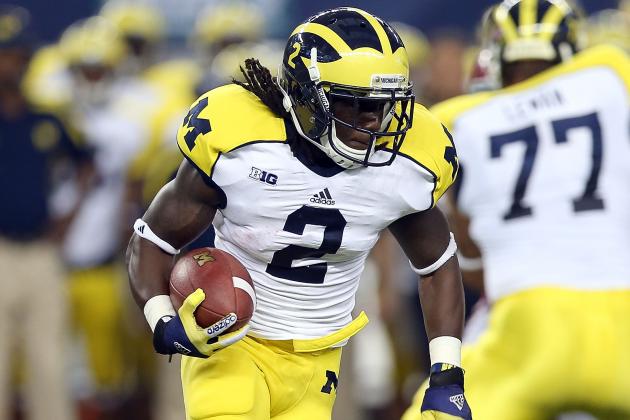 Ronald Martinez/Getty Images

Everybody obviously has their own opinions of what happened in Dallas on Saturday night.
I saw a few surprises on the field, most notably personnel-wise. I'm not saying that these surprises were necessarily bad, but just interesting.
Here's a look at a few personnel moves which came as somewhat of a surprise.
Begin Slideshow

»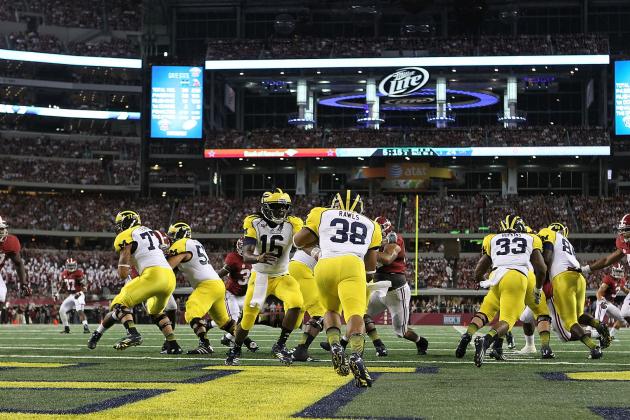 Leon Halip/Getty Images

Vincent Smith just isn't an every-down back, and I think he proved that long before Saturday. Sure, he may have a great attitude and is known as an extremely hard worker, but he is just not that effective as a runner.
Smith needs to be used much like he was last season, which was sparingly and only in certain situations.
Rawls may not have shown much, but he was barely given an opportunity. He only had six carries, and this was after it sounded like he was going to be the man to carry the load.
The way the running backs were handled on Saturday night was very disappointing, to say the least.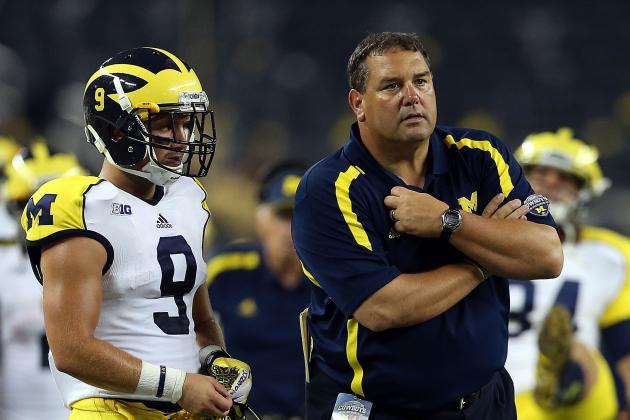 Ronald Martinez/Getty Images

Personally, I was glad to see so many receivers earn playing time, as I don't think the coaches would throw somebody out there if they didn't think they could play.
I loved how much we saw of Devin Gardner, as he was seemingly out there the whole game. It was good to see Jeremy Gallon have the kind of game he had, but it was equally disappointing to see Roundtree disappear the way he did.
We knew that those would be the top three guys. Behind them is where the questions were. Drew Dileo was in near the beginning of the game, and actually came up with a 20-yard catch.
Jeremy Jackson saw a decent amount of time as well. The guy that I was absolutely thrilled to see out there, though, was Jerald Robinson.
Even though he didn't record a catch, it was great to see him finally earn some playing time on offense.
The fact that we didn't really saw Amara Darboh or Jehu Chesson came as a complete shock.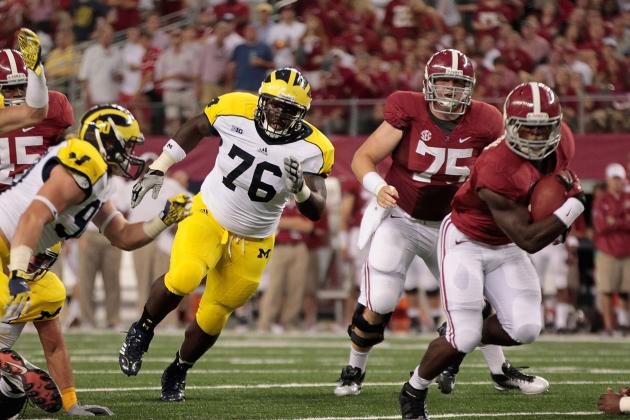 Leon Halip/Getty Images

I think most people knew who Michigan's four starting defensive linemen were going to be heading into this game. Because of that, it wasn't a surprise when we saw a guy like Quinton Washington out there right away.
What did surprise me, though, is how many defensive linemen the coaches managed to get in the game.
For example, I couldn't believe how much of Richard Ash we saw. This is a good thing, though, as he had basically become an afterthought last year.
It was also great to see Keith Heitzman see his first ever game action. Only a redshirt freshman, this kid may go on to become a pretty good player.
Nate Brink is another guy who saw plenty of time as well.
I was a little surprised we didn't see more of Ondre Pipkins. We certainly saw him later in the game, but not really early at all.
To have a great defensive line, you have to be able to rotate in at least six or seven guys, and not really have much of a drop off.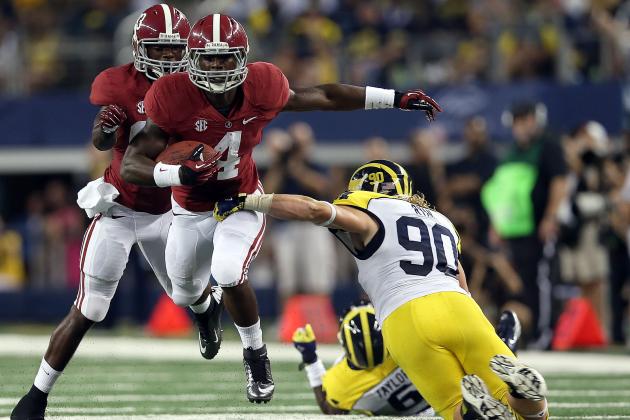 Ronald Martinez/Getty Images

First and foremost, I think people are pretty surprised that we didn't see more of Joe Bolden. He didn't see significant time until late in the game.
What's even more surprising than Bolden's absence is how much time fellow true freshman James Ross saw. All along, everybody thought that if Michigan was going to have a true freshman linebacker contribute, it would be Bolden. That wasn't the case on Saturday.
Did Ross impress the coaches that much? Or was he inserted because the starters were struggling so bad? Either way, it looks like he could play a significant role this season. I still think Bolden will play a significant role as well.
It was absolutely great to see Cam Gordon see extensive playing time again. Greg Mattison really hyped him throughout fall practice and after last season's disaster for Cam, it was great to see him contribute again.
Even though he didn't see any time at linebacker, Royce Jenkins-Stone was put in on the special teams unit. This was especially surprising because he looked like a guy who was certain to redshirt.
What happened to Brandin Hawthorne? Since the midway point of last season, he has completely fallen off the map. He was absent once again from Saturday's game.
All in all, the linebackers were a disappointment and really need to step it up.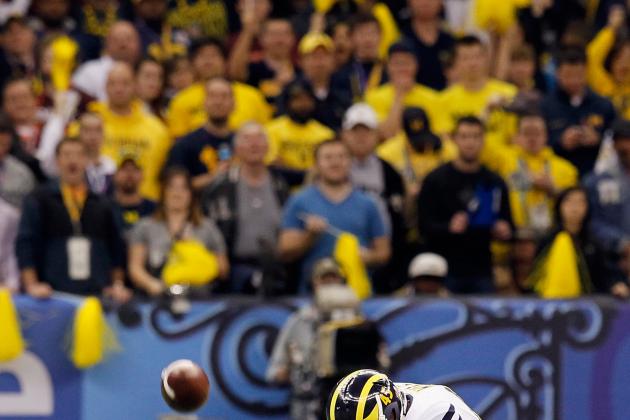 Kevin C. Cox/Getty Images

Michigan's special teams unit looked very good for the most part, except for maybe the coverage units.
What was the biggest positive: Will Hagerup's punting or Dennis Norfleet's ability on kick returns?
Hagerup punted the way he did his freshman year, as he averaged 51.3 yards on six punts.
Norfleet looks like he's bound to run one back eventually, as he showed speed, athleticism and other qualities a kick returner needs to have.
Matt Wile also looked very good on kickoffs, although the new rule probably helped him some.
Special teams was a question coming into the year for Michigan, but hopefully they continue to perform the way they did Saturday night.