WWE Raw Results: How the Tag Team Division Suffers with Daniel Bryan and Kane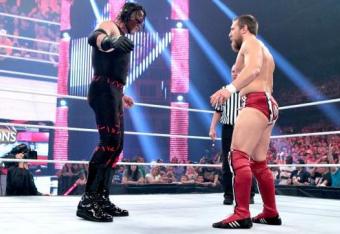 This week's episode of Raw saw the continuation of Daniel Bryan and Kane's comedic anger management classes.
And while last week showed the scope of Kane and Bryan's comedic presence, the storyline lacked a definitive direction.
The sketches culminated this past Monday in fans deciding on the fate of the two superstars; the options were a singles match, a tag team match and a hug.
Notwithstanding, fans decided that hugging it out was the best ending to the amusing storyline.
While the hug reminded viewers of the very corny side of professional wrestling, it also revealed a chemistry between Kane and Bryan that can lead to forming a dysfunctional tag team.
And while the storyline itself is entertaining, the formation of a tag team will be at the cost of the teams currently competing for the tag titles.
Even if Kane and Bryan decide to compete for the WWE Tag Team Championship, they will overshadow the entire division.
The tag team division is loaded with young talent, save for a 40-year old R-Truth and a 35-year old Titus O'Neil. It would be wise for WWE to allow the young superstars to thrive instead of relying on wrestlers that are already established.
Taking a look at the Attitude Era, teams like the Hardy Boyz and Edge & Christian became bigger names later on in their careers for having the space to compete with younger talent. They propelled the division, and their careers, as a whole because of this.
Also, the class of tag teams today pales in comparison to a Daniel Bryan and Kane team. Most of these tag teams, with the exception of the Prime Time Players, are generally smaller high flyers. This, of course, is by design; in order to make tag team wrestling more entertaining, it is best to use a style that is fast paced.
Throwing Kane and Daniel Bryan in the mix would ruin the complexion of the division. The wrestling styles would clash more often than they would work. Bryan is similar in height to other tag team competitors but focuses more on submissions and other forms of technical wrestling. Kane, on the other hand, will only match up well with someone like Titus O'Neil. However, O'Neil is still six inches shorter than Kane, which may question the credibility of the matchup.
Daniel Bryan and Kane are excellent singles competitors. Prior to the anger management storyline, both superstars were competing for the WWE Championship. WWE creative may have thrown them in a tag team purely because they currently do not have a place for them in singles action.
This article is
What is the duplicate article?
Why is this article offensive?
Where is this article plagiarized from?
Why is this article poorly edited?